Article Reviews
Pilates Cadillac Reformers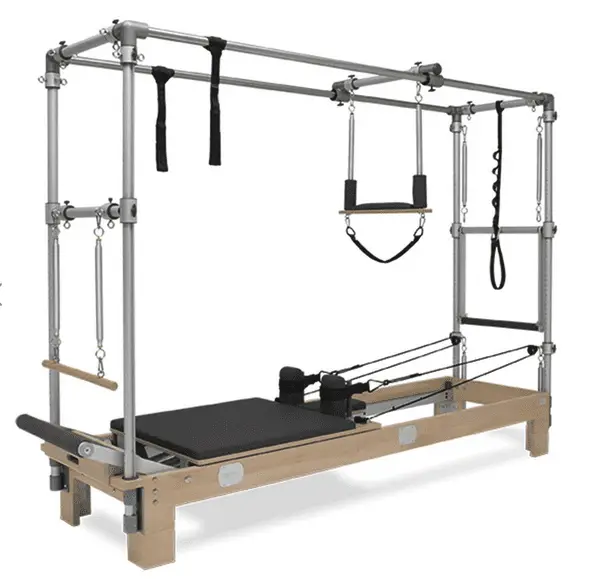 The Best Pilates Cadillac Reformers for 2023
The Pilates Cadillac reformer is a big piece of gym equipment with a lot of accessories and attachments. To a beginner, it may seem intimidating and difficult to use. But with practice and guidance from a good instructor, a Cadillac provides an excellent, versatile workout for beginners and advanced practitioners alike.
What is a Pilates Cadillac?
Also known as a trapeze table, the Cadillac is the largest of the Pilates apparatuses. It looks similar to a reformer but is on a stable frame that is higher off the ground than a reformer. It has a lot of bells and whistles, which is how the machine got its name. Supposedly, Pilates brought the first Cadillac he built to the studio and an impressed client, who asked if it was his new Cadillac.
Over the frame of the raised table, a Cadillac has additional frames, called towers. The towers are vertical attachments at each end of the table. They are connected horizontally and have eyelets along them that allow for the addition of attachments, like straps and bars.
From the horizontal bars, hang more attachments, including a trapeze, hence the alternative name for the Cadillac. Some students speculate that Joseph Pilates got the idea for the Cadillac from the trapeze, from his experiences as a child watching his father do gymnastics.
However it came about, the Cadillac is an impressive piece of equipment. There are several benefits of using it to do Pilates workouts:
The frame, table and accessories provide the most versatile set of workout possibilities. You can do hundreds of moves on a Cadillac.
The elevated table helps people with mobility limitations and back problems do more exercises more easily.
The Cadillac is an ideal piece of equipment, when used with a trained instructor, for rehabilitation.
Cadillac workouts are comprehensive, hitting most muscle groups and improving strength, flexibility, mobility and posture.
Because there is no moving carriage as on the reformer, there is less risk on a Cadillac of overstretching joints and muscles.
As with the reformer, the Cadillac includes springs that can be loosened or tightened to change resistance and the difficult of a workout.
Mat vs. Equipment Pilates
While it may seem like a piece of equipment like a Cadillac or a reformer will always give you a better workout, mat-based Pilates can be just as challenging. There are some advantages to the Cadillac and other equipment, though—namely that you can increase resistance to make workouts more challenging. They also allow for more versatile moves.
This doesn't mean that a mat workout isn't challenging or beneficial. One of the bonuses of a mat workout is that it's a lot less expensive. If you are doing Pilates in your home, a mat is the most accessible and cost-effective way to do it.
For studio workouts, you can try all types of Pilates workouts. But don't be afraid to go straight to a reformer or Cadillac. The mat workout is not a prerequisite to equipment workouts. With the right instructor, you can start on the Cadillac. In fact, in many ways the equipment is easier to begin with because it provides support.
The most important consideration when choosing a type of Pilates is the instructor. Pilates is a great workout with a lot of health benefits, but done incorrectly or with poor form can result in injuries. All beginners must work with a trained instructor before attempting to do a workout alone.
What Size is a Pilates Cadillac Reformer?
A Pilates Cadillac is the biggest piece of equipment available for these workouts. There is some variation between brands and styles, but the size is mostly uniform. The table is about 25 inches tall, 30 inches wide and 80 inches long. You can get Cadillacs that are a little bigger and that hold up to 350 pounds of weight.
The towers and frame fit the size of the table. It is usually 80 to 90 inches tall. This is a big piece of equipment, which is why many people use it only in a studio or gym. For a home Cadillac, you will need a lot of permanent space. It cannot be easily dissembled and put away when not in use.
What Does a Pilates Cadillac Weigh?
For its big size and all its attachments, a Cadillac does not weight as much as you may think. Most models are between 185 and 215 pounds. The materials impact the weight. Some are made of solid wood, while others are lighter metal frames. The attachments also add weight, but the bed and its frame make up most of the weight of the machine.
How to Use a Pilates Cadillac
Once you have practiced it, using the Cadillac Reformer is easy and natural, but there is a learning curve. To learn how to use the Cadillac, you must have a skilled, experienced instructor. They will guide you through basic to advanced movements, correct your form and adapt exercises to your needs, goals and limitations.
The Cadillac has several functionalities, which allow you to use it in several ways:
With the straps on the tower, you can do core strength exercises, upper body strength and even leg strength exercises, adding resistance for a tougher workout.
A push bar on the tower allows you to do more leg and glute exercises.
With the trapeze and horizontal frame of the Cadillac, you can do more acrobatic moves that involve hanging, also known as inversions.
The flat table of the Cadillac is used for stable workouts, particularly for gentle rehabilitation for clients with injuries or medical issues.
The size, stability and accessories of the Cadillac also make it a useful tool for a number of stretches, especially spine stretches.
Who Should Not Use a Cadillac Reformer
There are few people who cannot use the Cadillac. That said, everyone—especially those with medical conditions or limitations—should talk to their doctors before trying a new workout. Your doctor may know of reasons you should not do Pilates that may surprise you, so always ask.
Cadillac Pilates can actually be better for people with injuries or medical conditions than other types of Pilates. This is because the table is elevated and stable. It is essential, if you have any limitations, to work with a trained, certified instructor who can adapt and guide your exercises and forms.
1. PilatesEquipment Vintage Cadillac Reformer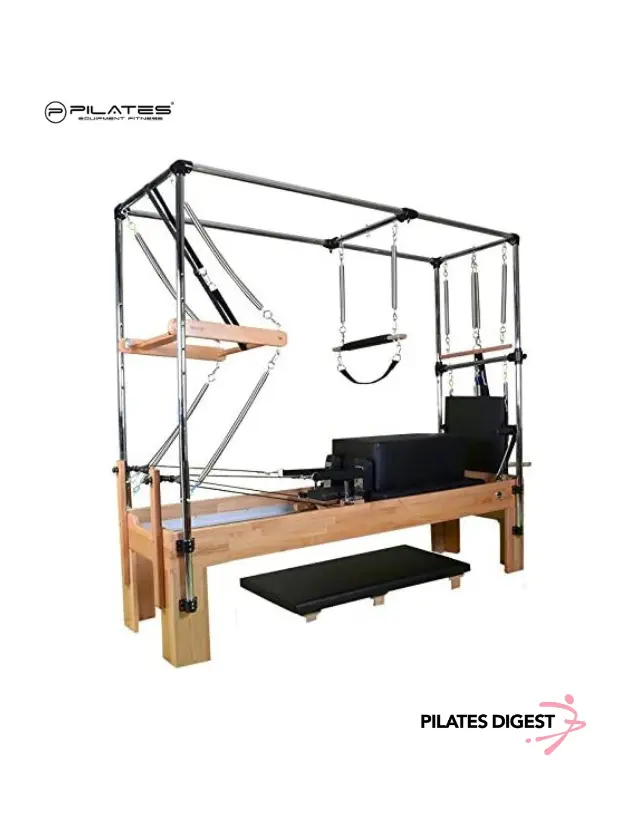 A harmonious blend of the classic Cadillac and Reformer in one sleek, space-efficient design. Perfect for both studio and home use, this equipment offers a generous working area while ensuring easy and safe conversions between the Cadillac and Reformer setups.
Crafted with European finesse, its state-of-the-art design is accentuated by impeccable finishes. The robust frame is sealed with a protective flat varnish, ensuring longevity and durability. Its cushioning, wrapped in premium synthetic leather atop foam, promises unparalleled comfort, especially during kneeling exercises.
The Reformer boasts a silent, soft bed sliding mechanism, courtesy of its 8 vertical and horizontal PU wheels. Experience smooth transitions with its silent precision bearings. It comes equipped with double loops for hands and feet, foam handles, adjustable shoulder rests, and a padded headrest with three adjustable positions. The adjustable ropes come with a unique design, allowing excess rope to be tucked underneath for optimal comfort. The spring set includes a variety of resistances, catering to all fitness levels. Additionally, the pulleys attached to the risers offer versatile positioning.
Advantages:
Combines Cadillac and Reformer: space-efficient design.
European craftsmanship: impeccable finishes.
Premium synthetic leather: unparalleled kneeling comfort.
Silent sliding mechanism: smooth transitions.
Versatile movement options: enhanced exercise repertoire.
Comprehensive accessory inclusion: versatile workouts.
You can check this pilates cadillac reformer here.
2. Balanced Body Trapeze Table Cadillac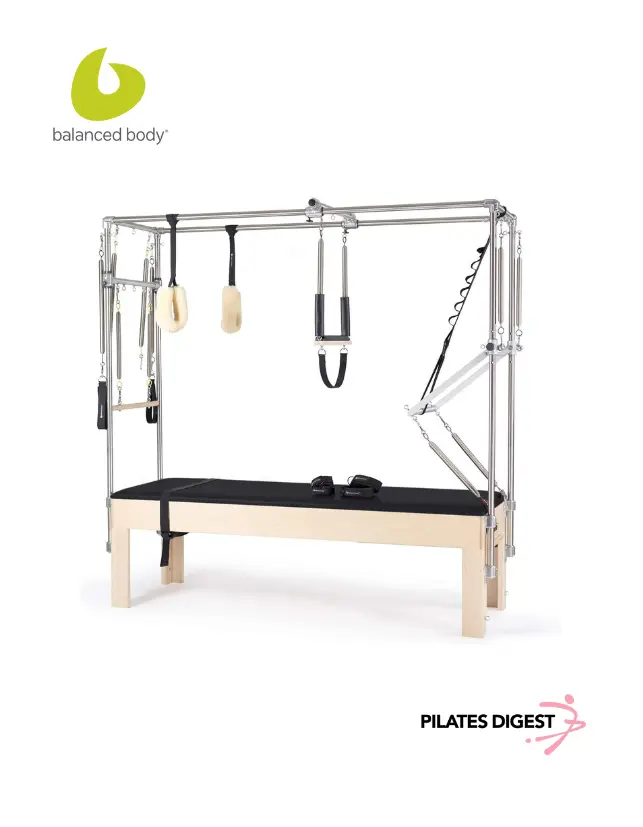 Balanced Body Trapeze Table Cadillac, your ultimate companion for integrated Pilates workouts. This state-of-the-art equipment is designed to cater to fitness enthusiasts and those in rehabilitation, making it suitable for individuals of all ages and skill levels.
Ditch the regular gym routine and embrace the versatility of our Cadillac. It comes fully equipped with resistance springs, bars, and other essentials to ensure you get a comprehensive full-body workout. The package boasts a robust table base, an elegant canopy, a push-through bar, and the signature Trapeze Table springs. Additionally, it features slider bars, a Trapeze Bar, a roll-down bar, and an assortment of cuffs, loops, and webbing to enhance your exercise regimen.
In terms of specifications, the table stands at a height of 25.5 inches, with a width (including adjustment knobs) of 30.25 inches. The length measures 81 inches, with an additional 4.5 inches for the canopy brackets. The trapeze frame reaches a height of 86.5 inches, and the entire structure weighs in at 190 lbs.
Advantages:
Suitable for all ages and skill levels.
Comprehensive full-body workout.
Fully equipped with essential accessories.
Robust and elegant design.
Customizable exercise regimen.
Versatile alternative to gym routines.
You can check this pilates cadillac reformer here.
3. BASI Systems Pilates Cadillac Reformer Combo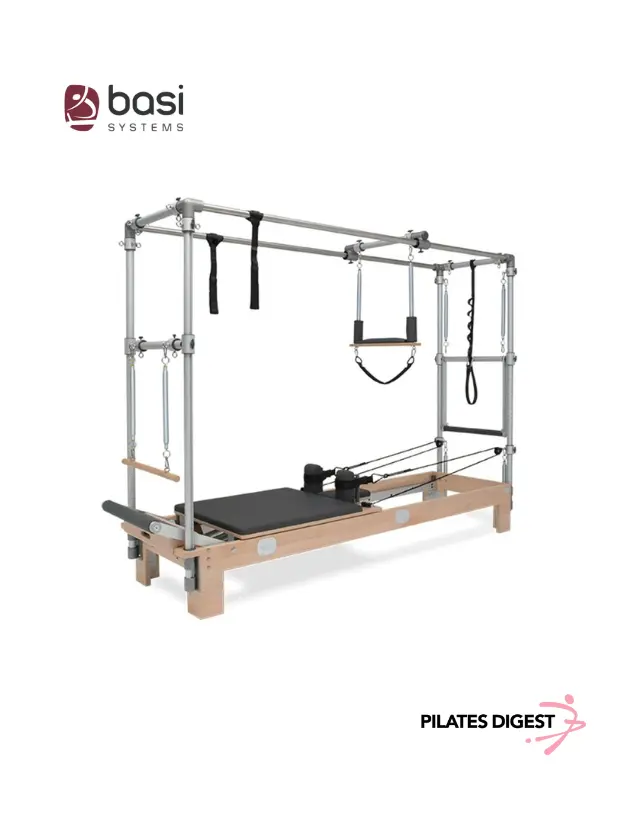 The BASI Systems Reformer Combo: where elegance meets functionality. Experience the fluidity of movement combined with the power of adjustability, all within a compact design that maximizes your space. Its innovative Enhanced Pulley System (EPS) allows for meticulous control over the pulley angle, while the expanded gear system ensures pinpoint accuracy in adjusting spring resistance. Boasting the industry's largest carriage cushion and longest track, this combo promises unparalleled comfort and an extended range of motion.
Whether you're using it as a Reformer, a Reformer with Tower, or transforming it into a Cadillac, you're guaranteed full trapeze functionality and the ultimate flexibility in spring positioning. And for those looking to elevate their Pilates experience, the BASI Systems Reformer Combo is ready for the F2 System upgrade with its four pre-installed ports. Elevate your Pilates journey with this versatile and sophisticated equipment.
Advantages:
Fluid movement with powerful adjustability.
Compact design saves space.
Largest carriage cushion in the industry.
Extended range of motion with longest track.
Versatile: Reformer, Tower, or Cadillac.
Ready for F2 System upgrade.
You can check this pilates cadillac reformer here.
4. The Stott Pilates Cadillac Workout Second Edition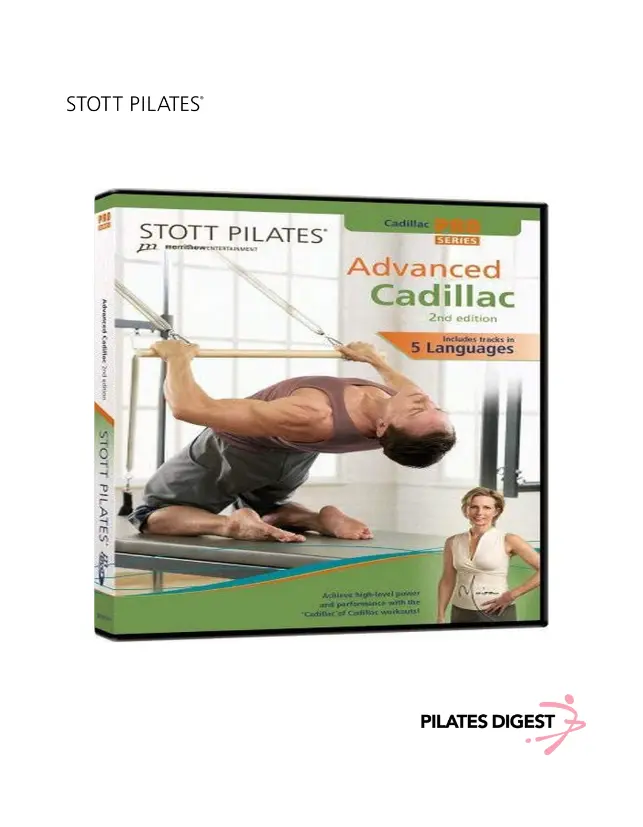 Stott Pilates Cadillac Workout Second Edition: Your personal gateway to professional-grade fitness right in the comfort of your home. Dive into Merrithew's curated collection, featuring nearly 200 of their most sought-after fitness DVDs. Ideal for both the passionate fitness aficionado seeking to diversify their home routines and the seasoned professional aiming to refine their expertise, this DVD set embodies the exceptional interdisciplinary, mind-body approach that Merrithew is celebrated for.
Join countless others globally who have been transformed and invigorated by Merrithew's dedication to promoting healthier lifestyles and peak physical wellness.
Advantages:
Professional-grade workouts in your home.
Features 200 top-rated Merrithew DVDs.
Ideal for enthusiasts and professionals.
Promotes interdisciplinary, mind-body approach.
Globally recognized fitness content.
Supports healthier lifestyles and peak wellness.
You can check this pilates cadillac reformer here.
About Pilates Equipment
Pilates is a versatile workout. Skilled instructors can adapt it for nearly any skill level and for people with specific limitations. You can do the workout with nothing more than your body and a mat, but you can also make use of specially designed equipment, in a studio or in your own home:
The Reformer
This is the fundamental piece of Pilates equipment, the first apparatus that Joseph Pilates developed while a prisoner of war during World War I. It's like a bed with a narrow frame and a carriage, or gliding platform that moves up and down the frame. Reformers include foot bars, head rests, shoulder blocks, and straps with springs you can adjust for greater resistance.
It's a great piece of equipment for progressing from beginner to more challenging Pilates moves. It allows you to make a workout easier or more difficult and is versatile. You can do hundreds of moves on it. See more on Pilates reformers here.
The Wunda Chair
Pilates invented the Wunda Chair to support the spine and to help people develop better posture. It seems like a simple piece of equipment, but you can do nearly 100 moves and poses with the chair. It's great for posture and is smaller and easier to fit in a home studio than a reformer.
The Barrel
The barrel is a rounded piece of equipment used to do specific exercises. It can be used to correct spinal alignment and to stretch and increase mobility in the hips and shoulders. The barrel often comes with a ladder to help you do strength exercises.
The Magic Circle
This is the simplest piece of equipment Pilates invented. It's simply a ring, which legend has that he first created from a barrel ring. A Magic Circle adds extra resistance to Pilates moves and is not typically used alone.