Balanced Body Pilates Reformer Reviews – 2020 Products
Balanced Body has long been a leader in the Pilates community. With more than 40 years of experience designing, updating and manufacturing reformers, the company offers some of the best machines in the industry. Several models are all appropriate for studio use but can also be used in the home for Pilates enthusiasts.

The Balanced Body Story
Balanced Body has been in business and committed to Pilates education and equipment for more than 40 years. The company was founded by and is still led by Ken Endelman in 1976. He was one of the first Pilates enthusiasts to take the original reformer design created by Joseph Pilates and update it with modern construction and engineering. Many of the changes he made are now industry standards and resulted in 28 U.S. patents.
Over the years since Endelman began redesigning and making Pilates reformers he has consulted with experts in the field, including many of Pilates' original students. The result is a set of reformers that combine the original design with modern technology, safety and materials.
Endelman and Balanced Body are so much more than a company. Endelman became an advocate for the Pilates method and a leader in the community. He was instrumental in legal actions that prevented certain companies or individuals from hijacking and copywriting the Pilates name. That the name and the legacy can now be used freely by all is due to his efforts.
In addition to selling top-notch Pilates reformers and related equipment, Balanced Body is also a leader in education. The company offers training for instructors and in a variety of industries that benefit from Pilates: medical, physical therapy, athletics and more. They support small business owners in Pilates and fitness as well, offering consulting for marketing, business, instructor training and technical assistance.
Get Prices for the Balanced Body Allegro Reformer on Amazon.
Get Prices for the the Pilates Allegro Reformer by Balanced Body with Free 1-Year Streaming Video on eBay.
What Sets Balanced Body Reformers Apart
Balanced Body reformers have the benefit of all the years of experience and hard work that Endelman put into perfecting this machine. The company offers several models in a range of prices, with something for everyone. They offer professional, studio reformers and home models. Materials are of the highest quality, and you can add a number of accessories to improve your Pilates experience.
Another thing that makes Balanced Body equipment unique is that it is all made in the U.S. With manufacturing increasingly moved overseas, this company has remained committed to production right in Sacramento, California. This is where the business is headquartered and all the reformers constructed.
The craftmanship of the reformers is exceptional. Balanced Body uses a construction process that leads to stable machines that stand up to a lot of wear and tear. The components are put together in a way that makes movements smooth and quiet. The hygienic lacquer used on the finishes is both attractive and tough. The springs used on the machines are made from carbon steel that has been nickel-plated for strength and safe use. The frames come with a lifetime warranty, while most other components have a ten-year warranty.
Balanced Body Reformer Models
All of Balanced Body's reformers are durable, sturdy and versatile enough for professional use. Less expensive models still have all the fine qualities of a Balanced Body machine, but are more affordable for home use.
The Studio Reformer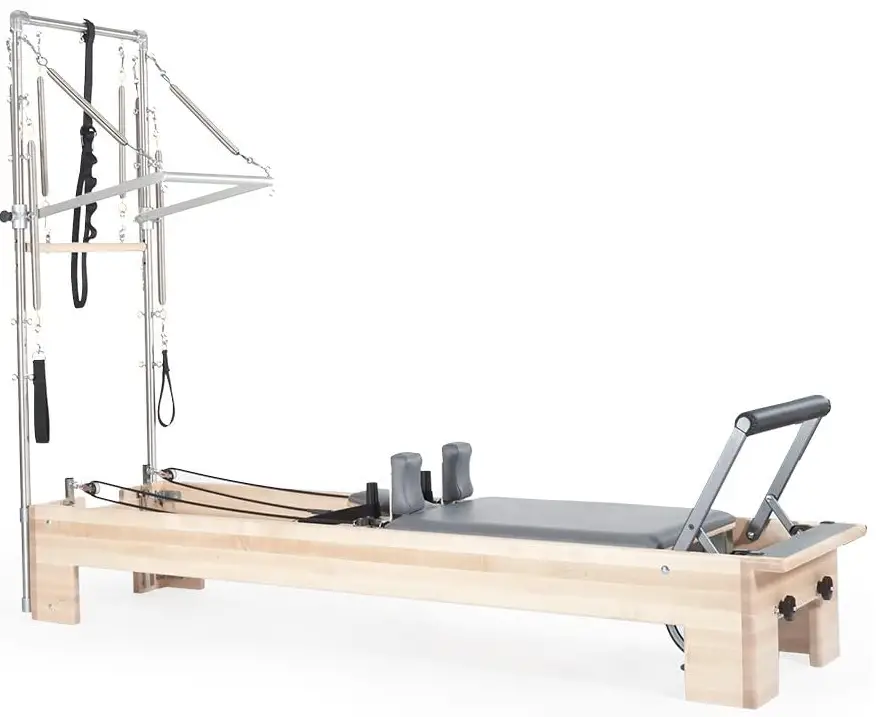 This is Balanced Body's standard studio model, which offers one of the quietest and smoothest carriages available on the market now. The design is both durable and attractive, with a wooden frame and smooth, sleek edges. Depending on the foot bar you choose, the Studio ranges in price from $3,395 to $3,750.
A major reason this model is popular with professional studios is that the design is customizable. Choose frame height, wood type and finish, upholstery color and add-on accessories. All Studios come with a sitting box, streaming workouts, cotton foot straps, a padded headrest with three positions, carriage stops, padded shoulder rests and neoprene handles.
Get Prices for the Balanced Body Studio Reformer with Tower from Amazon.
Allegro Models
The Allegro brand is one of Balanced Body's most popular. These models range in pricing from $2,445 to $3,340 and include a range of upholstery color options and legs that can be added to each frame for additional height.
The original Allegro is a versatile, lower-priced model that is great for both studio and home use. It is one of the most popular and common reformers used everywhere, in the U.S. and around the world. The Allegro is designed to fit all body types and sizes, but there is also an Allegro Stretch, which is 18 inches longer than the original.
The Allegro 2 is a similar model that includes many of the same features as the Allegro. Both include an adjustable foot bar, but the Allegro 2 has an EasySet foot bar, an updated version that is easier to use. Both models have a SoftTouch rope system for simple adjustments and a standing platform for additional exercises. The Allegro includes wheels for easy movement, while wheels can be purchased and added separately to the Allegro 2.
Get Prices for the Balanced Body Allegro Reformer on Amazon.
Get Prices for the the Pilates Allegro Reformer by Balanced Body with Free 1-Year Streaming Video from eBay
See the Allegro Tower of Power on Amazon.
IQ Reformer
A less expensive model that is great for home use is the IQ. Retailing for $1,995, this model is smaller and easier to store than machines designed for the studio. You can easily lengthen or shorten the frame, stand it up, or wheel and store the reformer under a bed.
As a home-use model, the IQ is still durable, smooth and professional. It can actually be used in studios because it will stand up to heavy use. Ropes, loops, the foot bar, the headrest and the shoulder pads are all adjustable. There is also a standing platform standard with this model.
Get Prices for the Balanced Body IQ Reformer on Amazon.
Rialto Reformer
Balanced Body's newest model is the Rialto. The design is more contemporary than the company's other reformers, so if you want a different, updated look, this one provides it. All the features are designed for professional use, including a solid maple frame, legs, a sitting box, a five-position foot bar, adjustable shoulder rests and the five Balanced Body-signature springs. Because it is new and in demand, the Rialto may be out of stock at times.
CenterLine Reformer
This high-end model retails for $4,325 and was designed in collaboration with Pilates excerpts from the Pilates Center of Boulder, Colorado. The design of the machine is intended to stay in line with the original vision of Joseph Pilates with just subtle updates that make for a smoother ride and feel.
The CenterLine comes with a pole and box dowel, a sitting box, extender straps, a jump board bracket so this add-on can be easily attached, extra-wide boards for stability, a standing platform, swiveling handles, a two-position foot bar and a no-roll spring bar with three gears.
Get Prices for the balanced body Centerline Cadillac for Pilates, Full Body Home Workout on Amazon.
Ron Fletcher Reformer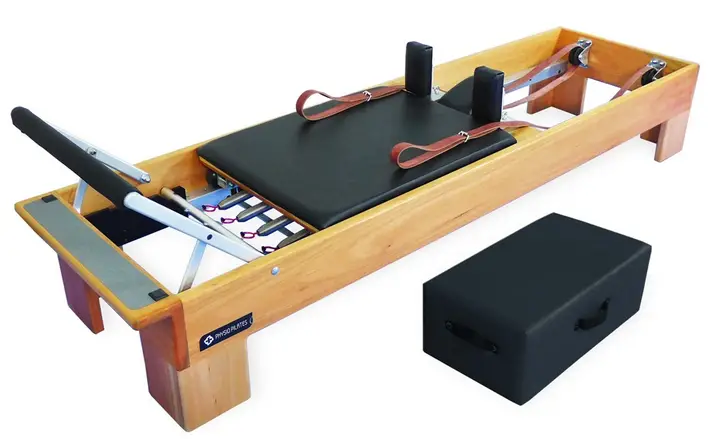 This special machine was designed especially for Ron Fletcher, a dancer and student of Joseph Pilates. It's based on the instructions given to him by Pilates' wife, Clara. It is the ultimate in a machine that adheres to the philosophy, design and vision of the Pilates creator.
Balanced Body long made custom machines for Fletcher, and this model, which retails for $3,895, makes the unique design available to all. The classic configuration is constructed with all the high-quality materials and standards used by Balanced Body in other machines but offers a simpler, more original Pilates experience.
Balanced Body Accessories
In addition to all the varied reformer models, Balanced Body offers a range of accessories and add-ons so you can create a unique, custom machine for a studio or personal use. Unlike many other companies, for instance, Balanced Body offers several different foot bars for customization.
The trapeze combination allows you to combine a reformer with accessories to create a tower, Cadillac and trapeze setup. It's an easy conversion to change between reformer and trapeze or tower system. The entire system, including the reformer and conversion kit, retails for $6,645 and is the company's most versatile and complete machine.
Other accessories you can add to your Pilates studio or home gym through Balanced Body include:
Plank bars for additional exercises
Jump boards for adding cardio workouts, including oversized jump boards
The Cardio Cloud, a softer surface that can be added to jump boards
Detachable rotator disks with adjustable resistance that can be positioned on the jump board
Tower kits to add to the Allegro, Allegro 2 or CenterLine models
A sitting box as well as a lighter version and a pro version.
Foot straps for use with sitting boxes, for the Allegro, IQ and other reformers.
Add-on rockers that reduce stability on reformers for a more challenging workout
An oversized standing platform for greater stability in standing workouts
The Konnector Kit, which allows for more independent movements in all four limbs
Replacement parts and tool kits for use specifically with Balanced Body machines
Balanced Body reformers are among the best in the business. Made in the U.S. and designed with patented inventions, these machines offer studio and professional experiences for the gym and the home. With a range of model types, prices, accessories and add-ons, there truly is something for everyone, from beginners to experts to instructors in studios.