Article Reviews
Balanced Body Reformers

Balanced Body Pilates Reformer Reviews – 2023 Products
Balanced Body has long been a leader in the Pilates community. With more than 40 years of experience designing, updating and manufacturing reformers, the company offers some of the best machines in the industry. Several models are all appropriate for studio use but can also be used in the home for Pilates enthusiasts.

The Balanced Body Story
Balanced Body has been in business and committed to Pilates education and equipment for more than 40 years. The company was founded by and is still led by Ken Endelman in 1976. He was one of the first Pilates enthusiasts to take the original reformer design created by Joseph Pilates and update it with modern construction and engineering. Many of the changes he made are now industry standards and resulted in 28 U.S. patents.
Over the years since Endelman began redesigning and making Pilates reformers he has consulted with experts in the field, including many of Pilates' original students. The result is a set of reformers that combine the original design with modern technology, safety and materials.
Endelman and Balanced Body are so much more than a company. Endelman became an advocate for the Pilates method and a leader in the community. He was instrumental in legal actions that prevented certain companies or individuals from hijacking and copywriting the Pilates name. That the name and the legacy can now be used freely by all is due to his efforts.
In addition to selling top-notch Pilates reformers and related equipment, Balanced Body is also a leader in education. The company offers training for instructors and in a variety of industries that benefit from Pilates: medical, physical therapy, athletics and more. They support small business owners in Pilates and fitness as well, offering consulting for marketing, business, instructor training and technical assistance.
Get Prices for the Balanced Body Allegro Reformer on Amazon.
What Sets Balanced Body Reformers Apart
Balanced Body reformers have the benefit of all the years of experience and hard work that Endelman put into perfecting this machine. The company offers several models in a range of prices, with something for everyone. They offer professional, studio reformers and home models. Materials are of the highest quality, and you can add a number of accessories to improve your Pilates experience.
Another thing that makes Balanced Body equipment unique is that it is all made in the U.S. With manufacturing increasingly moved overseas, this company has remained committed to production right in Sacramento, California. This is where the business is headquartered and all the reformers constructed.
The craftmanship of the reformers is exceptional. Balanced Body uses a construction process that leads to stable machines that stand up to a lot of wear and tear. The components are put together in a way that makes movements smooth and quiet. The hygienic lacquer used on the finishes is both attractive and tough. The springs used on the machines are made from carbon steel that has been nickel-plated for strength and safe use. The frames come with a lifetime warranty, while most other components have a ten-year warranty.
Balanced Body Reformer Models
All of Balanced Body's reformers are durable, sturdy and versatile enough for professional use. Less expensive models still have all the fine qualities of a Balanced Body machine, but are more affordable for home use.
1. The Studio Reformer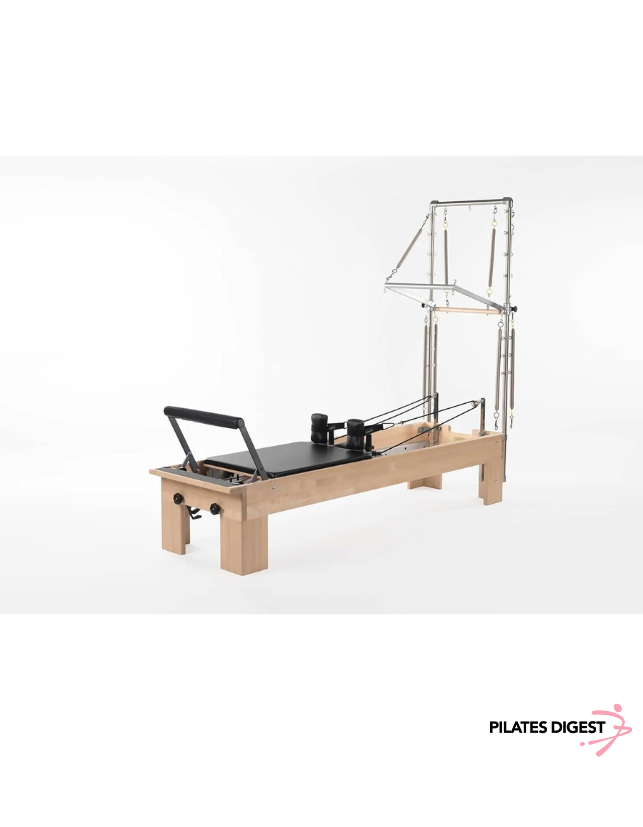 Versatility in Fitness: The Studio Reformer is adaptable to your evolving Pilates program. It allows exercises in multiple planes of resistance, on both stationary and moving platforms, and from both sides of its Tower System. The product comes in standard black upholstery.
Rich Accessory Set: The reformer is accompanied by a variety of accessories to enhance your workout experience. These include the Revo foot bar/spring bar, ropes, risers, headrest/shoulder rests, a standing platform, a stainless-steel tower, push-through bar, twin mats, tower springs, and a roll-down bar.
Customizable Workouts: This equipment is designed for those who want a comprehensive full-body workout without the need to visit a gym. It offers a range of tools, from resistance bands to bars, ensuring a versatile workout experience.
Quality and Design: The Studio Reformer is constructed from solid Rock Maple, renowned for its durability. This makes it one of the smoothest, quietest, and most long-lasting machines available. It features 5 signature springs equipped with spring collars and stands at a stock height of 18 inches. The standard color for its upholstery is black.
Advantages:
Adaptable to evolving Pilates routines.
Comprehensive accessory set included.
Enables full-body workouts at home.
Constructed from durable Rock Maple.
Smooth, quiet operation.
Customizable resistance with 5 springs.
Get Prices for the Balanced Body Studio Reformer with Tower from Amazon.
2. Allegro Models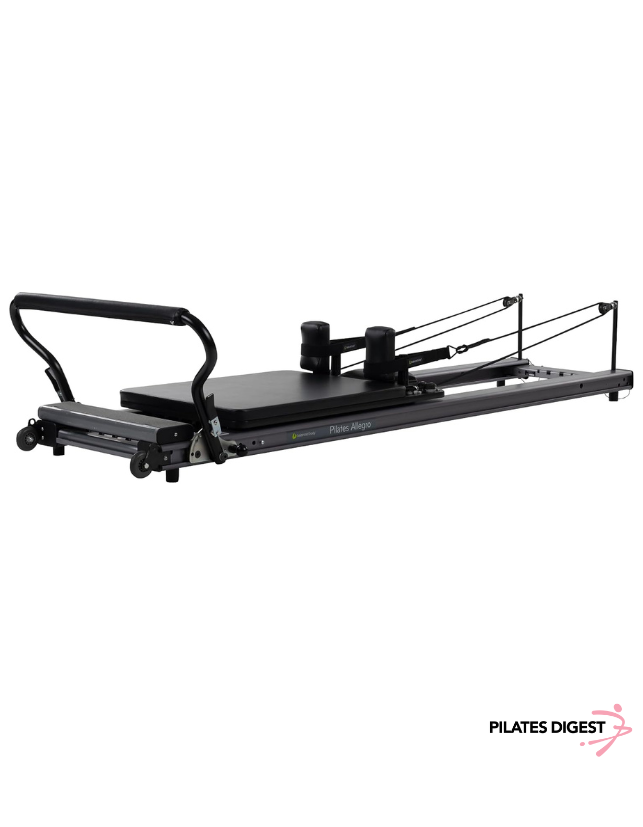 Versatile Pilates Equipment: Whether you're a beginner or a seasoned Pilates enthusiast, our studio reformer is designed to evolve with your journey. Begin with the basics and expand your routine by adding accessories as you progress.
Space-Saving Design: Limited on space? No problem. Our reformer is equipped with built-in transport wheels for easy movement. Plus, its unique design allows it to stand on end, making it an ideal choice for home use.
Comprehensive Accessory Package: This package isn't just about the reformer. It comes with a range of accessories to enhance your workout experience. From free streaming workout videos and double cotton loops to a built-in standing platform, we've got you covered.
Premium Build & Features: Crafted with attention to detail, the frame boasts a powder-coated anodized aluminum finish complemented by elegant maple accents. The reformer also features 5 signature springs with spring collars, ensuring a smooth and effective workout. The standard upholstery color is a sleek black, adding a touch of sophistication to your exercise space.
Advantages:
Versatile Use: Evolves with your Pilates journey.
Space-Saving: Stands on end for compact storage.
Comprehensive Accessories: Includes videos, loops, and platform.
Premium Build: Anodized aluminum with maple accents.
Smooth Operation: 5 signature springs ensure effectiveness.
Flexible Delivery Options: White-Glove service available.
Get Prices for the Balanced Body Allegro Reformer on Amazon.
See the Allegro Tower of Power on Amazon.
3. IQ Reformer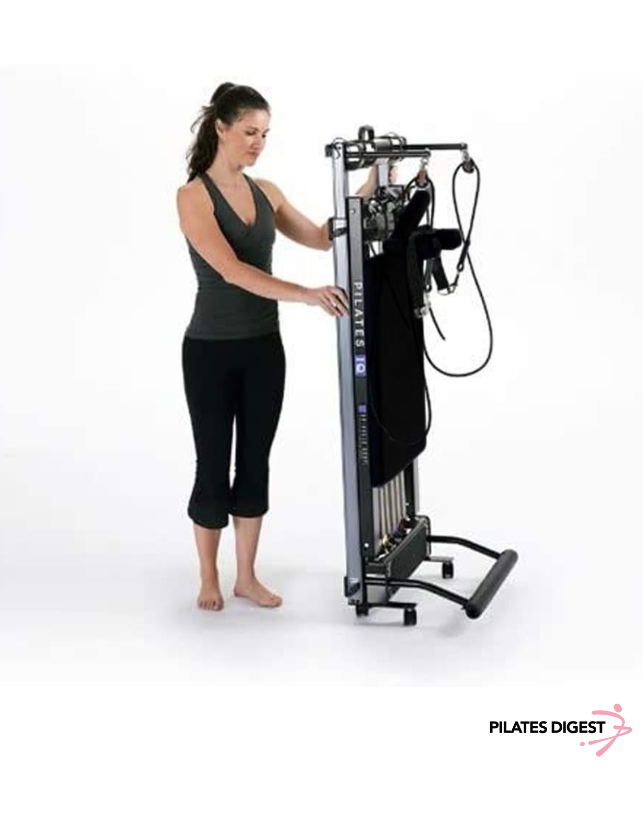 Purpose: It's a Pilates reformer machine designed for home use.
Budget-Friendly: The product is marketed as being affordable.
Easy Storage: The machine can be easily set up and stored either under the bed or stood upright in a closet.
Wheel Types: It comes with two types of wheels for storage – Wheelbarrow wheels (for under-bed storage) and Library wheels (for upright storage). However, these wheels are not interchangeable.
Accessories: The machine includes:

A patented footbar
5 Balanced Body Signature Springs
Safety-rated climbing ropes
Transport wheels
Adjustable cotton loops with nautical cam cleats

Specifications:

Length (Extended): 98″ (249 cm)
Length (Collapsed): 62″ (157 cm)
Width: 24″ (61 cm)
Footbar Height: 18″ (46 cm)
Weight: 70 lbs. (32 kg)
Upholstery Color: Storm Gray
Advantages:
Budget-Friendly: Affordable high-quality Pilates reformer for home use.
Compact Design: Easily stores under bed or upright in closet.
Versatile Wheels: Wheelbarrow and Library wheels for varied storage.
Comprehensive Accessories: Includes footbar, springs, ropes, and adjustable loops.
Durable Build: Weighs 70 lbs. with standard Storm Gray upholstery.
Flexible Delivery Options: Curbside or premium White-Glove available.
Get Prices for the Balanced Body IQ Reformer on Amazon.
4. Rialto Reformer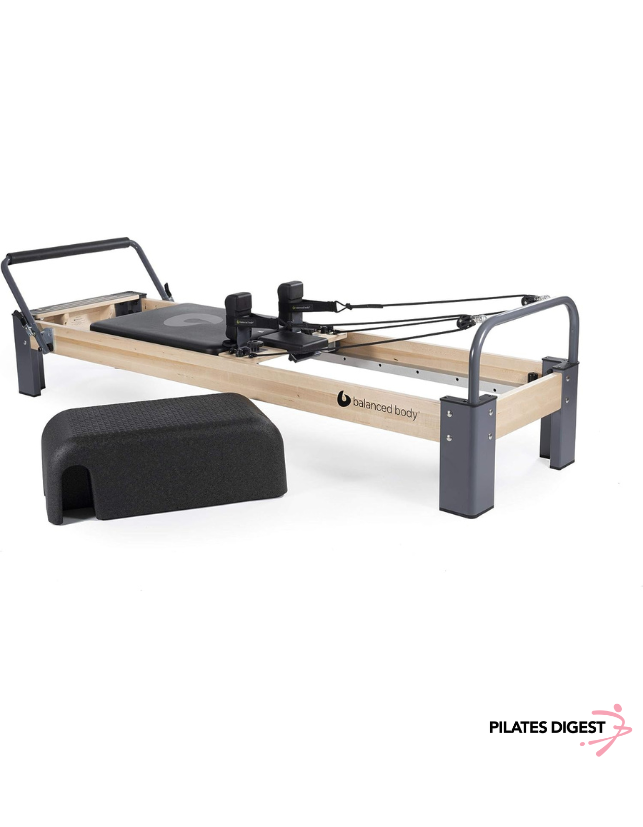 Professional-Grade Quality: Crafted with precision, the Rialto Reformer boasts a blend of classic maple and powder-coated aluminum, ensuring durability and longevity.
Contemporary Design: The eye-catching design not only complements modern interiors but also ensures optimal functionality during workouts.
Comfort & Support: Experience unparalleled comfort with the dense, over-molded padding that provides adequate support during intense training sessions.
Customizable Workouts: Whether you're targeting specific muscle groups or aiming for a full-body workout, the Rialto Reformer has got you covered. With adjustable ropes and shoulder rests, it offers a versatile workout experience tailored to your needs.
Included Accessories:

Ultra-Cushioned Carriage Pad: Ensures a comfortable and smooth glide during exercises.
5-Position Footbar: Adjust to your preferred position for a tailored workout experience.
3-Position Shoulder Rests: Choose from normal, wide width, or remove them entirely based on your comfort and exercise requirements.
Sitting Box Lite: Enhance your Pilates routine with this added accessory.
Standard Upholstery Color: Elegant black to match any home decor.
Advantages:
Professional-grade quality: Durable maple and aluminum design.
Contemporary, eye-catching aesthetic.
Dense padding ensures optimal comfort.
Customizable settings for tailored workouts.
Comprehensive accessories included.
Ideal for home-based Pilates sessions.
5. CenterLine Reformer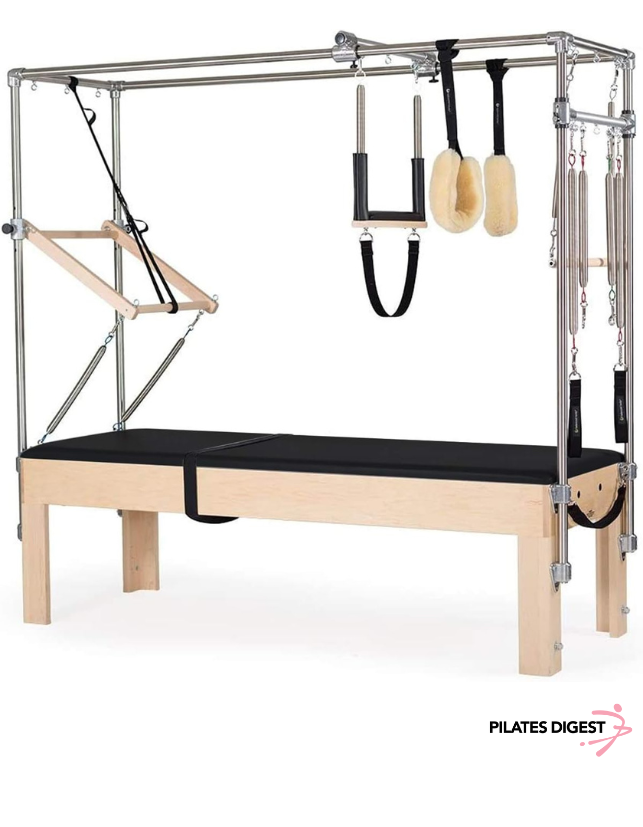 Get Prices for the balanced body Centerline Cadillac for Pilates, Full Body Home Workout on Amazon.
Balanced Body Accessories
In addition to all the varied reformer models, Balanced Body offers a range of accessories and add-ons so you can create a unique, custom machine for a studio or personal use. Unlike many other companies, for instance, Balanced Body offers several different foot bars for customization.
The trapeze combination allows you to combine a reformer with accessories to create a tower, Cadillac and trapeze setup. It's an easy conversion to change between reformer and trapeze or tower system. The entire system, including the reformer and conversion kit, retails for $6,645 and is the company's most versatile and complete machine.
Other accessories you can add to your Pilates studio or home gym through Balanced Body include:
Plank bars for additional exercises
Jump boards for adding cardio workouts, including oversized jump boards
The Cardio Cloud, a softer surface that can be added to jump boards
Detachable rotator disks with adjustable resistance that can be positioned on the jump board
Tower kits to add to the Allegro, Allegro 2 or CenterLine models
A sitting box as well as a lighter version and a pro version.
Foot straps for use with sitting boxes, for the Allegro, IQ and other reformers.
Add-on rockers that reduce stability on reformers for a more challenging workout
An oversized standing platform for greater stability in standing workouts
The Konnector Kit, which allows for more independent movements in all four limbs
Replacement parts and tool kits for use specifically with Balanced Body machines
Balanced Body reformers are among the best in the business. Made in the U.S. and designed with patented inventions, these machines offer studio and professional experiences for the gym and the home. With a range of model types, prices, accessories and add-ons, there truly is something for everyone, from beginners to experts to instructors in studios.