Article Reviews
Pilates Grip Socks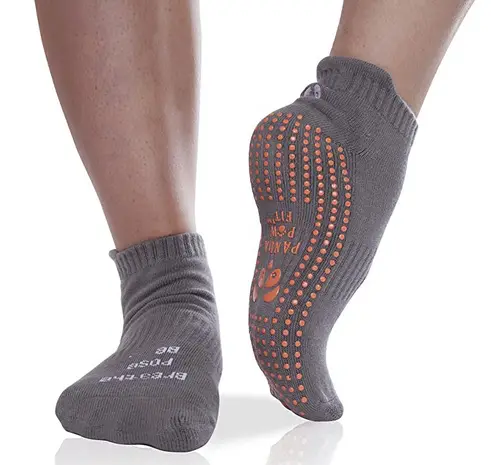 The Best Grip Socks for Pilates
When you think about workout equipment, many things probably come to mind. But one thing you may not consider as essential workout equipment is a pair of socks. However, shoes are not usually worn to Pilates classes. Since Pilates focuses on the body's capability to provide balance and to support itself, people typically do Pilates barefoot or sock-footed.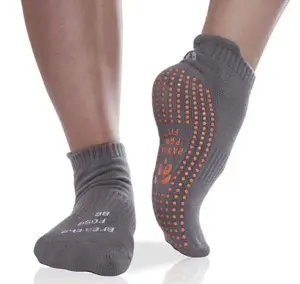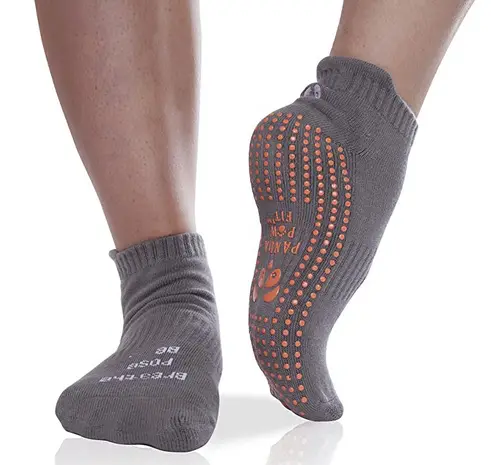 If you are using reformers or other Pilates equipment, you should wear socks rather than go barefoot. Wearing socks will give you traction on the mats and machines and will help keep you from getting injured. Socks with grips on the bottom are ideal for Pilates because they keep you from sliding and falling. Keep reading to learn more about the best grip socks for Pilates.
What are Grip Socks for Pilates?
Grip socks commonly worn to do Pilates are socks that have dot-grips covering the bottom of the sock. The grips are usually made from silicone or thin PVC and are generally arranged in patterns to prevent skidding. The grips should cover the entire bottom of the sock from heel to toe.
Pilates grip socks, also used for yoga, barre and ballet, come in various colors and styles. They may be full-length, ankle-length or the no-show style. Socks that fit at or just below the ankle and the no-show style are most frequently used for Pilates.
Some are open-footed, Mary Jane style, and some have stretchy, crisscross straps. Some of these socks are seamless and some are toe socks, while others are closed toe. There are also toeless grip socks available. But no matter which color and style you choose, there is bound to be a pair of Pilates grip socks out there that will be an absolute must for your next Pilates class.
Where to Buy Grip Socks for Pilates
Once you have decided what kind of grip socks you want, the next step is to purchase them. Where do you buy grip socks for Pilates? You can usually find them in sporting goods stores or other stores that sell workout clothing or yoga and ballet equipment and attire. Pilates grip socks can also be found in many other types of retail stores and online.
Can I Wear Open-Toe Grip Socks to Club Pilates?
Yes, you can wear open-toe grip socks to club Pilates. In fact, some studios recommend wearing toeless grip socks so that you get a better workout experience. Posture and balance are critical in Pilates, and socks with open toes allow for natural toe movement and support better balance and flexibility. Although the toes are exposed, you will still have plenty of grip support since the grips cover the sock's sole. Toeless socks are also ideal for summer or if the studio where you take Pilates classes is hot.
1. Review: LA Active Grip Socks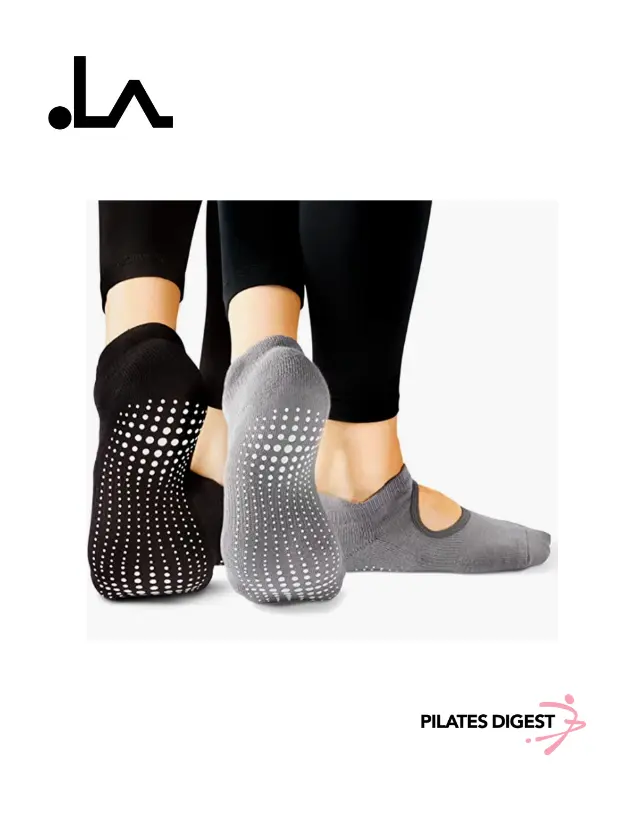 Experience the perfect blend of comfort, style, and functionality with LA Active Grip Socks. Crafted from a premium mix of 80% cotton, 17% polyester, and 3% spandex, these socks offer a soft touch while ensuring durability and stretch.
Stay fresh and dry with the breathable design of these pilates grip socks. The high-quality combed cotton ensures efficient sweat-wicking, keeping your feet dry and comfortable even during intense workouts. Whether you're a man or a woman, these socks are available in various sizes to cater to everyone.
Safety is paramount, and with the non-skid feature, you're in good hands. The PVC particles at the bottom enhance traction between your feet, socks, and the floor, ensuring you remain stable during your yoga, barre, or ballet sessions. Say goodbye to slips and falls, and embrace improved balance and stability.
The closed-toe design ensures your feet remain clean, protected, and cozy, especially on cold or hard surfaces. These socks also keep odors at bay, ensuring you remain fresh throughout your exercise routines.
Advantages:
Breathable material keeps feet dry during workouts.
Enhanced traction prevents slips and falls.
Closed-toe design ensures hygiene and warmth.
Open instep offers added style and ventilation.
Padded heel tabs for superior comfort.
Flexible fibers allow free toe movement.
You can check these yoga socks here.
2. Review: Ozaiic Yoga Socks for Women
Step into the world of grace and balance with Ozaiic Yoga Socks, designed especially for the modern woman. Drawing inspiration from the elegance of ballet, these socks not only look chic but also promise unmatched grip and stability. Whether you're mastering a pose in yoga, dancing in a barre class, or simply moving across slippery surfaces, these socks ensure you do so with confidence and style.
The unique design, reminiscent of ballet footwear, is complemented by an ethnic pattern at the bottom, adding a touch of sophistication to your workout attire. Crafted from combed cotton, they offer the perfect blend of comfort and performance. The cutout on the top ensures your feet remain fresh and airy, while the elastic straps keep the socks snugly in place, letting you concentrate solely on your routine.
Available in a versatile size that fits Women's shoe size 5.5-11 (E.U. size 35-43), you have the option to choose between a single pair or a pack of four, ensuring you always have a pair at hand. At Ozaiic, we prioritize quality and customer satisfaction. So, step into a world where fashion meets functionality, and embrace the comfort of Ozaiic Yoga Socks.
Advantages:
Enhanced grip for yoga, pilates, and dance.
Stylish ballet-inspired design.
Breathable cutout for foot comfort.
Secure fit with elastic straps.
Durable combed cotton fabric.
Versatile size range (5.5-11 E.U. 35-43).
You can check these yoga socks here.
3. Review: Hyalaea Yoga Socks for Women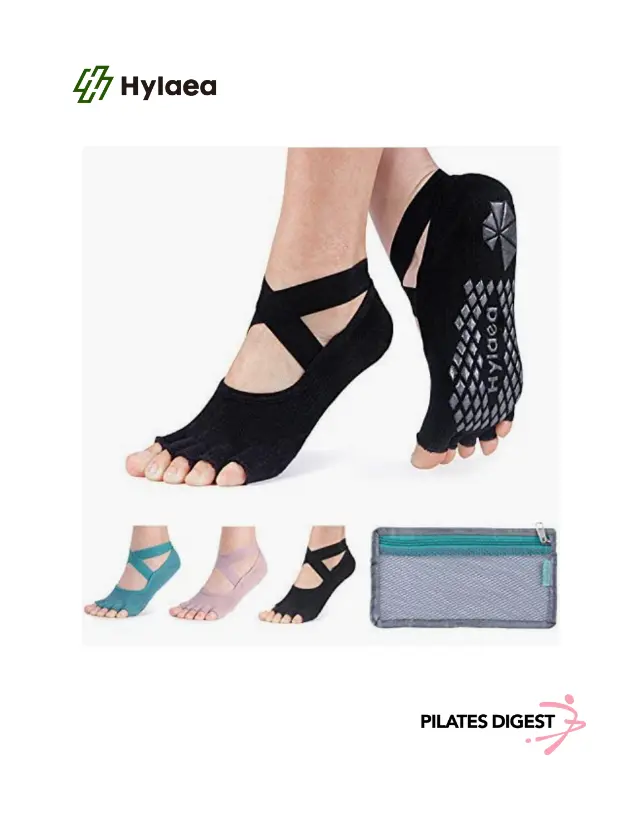 Crafted with a blend of premium combed cotton and spandex, our toeless yoga socks are designed to give you the sensation of being barefoot while ensuring you remain grounded. The exposed half-toe design allows for an enhanced tactile experience, ensuring you feel every nuance of the floor beneath you, making it perfect for yoga, pilates, ballet, and dance.
But that's not all. With our patent-pending design, these socks come equipped with non-slip silicone gel grips imported from Korea. These grips ensure you remain steady, even on the slipperiest of surfaces, offering unparalleled balance and stability. Whether you're in the middle of an intense workout or simply walking on a polished floor, these socks have got you covered.
The material composition of 84% Cotton, 12% Spandex, and 4% Binding cloth ensures not only a snug fit but also superior sweat absorption, making them more comfortable than your average cotton socks. And when it's time to clean? Just toss them in the machine for a hassle-free wash.
Advantages:
Toeless design: Enhanced tactile feel and balance.
Non-slip silicone grips: Maximum stability on slippery surfaces.
Premium combed cotton: Superior sweat absorption and comfort.
Machine washable: Easy and convenient cleaning.
Versatile use: Ideal for yoga, pilates, ballet, and dance.
Patent-pending innovation: Unique and cutting-edge design.
You can check these yoga socks here.
4. Review: Toesox Bellarina Grip Socks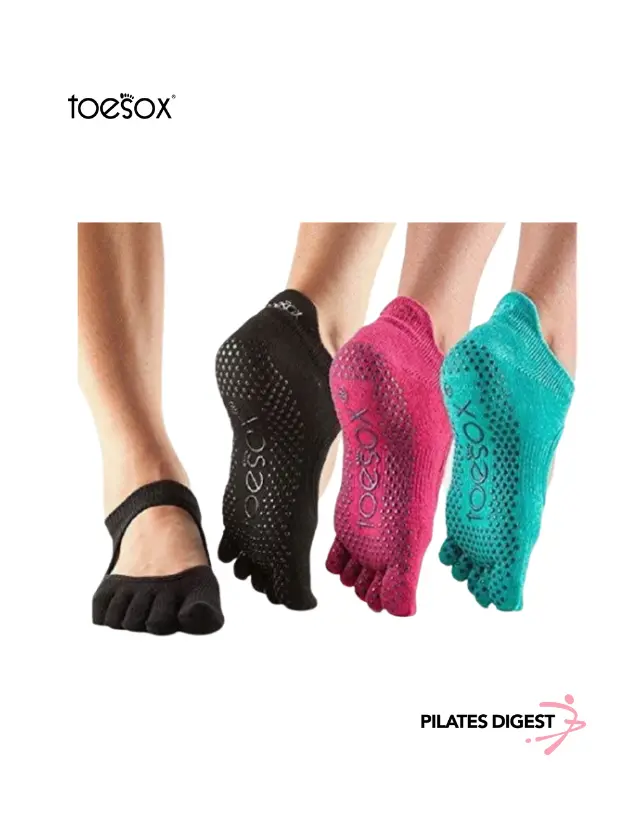 Step into the world of comfort and stability with the Bellarina Grip Socks by ToeSox. Crafted with a blend of 77% organic cotton, 19% polyester, and 4% other fibers, these socks promise a soft touch and lasting durability. Imported and machine-washable, they're designed to maintain their integrity even after countless washes.
The Bellarina isn't just another sock; it's an experience. Its full toe grip design ensures that you have the utmost stability, whether you're at the barre, practicing Pilates, diving deep into yoga, or dancing the night away. The unique 5-toe construction allows for natural toe movement, ensuring that your feet remain comfortable and free.
Say goodbye to the discomfort of bunched-up socks. The Bellarina's fitted heel design ensures that your sock stays in place, eliminating any unnecessary bunching or twisting. The low-profile design, sitting just below the ankle, combined with an open foot feel, makes it seem almost invisible.
But the Bellarina doesn't stop at comfort. With its patented non-slip grip sole, you can trust your footing on any surface, making it the ideal choice for studio activities. And if you're worried about odors, the Bellarina has you covered. It's the perfect odor-free alternative to going barefoot, ensuring your feet remain fresh and clean. If you prefer to leave your toes uncovered, Toesox also has a toeless-style grip sock.
Advantages:
Full Toe Grip: Enhanced stability for barre, Pilates, and dance.
5-Toe Design: Promotes natural toe movement and spread.
Non-Slip Sole: Secure footing on any studio surface.
Odor-Free: Keeps feet fresh during exercise.
Durable Material: 77% organic cotton blend, machine-washable.
Stylish Choices: Variety of colors and sizes available.
You can check these yoga socks here.
5. Review: Panda Superstore Colorful Yoga Socks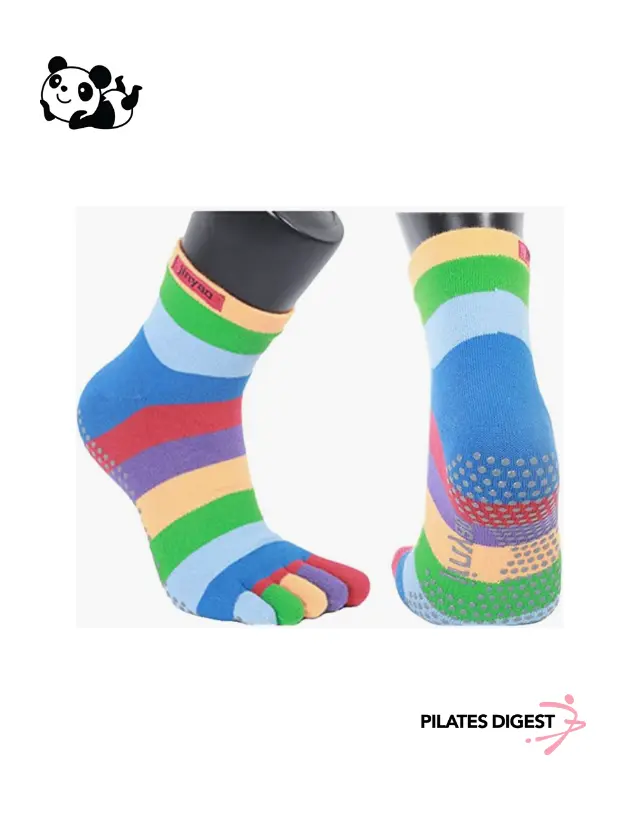 Step onto your yoga mat with a splash of color and a touch of elegance. Introducing the Panda Superstore Colorful Yoga Socks, designed for the modern yogi who seeks both style and functionality. Crafted with precision, these socks offer a snug fit, ensuring that your feet remain comfortable and grounded during even the most challenging poses. The vibrant hues not only add a dash of personality to your yoga attire but also inspire a sense of joy and positivity as you flow through your sequences.
Advantages:
Snug fit for comfortable and grounded yoga practice.
Vibrant colors add personality and positivity to sessions.
Anti-slip grip ensures unparalleled stability during poses.
Breathable materials keep feet fresh and odor-free.
Unique toe separation promotes better foot alignment.
Stylish design complements yoga attire and lifestyle.
You can check these yoga socks here.
6. Review – Rymora Non-Slip Grip Socks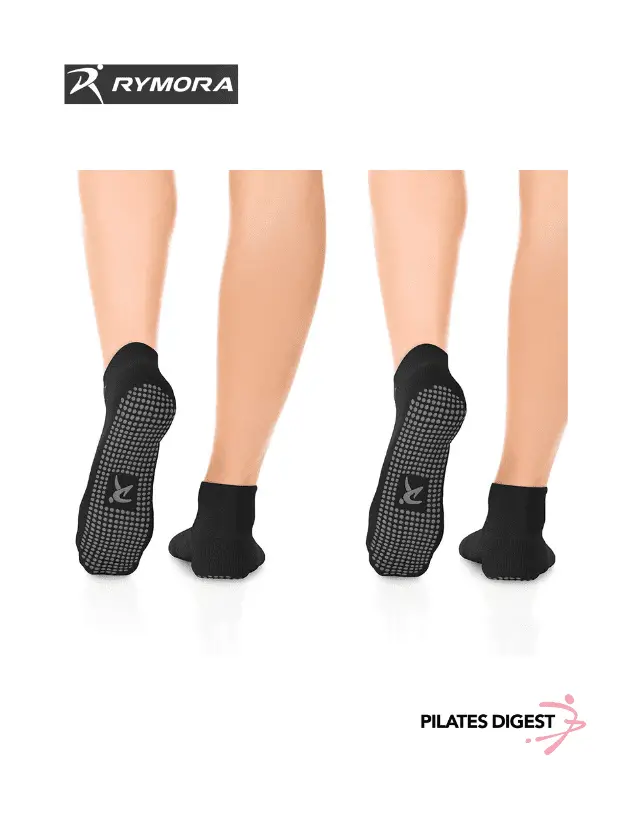 Made with a premium blend of materials, these socks boast an impressive 85% cotton content, ensuring your feet remain cozy and breathable. The inclusion of 12% Nylon and 3% elastic fibers guarantees a stretchy fit that adapts to your foot's contours, ensuring a snug and comfortable fit every time.
But what truly sets these socks apart is their anti-slip design. The PVC gripping dots on the bottom provide enhanced traction, whether you're on the yoga mat, dance floor, or even just walking around your home. This ensures you can focus on your exercise routine without the constant worry of slipping or losing balance.
Rymora has also prioritized your foot's health. With a closed-toe design, these socks shield your feet from dirt, germs, and potential blisters. This makes them a safer and more hygienic alternative to going barefoot, especially in shared spaces.
Durability is another hallmark of these socks. Reinforced fabric around the heel and toe areas ensures they can withstand regular wear and tear. And when it's time to clean them? It's a breeze. Whether you choose to hand wash or toss them in the machine, these socks retain their shape, size, and vibrant color.
Advantages:
Enhanced traction with PVC gripping dots.
Breathable and comfortable 85% cotton blend.
Closed-toe design for hygiene and protection.
Stretchy fit with 12% Nylon and 3% elastic fibers.
Durable heel and toe reinforcement.
Machine-washable without fading or deforming.
You can check these yoga socks here.
7. Review: Muezna Non-Slip Yoga Socks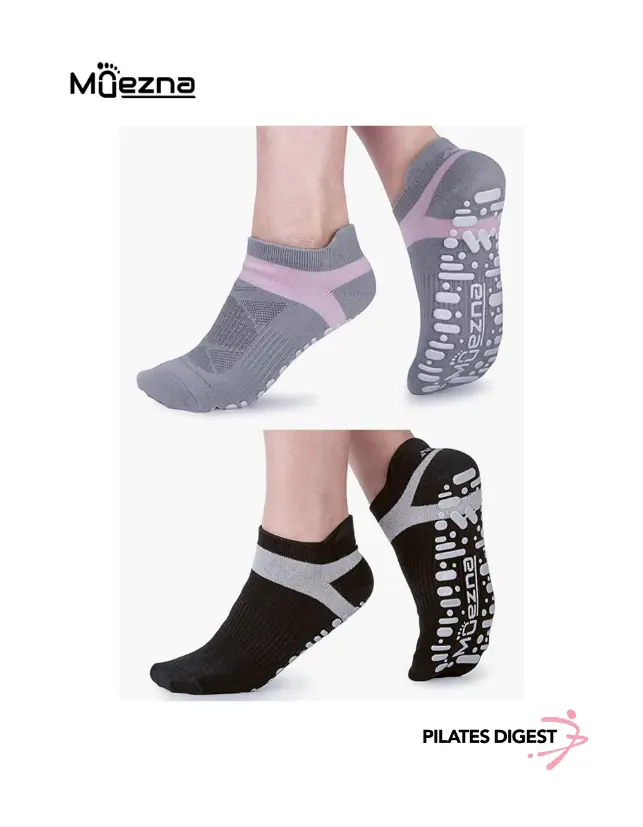 Discover the perfect blend of style, comfort, and stability with Muezna Non-Slip Yoga Socks. Crafted from premium combed cotton, these socks are not only soft to the touch but also incredibly durable. The 100% silica grips on the bottom ensure a firm grip, making them an ideal choice for activities like Yoga, Pilates, Barre, Bikram, Ballet, and Fitness.
The unique design on the instep adds a touch of elegance, while the anti-skid frictions on the bottom provide an unmatched anti-slip effect. Whether you're mastering a new yoga pose or dancing the night away, these socks will keep you grounded.
But it's not just about the gym or the dance studio. These socks are a lifesaver for pregnant women, hospital patients, and the elderly, offering protection against potential falls.
Every pair comes in a complimentary gift bag, making storage a breeze and ensuring they remain clean and fresh. Plus, it's a thoughtful touch if you're gifting them to someone special.
Available in a versatile size that fits most (women's US shoe size 5-10), each pack includes two pairs in classic shades of black and gray. And with our 100% satisfaction guarantee, you can shop with confidence. If you're not completely happy with your purchase within the first 60 days, we promise a hassle-free refund. Embrace stability and style with Muezna Non-Slip Yoga Socks.
Advantages:
Premium combed cotton for softness and durability.
100% silica grips ensure unmatched anti-slip effect.
Ideal for Yoga, Pilates, Ballet, and more.
Protective for pregnant women, patients, and elderly.
Complimentary gift bag for easy storage.
100% satisfaction guarantee within 60 days.
You can check these yoga socks here.
Review: Lululemon
When it comes to Pilates grip socks, Lululemon has several styles of socks. The Power Stride No-Show Sock with Active Grip is made from a nylon/lycra blend and is no-show, so they fit well below the ankle. They feature a 3D knit, micro-cushioned heel designed to stretch, and the active grip tab on the heel helps keep the socks from sliding off. The socks also have 360-degree arch support and a seamless toe.
The Power Stride No-Show Active Grip socks come in sizes small, medium and large. The smallest size will fit a women's shoe size 4–6. The medium socks will fit a women's size 6.5–8.5. The large will fit a women's size 9–11. They come in blue linen, pink puff, porcelain pink, white and highlight yellow. You can buy these on the Lululemon website for $14.00 a pair. The Power Stride No-Show Active Grip socks are also available to purchase in a three-pair pack of white, blue linen and black, or all white for $38.00.
Are you worried that your feet might sweat in your socks while you're working out and leave an unpleasant odor behind? Lululemon has got you covered. Most Pilates and yoga socks are made of breathable, sweat-absorbent material that prevents sweat anyway, but Lululemon takes it a step further.
The Power Stride No-Show Sock with Active Grip and Anti-Stink is just like the regular Power Stride No-Show sock mentioned above, but with the addition of X-STATIC material in the sock. This material prevents odor-causing bacteria from growing in the sock. These socks are available in sizes small, medium and large, and come in three-pair packs of your choice of heather graphite grey or black. They cost $48.00 for three pairs.
As you can see, not all Pilates grip socks are the same. Whether you want ankle socks or a no-show, prefer a seamless toe, or want to let your toes move freely, there is a sock out there for you. Just remember to look for supportive, comfortable ones that will provide traction while working out.