The Best-Selling Yoga Pants on Amazon in 2022
It is not the first time you are hearing the name yoga pants. This comfortable exercise attire is popular among women due to the elasticity and flexibility it offers during Pilates workouts or normal yoga. But it's not always necessary that you will have high-quality yoga pants for the price you pay.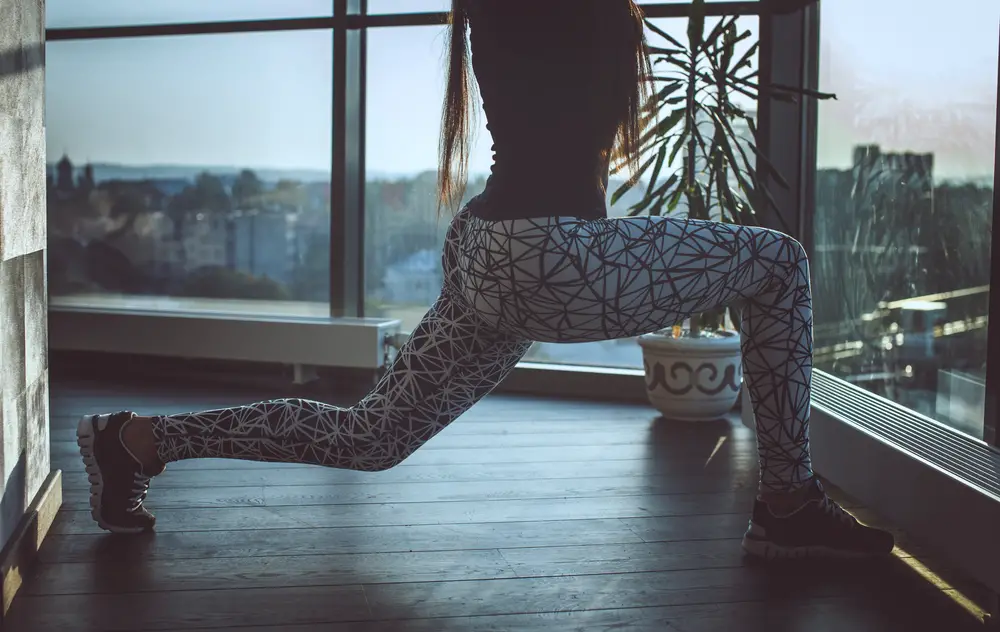 What are Yoga Pants and Their Benefits
While the term describes a lot of things, yoga pants help you perform a lot of exercises comfortably. These stretchable and flexible pants are made with a mixture of Spandex with some other fabric.
Contrary to popular belief, yoga pants are never the same. A huge variety of yoga pants can be found in several outlets with different form-fitting and designs.
Why Do Women Prefer Yoga Pants While Exercising or for Outdoor Use?
Comfortable: There's nothing better than stretchable body-hugging yoga pants that you can wear all day and night long without worrying about any comfort issues.
Perfectly Shaped: Most yoga pant designs fit perfectly with your body shape making girls feel better and confident in their bodies. These make them look beautiful with most outfits and allows them to experiment with different styles. Whether you are sporting an oversized shirt or a pair of high heels, yoga pants will likely match every outfit.
Inexpensive: Unlike most workout gear that costs hundreds of bucks, you don't have to spend much for the best yoga pants brands on Amazon. Moreover, you will feel the worth of every dollar spent on your favorite pair of yoga leggings when you'll slay any style and outfit.
Soft but firm: When you know that even a gym belt takes more space in your closet than your neatly folded yoga pants, you'll see what a tiny space they take in your closet. Being flexible and comfortable, it can even take some rough usage. Yoga leggings allow your body to move freely during workout sessions without any chafing or pulling. Do a jumping squat or lift weights in your yoga pants. They can take anything your body can. They are also a perfect travel outfit since you can pair them up with a crop or an oversized t-shirt.
Amazon's Top-Selling Yoga Pants
Colorfulkoala Women's High Waisted Yoga Pants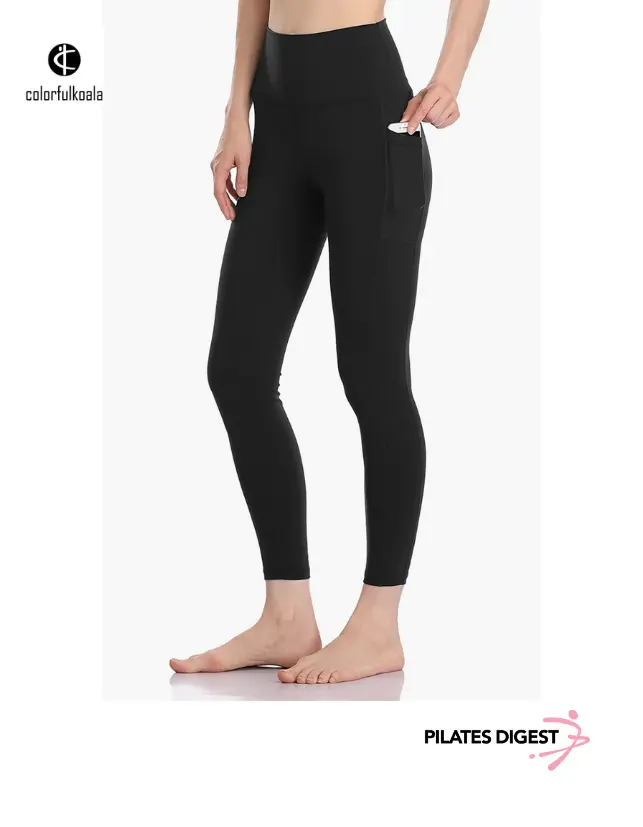 Here's a multi-purpose, multi-colored yoga pants that can be your workout gear for several reasons. The Colorfulkoala Women's High Waisted Yoga Pants have a seamless waistband and side pockets to provide you comfort with style. These opaque yoga leggings have a buttery soft feel to them. This perfect blend of spandex and polyester can be yours in multiple colors to suit your styles.
The skin-hugging Colorfulkoala women's high-waisted yoga pants are available in different types including capris, shorts, leggings, full-length leggings, high-waisted pattern leggings, and Capri length joggers. Every piece is a sweat-wicking pair of leggings ensuring an incredible yoga or Pilates workout experience.
Ewedoos Women's Yoga Pants with Pockets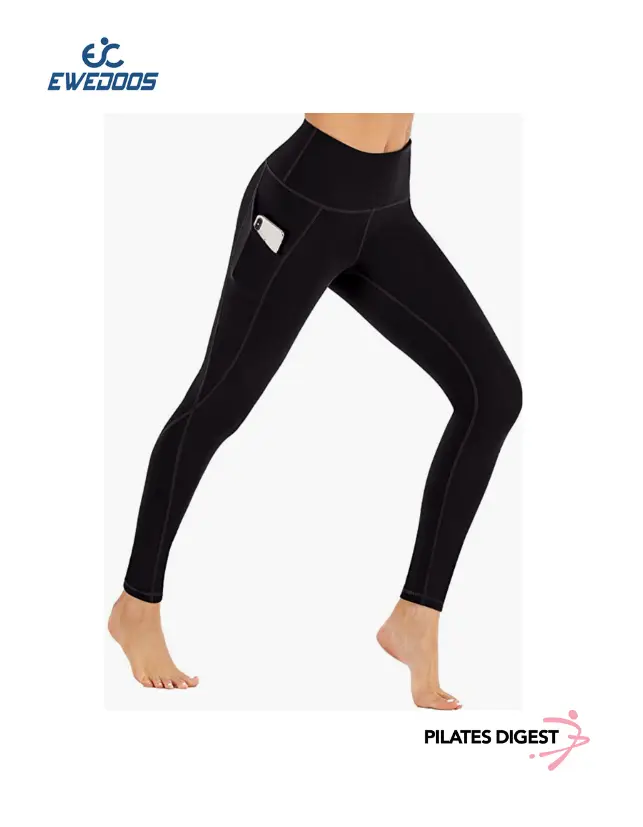 One of the highest-rated yoga pants on Amazon, Ewedoos Women's Yoga Pants with Pockets are ultra-soft, non-see-through leggings ideal for all types of workouts. The 4-way stretchy fabric prevents moisture on your skin and a fabulous material feels silky smooth on your body. Moreover, the features include 2 pockets on each side to easily store your phone while working out. Whatever activity you are doing, slip anything you have in these pockets and you are good to go.
It does not have pockets in its name without a reason. There's even a hidden pocket on the inner side of the waistband to put any additional items you may have such as clips, keys, or cash. Ewedoos Women's Yoga Pants with Pockets supports hands-free traveling and exercising. The stylish women's leggings come with a 30-days money-back guarantee if you don't like the product. Whether you want to use it while performing the exercise, yoga, or Pilates workout, or you want to use it as day-to-day wear, you can try and then return the product without any arguments.
CRZ YOGA Women's Naked Feeling High Waist Yoga Tight Pants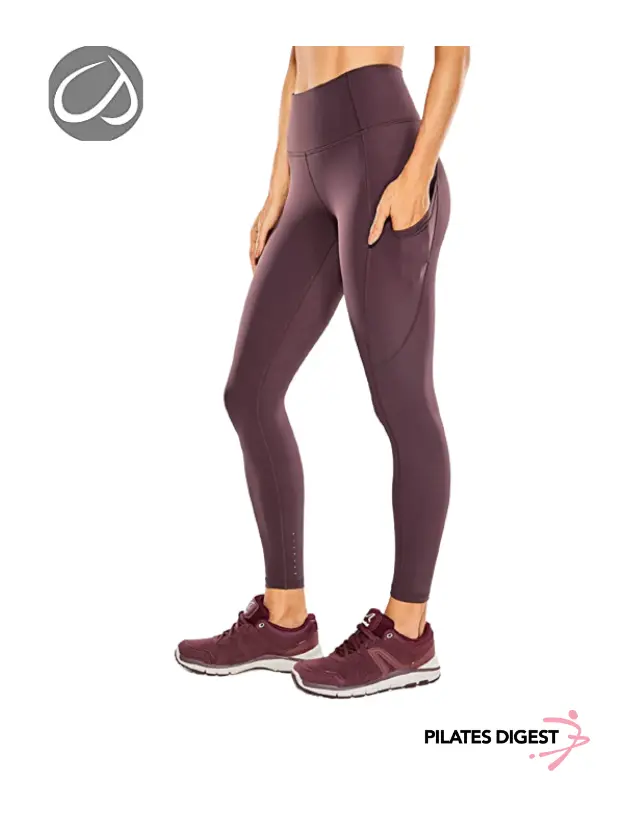 Next up we have CRZ YOGA Women's Naked Feeling High Waist Yoga Tight Pants that redefine the word diversity. With so many options available, these yoga leggings are loved by most of their customers. The 7/8 ankle-length high-waist athletic leggings feel like your second skin. A High-rise waistband supports tummy control making it helpful for active women looking to shed some pounds in the gym.
The CRZ yoga pants also have a four-way stretch and sweat-wicking material allowing you to wear them during several outdoor activities. They come with interlock stitching for enhanced flexibility and free movement. Specially designed for training and yoga, these yoga pants consist of 71% polyamide and 29% spandex. With a trendy design, these are perfect not only for exercising but also for day-to-day use or hanging out with friends. Just pair them with a good top and you can rock them all day long.
ODODOS Women's High Waisted Yoga Leggings with Pocket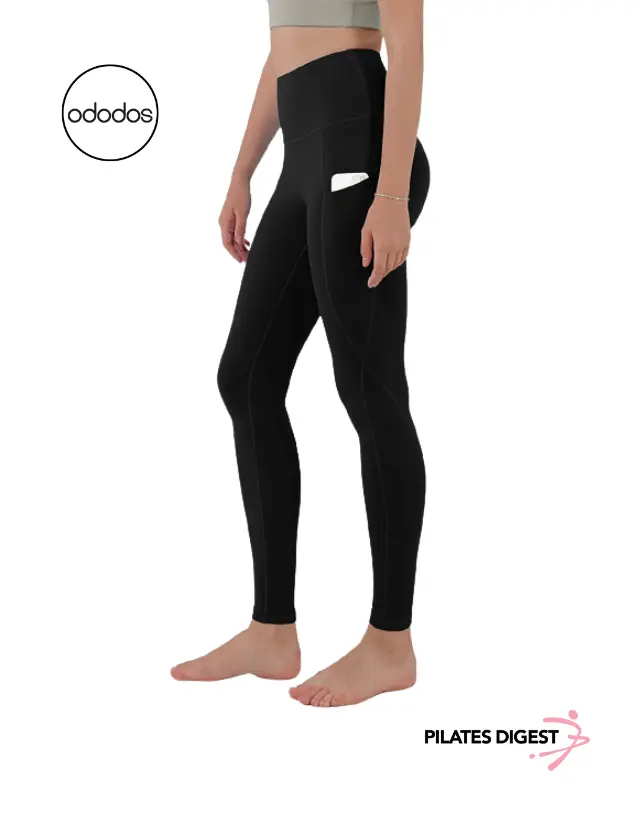 With a high rating of 4.5 out of 5, the ODODOS Women's High Waisted Yoga Leggings are on trend with their multi-color range including SpaceDue, Heather, Pattern, Solid, and Jacquard. Consumers get to pick their selection with a 100% full money-back guarantee. It has a moisture-wicking fabric that stays dry for hours and maximizes comfort. You feel safe and protected during every pose or training. These yoga pants have pockets on both sides so that you never leave your smartphone or keys behind in the gym. It has been a common thing in most of Amazon's best-selling yoga pants that you don't have to worry about your essentials while doing your Pilates exercise or yoga training.
A high-waisted and wide waistband helps you with maximum protection while bending. It helps keep your stretching movements flawless with a strong elastic band. The company claims that these yoga leggings are perfect for yoga, fitness, exercise, biking, running, volleyball, weightlifting, and any other special training. The item is made of 87% polyester and 13% spandex and is available in a wide range of color options. ODODOS yoga pants give an athletic feel to your appearance, making you look always ready for some training.
Lingswallow High Waist Yoga Pants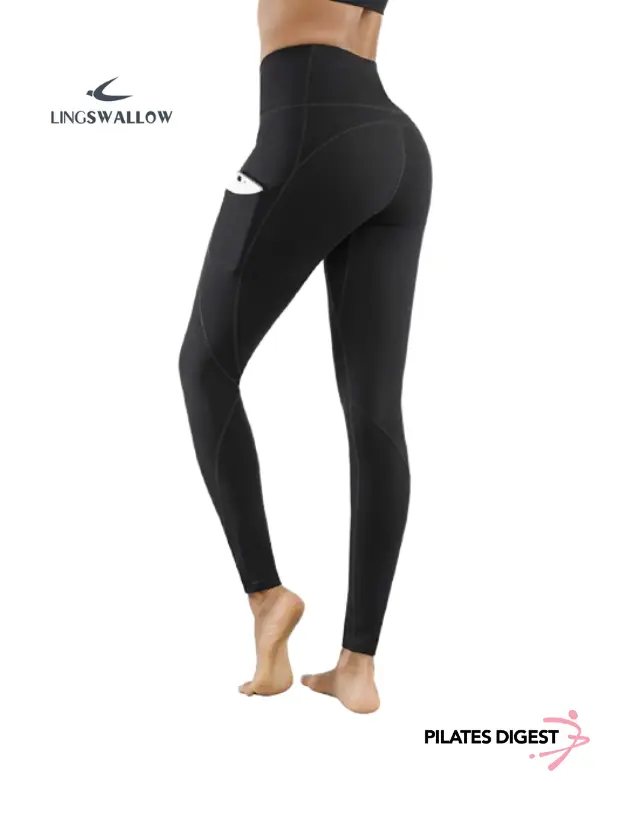 Here's another highly-rated and one of the best Amazon yoga pants from Lingswallow. Available in a staggering range of 43 colors and 7 different sizes, Lingswallow brings you your ideal exercise gear through their high waist yoga pants. The active elasticity and a non-see-through material allow you to freely do squats and stretching or bending without worrying about the underclothes. The secure coverage gets more support through multiple stitches. Sweat-wicking yoga pants work like your second skin as you can flaunt your curves and perform complex movements easily.
These exercise leggings have inner as well as outer pockets to keep your belongings safe. If you have a regular running or training schedule, keeping your smartphone or headphones won't be an issue anymore. 4 ways stretch brings extra elasticity and tummy control with smooth seams add more style to these workout pants. The company claims to offer you a 30-day satisfaction guarantee. If you are dissatisfied for any reason, Lingswallow will simply accept the return and give your money with no questions asked.
Fengbay 2 Pack High Waist Yoga Pants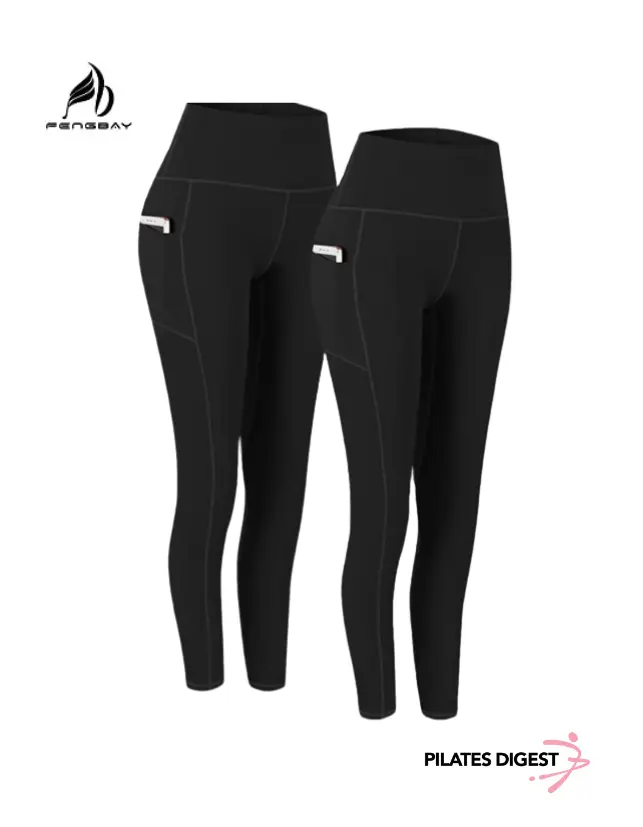 With most of these yoga leggings offering 1 or 2 pockets, Fengbay separates their offering of high-waist yoga pants with a 3 pocket design. With a 4-way stretch and non-see-through fabric, you get the freedom of performing your favorite yoga poses and exercises with confidence. These are no-camel-toe yoga pants available in a wide range of colors. Fengbay's high waist helped you with a streamlined appearance. Unlike most yoga pants out there in the market, these actually cover your entire legs and the pockets are long enough to hold your smartphone easily.
Most buyers have been satisfied with the product considering it has a rating of 4.7 out of 5. Moreover, the company claims to provide you 100% satisfaction with a wide range of colors and 6 different size options to pick from. If you are not satisfied with the leggings, simply put a return request within 30 days and you'll get your money back without any questions asked. Different and unique color options from Fengbay make them the perfect outdoor outfits. Moreover, the pack always comes in a pair so you can have two pieces of your favorite yoga leggings.
Heathyoga Bootcut Yoga Pants
Heathyoga Bootcut yoga pants are differently styled yoga pants. With a more casual look, these are not just perfect yoga attire but you can also flaunt it on different occasions. Available in 18 trendy and stylish colors, these pants have a button closure and come with 80% of high-quality polyester alongside 20% spandex. The sweat-wicking fabric gives an ultra-soft feel to your body and a high rise, streamlined hips cutting highlights your beautiful curves. There are two large functional side pockets on these 4-way stretch yoga pants to help you with your credit cards, cash, keys, and phone while working out. The biggest drawback of having front pockets is that it's hard to bend, squat, stretch, and move around easily. But these pairs of leggings have pockets on extreme sides for allowing you to perform any pose easily.
The design offers you more than just workout gear. These stylish-looking leggings can pair with any attractive top to give you a look worth flaunting. Either you want to rock them to a casual meet or want to wear them for the office, they are perfect for any event as well as exercising mode.
Spalding Women's Bootleg Yoga Pant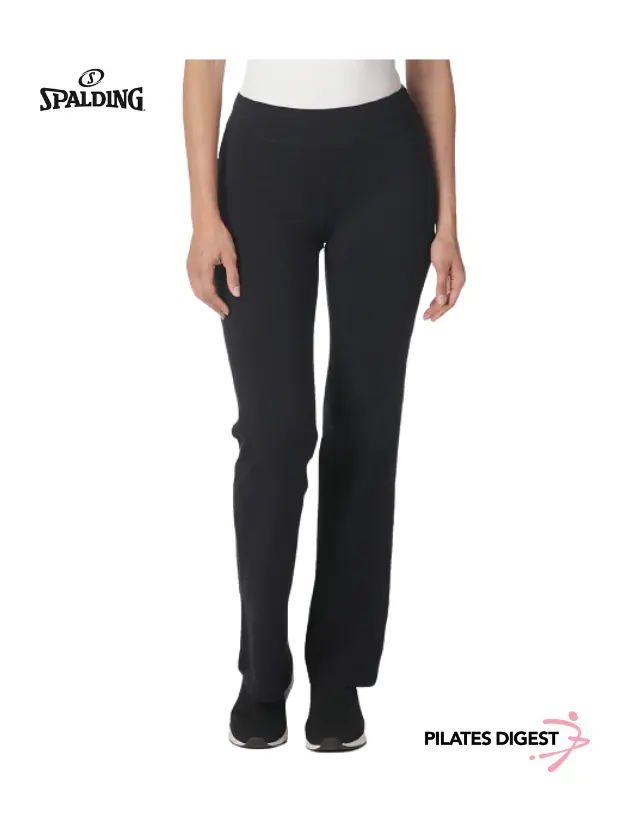 Unlike most other yoga pants on the list, Spalding Women's Bootleg Yoga Pant may not have so many color options available, but the two colors available including black and charcoal heather are perfect to match with anything. Both the color variants are also different in material since the black one carries 92% of cotton & 8% spandex whereas charcoal heather has 55% of cotton, 37% of polyester, and 8% of spandex. If you want a little polyester along with cotton in your yoga leggings, you can easily pick Spalding Women's bootleg yoga pants.
Complete any workout outfit or make a great fashion statement with this cotton blend fabric that delivers extra comfort. A wide waistband features a small but stylish logo at the back and the hip. While there isn't much color variety, the incredible cotton blend provides the right amount of compression.
Colorfulkoala Women's Buttery Soft High Waisted Yoga Pants Full-Length Leggings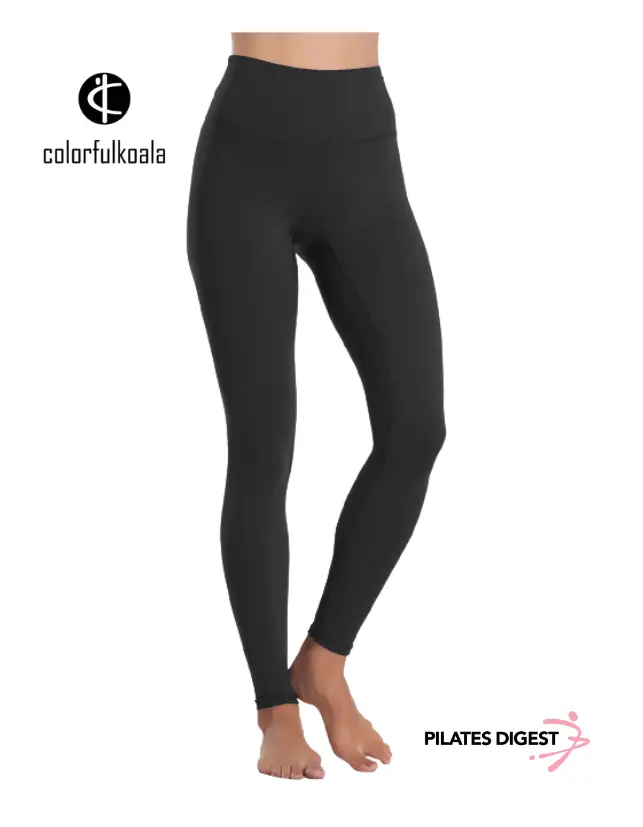 Claimed to perform just like you expect it to be, Colorfulkoala's full-length leggings give you a cozy sensation while exercising as well as walking. With extraordinary technical performance qualities, you can wear these curve-hugging pants to casual meets and places. Just like most Colorfulkoala leggings, these also have a buttery soft feel to them. As many as 14 different color options allow customers to pair these yoga pants with anything and go out with them anywhere.
These leggings come with 80% of nylon and 20% of spandex with four-way stretch, lightweight, moisture-wicking features. Whether you want to spend some time on the beach or go to the fitness studio for your next Pilates session, these can be your ideal yoga leggings. Covering right from your ankle up until your navel, these leggings provide complete and comfortable protection. The company has also added flatlock stitching to allow stretches without tugging, pinching, rolling, and bunching during performing exercises.
90 Degree By Reflex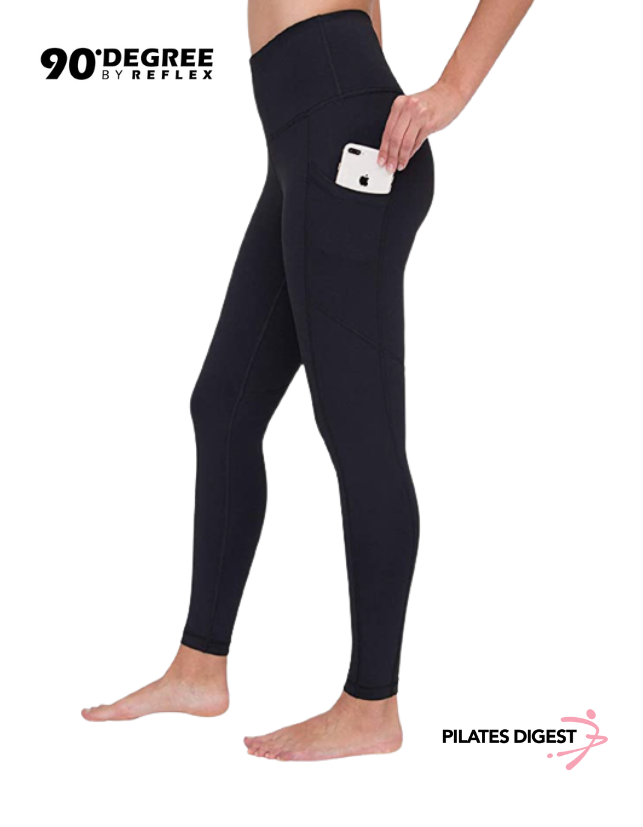 90 Degree By Reflex is a premium quality, comfortable, and stylish product that enhances your performance whether you are a fitness enthusiast or just looking to be in your home relaxing. The combination fabric of Nylon & Spandex gives you ample stretch and fits perfectly. It has a high waistband of 4 ½" with tummy control, and the elastic waistband offers both compression and support simultaneously.
Its durable machine washable, which makes it last for years. Its gusseted crotch maximizes your movement with the interlock seams, minimizes friction, and gives your skin a cozy feeling.
ATHLIO High Waist Yoga Pants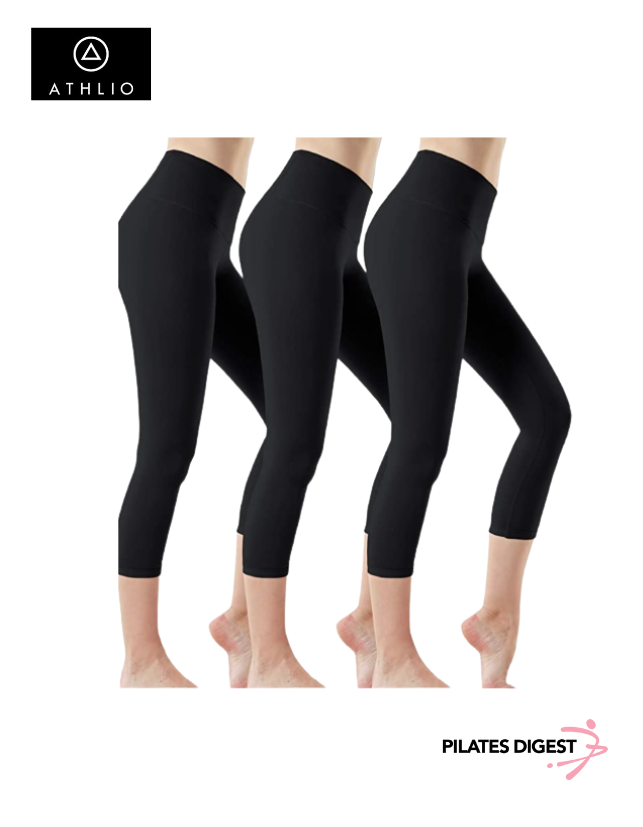 ATHLIO Women's Yoga Series is one of the most popular brands selling the highest quality yoga pants on Amazon. An excellent pick for doing yoga, Pilates, heavy lifting, running, or even floor mat exercises. These High waist yoga pants are very comfortable, made with fabric that creates absolutely no friction with the body, which means you can wear them for as long as you want. They are Non-see through, 4-way stretchable, and size retaining.
Material is a mix of Spandex & Polyester fabric and is very breathable as it wicks the moisture away from your body and acts as a sweat-resistant product. It assists in increasing your mobility, plus it offers you so many different colors and sizes to choose from.
IUGA High Waisted Yoga Pants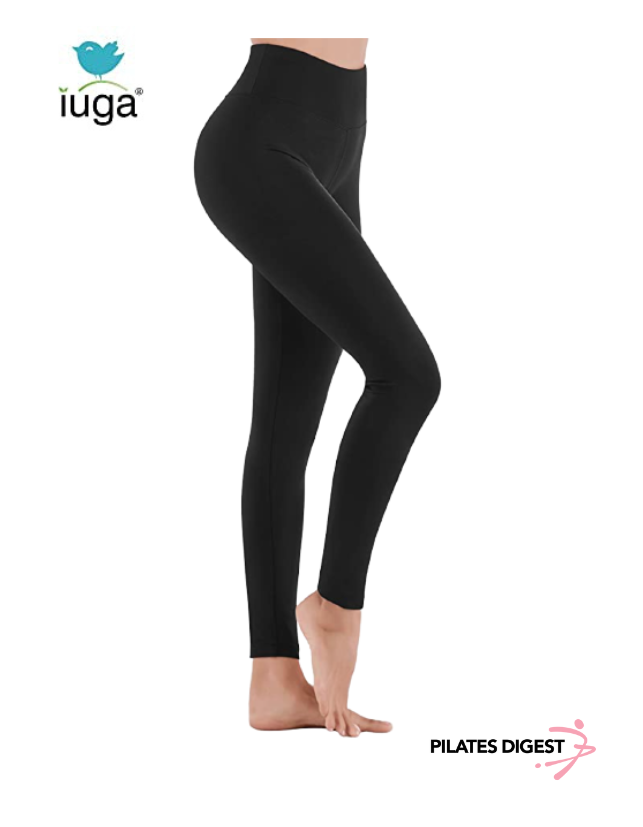 It is not the first time you hear the name yoga pants. This comfortable exercise attire is popular among women due to the elasticity and flexibility during Pilates workouts or regular yoga. But it's not always necessary that you will have high-quality yoga pants for the price you pay.
Super soft High waist yoga pants are breathable and 4-way stretchable. It is shape-retaining, allowing you a supportive sensation and a wide-high waistband helps in tummy control. It's affordable and perfect for active women's everyday use. It has an ultra-thin fabric which is also absolutely non-see-through.
It also has a hidden waistband inner pocket to keep your keys or other essentials and only focus on your routine without worrying about anything else. It stands perfectly in all aspects, whether it be comfort, performance, or style.
Heathyoga Yoga Pants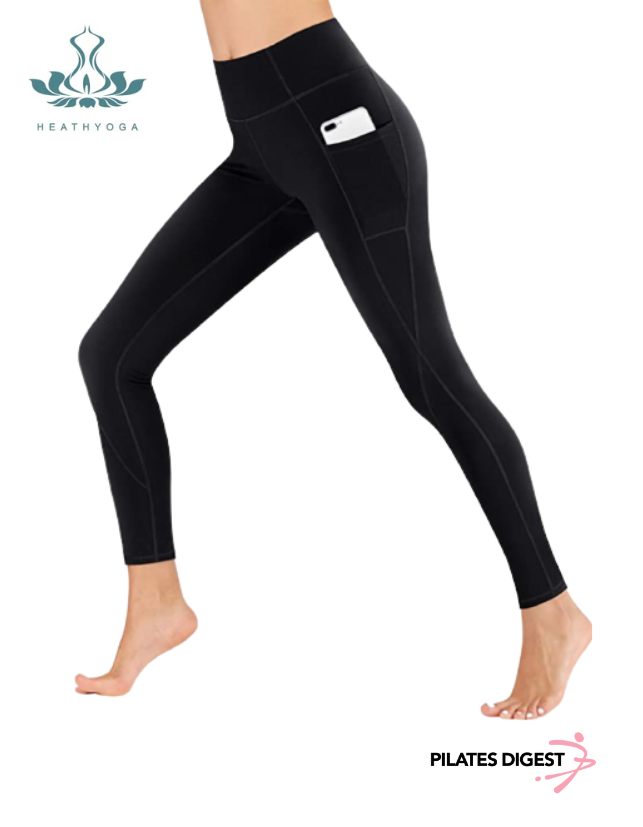 Extremely soft and stretchable, the Heathyoga high waist yoga pants are made with a mix of polyester and spandex fabric and come with a pocket on either side and one inner pocket. The 4-way stretchable fabric is supremely comfortable as it wicks the moisture from the body, which helps your body cool when you sweat a lot and is Non-see through.
It's perfect for your workouts, running, yoga, Pilates, or even heavy lifting. These fabrics being shape-retaining provides not only being slim-fit but also provides an immense support sensation.
JUST MY SIZE Women's Plus Size Active Stretch Capri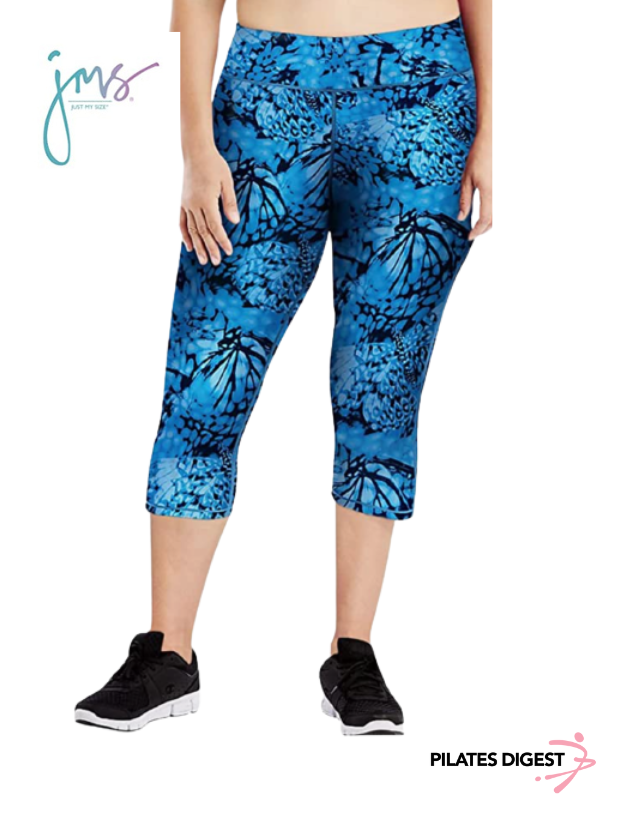 These ultra-comfortable, high-waist, plus-size pants are breathable and fit perfectly. Made with a combination of polyester and spandex fabric, these are very soothing and comfortable to the skin. They wick the moisture from the body and keep your body nice and cool while you sweat on those workouts.
It's completely non-see-through so that you can wear these comforting Capri freely. Its 20-inch inseam gives you ample stretch, and you can execute all kinds of workouts, running, yoga, Pilates, or even wear them day long. It has a wide, comfortable waistband with no drawstring. Multiple color choices for you to choose from and make you look stylish & cozy at the same time.
Persit Women's Mesh Yoga Pants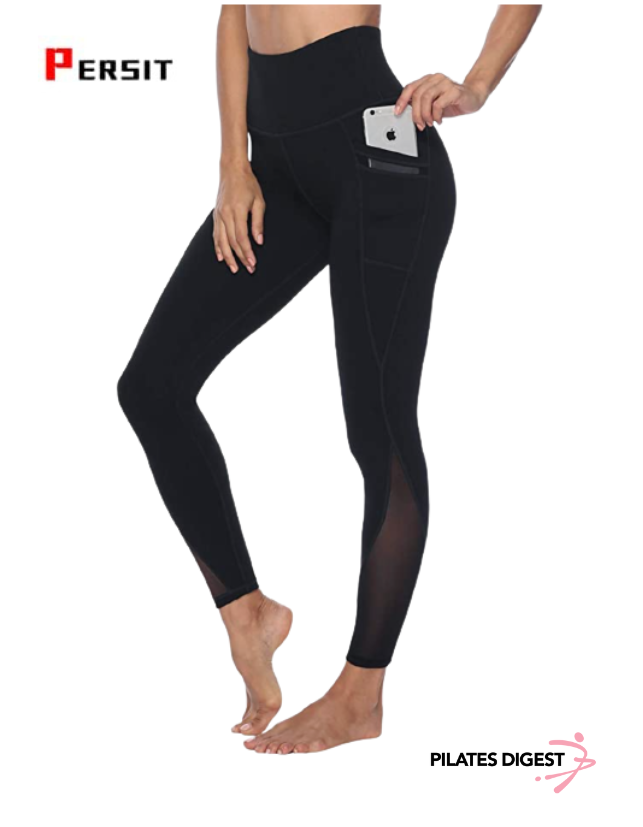 Powerful mesh design to make your legs look even stronger and the pants more breathable. With a premium combination of fabric used in these yoga pants, there's a nice non-friction feel to your skin. It's easy to machine wash material.
The material combination keeps moisture away from your skin, making your body maintain a cool temperature while you sweat on your workouts or while running. They come with a pocket on either side for your convenience to stash up your keys & cards.
A high waistband supports tummy control, and a 4- stretchable pair of fitting yoga pants enhance your style, comfort, and functions beautifully.
Danskin Women's Drawcord Athletic Pant
The perfect everyday pants for women, Danskin Women's Drawcord Athletic Pant has a wide waistband and straight-leg pants with a drawstring and slanted pockets on both sides. It's comfortable, stylish, and is made with a combination of cotton & spandex.
You can wear them in your day-to-day routine as they are very comfortable and have an inseam of 32 inches. The leg length from outseam to hem is a size of 1X 41.5 inches. This drawcord pant is great for yoga, Pilates, or even just for chilling and has a comfortable fitting, which is just perfect.
HISKYWIN Inner Pocket Yoga Pants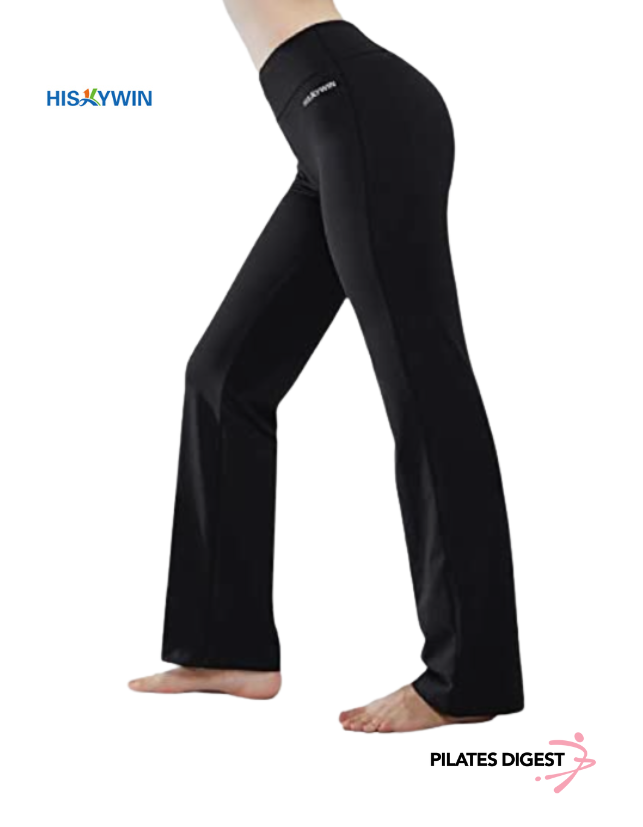 HISKYWIN Inner Pocket Yoga Pants is a stylish yet comfortable choice for your everyday workout routine, whether running, yoga, Pilates, or even just relaxing. These yoga pants are made of a combination of spandex and polyester, making them four-way stretchable and very comfortable.
It has a high and wide waistband which makes the fitting very soothing, and has a hidden pocket on the inside for you to stash your keys and cards and not worry about the essentials while you focus on your routine. Non-see and a gusseted crotch design maximize your movement. It's moisture-wicking, soft, and durable, making it all in all a proper combination of finesse, comfort, and performance.
Starlemon Harem Yoga Pants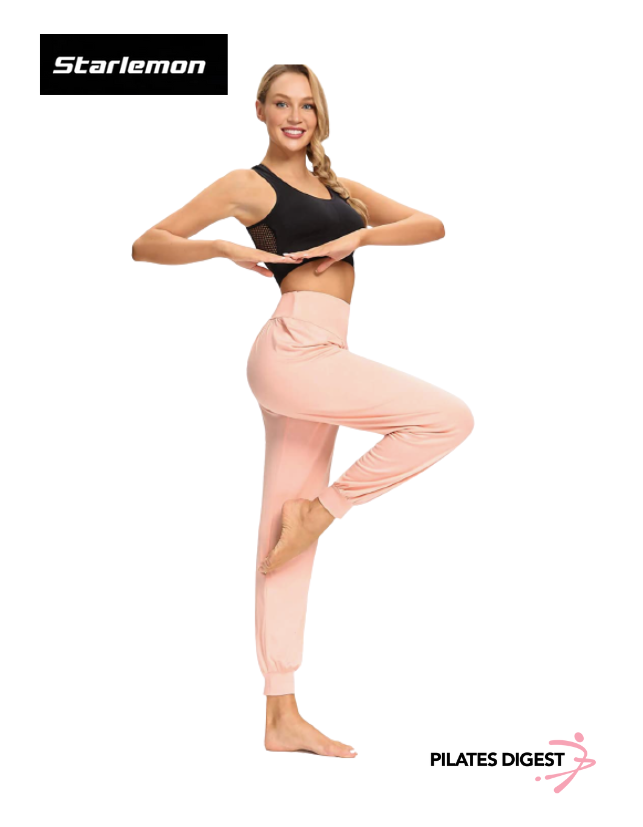 Super soft Star Lemon Harem Yoga Pants give a soothing and comfortable experience to your skin. The "smocked" high waistband enhances tummy control and provides compression and support at the same time. It's stretchable and ideal for your daily workouts, lifting, yoga, Pilates, or just for a day-to-day routine.
The design has tapered legs for a slim look and a wide array of colors for you to choose from. The combination of cotton & Spandex fabric of these yoga pants enhances your elasticity and takes care of the style quotient as well.
CRZ YOGA High Waist,Tight Yoga Pants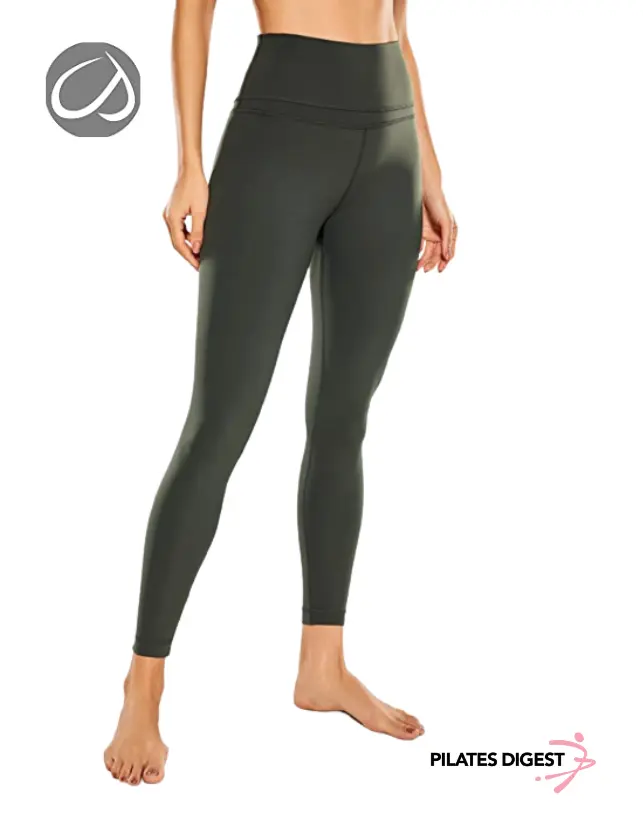 Beautiful and comfortably fitting, CRZ YOGA's naked feeling, high-waist pants are perfect for Yoga, Stretching, Pilates, and other exercises. Its premium combination of fabrics gives you compression and support and enhances your elasticity. Its material provides a soothing feel to your skin and wicks the moisture to keep your body nice and cool while you sweat on your routine.
Its High waist design provides tummy control and a feeling of a perfect fit. The gusseted crotch design enhances your movement, and the non-see-through fabric makes sure you can focus and get better every day.
BeautyWill Harem Pants
Elegant, breathable, and loose BeautyWill Harem Pants is made of modal fabric, which gives you higher elasticity and is very durable. These casual-style yoga pants are ideal for all kinds of workouts like Yoga, Pilates, and other heavy workouts. Its V-shaped waistband provides comfort and support. The material is super soft and gives an immensely cozy feeling to your skin.
The flexible band bottom design fits perfectly, and you can wear them on several different kinds of outings as well. Available in various sizes for you to choose from.
Dragon Fit Compression Yoga Pants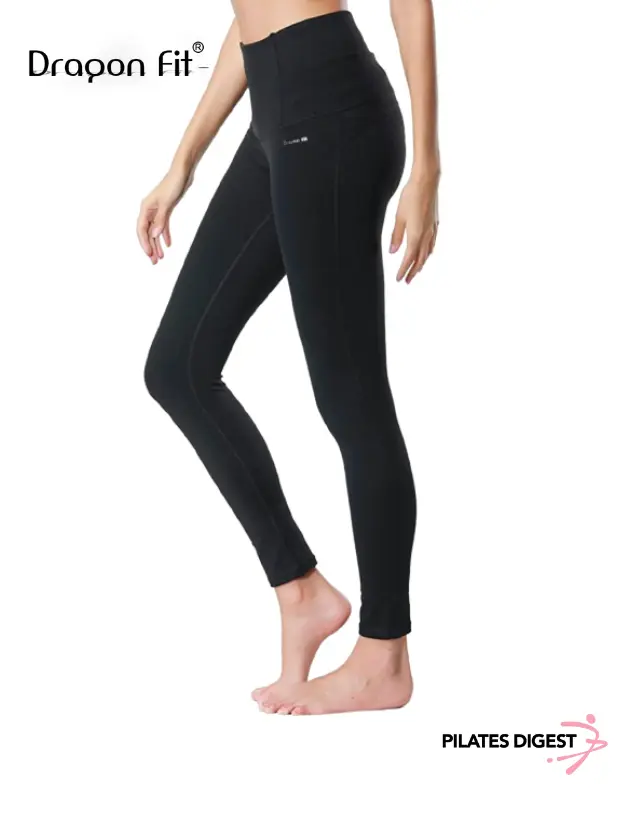 Dragon Fit Compression Yoga Pants made with a combination of Spandex and Nylon are non-see-through, stretchable, comfortable, and moisture-wicking. It fits perfectly and is 4-way stretchable, enhancing your comfort and retaining shape to perfection for all kinds of activities, whether it be Yoga, Pilates, Gym, or even outdoor activities. A high-rise waistband of 5 ½" provides both compression and support and tummy control. It has a hidden pocket in the waistband for you to keep your essentials like cards and keys and not worry about them so you can focus entirely on your routine.
JGS1996 Women's High Waist Yoga Pants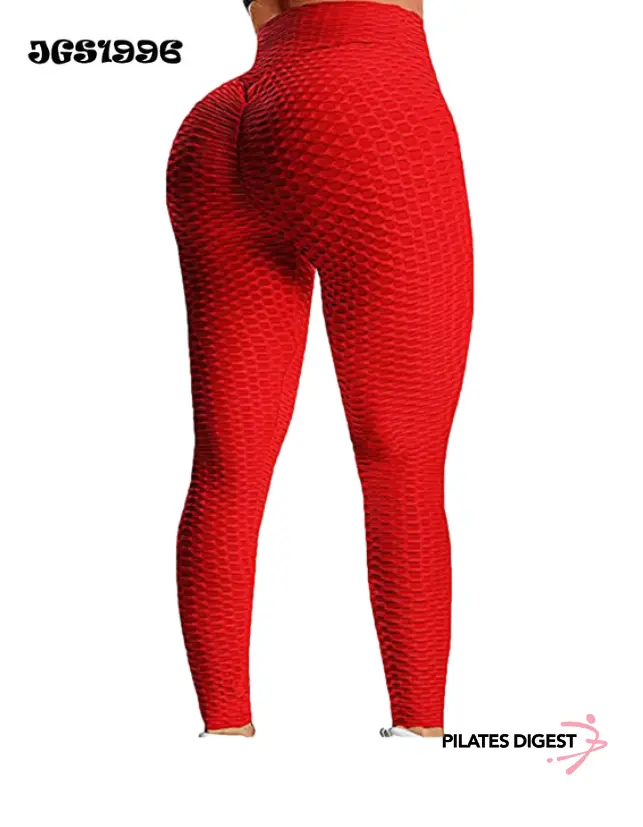 Exercising is always fun and easy if you have the right attire. JGS1996 Women's High Waist Yoga Pants are stretchy, squat proof, non-fading, no piling spandex yoga pants. With 92% polyester used, the high-waisted leggings are perfect for workout, running, and Pilates workouts. One of the top-selling yoga pants on Amazon, these are loved by fitness enthusiasts across the states. The custom design allows you to feel comfortable during any particular exercise pose. You don't have to worry about possible irritation you may have from other yoga pants on your inner thighs.
A non-see-through fabric with 4-way stretch provides lightweight comfort while contouring with each exercise pose. JGS1996 workout yoga pants have moisture-wicking and sweat absorption features to keep the comfort level in long workout sessions.
Frequently Asked Questions About Yoga Pants
Is there a difference between yoga pants and leggings?
There are many differences between Yoga pants and leggings. Yoga pants are meant for athletics, workouts, etc., whereas leggings are not made for that purpose. Instead, leggings are also comfortable, and with a choice of various patterns and colors, they provide variety to your wardrobe. Yes, nowadays, yoga pants are made like leggings as well and are available in skin-tight style. However, yoga pants come in different lengths and various other styles like loose pants, Capri, etc.
Leggings are cheaper as they are made with a thinner material that can become see-through if used while workouts. Therefore, yoga pants made skin-tight are made with thicker high-grade commercial material, skin-tight and non-see-through.
What are good yoga pants?
Yoga pants are available in different fitting types like skin-tight, loose-fitting yoga pants, Capri, etc. A well-reputed company's yoga pants should be Non-see through, which means they would be made with high-grade material that would provide you stretch and non-see-through comfort. A high waistband that would provide tummy control, compression, and support, an inner pocket where you could stash in your keys, cards, etc. ( your essentials) so you can focus on your workout.
Ideally, you should also look if the yoga pants material can wick the moisture away while you sweat(that helps keep your body temperature cooler). All in all, it should fit well, stretch easily, be non-see-through, and must feel comfortable to your skin.
Is it OK to wear yoga pants in public?
Absolutely. Most good yoga pants nowadays are non-see through which means you can wear them anywhere you like. If you choose the correct fitting, yoga pants can give you a lot of options as far as colors are concerned and are very trendy as well as fashion is concerned. Whether it be a gym, outdoors, or just for casual wear, it is OK to wear yoga pants in public.
Who should not wear yoga pants?
It is hard to ignore yoga pants altogether as they are comfortable, stylish, and in fashion. However, suppose your workplace considers yoga pants an "unprofessional" attire. In that case, you should avoid it there, or unless you don't like yoga pants and are a regular pants lover, you can avoid the hassle.
Why do my yoga pants keep falling?
There can be several reasons as to why your yoga pants keep falling. First and foremost, you may have picked the wrong size for yourself, a measure which might be bigger than what you need. So, you need to check the "size chart" before you order.
Secondly, it could be that your yoga pants have been worn out due to regular usage. It can sometimes lead to exhaustion of elasticity, and the yoga pants cannot retain their shape after stretching(this generally happens when you have yoga pants that are old and in use for a longer time).
Thirdly, the problem can be a missing high-waist elastic band. It could be possible that the yoga pants you own do not have a high waist elastic band. Yoga pants with an elastic band provide you compression and support simultaneously and prevent them from falling as well.
Why are yoga pants so popular?
Yoga pants have been gaining popularity for quite a while now. Now many women have included yoga pants as their everyday attire. Some reasons for its being so popular are its being comfortable, stretchable, multiple styles and variety to choose from, enhancing your attractiveness. Most of them are non-see-through and even have a moisture-wicking quality in their fabric, which helps keep the body cooler.
What shoes look good with yoga pants?
As there are different kinds of yoga pants available like skin-tight, Capri, or loose fit, shoe choices can vary with the variety. For instance – simple sneakers or old-style school shoes look very good with skin-tight or slim-fit yoga pants. If you go for a ballerina flat sandal, they would be perfect under the loose-fit yoga pants. It is really up to the individual you can mix and match according to your liking.
That's the one thing about Yoga pants; it not only gives you comfort but a lot of choices as well.
What are the most flattering workout pants?
You can have any of the best-rated yoga pants mentioned above and get all the qualities you would ideally need. Whether it is befitting, style, quality, comfort, or performance, our yoga pants buying guide has got you covered.
Is wearing yoga pants bad for you?
Not necessarily! Unless you are wearing yoga pants that fit you extremely tight and are non-breathable, it can cause you some discomfort if such is the case. But, most of the well-rated, best-selling yoga pants on Amazon are very breathable and made with premium fabric that provides a soothing feel to your skin. Also, make sure that your yoga pants are dry before you wear them all day to avoid any fungal infections, which can be there due to moist pants(that's for all kinds of pants and not yoga pants exclusively)
Which yoga is for beginners?
The "Hatha yoga" is more of a more straightforward yoga and where most beginners start their journey in yoga. Hatha yoga is a slow-paced form that focuses on many benefits like body alignment and fitness improvement. It provides you a better balance and even treats anxiety.
For those very new to yoga, "Hatha yoga" is an ideal platform to launch from as it helps you engage in this form of wellness with ease and a slow pace.
What are the best women's yoga pants?
When looking for "best" women's yoga pants, you must be looking for a pair of leggings that not only fit well but also shall be breathable, wick moisture away, stretchable. Pick pants that have a high waist to provide you tummy control, support, and compression. You need to look no further as we have highlighted all the information you need for picking the right brand for yourself.
How do I choose yoga pants?
Choosing yoga pants can be hectic as there are so many options available. But choosing the "right" yoga pants is very important. You should look carefully at the fabric of the yoga pants you are going for. A mix of Spandex is a must with whatever material you choose as Spandex provides the elasticity.
Your choice of yoga pants must have the quality of being Non-see through so you can be comfortable performing your routine in gyms and your home. A high waist is also a must for good pants as the high waist yoga pants provide both support and compression. While confirming your choice, you must check if the material would be breathable to wear the yoga pants for a longer time.
Should yoga pants be tight or loose?
If you are only going to perform yoga after buying your yoga pants, the answer would be tight. Yoga pants were designed to be tight as it increases your performance, and as the pants are stretchable, it gives you a "wrapping" sensation around your skin or almost like a second skin feel if you would like to call it that way.
Although, if you are looking to do some heavy workout in the gym or other outdoor activities that do not require more than standard flexibility, you can also choose the "loose fit" yoga pants as it would not cause any hindrance to your goal there as well. You can wear your yoga pants anywhere you like, so there is no limitation for them being tight or loose. You must choose according to your lifestyle.
Final Word
Here we conclude the best yoga pants 2021 with top brands to buy on Amazon. If you are looking to buy the latest yoga pants for extra comfort during your Pilates, yoga, or regular workout, don't forget to check out this guide.