Article Reviews
What Is A Lagree Megaformer Machine?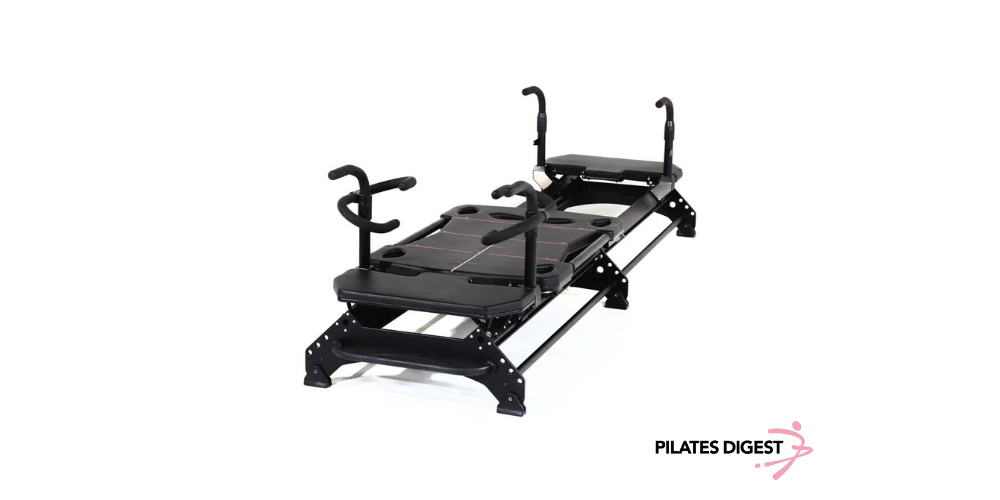 Whether you are trying to get a bit healthier or want to lose some weight, there will come a time in your fitness journey when your progress will seem to have slowed down almost to a stop.
On top of this, finding time to do a full body workout is very difficult, especially when everyone is so busy with work and home life.
If this has happened to you, then you may benefit from a workout regime that can work out your complete body and also increase your endurance and core strength.
This is where the Lagreee Megaformer machine comes in. Using this machine, you could achieve enormous benefits from this training in a little under three hours each week.
This is an alternative to HIIT that works your entire body and has the potential to completely change the way you look and feel.
Continue reading to learn more about Lagree fitness and the many reasons why you should make it your next exercise!
What Is The Lagree Method?
This innovative exercise method was developed by Sebastien Lagree, and it combines the nurturing aspects of Pilates with the rigorous aspects of bodybuilding. Lagree exercise courses are offered in more than 500 studios around the world.
A strong foundation in physical fitness includes the following five aspects:
Cardio
Composition of the body
Strength
Endurance
Flexibility
Lagree Fitness is a full-body conditioning program that targets all five of these factors in every move of your workout.
Because of the wide range of activities and the high degree of difficulty, you will receive a more productive workout in a shorter amount of time.
The Components That Make Up A Lagree Fitness Workout
Classes at a Lagree fitness studio typically run between 45 and 55 minutes and range from being a workout of moderate to high intensity.
The exercises get their inspiration from Pilates movements, which place an emphasis on both strength and endurance.
It is not about lifting heavier weights or performing more reps; rather, the focus should be on correctly performing the exercise for a longer period of time.
The class sequence begins by targeting a certain muscle group, working that part to the brink of exhaustion, and then moving on to the next muscle group.
Each exercise is carried out for a total of eight seconds, with a count-in period of four seconds and a count-out period of four seconds following it.
You begin with workouts for your lower body and then on to those for your upper body. The core muscles are engaged during the whole class and throughout every activity.
Lagree Fitness Equipment
The high-intensity, low-impact Lagree Megaformer approach requires equipment that has been purpose-built for this workout.
The machines are built in such a way that they allow for excellent resistance training as well as a range of motion workouts.
Engineers labored over the development of the Megaformer for over two years. The dimensions of the machine are 10 feet in length and 4 inches across. A rolling carriage may be found in the space in between the two platforms, one on each end.
Your own body weight is used to produce resistance through a system of springs and pulleys, which is far easier on your back and joints than other forms of exercise.
A sequence of gradual motions that are performed deliberately is used to activate the machine's resistance. These motions stimulate the slow-twitch muscle fibers, which in turn enhances your muscles' endurance as well as their capacity to transport oxygen.
As a result, you are able to continue burning more calories even after your workout has come to an end.
The Microformer is intended for individual usage in the comfort of your own home. It is more affordable and has a more compact size than the Megaformer.
Pilates Reformer Vs Lagree Megaformer – What's The Difference?
The body is challenged by both the pilates reformer and the Lagree megaformer equipment, and both produce results.
However, despite the fact that both share the same fundamental structure, they are utilized very differently.
Workouts on the Pilates reformer machine require users to do the movements while resting on their backs.
It makes use of slow motions that shape the body and generate more flexibility, and it is more accessible to people who are just starting out.
The megaformer is a more sophisticated piece of equipment.
Users are able to do a wide number of exercises on it because it may be used either standing up or sitting down, depending on their preference.
The movements that you perform on the machine are supposed to be down slowly with fast transitions, which burn calories, fat, and cause tiredness in the muscles.
The most straightforward way to think about the difference between the two is that the megaformer is more for gaining strength, whilst the reformer is more for lengthening and flexibility.
Lagree Fitness Results
Aerobic exercise, muscle training, and endurance work are all rolled into one when you use a Megaformer machine to get your workout in.
Your body will transform into a strong, lean, machine thanks to the Lagree workout system, which you can use either in the studio or at home.
The Best Lagree Megaformer Machines
The Lagree Megaformer that is now available for purchase is of the highest quality.
Each one of them provides a one-of-a-kind answer that will cater to your exercise requirements and help you achieve the ideal state of mind and body that you have always wished for.
Here is a list of the best Lagree Megaformer machines that you can buy right now to significantly improve your health and fitness.
The most recent iteration of the Megaformer is known as the Megaformer M3.
The front platform is immovable and is designed with a one-of-a-kind angular shape to facilitate proper body alignment. The M3 comes equipped with eight springs and has a special springs system that is situated in the middle of the vehicle.
Both the front and the back handlebars have a sliding mechanism for adjustment.
At the rear of the carriage, there are two apertures that can be used for positioning your hands or feet. As well as this, there is a support bar running along the side of the carriage.
Many pilates specialists recommend the M3 Megaformer to a number of their clients as it is able to give you the best full body workout and is excellent for engaging your core muscles, and for boosting strength and flexibility.
The M3 Megformer will satisfy all of your requirements in terms of quality, dimensions, and features.
While this is a very expensive piece of equipment and is definitely an investment, the M3 will last you for years even with a lot of use, and given the results, it can give you, the price might just be worth it.
The Megaformer has now reached its sixth iteration with the release of the M3K. The front platform is immovable and has a one-of-a-kind, angular shape that is rather distinctive for the purpose of placing and aligning the body.
The M3K comes with an impressive total of 8 springs and a one-of-a-kind springs system that is situated in the middle. Both the front and the back handlebars have a sliding mechanism for adjustment.
The front, the center, and the back of the carriage each include a number of apertures for situating either the hands or the feet. In addition to it, there is a stability bar that goes all the way around the carriage.
The M3K is a carefully developed workout that focuses on the development and endurance of the core muscles.
Planking, lunges, and other standing exercises are best performed with a resistance level of M3K or higher.
The M3K, along with the M3E and the M3X, offers greater adjustability to each individual's body structure and size and is an excellent choice for people who are above 6'4″.
This is the first model to be equipped with triangle grips, which provide a higher level of comfort as well as stability.
The Lagree Fitness M3S Megaformer is the fourth iteration of the family of Lagree Megaformers.
It is known for being a professional reformer that can be used in classes. This reputation is due to the fact that it has been created to deliver optimal Pilates teaching.
This was accomplished through the use of its long-lasting design, numerous features, and multifarious technology.
Heavy duty is the best way to describe this Lagree Megaformer that is now available for purchase. Your training will be taken to the next level thanks to this resistance system, which features 8 tough reinforced springs and represents the pinnacle of contemporary mechanical engineering.
Because of its rotating 90-degree grips and its ability to move into a variety of configurations, such as parallel 2, parallel 1, T-bar, and crossbar, the m3 Megaformer is an excellent tool for learning both basic and intermediate exercises.
This remarkable Megaformer adapts to the particular needs of each user by including a sturdy carriage that offers a wide variety of positions for the user's feet and hands as well as handlebars that can be adjusted in both the front and the rear.
While the Megaformer is built for professional class usage, there's no reason a Lagree Megaformer for sale can't become a prominent feature in your own studio or house.
If you can't make it to the gym every day, the M3S is well worth the money, despite the fact that it is quite pricey.
Keeping yourself fit should be an ongoing goal. As your capabilities are tested, you continue to develop and shape who you are.
Because of this, your tools need to be able to adapt to your changing needs.
This piece of Lagree Fitness apparatus is the most cutting-edge and streamlined offering yet.
Because of the way it is designed, there is a far wider range of motion and more alternatives for where the body should go.
The EVO was developed to facilitate quick improvement in both core strength and muscular endurance.
The Megaformer series is currently up to its 7th iteration, which is known as the Megaformer M3X.
The front platform is immovable and has a one-of-a-kind, angular shape that is rather distinctive for the purpose of placing and aligning the body. The front handlebars are fixed, which makes it possible to achieve a highly exact and one-of-a-kind setting.
The M3X Mega Reformer is equipped with 8 springs and boasts a one-of-a-kind springs system that has been patented by Lagree Fitness. These are situated in the center of the machine.
The rear handlebars have been lengthened so that a greater intensity is possible. The front, the center, and the back of the carriage each include a number of apertures for situating either the hands or the feet.
The back platform has been lengthened in order to provide room for additional customization and variation options. In addition to it, there is a stability bar that goes all the way around the carriage. The new wheel system is known as "Ultra Glide."
The M3X offers increased adjustability to the unique body structure and dimensions of each individual.
Lagree Fitness is the leading exercise equipment retailer that is taking the industry by storm, and with this product, it is easy to see why.
The mini reformer Pilates machine is the perfect space saver device if you don't have room for their megaformer products in your home.
Introducing the fully loaded reformer from Lagree Fitness, a Lagree microformer that combines the functionality, performance, and cutting-edge accuracy of its forerunners into a single outstanding piece of equipment.
This Lagree exercise microformer was developed with home users in mind; nevertheless, it is also suitable for use in a variety of commercial settings, including virtual classrooms for use in the comfort of one's own home, as well as sessions held outside in natural settings.
It is extremely adjustable to all different sorts of bodies and fitness levels, and it was developed to serve the physical demands of both men and women.
Having a microformer Lagree at home is an exceptionally beneficial investment because it enables you to experience all of the great advantages of a Lagree exercise in an environment that is completely comfortable, safe, and private.
Your hopes will be much exceeded by the microformer! If you love Lagree classes but don't have time to go to the gym every day, then this is the perfect machine to have in your home.
Despite the fact that the machine is somewhat cumbersome to move and that even assembling it and putting it away may be a workout in and of itself, you will still really enjoy using it.
The only small issue with this machine is that changing the springs is tough, and the knobs are rather difficult to take out.
Summary
Lagree Fitness is the ultimate workout that may change the way you look as well as the way you feel about yourself.
If you haven't already, we strongly encourage you to check out one of the Lagree classes in your area. You will be grateful to us in the future.
You also have the option to purchase a megaformer and use it without leaving the convenience of your own house.
No matter what megaformer you purchase, you know that you will be getting a piece of high-quality workout equipment for you do to all of the exercises you could ever need at home.
Each megaformer machine has its own set of advantages, and using any of them will get you access to the one-of-a-kind experience and outcomes that are available exclusively through Lagree Fitness.
We really hope that you found this article to be enjoyable and that it assisted you in gaining a greater understanding of the megaformer machines and, ultimately, in making the purchase that was most suitable for your needs.