Article Reviews
Types Of Pilates Machines You Need To Know About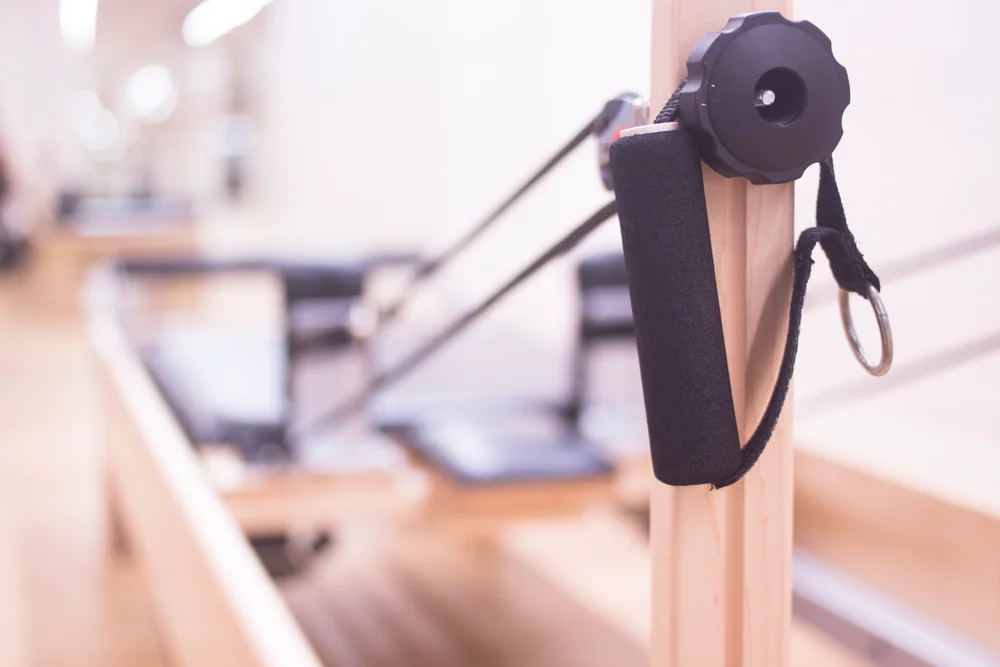 Are you looking for a Pilates machine but don't know which one you should try? Maybe you aren't sure what the different types of Pilates machines are and want to know more about them?
No matter what your question is, we are here with the answers for you!
Finding out more about Pilates machines can be tricky. After all, there is so much contradicting and conflicting information, you can easily find yourself frustrated and overwhelmed, unsure where to turn or who to trust.
Well, no more! Today, we are here with the answers for you! Keep reading to see all the types of Pilates machines you need to know about today!
Most Popular Pilates Machines
Let's dive straight into today's article! Below is a list of the most popular Pilates machines!
Most were created by Joseph Pilates to help improve the Pilates method and make the movements accessible for all.
These machines were designed to work more muscles than you can do on the mat, offering a more intense and varied workout for those that want it.
Pilates Barrel
Pilates Cadillac
Pilates Chair
Pilates Reformer
Other Small Pilates Equipment
Now that we have established what the most popular machines are, let's take a look at them in more detail to help you find the right one for you!
Pilates Barrel
First, we have the Pilates Barrel. Joseph Pilates, the creator of Pilates, created this machine based on the love of beer. His beer was often delivered in barrels, which he then used to create machines featuring the barrels and metal rings.
The Barrel has since evolved and offers support to the flexion and helps you extend your spine.
Types Of Pilates Barrel
There are a few different types of barrels you can choose from, each with its own features. Let's take a look at them now to help you find the right barrel for you!
1. Arc Barrel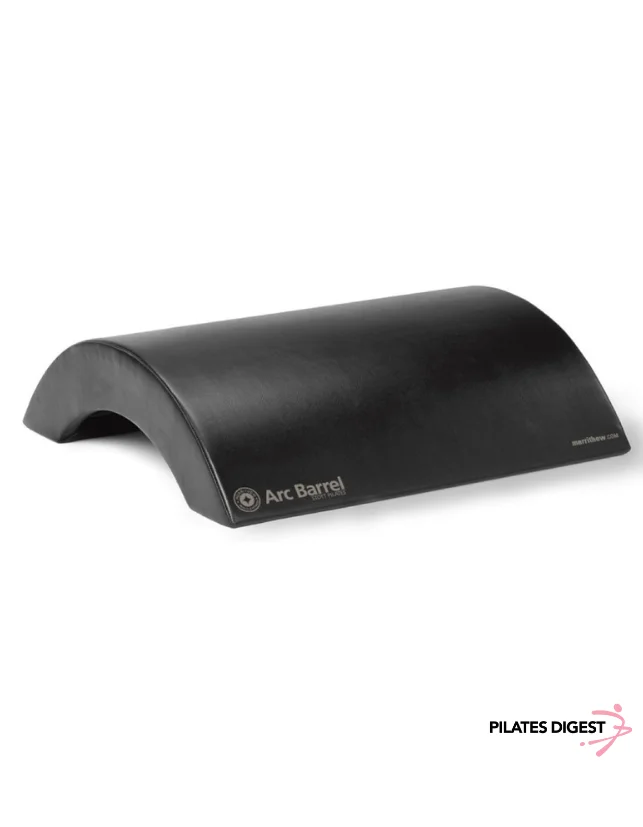 Experience a refreshing stretch and spinal decompression with our Arc Barrel. The subtle arc design aids in lengthening and decompressing the spine, offering a soothing relief from the daily stresses on your back. The product dimensions are 22.5 inches in width, 23.5 inches in length, and 6 inches in height. Our standard Arc Barrel weighs a convenient 8 pounds, while the deluxe version weighs slightly more at 9 pounds.
Despite its robust functionality, this piece of equipment is both lightweight and portable, making it an ideal choice for home use or transport to your favorite workout location. To offer you even more versatility, the Arc Barrel is designed to be used independently or can be integrated into exercises on the STOTT PILATES Cadillac or Raised Mat.
The Arc Barrel features an arc curve of 117 degrees, carefully designed to align with the natural curvature of the spine for maximum comfort and effectiveness. Invest in our Arc Barrel and take a significant step towards better spinal health and improved overall wellbeing.
Advantages: 
Aids in spinal decompression and lengthening.
Lightweight and portable for easy transport.
Compatible with STOTT PILATES Cadillac or Raised Mat.
Features a spine-friendly arc curve of 117 degrees.
Suitable for both standard and deluxe exercise routines.
Convenient dimensions for home use or workout spaces.
You can see this pilates machine here
2. Ladder Barrel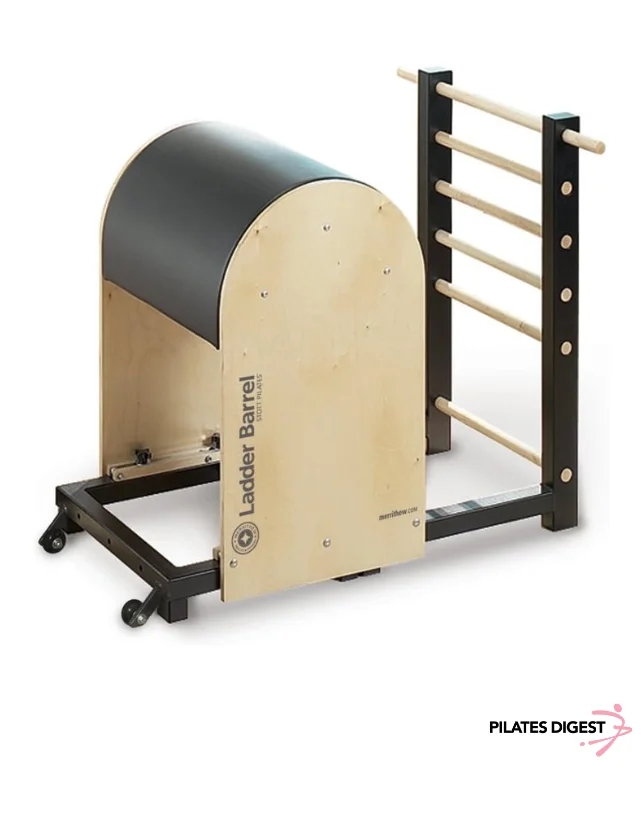 The Ladder Barrel is a versatile exercise apparatus designed to maximize strength and flexibility. With its six adjustable ladder rungs, it accommodates different levels of fitness and physical aptitude, offering a range of workouts that target various muscle groups.
A standout feature of this product is its adjustable sliding base. This element can be adjusted to change the distance between the ladder and the Barrel, making it versatile for users with different torso and leg lengths. This innovative feature ensures each user can safely and effectively engage in a full range of exercises.
Constructed from a durable metal frame, this Ladder Barrel is built to last. It provides stable support for users of all weights and sizes, promoting user confidence during rigorous workouts. Additionally, the steel vertical ladder posts are securely welded into the steel frame. This design provides maximum strength and dependability, ensuring that your Ladder Barrel will withstand repeated use over time.
This Ladder Barrel is ideal for professional gyms, home workout spaces, and physical therapy centers. It's perfect for anyone looking to improve their strength, flexibility, and overall physical fitness.
Advantages: 
Six adjustable rungs for customized workout intensity levels
Sliding base caters to varying torso and leg lengths
Durable metal frame construction for long-lasting use
Welded steel posts provide maximum strength and dependability
Versatile for professional gyms, home workout spaces, and therapy centers
Encourages improved strength, flexibility, and overall fitness levels
You can see this pilates machine here
3. Mini (Small) Barrel
The Small Barrel is a purposefully designed, compact piece of fitness equipment that marries portability and functionality. Ideal for both professional studios and personal use, this apparatus can be easily transported and stored, ensuring it seamlessly fits into any fitness regimen.
One of the defining features of the Small Barrel is its meticulous design. The curvature of the barrel mirrors that of our other renowned products, such as the Ladder Barrel and Spine Corrector. This continuity of design means users can expect consistent, reliable performance across the board.
Designed for versatility, the Small Barrel is particularly suited to those with less flexibility or a limited range of motion. Its shallow height allows for an array of exercises and stretches that accommodate these users, ensuring that nobody is left behind in their fitness journey.
Furthermore, the Small Barrel does not compromise on comfort. The plush, padded surface of the apparatus cradles the body during exercises, offering a cushioned support that reduces strain and enhances user comfort. This feature ensures an enjoyable user experience and promotes longer, more effective workouts.
Advantages: 
Compact and portable, ideal for studios and personal use.
Identical curvature to Ladder Barrel and Spine Corrector.
Shallow height accommodates less flexibility or limited motion.
Plush, padded surface ensures a comfortable workout experience.
Thoughtfully designed for a range of different exercises.
Enhances workouts by providing supportive and consistent performance.
You can see this pilates machine here
4. Spine Corrector Barrel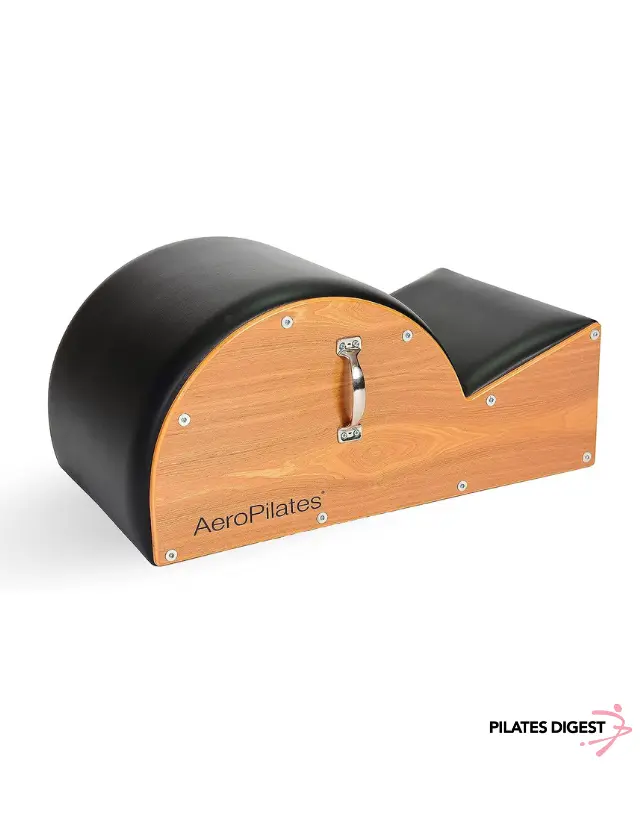 The Spine Corrector Barrel is an impressive piece of equipment designed for posture correction, full body strength workouts, and enhancing breathing techniques. Made from a robust combination of hardwood, foam, and vinyl, this product is imported and ensures high-quality performance.
Its primary function as a posture corrector supports the restoration of your spine's natural curve. This powerful yet simple back stretcher encourages improved posture and promotes easier breathing by opening up the spine.
The Spine Corrector Barrel is not limited to just posture correction, as it also facilitates a comprehensive body strength workout. It enables exercises that specifically target the abs, back, and shoulder muscles, which are crucial for supporting the spine. Furthermore, this versatile Pilates equipment also engages the thigh and core stabilizer muscles for a complete body toning experience.
This equipment is also designed to enhance your breathing techniques. By opening up the spine, it facilitates easier and deeper breathing, which helps in reducing pressure, enhancing overall mobility, and providing a sense of well-being.
Comfort and portability are two more advantages offered by this Spine Corrector Barrel. It is designed with a padded, upholstered vinyl surface for maximum comfort and relaxation during any pose. Additionally, its lightweight design and built-in carrying handle make it highly portable and user-friendly.
Advantages: 
Supports restoration of spine's natural curve for improved posture.
Facilitates full-body strength workouts targeting crucial spinal support muscles.
Promotes deeper breathing by opening up the spine.
Offers comfortable usage with padded, upholstered vinyl surface.
Lightweight design with built-in handle ensures portability.
Includes DVD and videos for proper usage and exercise guidance.
You can see this pilates machine here
5. Pilates Cadillac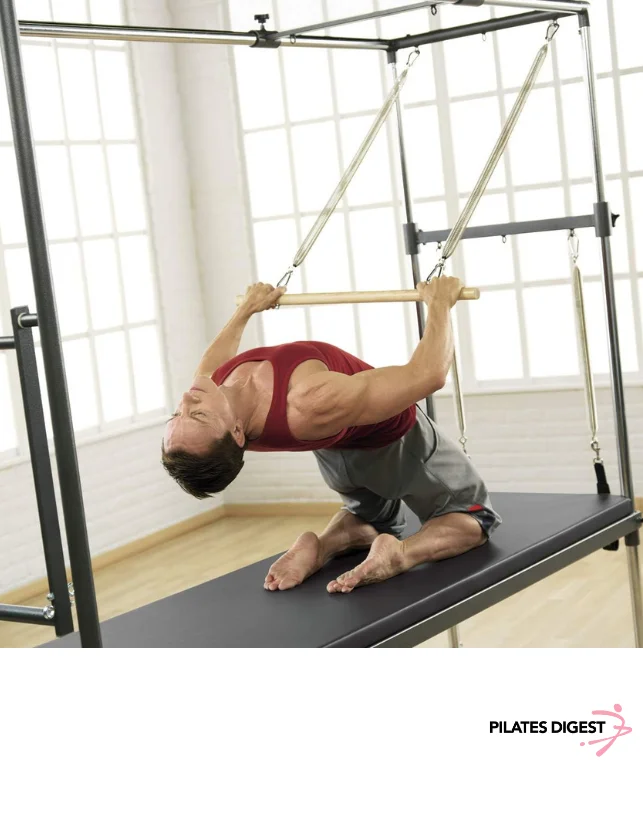 This product appears to be a detailed instructional manual for the Pilates Cadillac, a specific piece of equipment used in Pilates workouts. Here are some highlights:
Extensive Exercise Options: The manual covers 88 exercises and offers 90 modifications, allowing for a great range of workout possibilities. It has 176 pages, suggesting it is quite comprehensive.

Durable Design: The manual's covers are laminated with a Mylar Matte Lamination, which adds a layer of protection and longevity. This material is known for its strength and resistance to damage, making the manual more durable.

User-Friendly Features: The text pages of the manual are not coated, meaning you can write on them. This is a thoughtful feature for those who like to jot down notes or personalized modifications.

Eco-Friendly Construction: The manual is bound using recycled Plasti-Coil binding, which lets the manual lay flat when opened. This is a nice feature for ease of use during workouts. Additionally, it's printed with vegetable-based inks that contain low VOCs (Volatile Organic Compounds), making it an environmentally friendly choice.
This Pilates Cadillac manual seems to be a well-designed, eco-friendly, and user-oriented resource for anyone looking to maximize their usage of the Cadillac Pilates equipment.
Advantages: 
Covers 88 exercises and 90 modifications for varied workouts.
Durable Mylar Matte Lamination for extended lifespan.
Non-coated pages allow for personal note-taking.
Eco-friendly Plasti-Coil binding enables manual to lay flat.
Printed with low VOC, vegetable-based inks for environmental safety.
You can see this pilates machine here
Pilates Chair
The Pilates chair was engineered by Joseph Pilates, the creator of Pilates.
The chair was created to provide a space to complete exercises on, but could also be converted into an armchair, making it ideal for anyone that doesn't have the space for a separate exercise machine!
The chair is ideal for seated and standing exercises, performed on either your front or back!
Initially, it was viewed as a niche piece of equipment, but now there are entire studios dedicated to it! Why not head to one of your Pilates studios and try it out today?
Types Of Pilates Chair
There are a few different types of Pilates chairs to choose from, all with slightly different features. Let's take a quick look at them now.
1. Arm Chair
Discover the perfect blend of comfort, style, and physical fitness with our Solid Maple Arm Chair. Designed not just as a seat, but as a tool to improve your health, this armchair is great for developing scapular stability and boosting functional upper body strength.
Constructed from robust and long-lasting solid maple, the armchair promises superior durability, ensuring it stands up to the rigors of daily use with ease. Its excellent build quality and timeless design make it a great addition to any studio or home setting, enhancing both aesthetics and utility.
One of the unique features of this arm chair is its transport wheels. These make moving the chair a breeze, saving you from heavy lifting and potential damage to your floors. Moreover, when the chair is not in use, you can easily store it away, maximizing your living or workspace.
More than just a piece of furniture, this armchair aids in improving your upper body posture. With regular use, you can work towards aligning your body better and avoiding posture-related discomfort or health issues.
Advantages: 
Enhances scapular stability and functional upper body strength.
Solid maple frame ensures durability and longevity.
Transport wheels facilitate easy moving and storage.
Contributes to improved upper body posture.
Versatile design fits studios and home spaces alike.
Promotes a healthier and more comfortable lifestyle.
You can see this pilates machine here
2. Electric (High) Chair
The High, or Electric chair is a high-backed chair that allows you to complete an extensive range of workouts.
The chair has twin poles on either side that allows you to keep your balance and provide additional support.
The main benefit of this chair is that your back can be placed flat against it, allowing you to maintain the correct posture for your exercises.
If you sugar from poor posture or alignment, then this is a good piece of equipment for you to invest in. It's also ideal for anyone with a limited range of motion.
You can see this pilates machine here
3. Low (Wunda) Chair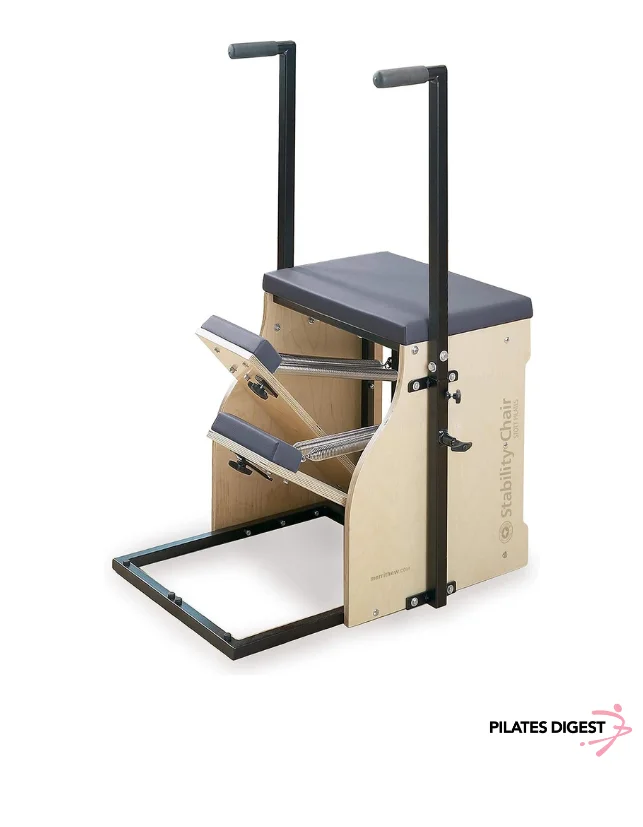 The Low (Wunda) Chair is a versatile, compact piece of Pilates equipment designed to offer a comprehensive workout for both the upper and lower body. This split-pedal stability chair enables expanded programming options, focusing on the re-balancing of muscles to improve overall body strength and flexibility.
The chair comes with 2 heavy chair springs and 2 light chair springs, with 3 hook-on spring attachments, allowing for a customizable and varied workout. The pedals, covered with high-density foam and vinyl, provide an optimal grip and comfort during exercises.
As a bonus, this package includes a 60-day access to digital workouts on Merrithew Connect, providing a guided, step-by-step training regimen that will help you make the most of your Wunda Chair.
For your convenience, the chair has fully adjustable handles that are easy to attach and detach, yet lock securely in place when used for exercises such as lunges and dips.
In terms of its design, the two pedals can function independently or can be quickly and securely locked together to operate as a single unit, depending on the type of workout you're aiming for.
The Low (Wunda) Chair is not only beneficial but also very practical. Its compact size allows for maximum portability and easy storage, and the easy-roll wheels make it easy to move or reposition the equipment as needed.
Lastly, with dimensions of 31 x 31.5 x 55.5 inches (W x H x D) and a weight of 82 pounds, it's a substantial yet manageable piece of fitness equipment, built to offer a wide range of exercise possibilities in a small footprint.
Advantages: 
Provides comprehensive upper and lower body workout.
Offers customizable resistance with varied spring attachments.
Includes 60-day access to digital workouts on Merrithew Connect.
Fully adjustable, detachable handles for diverse exercises.
Compact and portable design with easy-roll wheels.
Pedals can function independently or locked together.
You can see this pilates machine here
Pilates Reformer
The Pilates reformer was first developed by Joseph Pilates in the 1920s.
It remains one of the most popular Pilates exercises, using a series of cords, springs, and pulleys to give you resistance in a range of positions.
Simply remove the cords or springs to adjust the level of resistance to suit your preferences and change the difficulty level.
The Reformer is considered the most versatile machine, as you have plenty of adjustments and straps to choose from.
It is suitable for any skill level and provides you with a full-body workout that will strengthen and lengthen your muscles!
These machines do take up a large amount of space though.
Types Of Pilates Reformers
There are two different types of Pilates Reformers. Let's take a look at them now so you can tell the difference with ease.
1. Home Reformers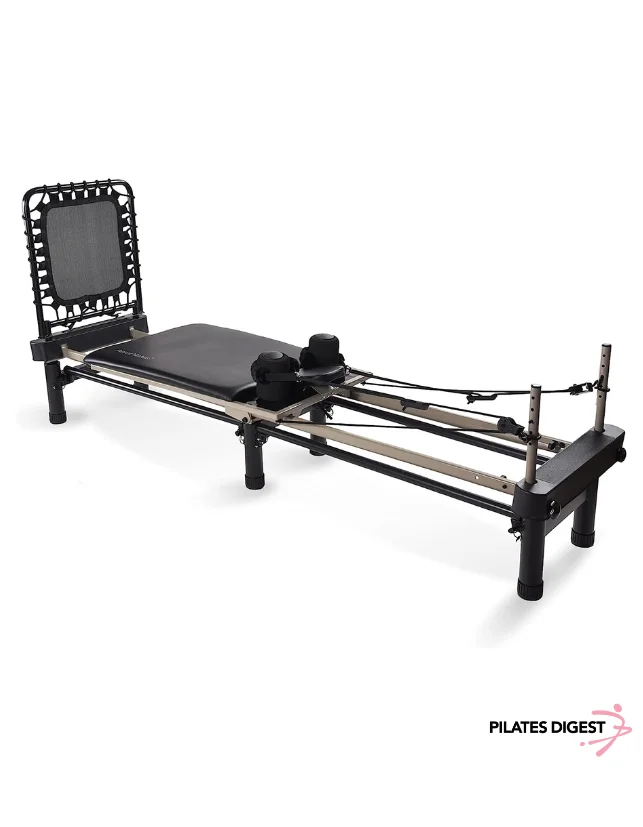 The Home Reformers Pilates Reformer is designed to help you reach your fitness goals and restore your overall health. The benefits of this piece of equipment are multi-faceted.
Not only can regular Pilates reformer workouts and a healthy diet aid in weight loss and increased strength, but they can also significantly reduce stress levels. The end result is an overall improvement in your quality of life.
One standout feature of our Pilates reformer is its Cardio Rebounder. This addition is designed to make your workouts fun and effective while enhancing your functional health. With the consistent use of our reformer, you can expect to see an improvement in your posture.
Our reformer is also equipped with four heavy-duty, elastic bungee cords. These provide four distinct levels of workout resistance, allowing you to tailor your exercise routine to your individual needs and progress at your own pace. The reformer is specifically designed to strengthen and tone the upper body, lower body, and core muscles across different levels of intensity.
The performance-centric design of our equipment is yet another significant advantage. Elevated about 10 inches off the floor, the reformer allows for the execution of more advanced exercises. Traditional Pilates movements are made easier with the inclusion of a padded foot bar and a textured standing platform.
Advantages: 
Facilitates weight loss, strength increase, and stress reduction.
Cardio Rebounder enhances functional health and posture.
Adjustable elastic resistance offers tailored workouts.
Elevated design allows advanced exercises.
Includes instructional DVDs and Video on Demand content.
Strengthens and tones upper body, lower body, and core.
You can see this pilates machine here
2. Professional Reformers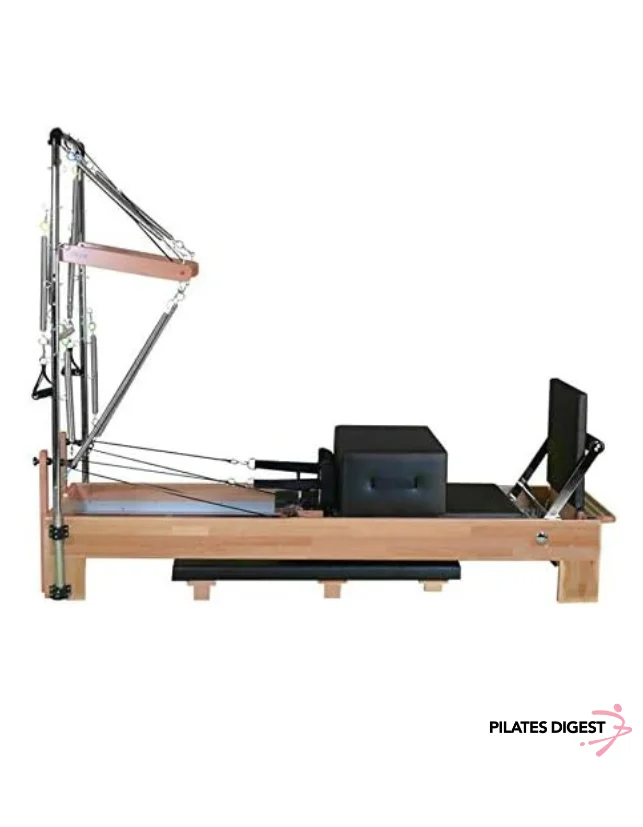 Material: The Pilates Reformer is made of high-quality beech wood, providing a classic touch and ensuring durability and stability.

Tower Attachment: The inclusion of a tower expands the range of exercises that can be performed on this reformer, including standing, kneeling, and seated movements.

Adaptability: This reformer is incredibly adaptable, offering exceptional versatility to accommodate a diverse range of body heights, sizes, and abilities, making it ideal for use in professional gyms, physiotherapy centers, and homes.

Superior European Construction: Crafted with superior European construction techniques, this Pilates Reformer is not only robust and stable, but also provides a premium, high-end feel and performance.

Resistant and Stable: The professional reformer offers perfect stability and is very resistant, providing a reliable and steady platform for performing Pilates exercises, increasing the safety and efficacy of your workouts.

Comfortable Upholstery: The upholstery of this Pilates Reformer is made of synthetic leather on foam. It is designed to provide the highest level of comfort, especially for kneeling positions, ensuring that you can perform your workouts in comfort.
Advantages: 
High-quality Construction: Made of durable beech wood for long-lasting use.

Versatile Functionality: Allows standing, kneeling, and seated exercises with tower attachment.

Exceptional Adaptability: Accommodates diverse body heights, sizes, and abilities.

Superior Comfort: Synthetic leather on foam upholstery ensures utmost comfort.

Stable and Resistant: Offers perfect stability and high resistance during workouts.

Premium Design: Superior European construction for a high-end feel.
You can see this pilates machine here
Other (Small) Pilates Equipment
Let's take a look now at the small Pilates equipment you can use. These are all ideal for anyone with limited space at home to do Pilates or store other bulky machines.
They are all fairly affordable options too, making them ideal for anyone looking to start Pilates on a budget!
Check out your options below.
Bands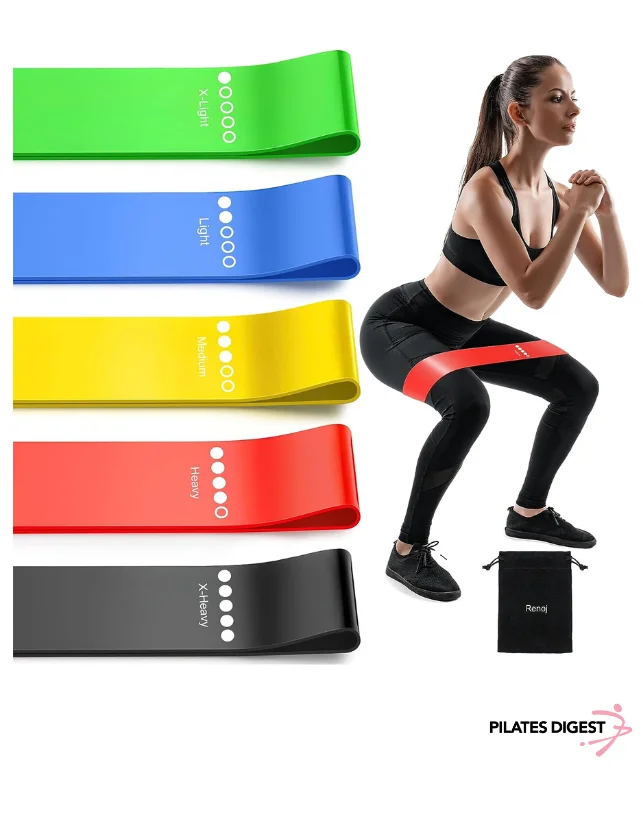 Made in the USA or Imported: These bands are either domestically produced or imported, ensuring high quality.
Resistance Bands 5-pack: The package includes five resistance bands, designed for stretching and strength training. Ideal for yoga, physical therapy, and pilates, they cater to all fitness levels.
Pilate Flexbands for Booty: The bands are specifically tailored for Pilates exercises and booty training. Made from durable, skin-friendly natural latex, they provide a stable workout experience.
Exercise Bands Portable: These portable bands allow users to exercise various body parts including hips, arms, chest, legs, and upper back through different postures, at any time and place.
Resistance Loop Bands: Users can select specific areas to target and follow the included instructions to work out wherever they are.
Fitness Bands: The set comes with five resistance bands, an instruction manual, and a flannel carry bag for easy transport and storage.
Advantages: 
Versatile: Suitable for Yoga, physical therapy, and Pilates.
Skin-Friendly Material: Made from durable, natural latex.
Portable: Enables workouts anytime, anywhere.
Targeted Exercise: Allows for specific body part training.
Comprehensive Set: Includes 5 bands, instructions, and carry bag.
High Quality: Made in the USA or imported.
You can see this pilates machine here
Foam Rollers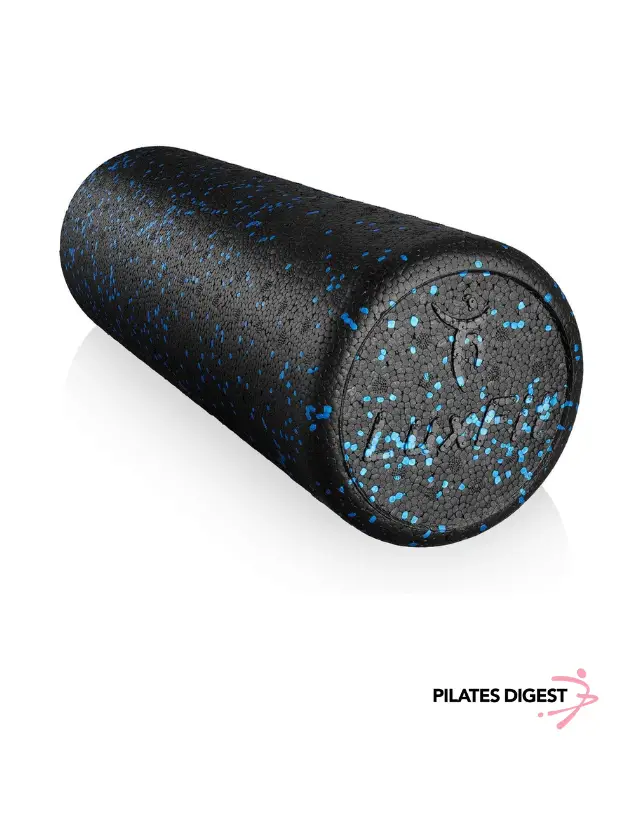 Maximize your workout routine with our LuxFit High Density Foam Rollers. These foam rollers are perfect for muscle relaxation, physical therapy, yoga, and massage therapy. Utilize them before or after exercise to enhance muscle reflexology and relieve tension, ensuring your muscles stay relaxed and rejuvenated.
Our foam rollers are ideal for preventing muscle injury, acting as a critical tool for positioning, balance, postural re-education, and spinal stabilization. They also aid in improving body awareness and coordination, making them a perfect addition to any fitness or yoga routine. These rollers can also be used specifically for IT Band exercises, offering targeted relief and support.
Constructed with molded polypropylene foam technology, these rollers maintain a firm structure, even after heavy use. With a density of 2 lbs. per cubic foot and a smooth surface, these rollers repel liquids and resist wear and tear, ensuring their longevity. This makes them a perfect choice for Trigger Point therapy and for use as a stretching stretcher.
Available in four sizes (36 Inch, 24 Inch, 18 Inch, 12 Inch) to accommodate all your needs. The 36 Inch roller is our largest size, ideal for back exercises and pain relief. All our rollers are 6 inches wide, allowing for optimal balance, core stabilization, and stamina enhancement.
Advantages: 
Assists in muscle relaxation and tension relief.
Prevents muscle injuries and aids in postural re-education.
Durable with a 10-year limited warranty.
Available in four sizes to suit various needs.
Repels liquids and resists wear and tear.
Comes with a free instructional video for usage guidance.
You can see this pilates machine here
Pilates Mat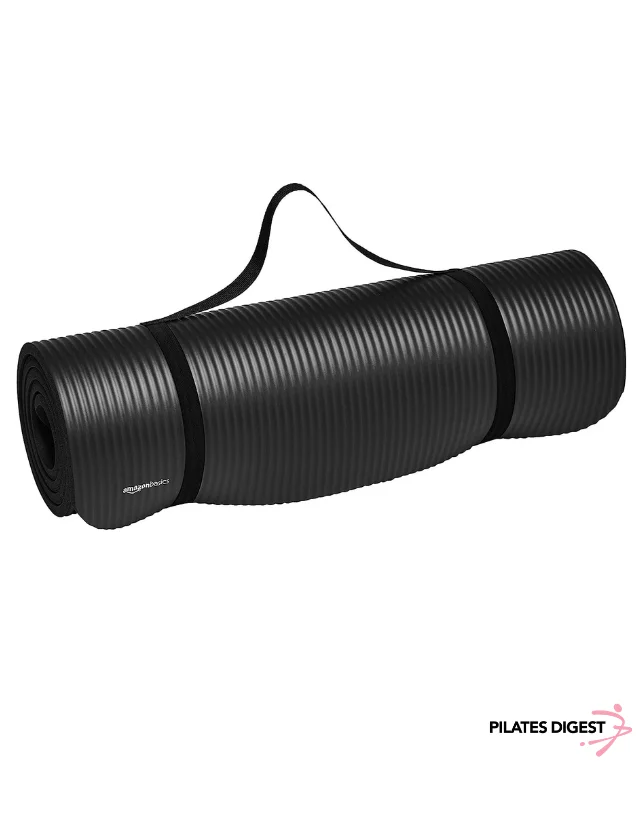 This is a high-quality Pilates Mat made from 100% NBR foam and imported for sale. The mat's color is black, and it is an ideal option not only for pilates but also for yoga, gym workouts, and everyday exercise routines.
With a thickness of 1/2 inch, this mat offers users comfortable padded support and efficient shock absorption. The textured surface is specifically designed to provide extra traction, helping to prevent slips and falls during workouts.
Made of durable foam construction, the mat is stretchable, yet it effortlessly springs back into shape after use. This feature ensures that the mat retains its shape and form over a long period of usage, providing you with great value for your investment.
The mat includes an elastic strap, which allows for secure storage when the mat is rolled up. The strap also makes it easy for you to carry the mat over your shoulder when moving from one location to another.
Maintenance of the mat is effortless as it can be wiped clean easily, making it a practical choice for those who work out regularly.
The product dimensions are 74 x 24 x 0.5 inches (Length x Width x Height), providing ample space for a variety of exercises and movements. The size also ensures it's suitable for individuals of different heights and sizes.
Advantages: 
Extra thick padding offers superior comfort and shock absorption.
Textured surface ensures excellent traction during workouts.
Durable, stretchable foam retains shape after repeated use.
Easy to clean, maintaining hygiene with regular workouts.
Elastic strap enables secure storage and convenient portability.
Large dimensions accommodate a variety of exercises and user heights.
You can see this pilates machine here
Pilates Hoops/Rings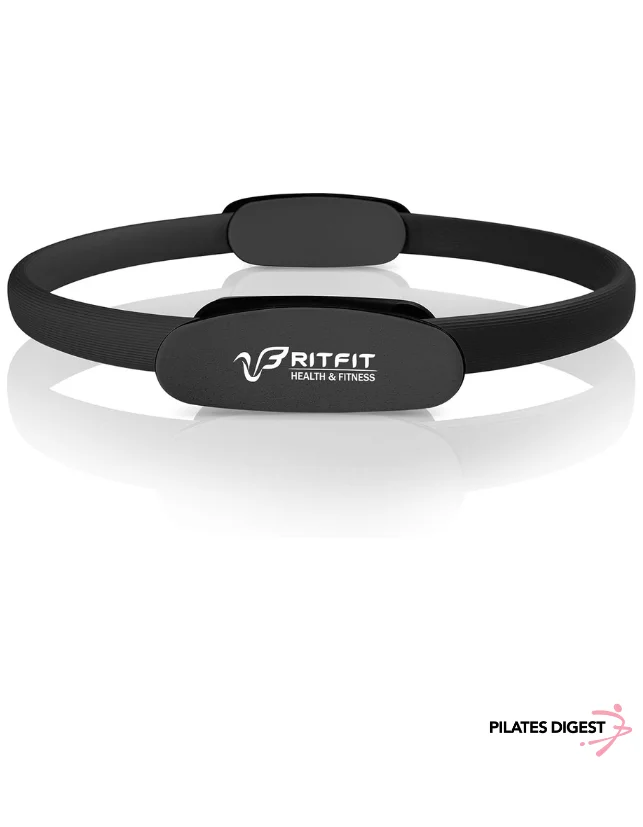 PURE QUALITY: Experience the robust strength of our Pilates Hoops/Rings, crafted from durable fiberglass and encased in resilient EVA material. Despite rigorous workouts, these rings maintain their shape and will never break.
EXCEPTIONAL COMFORT: Our rings are wrapped in plush, cushioned rubber and feature padded handles on both inside and outside. These design elements provide an unparalleled comfort, minimizing the risk of injuries during your exercise routine.
LIGHTWEIGHT AND TRAVEL-FRIENDLY: With a total diameter of 15 inches and an internal diameter of 14 inches, these rings are perfectly travel-sized. They're light, lay flat, and take up minimal space in your luggage, making them ideal for transforming any space into your personal gym.
FOR A COMPLETE BODY WORKOUT: These rings are versatile, perfect for all types of Pilates exercises. Regular use can help tone your upper arms, inner and outer thighs, abs, pelvic muscles, core, and lower body.
CUSTOMER SATISFACTION IS OUR PRIORITY: We stand by the quality of our product and strive to deliver 100% customer satisfaction. If you face any issues, please reach out to us. We are committed to making it right, no matter what it takes!
Advantages: 
High-quality, durable design for long-lasting use.
Exceptional comfort minimizes exercise-related injuries.
Lightweight and portable for on-the-go workouts.
Versatile for a complete, full-body Pilates workout.
Ideal for toning various muscle groups.
Backed by a 100% customer satisfaction guarantee.
You can see this pilates machine here
Stability Ball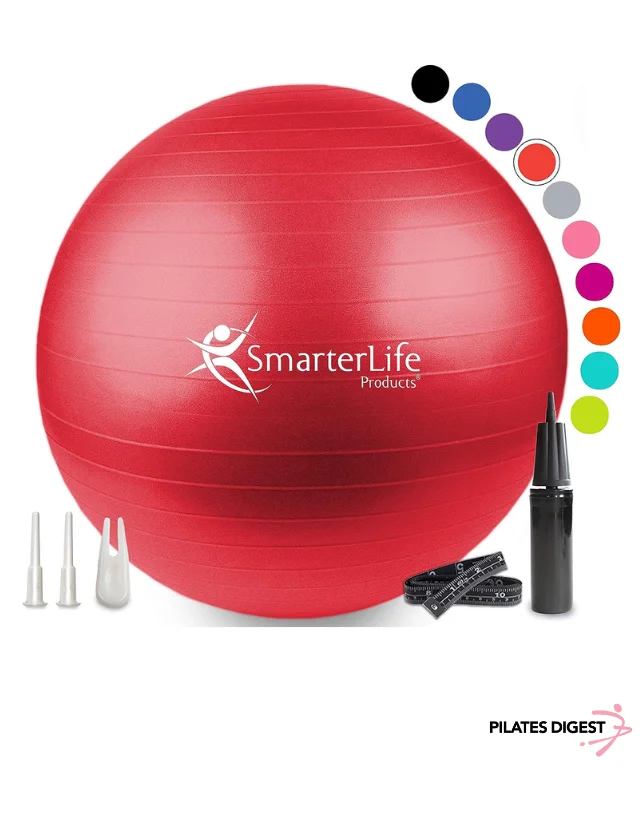 Built Tough: The Stability Ball has been carefully designed for durability and safety. It is suitable for use at home or in the office, promising consistent performance for daily workouts.

High Anti-Burst Rating: The Stability Ball is made from 2.5mm thick material that can withstand up to 2,000 PSI, ensuring that it won't explode if punctured. This makes it a reliable piece of equipment for confident and safe exercise.

Non-Slip Design: The ball features an easy-to-grip, non-slip design, which prevents it from sticking to skin, clothing, or surfaces, and prevents it from collecting dust. It's ideal for a variety of uses, from pregnancy exercises to workouts, or even for fun!

Safe Material: Made free from latex, toxins, heavy metals, and unpleasant odors, the Stability Ball is safe even for those with sensitive skin. It can be used for a variety of workouts including yoga, Pilates, or CrossFit.

Versatile Home Gym Equipment: The Stability Ball can be added to any home workout equipment collection, with uses ranging from stretching, correcting posture while sitting at a desk, to exercising.

Various Sizes: The Stability Ball is available in four different sizes (45 cm, 55 cm, 65 cm, and 75 cm) to accommodate different user heights. A sizing chart is provided to help customers choose the correct size for both workouts and use as a chair.

Colorful Choices: The Stability Ball is available in ten different colors, including black, red, and purple, allowing users to add a personal touch to their home gym or office space.
Advantages: 
High Durability: Resists wear and tear for long-lasting use.
Anti-Burst Design: Ensures safety during workouts, even if punctured.
Non-Slip Surface: Provides secure grip and won't stick or slide.
Hypoallergenic Material: Safe for sensitive skin, free from harmful substances.
Versatile Usage: Ideal for workouts, posture correction, or as a chair.
Customizable: Available in four sizes and ten color options.
You can see this pilates machine here
Final Thoughts – Which Machine Should I Choose?
So which one should you choose? There is no right answer here, you should pick the machine that appeals to you most.
Remember to consult your budget beforehand and consider the exercises or movements you wish to complete with the machine.
If you are unsure, why not visit your local Pilates studio to try them out and find the machine that works for you?