The 17 Best Pilates Mats You Can Buy On Amazon
Now that you've got a better idea of the benefits of the Pilates mats, you can now have a look at the 17 best Pilates mats on Amazon right now. These mats are all really good mats and they each have their own unique features, so you'll have a fantastic selection to choose from, based on your current Pilates needs!
ProsourceFit Extra Thick Puzzle Exercise Mat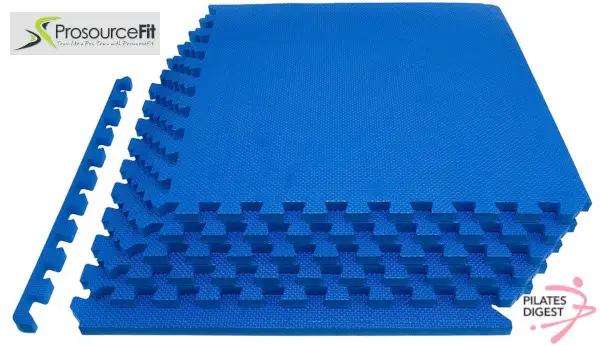 Experience unparalleled protection during your high-intensity workouts with our mat crafted from high-density EVA foam. This anti-fatigue mat not only offers extra thickness but also boasts unmatched durability, ensuring it stands up to heavy traffic. Its non-slip surface ensures you remain stable during your routines while also safeguarding your floors from potential damage.
Maintaining the mat's pristine condition is a breeze. For regular cleaning, simply dampen a soft cloth with warm water and household soap, and give the mat a gentle rub. Encountered a stubborn stain? A mild laundry detergent solution will do the trick. After cleaning, either let it air dry or pat it down with a dry cloth.
This puzzle exercise mat is as user-friendly as it gets. The interlocking pieces fit seamlessly, allowing for a hassle-free setup and disassembly. Whether you're adjusting the layout or clearing space for guests, this mat ensures a stress-free experience every time.
Advantages:
High-density EVA foam for intense workouts.
Non-slip surface ensures stability and floor protection.
Easy cleaning with household items.
Quick assembly with interlocking pieces.
Easily adjustable layout for versatility.
Durable design withstands heavy traffic.
You can find this mat 
here
Balance From GoYoga Extra Thick Mat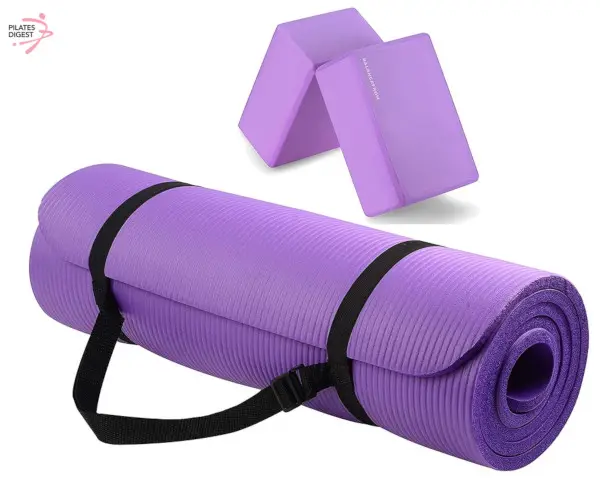 Crafted with a generous 1/2-inch thickness, this mat ensures optimal cushioning for your joints during any exercise routine. Its double-sided non-slip surfaces offer an unparalleled grip, significantly reducing the risk of slips and injuries. Whether you're flowing through a vinyasa or holding a challenging pose, the mat's exceptional resilience helps you maintain your balance with ease.
Designed with moisture-resistant technology, cleaning up after a sweaty session is a breeze; simply wash it with soap and water. Plus, its lightweight design, complemented by a handy carrying strap, makes it effortlessly portable, ensuring you can practice your moves wherever you go. Elevate your fitness journey with the BalanceFrom GoYoga Extra Thick Mat.
Advantages:
1/2-inch thickness for optimal joint cushioning.
Double-sided non-slip surfaces prevent slips.
Exceptional resilience ensures balance maintenance.
Moisture-resistant for easy cleaning.
Lightweight design for portability.
Included carrying strap for convenience.
To purchase this mat, click 
here
HemingWeigh 1 Inch Thick Mat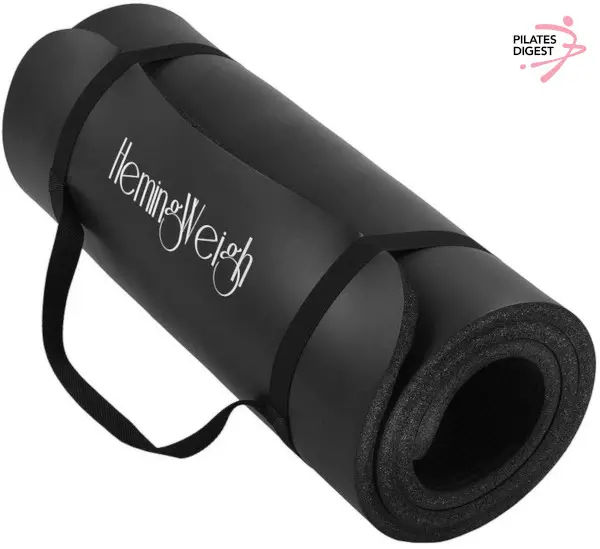 Carry your passion for fitness wherever you go with the HemingWeigh Yoga Mat. Its unique integrated self-strapping system ensures hassle-free transport and storage, making it an ideal choice for those who prefer to carry their own mat to group sessions and yoga studios.
Crafted with precision, our mat boasts of premium quality materials that stand the test of time. Say goodbye to flimsy fitness gear that gives up on you after a few sessions. Lightweight yet robust, the HemingWeigh mat promises not to fray, rip, or tear, ensuring you get the most out of your investment.
But that's not all! Dive into your floor workouts with an added layer of comfort. Our exclusive thick foam cushioning is meticulously designed for optimal impact absorption, offering enhanced support and joint comfort.
Advantages:
Integrated self-strapping for easy transport and storage.
Premium quality materials ensure durability.
Lightweight yet robust design.
Thick foam cushioning for optimal comfort.
Designed for superior impact absorption.
Enhances joint support during workouts.
You can find this mat 
here 
BalanceFrom GoCloud All-Purpose 1-Inch High-Density Anti-Tear Mat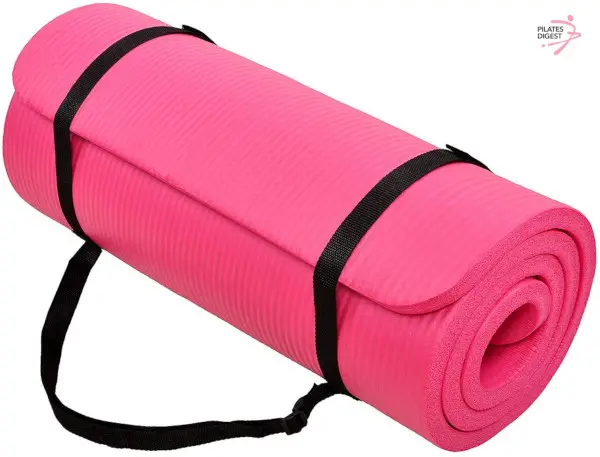 Crafted with a generous 1-inch high-density foam, this mat ensures optimal cushioning for all your fitness and relaxation needs. Whether you're diving into a vigorous workout, practicing yoga, or simply seeking a soft surface for meditation, the GoCloud mat stands up to the challenge. Its anti-tear properties guarantee longevity, ensuring that even with regular use, it remains in pristine condition.
The sleek design and top-notch build quality make it a must-have for fitness enthusiasts and peace seekers alike. Elevate your exercise and relaxation experience with the BalanceFrom GoCloud mat, where every session becomes a cloud-like dream.
Advantages:
1-inch high-density foam for superior cushioning.
Suitable for diverse workouts and relaxation.
Anti-tear properties ensure lasting durability.
Sleek design complements any space.
Ideal for both fitness and meditation.
Maintains shape even with regular use.
To purchase this mat, click 
here
Retrospec Solana Yoga Mat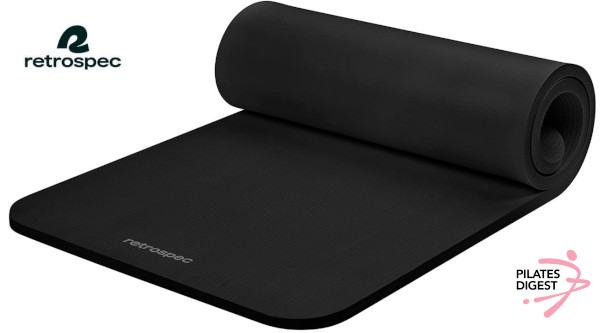 Step onto the Retrospec Solana Yoga Mat and immerse yourself in a world where comfort meets functionality. Designed with a ribbed surface texture, this mat ensures that every pose is slip-free, allowing you to remain grounded and focused throughout your flow. The extra-thick NBR foam is a game-changer, offering unparalleled support by easing the pressure on sensitive areas like your joints, hips, hands, and knees.
But the Solana Yoga Mat isn't just about the practice; it's also about convenience. With its easy-to-clean feature, a simple wipe down with a blend of water and a touch of gentle soap will have it looking pristine.
Remember to hang it out to dry, ensuring its longevity and freshness. And when it's time to move, the included nylon carrying strap makes transportation a breeze, whether you're transitioning from home to the studio or taking your practice on the road.
Advantages:
Ribbed Surface: Ensures slip-free, grounded yoga sessions.
Extra-Thick Foam: Alleviates pressure on sensitive areas.
Easy to Clean: Wipe with water and gentle soap.
Nylon Carrying Strap: Convenient for on-the-go practices.
Eco-Friendly Materials: Sustainable and nature-friendly.
Durable Design: Long-lasting and reliable for daily use.
You can view this mat 
here 
BalanceFrom GoFit Equipment Mat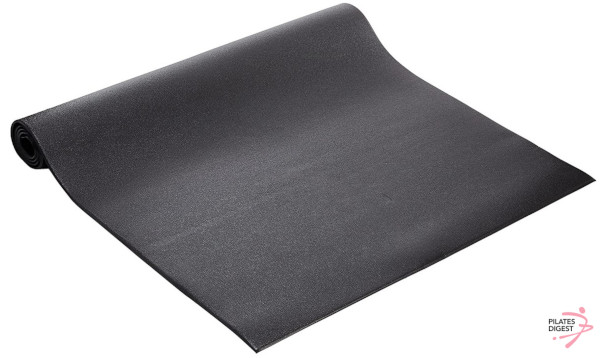 Discover the BalanceFrom GoFit Equipment Mat, the ultimate solution for safeguarding your floors from the rigors of heavy workout equipment. Crafted from high-density material, this mat ensures that treadmills, exercise bikes, ellipticals, and more, sit securely without causing any harm to your flooring. Its moisture-resistant technology ensures that any sweat or spills can be effortlessly wiped away with just soap and water.
Beyond its protective features, the GoFit Equipment Mat doubles up as a versatile fitness accessory. Made from premium PVC, it's not just an equipment mat but also your go-to for yoga or general exercises, offering a comfortable and safe surface for your routines.
Choose the version that suits your space and needs: the sleek Regular or the space-saving Foldable, which neatly divides into six 13-inch sections for easy storage. Regardless of your choice, both designs boast an impressive 6.5-feet length and 3-feet width, providing ample space for your fitness endeavors.
Advantages:
High-density material protects all floor types.
Resistant to moisture; easy soap and water cleanup.
Dual-purpose: equipment mat and yoga/exercise mat.
Premium PVC ensures durability and comfort.
Two options: Regular or space-saving Foldable.
Generous size: 6.5-feet by 3-feet coverage.
You can view this mat 
here
Sivan Health and Fitness Exercise Mat Tiles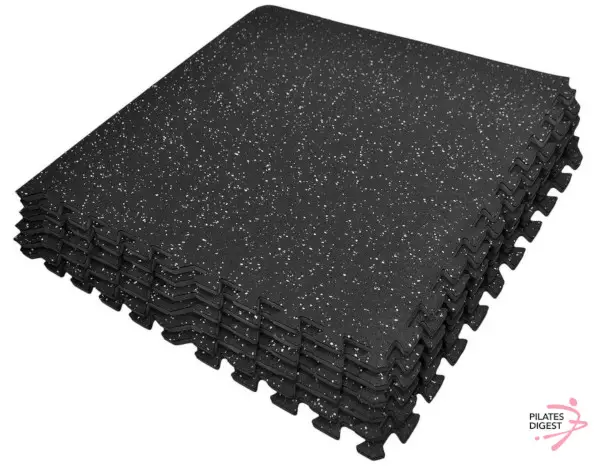 Crafted with high-density foam, these interlocking gym tiles are your answer to a more comfortable and versatile workout space. Whether you're turning a playroom into a yoga studio, a classroom into a Pilates haven, or a garage into a Crossfit gym, these tiles provide the cushioning your body craves. Beyond the gym, they're ideal for camping adventures and poolside relaxation, ensuring a soft landing for tumbling kids or a padded base for your fitness equipment.
Dive into a world of comfort and versatility with Sivan's premium exercise mat tiles.
Advantages:
High-density foam for superior cushioning.
Versatile: suitable for various workouts and spaces.
Interlocking design ensures easy setup.
Durable for long-lasting use.
Ideal for both indoor and outdoor activities.
Provides protection to hard floor surfaces.
You can view this mat 
here
BEAUTYOVO Puzzle Exercise Mat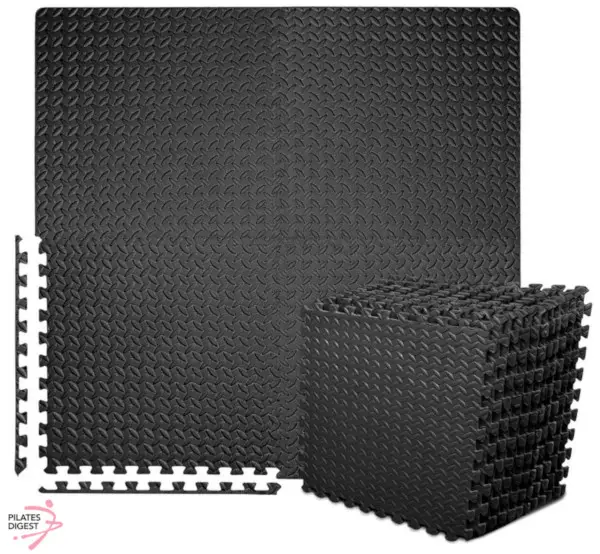 At 10mm thick, this foam floor mat ensures that every landing is comfortable and safe, whether you're on your palms, knees, wrists, or ankles. Say goodbye to exercise injuries with its shock-absorbent properties. The mat's seamless interlocking design ensures a firm grip, while its non-slip texture minimizes the risk of accidents during intense workouts. Prioritizing your family's health, BEAUTYOVO has ensured that the mat meets the stringent safety standards of US CPSIA, ASTM, and EU EN71-1-2-3.
Each mat comes with two end pieces, and its adaptable design can be tailored to fit even the most irregular corners. Whether you're into strength training, cardio, or any workout with or without shoes, this mat is the perfect companion. Crafted from premium EVA foam, it not only offers softness and flexibility but also enhances balance and stability for various poses. And if you're worried about your home flooring, the BEAUTYOVO fitness mat acts as a protective barrier against potential damage from gym equipment. Now, even accidental dumbbell drops won't be a concern. Elevate your workout experience with BEAUTYOVO.
Advantages:
10mm thick for superior cushioning and injury prevention.
Seamless interlocking design ensures firm grip.
Meets US CPSIA, ASTM, and EU EN71 safety standards.
Adaptable design fits irregular corners.
Made from durable, premium EVA foam.
Protects floors from gym equipment damage.
You can view this mat 
here
Innhom Gym Flooring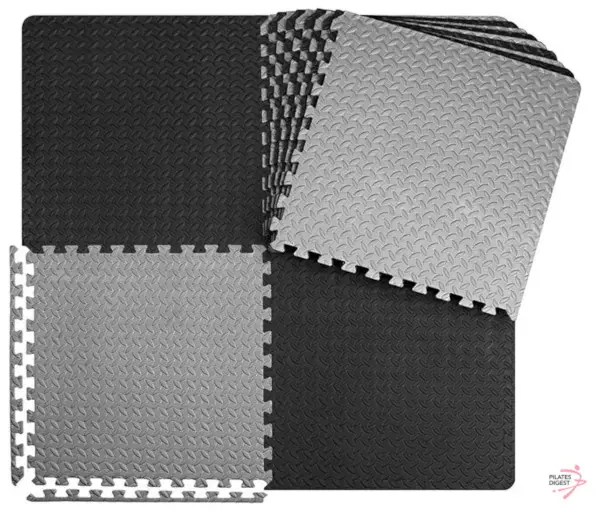 Discover the perfect blend of safety and functionality with Innhom's Gym Flooring. Crafted to meet the stringent safety standards of US CPSIA, ASTM, and EU EN71-1-2-3, our flooring ensures a non-toxic environment for your workouts. With a thickness of 10mm or 3/8 inch, it strikes the right balance between sturdiness and cushioning, ensuring you're protected from rough and hard surfaces during your exercises.
The non-slip texture design is a standout feature, offering excellent slip resistance and a superior grip. This ensures that you can focus on your workout without the fear of slips or falls. Moreover, if you have heavy exercise machines, this flooring acts as a buffer, dampening vibrations, reducing noise, and safeguarding your floor from potential damages.
Setting up is a breeze! The puzzle tiles interlock seamlessly, making assembly quick and straightforward. And if you ever need to move them, disassembling is just as easy, ensuring portability and compact storage. The tiles lock together securely, ensuring they remain intact even during the most intense workouts.
Maintenance is hassle-free. Thanks to its waterproof closed-cell surface, moisture and sweat remain on the surface, preventing any unpleasant odors. Cleaning up after a sweaty session is as simple as wiping it down.
Whether you're setting up a home gym, a workshop, a garage, or even a children's play area, these tiles are versatile enough to fit your needs. Each tile measures 23.6" x 23.6" x 3/8", and with options ranging from 12 to 48 tiles, you can cover floor spaces from 48 sq.ft all the way up to 192 sq.ft. Plus, the package includes end borders, ensuring a polished and seamless look.
Advantages:
Meets US CPSIA, ASTM, EU EN71-1-2-3 safety standards.
10mm thickness: sturdy yet cushioned protection.
Non-slip texture: prevents injuries and slips.
Easy assembly and disassembly: portable and compact.
Waterproof: simple to clean, odor-resistant.
Versatile: suitable for gyms, workshops, play areas.
You can find these mats 
here
Walsai Puzzle Flooring Mat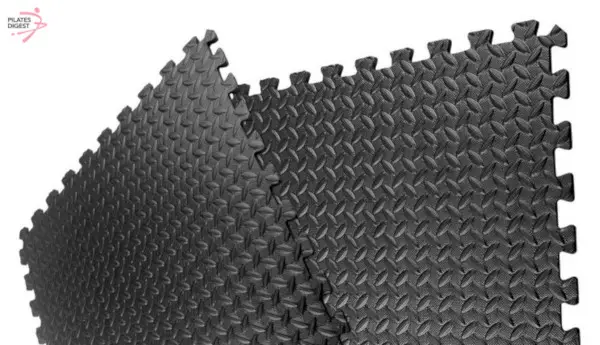 Discover the perfect fusion of durability, comfort, and protection with the Innhom Gym Flooring. Designed to cater to a diverse range of activities, from gymnastics and yoga to CrossFit and Pilates, this versatile mat seamlessly integrates into any setting, be it your garage, basement, fitness center, or home gym.
Assembling and detaching is a breeze, thanks to its interlockable design. But it's not just about convenience; it's about safeguarding your space. With its high-density, shock-absorbent properties, this mat not only shields your floors from unsightly scratches but also significantly reduces noise, ensuring a peaceful workout environment.
For those with little ones, the Innhom Gym Flooring doubles as a children's playground. Crafted from soft, high-density EVA foam, it offers a plush yet secure space for kids to play. And for the fitness enthusiasts, the textured non-slip surface ensures you remain steady during your routines, minimizing the risk of injuries. The precision-cut design ensures the pieces interlock tightly, preventing them from coming apart during use.
Beyond its functional attributes, this mat also scores high on comfort. Its ½ inch thickness provides ample cushioning, ensuring your feet, knees, elbows, back, spine, and hips remain comfortable throughout your practice. And when it's time for a cleanup, its waterproof nature comes to the rescue. Any spills or sweat can be easily wiped away with soap and water, thanks to its moisture-resistant technology.
Advantages:
Versatile: Suitable for gymnastics, yoga, CrossFit, and Pilates.
Protects floors from scratches and reduces noise.
Safe, comfortable playground for kids.
Textured non-slip surface ensures safety.
Thick cushioning supports joints and spine.
Waterproof and easy to clean.
You can view these mats 
here 
We Sell Mats 4 ft x 10 ft x 2ft
Designed to cater to a myriad of activities, from invigorating bodyweight exercises to gentle stretching sessions. It even doubles as a delightful playmat for the little ones. With its unique foldable design, this mat effortlessly transforms any space into your personal training zone. Whether you're at home or on the move, its lightweight build and handy travel handle ensure you're never without the perfect workout companion. Tailored to fit any space, our mats are a perfect addition to home gyms, vibrant playrooms, or bustling classrooms.
Dive into a plethora of choices, with variations in color, size, and thickness, ensuring you find the perfect match for your needs. Elevate your fitness journey and playtimes with We Sell Mats.
Advantages:
Versatile: Suitable for workouts, stretching, and kids' play.
Foldable: Saves space and easy storage.
Lightweight: Ideal for on-the-go exercises.
Convenient travel handle: Enhances portability.
Customizable: Multiple colors, sizes, and thicknesses.
Perfect for various spaces: Home, school, or gym.
You can find this mat 
here
ProsourceFit Tri-Fold Exercise Mat 6'x2'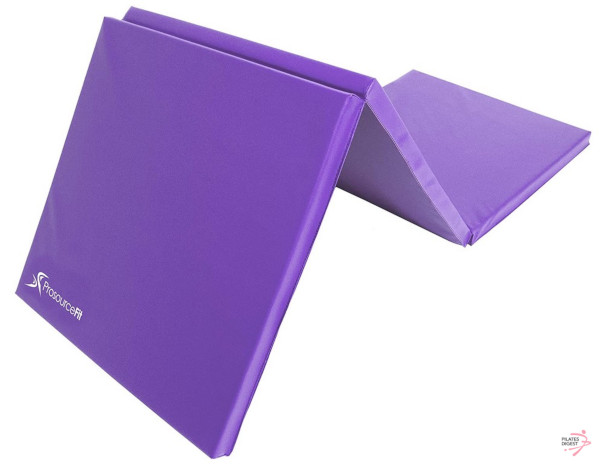 Your perfect companion for fitness on the move. With its compact 6'x2' dimensions, this mat is designed with the modern athlete and fitness enthusiast in mind. Its two robust handles ensure that you can effortlessly carry it, making it a top choice for personal trainers always on the move or athletes who prefer the great outdoors for their workout sessions.
Worried about storage? This mat has got you covered. Its tri-fold design ensures it tucks away neatly, maximizing space in your home gym. Whether you're heading to a local gym or a park, its portability ensures you have a comfortable exercise surface wherever you go.
And when it comes to maintenance, the ProsourceFit Tri-Fold Exercise Mat stands out. Its water-repellent surface ensures that sweat and spills don't linger. Cleaning is a breeze, allowing you to focus more on your workouts and less on upkeep. Say goodbye to concerns about germ buildup or unpleasant odors over time. Dive into a worry-free and efficient fitness experience with this premium exercise mat.
Advantages:
Portable: Sturdy handles for easy travel and mobility.
Storage-friendly: Tri-fold design saves home gym space.
Easy to Clean: Water-repellent surface for quick maintenance.
Hygienic: Reduces germ buildup and odors over time.
Versatile: Ideal for both indoor and outdoor workouts.
Durable: Built for long-lasting performance and reliability.
You can find this mat 
here
We Sell Mats 4 ft x 8 ft x 2"
Whether you're nurturing the dreams of a budding gymnast at home or guiding a competitive cheer squad, our mat caters to all skill levels. It's an ideal choice for home practices, school sessions, or professional gym training.
Rooted in Family Values: Our story began with a simple quest by a pair of parents seeking safe flooring solutions for their little ones. Today, We Sell Mats has evolved into a brand synonymous with fun, comfort, and safety. Our commitment to quality has earned us a coveted spot in the USA Gymnastics Supplier Network.
Uncompromised Safety Standards: Your well-being is our top priority. We collaborate with our manufacturing partners to undergo stringent product testing, ensuring that our gymnastics equipment meets the highest safety and quality benchmarks. With the seal of approval from world-renowned third-party laboratories, you can trust in the durability and safety of our mats.
Advantages:
Suitable for all skill levels: from toddlers to pros.
Born from genuine parental concern: safety first.
Member of USA Gymnastics Supplier Network: trusted quality.
Rigorous third-party safety testing: peace of mind.
Durable and high-quality materials: long-lasting use.
Versatile: ideal for home, school, or gym training.
You can find this mat 
here 
ProsourceFit Extra Thick Yoga Pilates Exercise Mat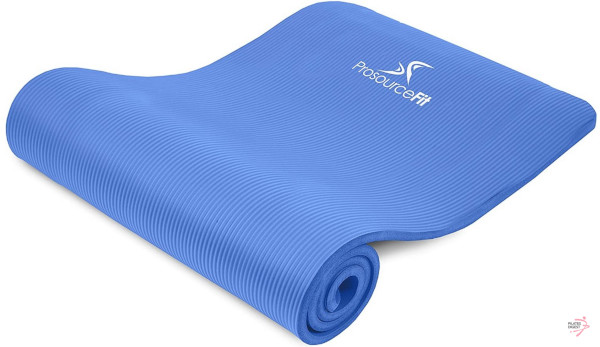 Elevate your yoga and Pilates sessions with the ProsourceFit Extra Thick Exercise Mat, designed to provide unparalleled comfort and support. Say goodbye to the inconvenience of using towels for added cushioning. With options of ½-inch (13mm) or 1-inch (25mm) thick foam, this mat ensures that floor exercises, from the camel pose to the Pilates 100, are free from discomfort. Especially beneficial for those with sensitive joints or in recovery from injuries, the 1-inch variant offers supreme cushioning, turning your workouts into a pain-free experience. Measuring nearly 6-feet in length, it accommodates users of all heights.
Crafted from ribbed NBR foam, the mat promises a non-slip surface, making it suitable for a variety of fitness routines. Plus, its moisture-resistant nature ensures longevity and easy maintenance. Post-session, simply roll it up, sling it over your shoulder with the complimentary mat sling, and you're good to go. Personalize your practice by selecting from 8 vibrant colors for the ½-inch mat and 6 for the 1-inch variant.
Advantages:
Unparalleled comfort with ½-inch or 1-inch foam options.
Nearly 6-feet length suits all users.
Ribbed NBR foam ensures non-slip workouts.
Naturally moisture-resistant for easy maintenance.
Complimentary mat sling for portability.
Variety of vibrant color choices available.
You can view this mat 
here
Gorilla Mats Premium Large Exercise Mat – 6′ x 4′ x 1/4″" Ultra Durable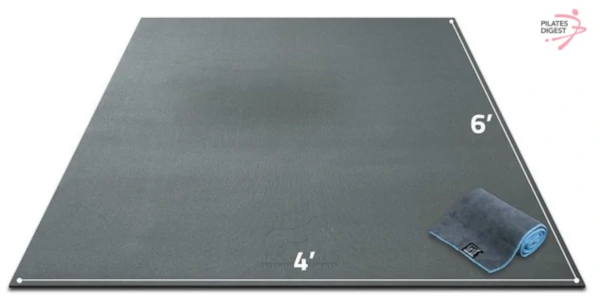 With dimensions of 6′ x 4′, this mat offers you over twice the space of conventional exercise mats, ensuring you have ample room for any workout, from yoga to high-intensity training.
Ever felt restricted by the size of your mat? With the option to combine two or more Gorilla Mats, you can create an expansive 8′ x 6′ workout haven, or even larger if you desire. The possibilities are endless.
Rooted in family values, we at Gorilla Mats prioritize you, our valued customer. We understand the importance of quality, which is why we've crafted this mat with the finest non-toxic materials, ensuring it stands the test of time and intensity. Whether you're barefoot or in shoes, our mat can handle it all.
Each Gorilla Mat is meticulously packaged with a complimentary 100% microfiber towel and two storage straps. Setting up your workout space is as simple as unrolling the mat, and when you're done, rolling it back up is a breeze.
Advantages:
Spacious 6′ x 4′ size for unrestricted workouts.
Combine mats for even larger exercise area.
Made from durable, non-toxic materials.
Suitable for shoe-on and barefoot exercises.
Includes complimentary microfiber towel.
Easy storage with provided straps.
You can find this mat 
he
r
e 
BestMassage Gymnastics Tumbling Mat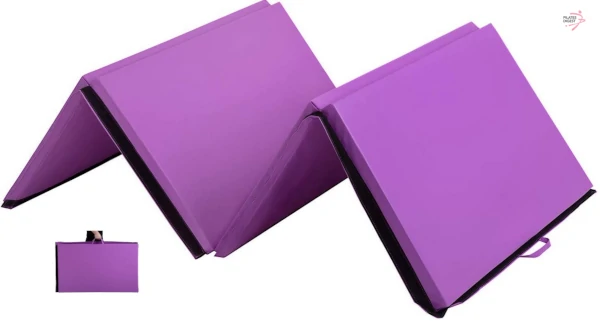 Crafted with premium EPE, this mat offers a soft touch that's resilient enough for rigorous training and exercises. Its plush thickness ensures a cushioned and supportive surface, making it perfect for workouts, stretching sessions, martial arts, or any outdoor fitness routines. Beyond its comfort, this mat boasts a convenient foldable design, allowing for swift packing and storage.
Equipped with two sturdy carrying handles, it's the ideal companion for personal trainers, home athletes, outdoor exercise enthusiasts, and home gym setups.
Advantages:
Premium EPE material: soft and resilient.
Thick cushioning: supportive workout surface.
Foldable: easy storage and transport.
Two carrying handles: enhanced portability.
Versatile: suitable for various exercises.
Ideal for home and outdoor use.
You can find this mat 
here
Conclusion
As you can see, there are a lot of different mats you can choose from.
The beauty of most of these mats is that they can be used for a wide range of exercises, so if you spend a lot of your time doing multiple exercises, you do not have to worry about buying two or three different mats and you can save a lot of time and money with just the one.
The most important thing you want to make sure of when you buy a mat is to make sure it's as slip resistant and durable as possible.
If you don't have to worry about unnecessary injuries or replacing the mat every couple of months, you can just get on with your exercise without any added stress.