Article Reviews
What Is A Foam Roller? Why, When, And How To Use It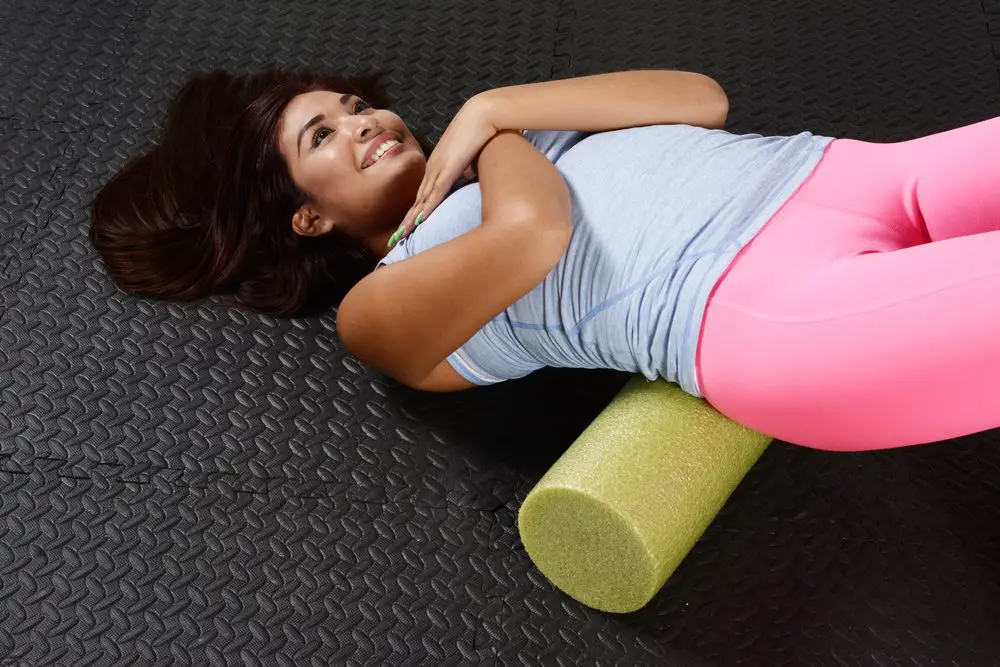 You may have heard about foam rollers, and if you suffer with achy, sore joints and muscles, you may be wondering if they can really help.
In this article, we will be discussing everything you need to know about foam rollers, along with product suggestions, specific exercises, and a Buyer's Guide to help you find the right product for you and your muscles.
So, let's get started.
What Is A Foam Roller?
When you roll a foam roller over your muscles, it creates something called myofascial release. This occurs when the fascia is massaged. 
Fascia is the name of the thin sheets of connective tissue, primarily collagen, that lie beneath our skin.
These sheets cling to our muscles, supporting and enclosing them, while keeping them distinct from the rest of our internal organs.
Fascia enables all of our muscles to perform as a single unit, allowing for smoother, more comfortable muscular function.
However, binding is always a possibility due to a variety of factors such as muscular damage, swelling, illness, trauma, or immobility.
It's because your fascia has gotten scrunched up and 'gummy' that your muscles feel tight and stiff. 'Myofascial adhesion' is the official term for this rigidity.
Foam rollers work by relieving muscular knots in these stiff places, as your endurance may be limited as a result of these myofascial adhesions.
Foam rollers, thankfully, have proven to be effective in relieving muscle tension, despite the fact that they might be uncomfortable while initially being used.
It's crucial to understand that the size, structure, volume, and form of foam rollers impact whether or not they'll work for you. 
We will provide you with a Buyer's Guide towards the end of this article to help you figure out which type of foam roller is ideal for you.
When To Use A Foam Roller
Foam rollers can be used at any time of the day to relieve general muscular discomfort.
Some people prefer to use a roller first thing in the morning, but if you have achy muscles towards the end of the day, you could try using one before bed.
Athletes, according to trainers, like to use foam rollers right before and after their exercise routines.
Foam rollers allow muscles to loosen before an exercise, allowing for more efficient muscle movement and a broader range of motion.
In addition, rollers are particularly efficient in reducing overall muscle discomfort and recuperation time.
How To Use A Foam Roller
Most individuals find foam rollers unpleasant when they first use them, so we recommend being careful when first attempting to use one.
As you progress through the learning phase, you will be able to recognize and identify your body's reaction to various levels of pressure.
In order to use a foam roller, you will want to follow the following steps:
First, identify the area which is causing you discomfort. This is the area that you will be 'rolling'.
Depending on the affected area, you will want to position yourself in a way that the roller will be centered below it. 
You will need to press your body against the roller, targeting the affected area, pressing for around 20 to 30 seconds. This should feel uncomfortable, not painful.
Roll the foam roller over the area, moving to other affected areas. You should feel an immediate relief, even if it still feels sore and uncomfortable at first.
It is important to remember that a foam roller is not an immediate cure, and one practice will not completely get rid of the pain of a stiff muscle.
To see true benefits, you will need to use the foam roller every day. 
Keep on trying different body positions until you find the one that works best for your muscles.
Additionally, it's easy to get caught up in the sensation of the massage, and forget to breathe properly during foam rolling, so make sure to take long, deep breaths throughout the procedure.
Foam Roller Exercises For Different Muscles
Depending on the muscles that you want to stretch out, you may want to try the following specific exercises.
The press-and-roll method works for most tense muscles, but if you want faster, better results, you will be better off following the exercises listed below.
Calves
To begin, set your foam roller on the floor, and sit in front of it with one leg extended straight, and your calf resting on the foam roller.
Lift your buttocks upwards with the help of your other foot and hands, and begin gradually rolling your calf muscle over the roller.
Hold your muscle over the roller for 20-30 seconds after you've reached a tender region before moving on.
Ensure your calf is fully engaged by flexing your ankle while rolling. You can rotate your calf in and out to cover the sides. By shifting your foot into different places, you can increase the intensity.
To fully exercise the calf muscles, repeat on the other leg.
Iliotibial (IT) Band Muscles
The IT band (iliotibial tract) is a broad segment of connective tissue that surrounds many muscles in the lateral thigh.
By linking the hip muscles to the tibia of the lower leg, this tissue plays a vital role in thigh mobility.
While lying down on one side, lay the foam roller under one of your quadricep muscles. Shift back and forth while the roller works on the outer thigh, using your forearm to hold your upper body.
Pause for 20-30 seconds on specific stiff regions to allow the compression to act on your muscles. You can alter the degree of the IT band workout by leaning forward or backward.
Quadriceps
Position the roller beneath your thighs this time, just like you did with the calf muscle, and move back and forth using your elbows.
You have the option of working on both thighs by propping yourself up with your arms in these workouts.
Remember to stop for 20 to 30 seconds to apply pressure to the specific area.
You may utilize similar strategies for other leg muscles, such as the hamstring, hip abductor, as well as more, by simply placing oneself in the face-up or face-down posture.
Upper Back
For this exercise, we recommend using a foam roller that is 24 to 36 inches in length.
Position the foam roller on the floor, and balance it on your shoulders while lying down.
To achieve a bridge-like stance, extend your arms straight and bend your legs while elevating your thighs off the ground.
Once you're in that posture, start rolling back and forth to focus on your upper back. Don't forget to stop for 20-30 seconds at certain points.
The Best Foam Rollers On The Market
Below, we have listed eight different foam rollers that, we believe, are some of the best on the market.
Check out our descriptions and reviews to decide which would be ideal for you and your conditions.
1. TriggerPoint GRID Foam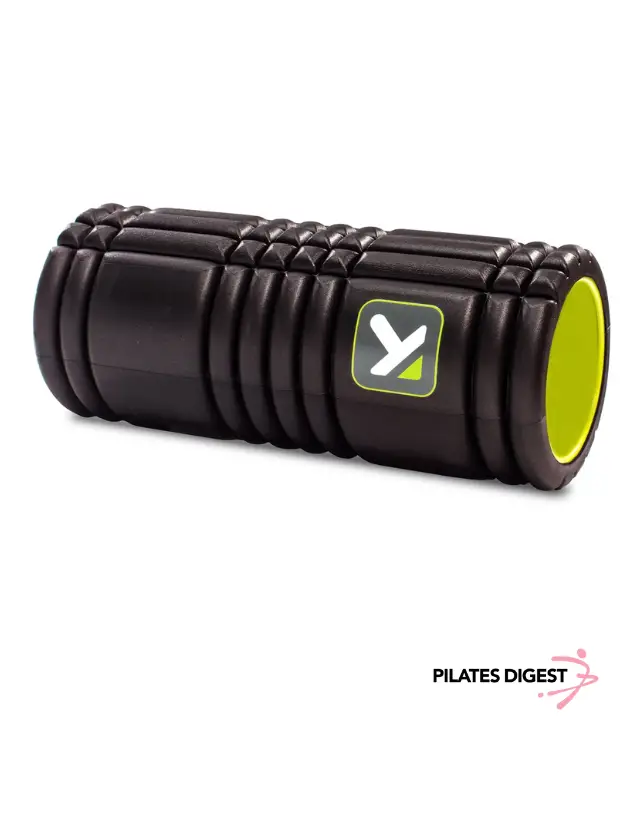 The TriggerPoint GRID Foam Roller is a highly effective and versatile tool designed to enhance your fitness routine. Its patented design features a multi-density exterior, constructed over a rigid, hollow core, ensuring a balance between comfort and structural integrity. The foam roller is durable, built with high-quality materials that maintain their shape even after repeated use.
This foam roller measures 13 x 5.5 inches and can support up to 500 pounds of weight, making it suitable for users of different sizes and weights. It offers a standard density surface, making it a perfect choice for both beginners and experienced users who seek to improve their flexibility and reduce muscle tension.
When you purchase the TriggerPoint GRID Foam Roller, you also gain access to a comprehensive online instructional video library. These videos, created by the experts at Trigger Point, provide best practices for foam rolling, allowing you to maximize the benefits of the product.
Trusted by professionals such as physical therapists, massage therapists, coaches, and trainers, as well as athletes, the TriggerPoint GRID Foam Roller is a reliable tool for promoting muscle recovery, improving mobility, and enhancing overall athletic performance.
Advantages: 
Patented design offers superior, multi-density exterior for effective muscle relief.
Quality construction ensures durability and shape retention with repeated use.
Includes access to expert-led instructional videos on foam rolling.
Trusted by professionals, from physical therapists to athletes.
Standard density suitable for all levels, beginners to advanced users.
Supports up to 500 pounds, accommodating various sizes and weights.
You can see this foam roller here
2. BLACKROLL Blackbox Set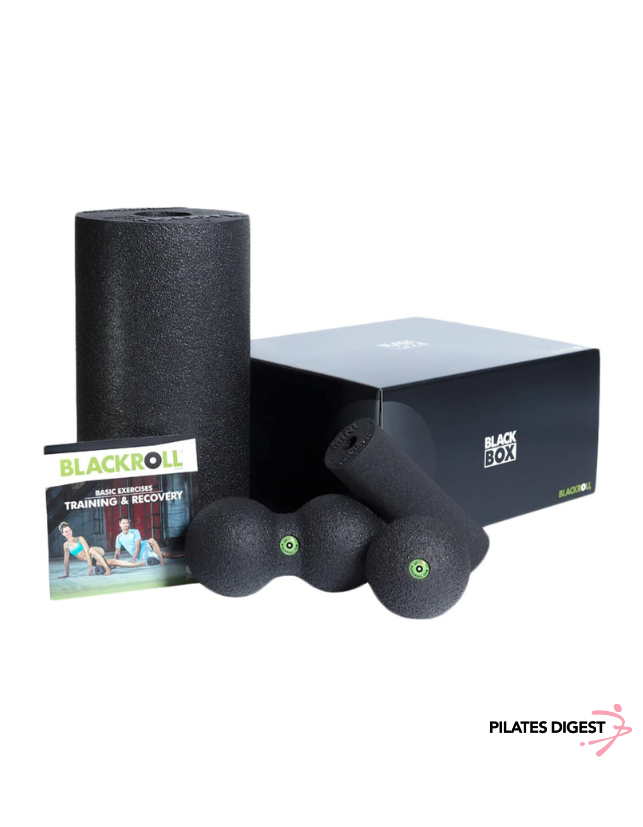 BANISH ACHES AND PAINS – The BLACKROLL Blackbox Set is an excellent solution for tackling sore and tired muscles. Our therapeutic balls and massage rollers are designed for targeted treatment across all body parts, including the neck, back, shoulders, arms, legs, and feet. They penetrate and relieve stressed muscles, enhancing performance and flexibility for an overall healthier you.
WELLNESS ANYWHERE, ANYTIME – At BLACKROLL, we view you as part of our family. That's why we've included a high-quality foam roller, massage ball, and Duoball in our BLACKBOX set, designed for enhancing body stability. Compact and lightweight, our massage tools easily fit in your gym bag, making it possible for you to stimulate your fascia and enjoy a rejuvenating massage wherever you go.
PREMIUM QUALITY MASSAGER – The BLACKROLL Blackbox Set includes all your favorite compact tools, manufactured with top-notch and long-lasting materials. Our high-density foam balls and rollers are designed for in-depth massage and treatment. They help facilitate self myofascial release, eliminating muscle knots and tension, and provide trigger point therapy to soothe and revitalise your entire body.
BOOST PERFORMANCE AND BLOOD FLOW – Limited blood circulation can lead to several health issues. That's why the BLACKROLL set is designed to not only improve your health by boosting blood circulation but also to enhance bodily functions. It not only improves your long-term performance but also aids in preventing overload injuries.
CHOOSE BLACKROLL – Opt for BLACKROLL for an exceptional recovery and self-massage experience. Our tools are designed to relax the muscle and muscle group's connective tissue. We take immense pride in our products, and if you have any concerns, feel free to reach out to us. We strive to ensure your complete satisfaction.
Advantages: 
Eliminates sore, aching muscles for enhanced performance.
Portable for on-the-go stress relief and massage.
High-quality, durable materials ensure long-term use.
Facilitates self myofascial release, reducing muscle knots.
Improves blood circulation, preventing overload injuries.
Provides exceptional recovery and self-massage experience.
You can see this foam roller here
3. OPTP Pro-Roller Soft Density Foam Roller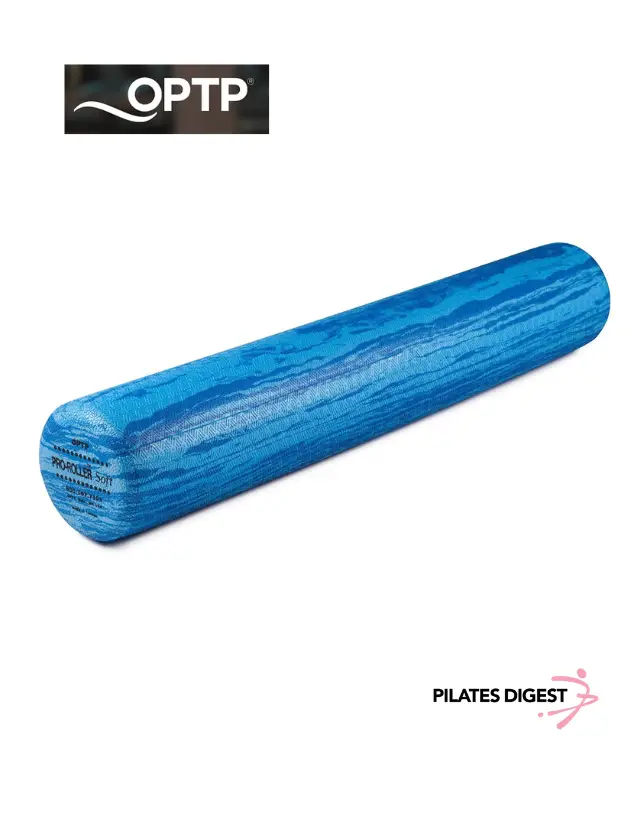 The BLACKROLL Blackbox Set offers professional-grade quality, ensuring high performance, durability, and cleanliness. It is ideally suited for heavy-duty use at the gym or clinic, designed to meet the rigorous requirements of frequent usage.
The set includes a foam roller constructed of heat-molded, closed-cell EVA foam, providing maximum durability. Unlike more common open-cell foam rollers, our closed-cell foam material is easy to clean, maintaining its quality and hygiene over time.
The foam roller features a soft density, offering a more comfortable compression. This design facilitates gentle relief on tight areas during self-massage rolling. Additionally, the roller provides adequate support for lying supine and performing a wide variety of exercises.
Versatility is a key attribute of the BLACKROLL Blackbox Set. It not only serves as a traditional self-massage tool but also excels in balance and stability exercises, making it an ideal companion for Pilates and other fitness routines.
With a standard size of 36-inches in length and 6-inches in diameter, the BLACKROLL Blackbox Set fits seamlessly into your fitness regimen, meeting standard expectations of size and functionality.
Harness the power of professional-grade fitness tools with the BLACKROLL Blackbox Set. Improve your balance, stability, and self-massage techniques for a more efficient workout and recovery process.
Advantages: 
Professional-grade quality for high performance and heavy use
Constructed from easy-to-clean, durable, closed-cell EVA foam
Soft density for gentle relief on tight areas
A versatile tool for both self-massage and stability exercises
Standard size fitting seamlessly into fitness routines
Supports a wide variety of exercises, including Pilates
You can see this foam roller here
4. 321 STRONG Foam Roller
The 321 STRONG Foam Roller is a high-quality, solid core massage roller, designed to mimic the precise and effective touch of a therapist's hands. It measures 12.75 inches long with a diameter of 5.25 inches. Its unique design, featuring EVA tread and triple grid 3D massage zones, is lightweight yet durable.
This medium-density muscle roller is user-friendly, making it ideal for beginners. Its comforting touch is effective in penetrating the soft tissue layer of tired muscles, and it's gentle enough to be used by those suffering from lower back injuries, sciatica, or plantar fasciitis.
It is an excellent recovery tool for anyone looking to alleviate muscle pain, increase performance, and improve flexibility. The roller works best when used both before and after exercise, forming part of a beneficial stretching routine. It enhances blood flow to the massaged area, helping flush out stored lactic acid.
The 321 STRONG Foam Roller is designed to give your overworked and strained muscles the relief they need. It's especially beneficial for your legs, arms, feet, hamstrings, IT band, glutes, and calves, providing a superior massage whether you're at home or in the gym.
This foam roller is highly appreciated by runners, exercise enthusiasts, yoga and Pilates students, swimmers, physical or sports therapy patients, and anyone doing regular fitness workouts. It's especially effective on the arch of the foot and all parts of the body except the spine or neck.
Advantages: 
Mimics therapist's touch for effective muscle tissue penetration.
Ideal for beginners, comfortable even during injury recovery.
Increases performance and flexibility, improves pre and post-workout routines.
Enhances blood flow, aiding in lactic acid removal.
Ideal for diverse users: athletes, yoga students, therapy patients.
Comes with a companion eBook for maximum product utilization.
You can see this foam roller here
5. LuxFit Foam Roller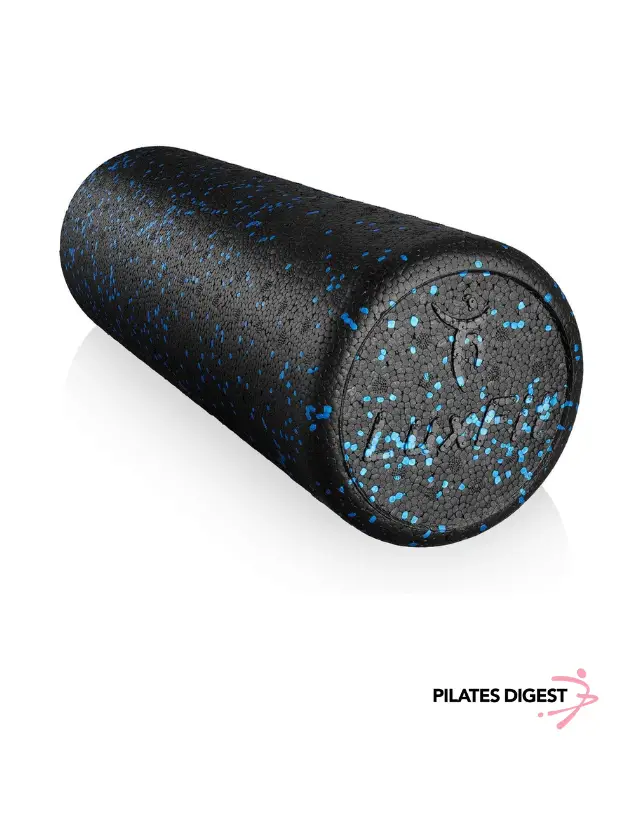 The LuxFit Foam Roller is a versatile tool aimed at providing relief from muscle tension and enhancing muscle reflexology. Ideal for physical therapy, pre or post-exercise routines, yoga, and massage therapy, this foam roller works by offering a deep tissue massage effect.
The use of this foam roller is not only restricted to muscle relaxation. It also promotes muscle injury prevention and aids in positioning, balance, postural re-education, and spinal stabilization. It can be used in a variety of strength and range-of-motion exercises, and is particularly helpful in IT band workouts.
Crafted with molded polypropylene foam technology, the LuxFit Foam Roller has a density of 2 lbs per cubic foot, ensuring that it retains its shape even after rigorous use. Its smooth surface repels liquids, adding to its durability and ease of maintenance.
The LuxFit Foam Roller is available in four different sizes – 36 Inch, 24 Inch, 18 Inch, and 12 Inch – catering to various individual needs. The 36 Inch version is the largest, making it particularly suitable for back exercises and helping with back pain. All sizes are 6 inches wide, ensuring a uniform performance across all models.
Every LuxFit Foam Roller comes with a full 10-year limited warranty and is proudly made in the USA. For ease of use, a free online instructional video is included with each purchase. By using your body weight, the foam roller provides a myofascial release, delivering maximum relaxation relief for a wide range of body parts including the back and legs.
Advantages: 
Offers relief from muscle tension and enhances muscle reflexology.
Assists in injury prevention and promotes balance and posture.
Retains shape after heavy use due to high-density foam.
Available in four sizes, catering to diverse individual needs.
Comes with a full 10-year limited warranty.
Includes free online instructional video for easy usage.
You can see this foam roller here
6. Gaiam Foam Roller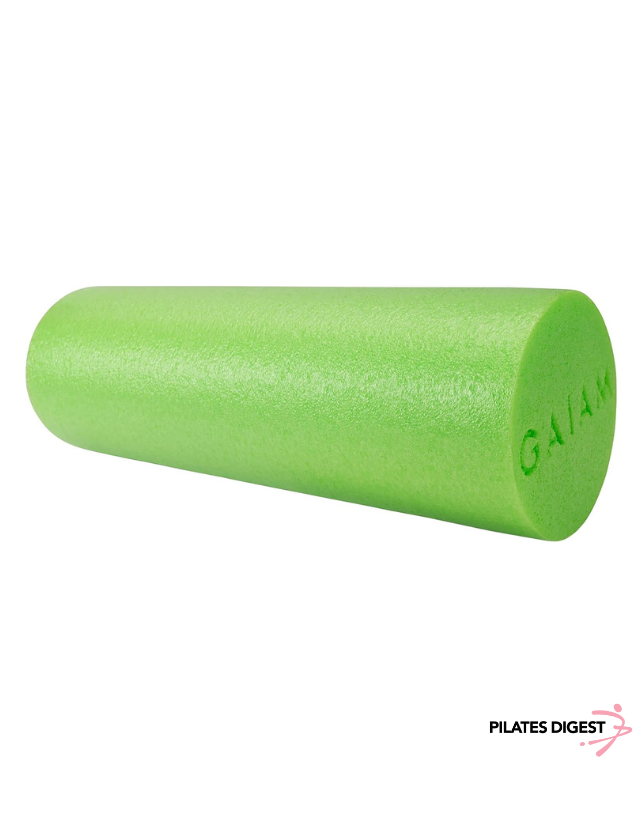 Introducing the Gaiam Foam Roller, your ultimate companion for achieving a stronger, healthier body. Designed with a semi-firm density, this foam roller offers just the right balance between support and muscle stimulation. Whether you're a fitness enthusiast or just looking to improve your overall well-being, this foam roller is perfect for you.
Measuring at 18 inches in length, the Gaiam Foam Roller provides ample space for effective double arm and double leg exercises, ensuring that you can target and soothe sore muscles with ease. Its compact size also makes it highly portable, so you can take it with you to the gym, office, or anywhere you go.
By incorporating foam rolling into your routine, you can experience improved mobility and flexibility. Say goodbye to tight muscles and welcome the relief from stress that comes with regular foam rolling sessions.
To help you get started on your fitness journey, we've included a 15-minute 'How To' digital workout guide. This guide will walk you through various foam rolling exercises, providing valuable tips and techniques to make the most out of your roller.
With dimensions of 18″L x 6″ Diameter and a lightweight design of just 0.96 lbs, the Gaiam Foam Roller is easy to handle and store when not in use. Made with top-quality materials, you can trust in its durability and long-lasting performance.
Advantages: 
Semi-firm density for optimal muscle support
18-inch length allows effective double arm/leg work
Improves mobility and relieves stress
Includes 15-minute digital workout guide
Portable and lightweight design
Durable, high-quality materials
You can see this foam roller here
7. ProsourceFit High Density Half Round Foam Roller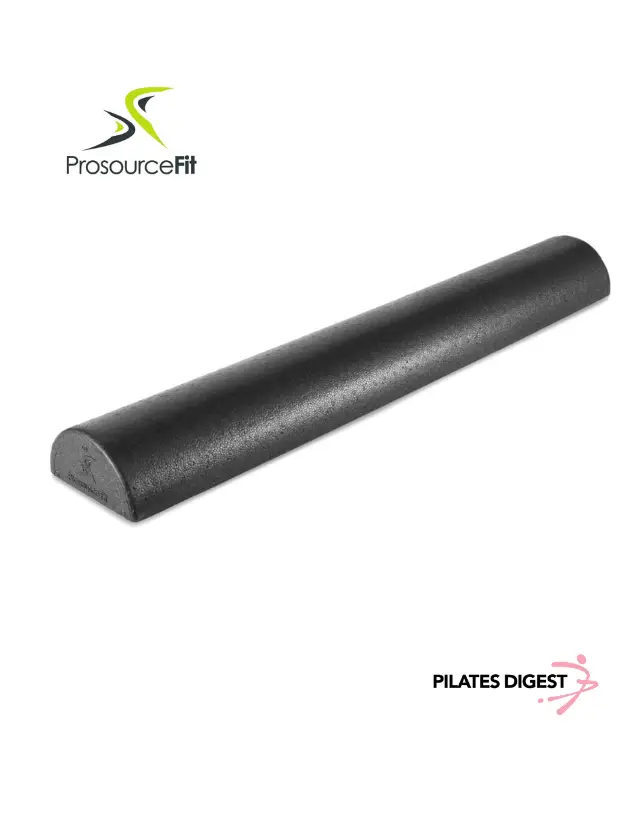 Extra Support: The half-round foam roller is made with firm, high-density foam that provides robust support for all body types. The strong structure ensures that it retains its shape even after regular usage.

Stretch and Strengthen: The foam roller can be utilized to stretch tight muscles post-workout, or as a core stabilizer for strengthening exercises. The product can be used in conjunction with different sizes of dense, semi-circle foam rollers for an advanced and fun challenge.

Textured Grip: The foam roller has a patterned surface that ensures a gentle, non-slip grip and added traction during exercises like push-ups, planks, or single-leg lunges. This feature also offers extra safety when the roller is used for physical therapy exercises.

Easy to Maintain: This fitness roller is composed of durable, eco-friendly high-density expanded polypropylene (EPP), which is both lightweight and easy to clean.

Travel Foam Roller: The product comes in 12-inch, 18-inch, and 36-inch sizes, and is designed for convenient storage and portability, making it ideal for on-the-go workouts whether at the gym or in a hotel room.
Advantages: 
Supportive: Offers firm, high-density support for all body types.
Versatile: Useful for stretching, core stabilization, and strengthening exercises.
Textured Grip: Ensures safe, non-slip grip during workouts.
Easy Maintenance: Made from easy-to-clean, lightweight material.
Eco-Friendly: Constructed with durable, high-density expanded polypropylene.
Portable: Available in various sizes for on-the-go workouts.
You can see this foam roller here
8. Gimme 10 Foam Roller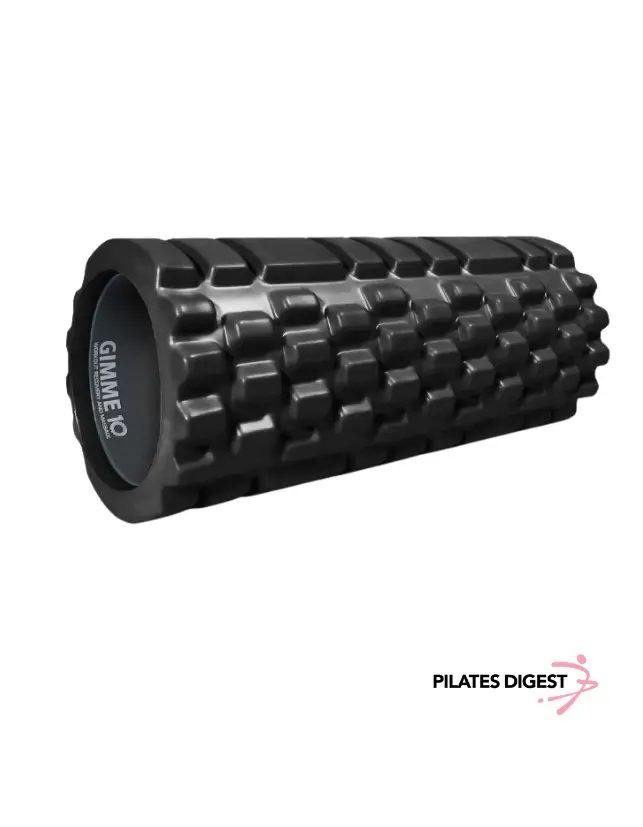 The Gimme 10 Foam Roller is a multi-purpose tool perfect for body massages and yoga stretching exercises. Its design and features make it suitable for all body types and ages, and it can be particularly beneficial in physical therapy and myofascial release practices.
The roller is made from medium-density, eco-friendly EVA foam, which is both lightweight and durable. This allows it to be used directly on the skin or over clothing, providing relief for conditions like sciatica, plantar fasciitis, and muscle strains.
As a fitness accessory, it is optimal for balance training and recovery. The firm surface of the roller can help reduce scar tissue and cellulite, making it ideal for use by athletes, runners, dancers, and yoga practitioners.
The Gimme 10 Foam Roller can be used before runs to help with stretching, or after workouts to provide relief and aid recovery. The textured surface can work out knots from various parts of the body, including the calf, spine, hamstring, lower back, thigh, quad, and hip.
This muscle roller features a robust ABS hollow core and has triple grid massage zones to emulate the touch of a physical therapist. It's a versatile tool suitable for home workouts, gym sessions, and travel, and it can be used in various forms – mini, small, long, thin, or large.
The Gimme 10 Foam Roller is protected by several US Patents, ensuring its unique design and functionality. Furthermore, it comes with an eBook Companion Guide, which you can download on this page, under the section called "Product guides and documents". This guide provides additional tips and instructions on how to best use this innovative fitness tool.
Advantages: 
Versatile tool for body massages, yoga, and physical therapy.
Lightweight, durable, and eco-friendly EVA foam construction.
Textured surface helps reduce scar tissue and cellulite.
Ideal for various conditions, including sciatica and plantar fasciitis.
Features triple grid massage zones for professional-grade relief.
Comes with a downloadable eBook Companion Guide.
You can see this foam roller here
Buyer's Guide For Foam Rollers
Choosing The Best Foam Roller For You
Density
Foam rollers come in a variety of densities, which determines how successful they are at deep tissue massage. You will need to identify which you need before purchasing one.
A lightweight foam roller may not apply enough pressure, but a firmer, denser foam roller may bruise and strain your muscles.
Extremely dense rollers may have a negative impact on your efficiency.
Color
When choosing a foam roller focused on color, keep in mind that, typically, white has the lowest density while black has the greatest. The middle densities are commonly blue and red. 
However, hue and density might vary depending on the brand, so this color coding isn't foolproof.
Surface Texture
Certain foam rollers have a textured surface with ridges and knobs on the surface to apply varying pressure levels.
Other foam rollers have a smooth texture and a seamless and consistent pressure intensity.
A smooth roller, rather than a textured one, should be used by someone who is just beginning to learn how to use a roller.
Shape And Size
There are many sizes that foam rollers can come in, in both length and diameter. You can also get half rollers, or full rollers.
The shape and size will depend on the area that you want to focus on.
The Benefits Of Using A Foam Roller
There are many benefits that can be had by using a foam roller, and here are just a handful of them:
Easing muscle pain.
Helps you to relax.
Alleviates backaches.
Managing fibromyalgia symptoms.
Increased motion range.
Temporary cellulite reduction.
Final Thoughts
Overall, if you have been suffering with stiff, painful joints and muscle pain, there is certainly no harm in trying a foam roller. 
We recommend that you start off gentle, not pushing yourself too hard, and working your way up to firmer pressure, and other shapes, sizes, and textures.
We hope you found this article helpful.