Article Reviews
Types of Pilates Reformer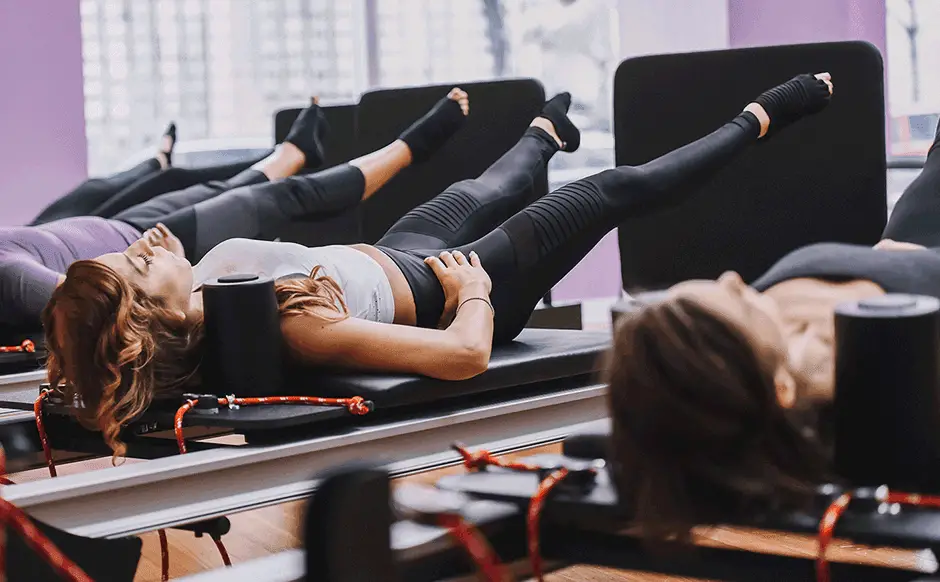 Types of Pilates Reformer
Joseph Pilates, the creator of the exercise practice, also invented equipment. The reformer is a basic tool for doing Pilates. It includes a narrow frame, a moving carriage, and springs and ropes for tension and resistance.
You don't need a reformer to do Pilates, but it's a useful tool that allows for a greater variety of exercises and more challenging movements. If you're serious about practicing Pilates, consider purchasing a reformer to take your workouts to the next level.
Home Use Pilates Reformers
If you've been practicing Pilates for some time, you have probably used a reformer at the gym. You may be considering an at-home Pilates reformer machine to be able to work out more often and without leaving the house.
Gym reformers tend to be large, heavy and expensive, not practical for the home.  But there are several Pilates reformers for home use, including portable Pilates reformers and even foldable Pilates reformers, so you don't need a lot of space or a home gym.
Here are answers to some of the typical questions people have about buying a home model:
How much space do I need for a Pilates reformer? You don't need a lot of space to do Pilates at home. Roll out a yoga or Pilates mat and make sure you can use it comfortably and extend your arms and legs out to the sides. There should be a little extra space at the head and foot of the mat. Try a foldable model if you want to be able to get it out of the way between workouts.


How long is a Pilates reformer? Most reformers are about 7 feet long, but you can purchase longer machines or extensions to make one longer. The standard size works well for most people.


What are the best brands for at-home reformers? Most brands make models suitable for home use. Some of the best brands for affordable reformers are Merrithew, Balanced Body, Peak Pilates, Elina and AeroPilates. The latter has basic models that are less expensive than those of other brands.


How much do Pilates reformers cost? The costs vary a lot, depending on the brand and model. The most basic models cost between $300 and $700, while the most expensive are several thousand dollars.
Pilates Reformers for Professionals
If you're thinking of setting up a Pilates studio or conducting individual or small group sessions at home, you may need a different model than what you would buy for personal home use. The best professional Pilates reformer is the one you can afford, but trusted pro brands include Balanced Body and Stott. Certain characteristics are particularly important for professional use:
Sturdiness. As an instructor, you may get clients of all ability levels and sizes. This means you need a sturdy model with a frame that will hold upwards of 200 pounds of body weight at a time. Check model specifications before purchasing.


Durability. Another important characteristic is durability because a professional reformer sees a lot of use as compared to home models. Make sure the frame is made of durable, strong materials. You may also want to ensure the model has a long warranty in case it is not as durable as you hope.


Flexibility. With clients of different skill and experience levels, you'll need a reformer that offers more flexibility than many home models. It should have adjustable springs and straps and the ability to add accessories like jump boards.


Storage. If you want to set up a home gym, or only have a small studio space, consider how you'll store reformers. You can find foldable reformers, but stackable Pilates reformers are more likely to have professional characteristics. The foldable types are more for home use.
Cadillac Reformers
A Pilates Cadillac reformer, as the name suggests, is the ultimate piece of equipment. It offers all the bells and whistles and allows you to do more exercises and variations than a standard reformer. It is not necessary in order to do Pilates, even at an advanced level, but it does provide more variety and accessories.
A Cadillac has a bed-like frame, like a reformer, with an additional frame over the top of the bed. This top frame has straps, bars and trapezes attached to it for a variety of movements, including hanging exercises.
You'll also see reformer/Cadillac combinations. These are the most versatile of all Pilates equipment with all the attachments, trapeze, and a rolling carriage like a reformer. Elina makes a good Cadillac reformer. Balanced Body also offers Cadillacs and a reformer trapeze, which is a combination of a reformer and a Cadillac.
A Cadillac or variation on this type of model is more expensive than a standard reformer. They can range from about $4,500 to upwards of $7,000 and more. For home use, be sure you have enough space, as these models do not fold or stack.
Pilates Reformers with Towers
Pilates reformers with tower accessories are good alternatives to Cadillacs, Cadillac/reformers and trapeze reformers. A tower is a vertical component for one end of a reformer that comes with several attachments. It's a little bit like part of a Cadillac frame.
Attachments for a tower include arm and leg springs, a roll-down bar, a pull-through or push-through bar, and arm and foot straps. With a tower, you can do more bodyweight exercises, using your own mass as resistance. You can also do a greater range of stretches using the tower.
A tower reformer is ideal for smaller spaces. Many models come with detachable towers, so you can remove them and store the machine. It allows you to use vertical space to get more exercises and flexibility out of your machine, even if you don't have a lot of room.
Many brands of reformers offer a tower version, which generally costs a little more than a basic model. Some brands also have conversion kits, so that you can start with a basic reformer and add a tower later if you want more of a challenge. Great brands for towers include Peak Pilates, Balanced Body, Merrithew and AeroPilates.
Pilates Reformers with Rebounders
A rebounder is another useful reformer accessory. As with the tower, you can buy models that come with a rebounder, also known as a jump board, or purchase one later to add on to your current system. The rebounder is less expensive than a tower, and most basic models allow you to add one later.
Pilates rebounders attach to the footbar end of a reformer, perpendicular to the frame. It turns the reformer into a machine that allows you to jump horizontally. You push against the rebounder and slide back and forth on the carriage.
The purpose of this Pilates springboard is to add a cardio element to a Pilates workout. Most Pilates exercises focus on strength and flexibility, so this attachment provides a more well-rounded and complete workout.
All brands of Pilates reformers offer one or more rebounders or jump boards that work with their models. Many now come with the attachment. It's an affordable accessory that adds significant extra functionality, so if you have to buy it separately, it is generally worth the cost.
What's the Difference Between a Pilates Reformer and a Lagree Megaformer?
If you're into Pilates, you may have heard of the Megaformer, a machine similar to a reformer, made by Lagree Fitness. The company describes it as a spring-based resistance trainer that can be used for fitness but also for physical therapy and other medical uses.
Inventor Sebastien Lagree created the machine to combine Pilates with the benefits and results of bodybuilding. It is low-impact, like Pilates, but includes a more varied workout: cardio, strength, endurance and flexibility.
One of the biggest differences between a reformer and the Megaformer that allows for a more intense workout is the fact that you can stand on a Megaformer. Try this machine in a gym before buying one, as they are more expensive that Pilates reformers.
If you love Pilates, you have a lot of options for buying equipment to improve and extend your practice. Whether you're a beginner, a home trainer, a pro or an advanced practitioner, you can find a model and type to meet your needs.