Article Reviews
Top 12 Best Pilates Chairs Available To Buy Online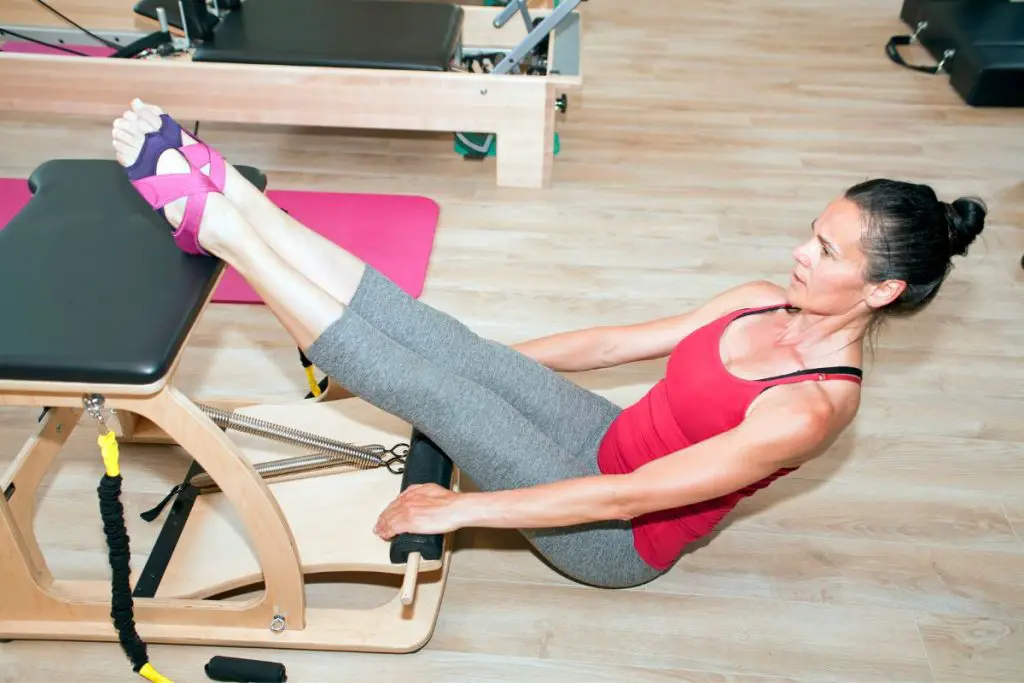 Top 12 Best Pilates Chairs Available To Buy Online
We understand that a stale fitness routine can make you try something new out there and push your fitness horizons.
Whatever your situation, Pilates is a perfect and versatile workout game changer which is good for the mind body and soul, and this is made so much easier because you don't have to find a studio or gym for classes anymore.
With so many streaming or virtual pilates classes available, all you need is a good pilates chair to get started.So in this article we'll be counting down the top 12 best pilates chairs that are available for you to buy. Without further ado let's get started
Why Pilates?
Just before we break down our top 15 picks, why should you focus on pilates anyway? If you feel like you've seen more about Pilates recently, it's not just your imagination. The exercise is rising in popularity—though it's hardly new.
Developed by Joseph Pilates in the early 20th century and originally dubbed Contrology, the Pilates method focuses on a myriad of exercises and small movements to improve physical and mental well-being. Breathing techniques play a big role in the practice.
Thanks to its hundreds of exercises, the Pilates method builds a combination of stability, flexibility, and strength.
It aims to strengthen muscles whilst also building on your flexibility and natural posture all in one. So you'll really see the benefits of practicing pilates daily, or even less than that!
Studies have shown that pilates can offer many different benefits. A randomized controlled trial published in 2016 in Medicine, for instance, showed improved posture and reduced pain levels in people with lower back pain who practiced Pilates three times a week for 14 weeks.
You can read more about the study here  And in another study in 2013 by the the Journal of Dance and Somatic Practices, researchers found that  enhanced mindfulness, mental well-being, and overall well-being in people who did Pilates three times a week for 15 weeks.
You can check that out  here
What Is a Pilates Chair?
One of the great advantages of pilates is you require basically 0 equipment in order to get started. The Pilates chair is the only bit of kit that you'll need in order to start seeing the amazing benefits of pilates.
It looks a little like a wooden box, topped with a padded seat and a pedal with springs. The springs allow for the tension of the pedal to be adjusted to make the exercises easier or more challenging.
With the added resistance, the chair offers a more challenging form of Pilates than you'll get by doing exercises on a mat so you'll see results faster.
Though it may be new to you, the Pilates chair has been around a while—it was also created by Joseph Pilates.
Joseph Pilates designed the chair for home use so that anyone can do pilates wherever you are, it's small in dimensions but packs a punch with the exercises used on the chair The resistance of the springs will tone and strengthen in places you didn't even know you had, and after some consistent exercise you're going to start seeing results rapidly.
In creating the chair and other equipment, Pilates aimed to help people take his method further.
One of the original pieces of equipment designed by Joseph Pilates, (the chair) was developed to stretch and strengthen muscle groups not easily reached by traditional techniques and equipment.
So now that we know a little more about the benefits of pilates, let's begin our countdown of the best pilates chairs you can buy
Our List
1. STOTT PILATES Merrithew Split-Pedal Stability Chair With Handles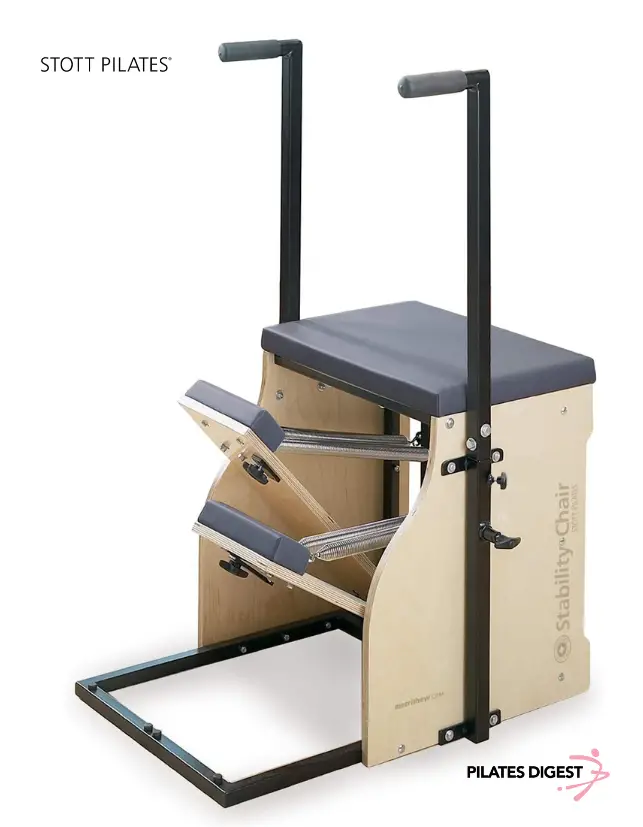 The STOTT PILATES Merrithew Split-Pedal Stability Chair With Handles is a top-quality Pilates apparatus that offers comprehensive full-body workout opportunities. It is designed to support an expanded range of Pilates programming options, helping you achieve a well-balanced musculature. The Stability Chair targets both upper and lower body, providing a comprehensive workout for every muscle group.
Equipped with two heavy and two light chair springs, three hook-on spring attachments, the Merrithew Stability Chair gives you control over your workout intensity. The high-density foam and vinyl covered pedals provide a comfortable and non-slip surface for performing exercises.
Included in the package is 60-days access to digital workouts on Merrithew Connect. This is a fantastic resource for anyone wanting to deepen their Pilates practice at home or for professionals seeking to diversify their routine.
The Stability Chair features fully adjustable handles that can be attached and detached quickly, locking securely for lunges and dips. This adaptability makes the chair suitable for a wide variety of exercises and accommodates users of different heights and skill levels.
With two pedals that can operate independently or be locked together quickly and securely to function as a single unit, this chair offers additional versatility, enabling a broader array of exercises.
Despite the robust construction, the chair is compact in size and lightweight, weighing in at just 82 pounds. This makes it easy to position, re-position, or store, facilitated further by the easy-roll wheels. It measures 31 x 31.5 x 55.5 inches (W x H x D), allowing it to fit in most workout spaces comfortably.
Advantages: 
Supports full-body workout for well-balanced muscle development
Adjustable handles offer versatile workout options
Comes with 60-days access to digital workouts on Merrithew Connect
Two pedals operate independently or together for exercise variety
Compact size and easy-roll wheels ensure portability and easy storage
High-density foam and vinyl pedals provide comfort and safety
You can see this pilates chair here
2. Life's A Beach, PROmax Pilates chair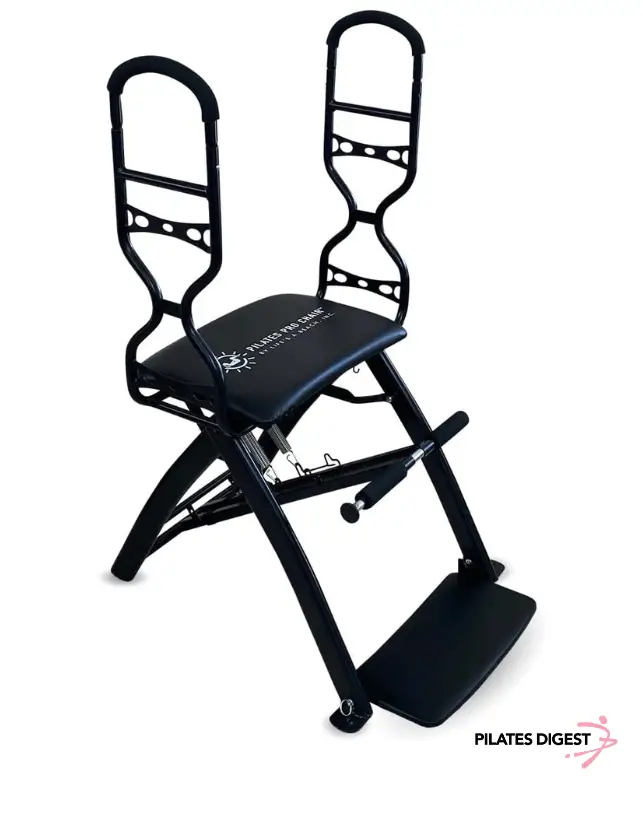 Maximize your training with the Life's A Beach, PROmax Pilates chair. This versatile device allows for individual or combined arm and leg workouts with an adjustable spring system to cater to all fitness levels. The low-impact, high-yield results spare you the discomfort often associated with weight lifting and running, delivering an effective cardio workout that also targets your legs and glutes.
The Pilates Pro Chair is a comprehensive home gym solution, blending perfectly with your existing yoga, ab resistance, workout bands, and mat Pilates routines. The need for towers, machines, tables, or personal trainers is eliminated with the inclusion of 6 instructional DVDs.
The package includes the Pilates PRO Chair, standard springs, sculpting handles, six workout DVDs, a makeover guide, an instructional poster, and a user manual. This chair not only enhances balance but also assists in muscle building, fat burning, and total body toning.
The workout DVDs provide step-by-step guidance for different exercises including Pilates Pro's Favorite Moves (28 mins), Total Dream Body Workout (57 mins), Sculpt and Tone (32 mins), Pilates Basics (20 mins), Total Body Workout (48 mins), and Core Buns and Thighs (37 mins).
Advantages: 
The adjustable spring system suits all fitness levels.
Delivers low-impact, high-results workouts.
Eliminates the need for other gym equipment or trainers.
Enhances balance, builds muscles, and burns fat.
The package includes a comprehensive workout guide and DVDs.
Versatile workouts target the entire body efficiently.
You can see this pilates chair here
3. AeroPilates Precision Pilates Chair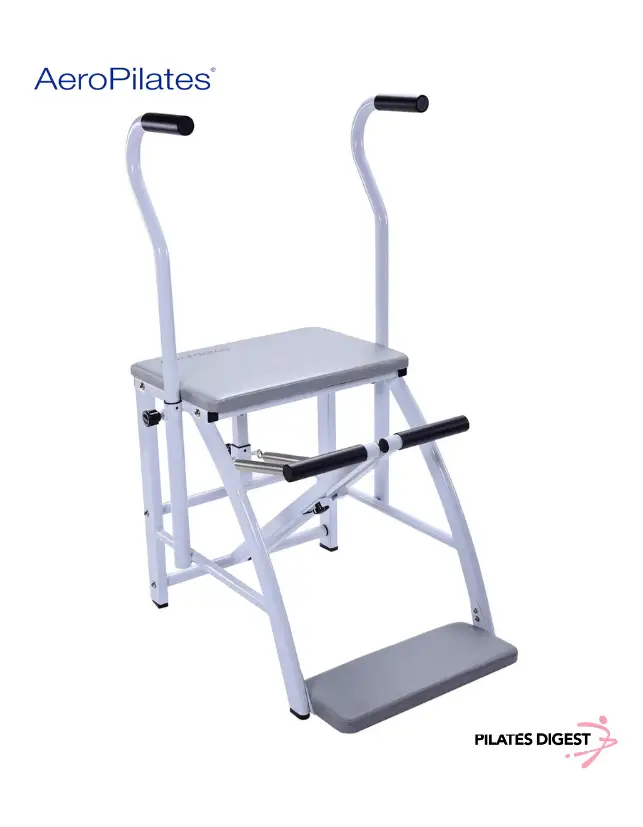 Main Features:
Low-impact, full-body workout: The AeroPilates Precision Pilates Chair provides a system that allows for low-impact workouts, perfect for toning muscles and strengthening the core.

Dual Pedal System: Equipped with a dual split and single-pedal system, this chair allows for targeted or broad muscle work. You can easily switch between independent, dual pedals and a single-moving pedal with the clip lock.

Adjustable Resistance: With the option to choose between one or two spring resistance, you can adjust the difficulty of your exercises, further strengthening and toning the upper body, lower body, and core muscles at different levels.

Comfort Design: This Pilates chair is designed with a padded cushion and platform, along with height-adjustable padded handlebars, ensuring comfort during your workouts. Its compact design allows for high-quality upper and lower body workouts right in your home.

Instructional Videos: The AeroPilates Precision Pilates Chair comes with two expert-guided Pilates workouts on demand, which demonstrate how to effectively use the chair to build total-body strength at level 1 and 2 workouts.
Advantages: 
Provides low-impact, full-body workout for total health.
Dual split and single-pedal system for targeted muscle work.
Adjustable resistance for versatile upper, lower, and core workouts.
Comfort-designed with padded cushion, platform, and adjustable handlebars.
Compact, ideal for high-quality home workouts.
Includes expert-guided Pilates workout videos on demand.
You can see this pilates chair here
4. Moxxi Pilates Fitness Chair with Spin Seat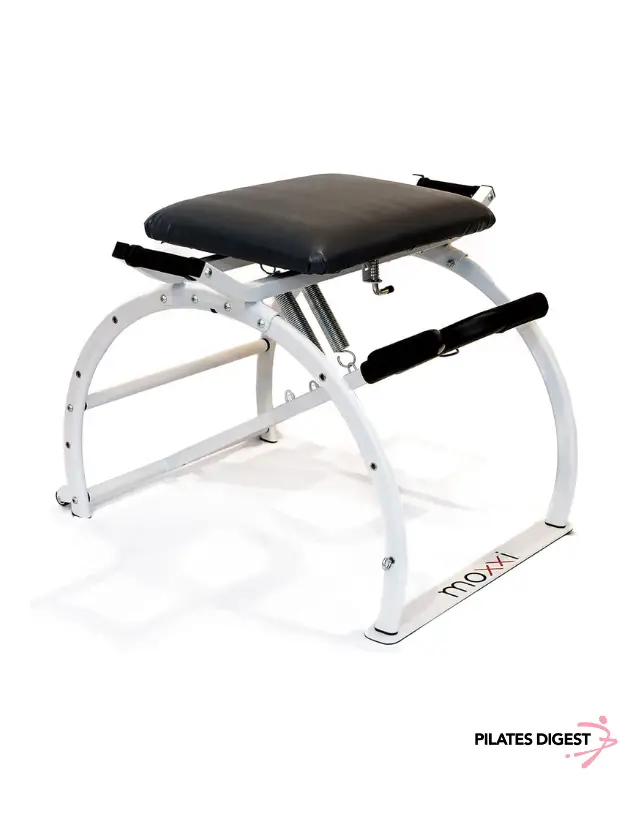 Moxxi Pilates Fitness Chair with Spin Seat brings you the ultimate experience of a complete body workout with a unique combination of stability, cardio, resistance, and flexibility training.
Its distinctive Stability Seat feature helps unlock maximum results by engaging deep stabilizing muscles, thus strengthening your core and back. The seat not only enhances core strength but also improves rotational function, leading to an overall increase in daily life performances.
The product also offers a Split-Pedal that corrects muscle imbalances, thus promoting a balanced body structure. Alongside, it provides a cardio kick, adding to the intensity of your regular workouts.
One of the key features of the Moxxi chair is its Smooth Progressive Spring-based resistance. This allows for easy and effortless control of resistance levels, ensuring a workout that is gentle on your joints while effectively toning your muscles. It allows for workouts with low to no impact, making it suitable for various fitness levels.
The Moxxi chair comes with the option to add 5lb Resistance Bands with handles, sold separately. These bands provide an integrated whole-body workout, adding variety and intensity to your routine.
On-demand workout guidance is also available, providing easy-to-follow, step-by-step instructions that help build a stronger, toned body.
Please note, the attachment hooks for resistance bands may vary from those shown in some videos and pictures due to the release of different Moxxi chair models. The current model offers 2 points of attachment on each lever, providing 5 levels of varied resistance.
Advantages: 
Engages deep stabilizing muscles for a strong core and back.
Corrects muscle imbalances, promoting a balanced body.
Provides low to no-impact workouts, easy on joints.
Spring-based resistance allows effortless control of workout intensity.
On-demand, easy-to-follow workouts for a toned, stronger body.
Optional resistance bands offer a fully integrated whole-body workout.
You can see this pilates chair here
5. Balanced Body Pilates Arm Chair
The Balanced Body Pilates Arm Chair, originally designed by Joseph Pilates, is a high-quality exercise tool that aims to develop scapular stability, upper body, and core strength. The chair is also designed to correct and maintain proper posture. With our signature Balanced Body Arm Chair, you get a premium upholstered seat and back, providing support and proprioceptive feedback during workouts.
The armchair comes with 4 Balanced Body Signature Springs™ that allow for a customizable user experience, catering to varying fitness levels and goals. Use the long purple springs for more challenging upper body work or the regular yellow springs for posture correction and muscle strength improvement, ideal for desk workers and seniors.
With a solid maple frame, this piece of equipment promises robustness and stability for everyday use. A pair of Neoprene® handles is also included in the package for a comfortable grip and an optimized workout experience.
The Arm Chair comes with a 10-Year Limited Warranty, ensuring a worry-free purchase. Its compact dimensions (39"L x 14"W x 39"H) and weight (54 lbs) make it a suitable addition to any home gym or professional fitness studio.
Advantages: 
Enhances scapular stability, core, and upper body strength.
Aids in posture correction, ideal for desk workers and seniors.
Solid maple frame offers high durability and stability.
Customizable resistance with 4 Balanced Body Signature Springs™.
Compact design suitable for home and professional gym setups.
10-Year Limited Warranty assures reliable, long-term use.
You can see this pilates chair here
6. ProForm Pilates Studio Chair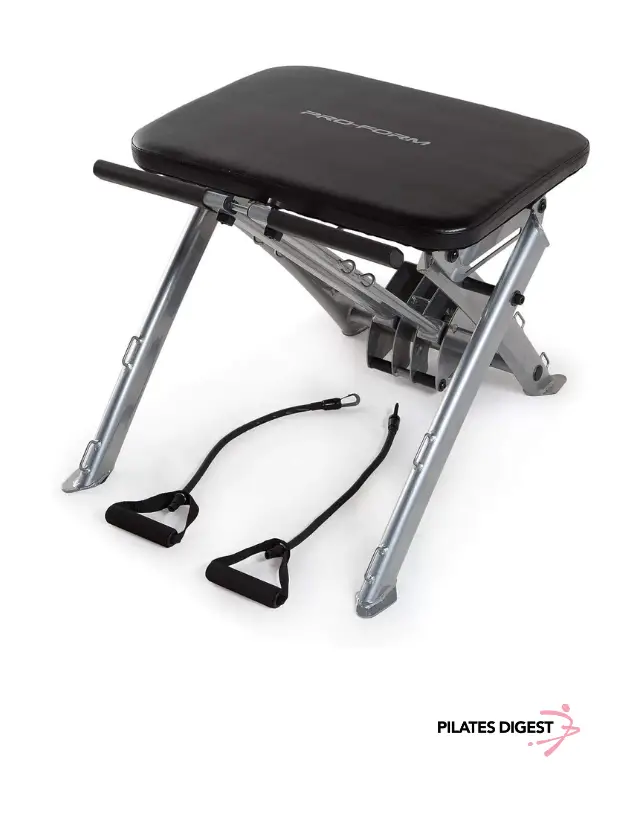 The ProForm Pilates Studio Chair is a versatile piece of equipment designed for total body Pilates workouts. With its design inspired by traditional Pilates chairs, it provides both strengthening and cardio benefits in one effective workout session. It's especially adept at sculpting and toning various muscle groups including arms, legs, buns, thighs, and abs.
A key feature of the ProForm Pilates Studio Chair is its adjustable and progressive resistance bands. These are suitable for any training level and can be relocated to provide the exact amount of resistance needed. This allows you to easily adjust the intensity of your workouts to fit your specific needs, helping develop flexibility, strength, and cardiovascular health.
The 4 position of upper-body resistance attachments allow for a diverse range of upper-body exercises. Coupled with the split-step pedal system, you can work your arms and legs individually or together, providing a comprehensive and balanced workout. The split-step pedal system's bars can work independently or together, adding to the chair's versatility.
The ProForm Pilates Studio Chair promotes upright positioning, which helps to strengthen core muscles, back, and shoulders. This positioning also aids in sculpting legs, arms, buttocks, and thighs while target-toning abs with every move.
The chair's low-impact cardio functionality aids in aerobic conditioning and fat burning. It's designed to work multiple muscle groups at the same time, providing a comprehensive workout without the strain on joints associated with high-impact exercises.
A great feature for home users is the chair's space-saver design. It's designed to be easily stored out of the way when not in use, helping to keep your training area free from clutter. This makes it a convenient choice for those with limited space, without sacrificing the quality of your workout.
Advantages: 
Total body workout with strengthening and cardio benefits in one.
Adjustable resistance bands for tailored exercise intensity.
Four-position upper-body attachments for varied exercises.
Split-step pedal system for individual or combined workouts.
Upright positioning for core, back, and shoulder strengthening.
Space-saving design for easy storage and clutter-free spaces.
You can see this pilates chair here
7. Balanced Body Wunda Chair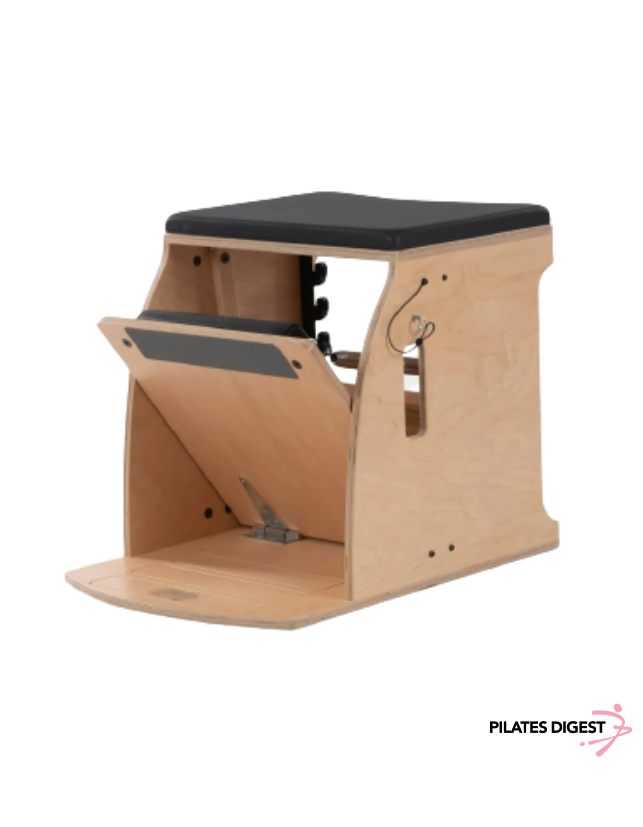 This exercise chair is inspired by the original design and dimensions from Joseph Pilates. Notably, it offers a wide range of resistance options, up to 83 lbs., which is claimed to be the widest for any single-pedal chair in the market.
Notable features include:
Adjustable resistance: The chair comes with two springs that can be adjusted to 8 resistances, providing 28% more usable resistance than other chairs.
Versatility: The chair can convert into a small sitting chair with optional cushions, just like the original design by Joseph Pilates.
Cactus Resistance System: This is a proprietary feature of Balanced Body products, intended to facilitate quick and safe changes in the springs.
Comfort and safety features: These include cut-out hand grips for a secure handhold, and a single, padded, non-slip step.
Video guidance: Customers can watch a free Wunda Chair workout video to understand the full potential of the chair.
Warranty: The product comes with a 10-year limited warranty.
Dimensions and weight: The chair measures 29"L x 21.5"W x 23¾"H and weighs 61 lbs. with springs.
Customizable aesthetics: The upholstery is available in various colors and the wood can be chosen from standard and premium options.
Advantages: 
Adjustable resistance up to 83 lbs, highest for single-pedal chairs.
Dual functionality as an exercise chair and a sitting chair.
Quick, safe spring changes with Cactus Resistance System.
Secure handhold with cut-out grips for user safety.
Robust 10-year limited warranty for long-term reliability.
Wide range of color and wood customization options.
You can see this pilates chair here
8. Peak Pilates Contempor Low Chair (Single Pedal)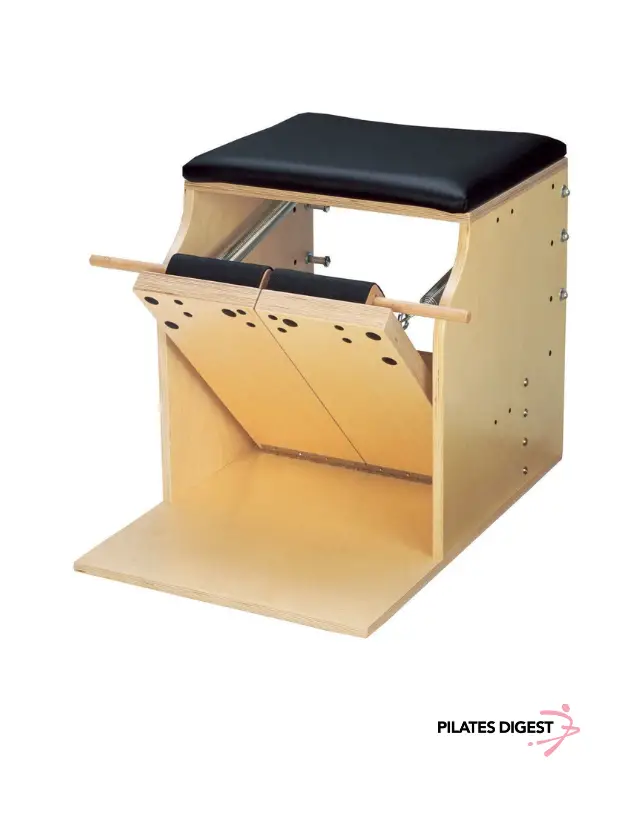 Embrace a multifaceted workout with the Single Pedal Low Chair from Peak Pilates. This modern adaptation of the classic Wunda Chair does not convert into a sitting chair but is explicitly designed for a comprehensive, varied, and challenging fitness routine. Whether you're looking to enrich your personal workouts or seeking to diversify your studio offerings for sessions or group classes, this chair is the perfect addition. Its single pedal platform is constructed for stability and durability, promising consistent performance and longevity.
It's important to note that certain Peak Pilates products might have a lead time between 1-6 weeks. To avoid any inconvenience, please get in touch with us to ascertain if the product you're interested in has a lead time. We're here to assist you and make your Peak Pilates experience as seamless as possible.
Advantages: 
Provides a comprehensive and varied workout.
Stable and durable single pedal platform.
Ideal for both individual sessions and group classes.
Made for consistent performance and longevity.
Enriches studio offerings with its unique design.
Represents the modern adaptation of the classic Wunda Chair.
You can see this pilates chair here
9. MUOARD Oak Fitness Chair Pilates Stability Chair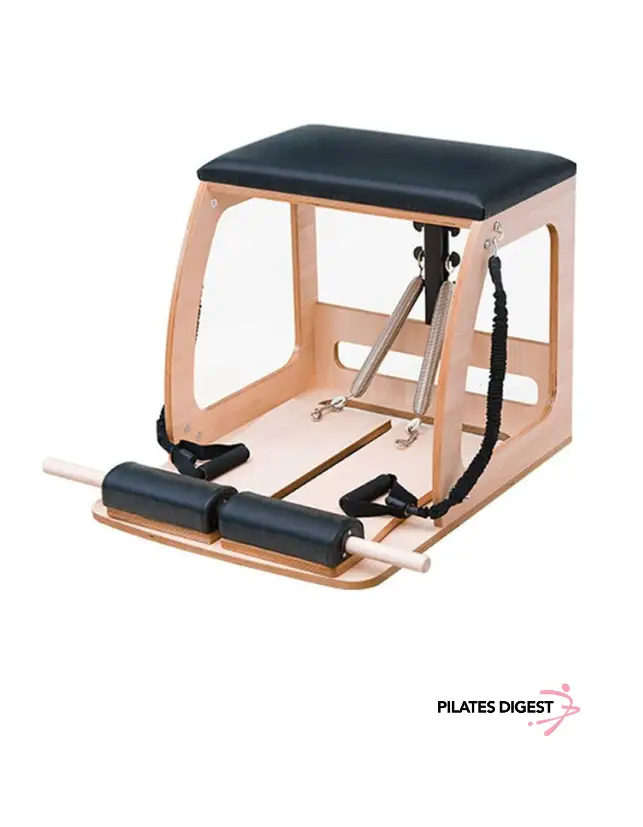 Experience the full spectrum of fitness with the MUOARD Oak Fitness Chair, a revolutionary Pilates Stability Chair designed to sculpt your body, enhance stability, improve balance, and promote effortless body control and fluidity. This all-in-one fitness equipment brings the gym to your home, providing a comprehensive full-body workout that targets every muscle group.
Made from a sturdy and robust combination of spring, 304 stainless steel tube, and oak (triple composite board), the MUOARD Oak Fitness Chair promises enduring durability and reliability. You can count on this high-quality construction to support you throughout countless workout sessions.
Compact and lightweight, this Pilates Oak Chair is a versatile addition to your home fitness setup. With its portable and stackable design, it fits seamlessly into any space, big or small. Plus, it's incredibly user-friendly: whether you're using body weight or opting for resistance bands, you can easily adjust up to 8 resistance levels to tailor your workout to your needs.
The MUOARD Oak Fitness Chair is your comprehensive solution for aerobic exercises, body sculpting, core strengthening, and beyond. Its sleek design not only enhances your workout but also complements any home decor. Choose the MUOARD Oak Fitness Chair for a balanced blend of style, convenience, and unparalleled performance.
Advantages: 
Delivers full-body workout improving strength, stability, and balance.
Robust construction: spring, stainless steel tube, and oak composition.
Compact, lightweight, portable, and stackable for easy storage.
Adjustable up to 8 resistance levels for personalized exercise.
Versatile usage: aerobic exercise, body sculpting, and core strengthening.
Sleek design enhances home decor while promoting fitness.
You can see this pilates chair here
10. Peak Pilates Unisex's Mve Move
The Peak Pilates Unisex's MVe Move is a remarkable innovation in fitness equipment. It's designed with an array of premium features aimed to enhance your Pilates workout.
Starting with a single pedal, it offers a wider design to maximize the arc and range of motion, providing more dynamic and varied workouts. This key feature allows for a wider range of exercises and accommodates all levels of fitness enthusiasts.
Constructed from 100% anodized aluminum, the MVe Chair's frame is lightweight yet robust, capable of supporting a diverse range of body types. The use of anodized aluminum ensures longevity, resistance to wear, and adds to the sleek look of the chair.
One of its standout features is the easy-change spring system. This eliminates the hassle and struggle traditionally associated with changing springs on fitness equipment. This system ensures that you can effortlessly customize your resistance levels to suit your personal fitness needs.
Furthermore, the MVe Chair has a durable and stackable frame. Coated with a resistant powder, the open-frame design allows for unique modifications and is capable of being stacked up to 5 chairs high. Its unique nesting design guarantees stability, making it a perfect fit for gyms or home users with limited space.
With dimensions of 23 1/2" H x 31" W x 37 1/2" L (60cm x 79cm x 94cm), the MVe Chair comfortably fits in most spaces, making it an ideal choice for those seeking a practical, space-efficient fitness solution.
Advantages: 
Single wide pedal enhances range of motion and workout diversity.
Durable anodized aluminum frame supports a variety of body types.
Easy-change spring system allows effortless resistance level customization.
Powder coated, stackable frame saves space and allows modifications.
Its compact size makes it suitable for small spaces.
Uniquely designed to support both individual and group training.
You can see this pilates chair here
11. Combo Chair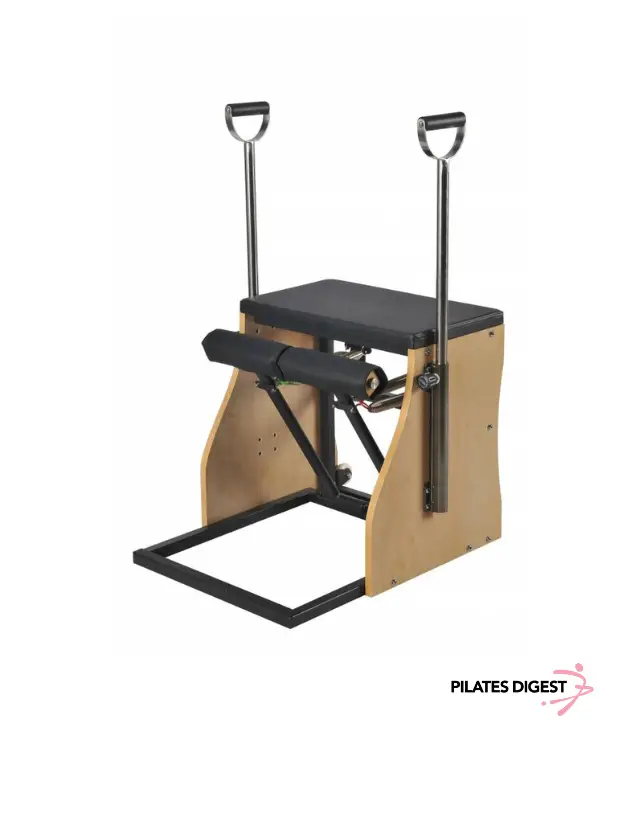 The Elina Pilates Combo Chair, often referred to as a Wunda chair, is a versatile exercise tool offering a broad range of resistances. It boasts four spring positions for each spring, along with two spring strengths, facilitating custom workout routines tailored to your fitness level and goals.
A remarkable feature of this chair is its removable handles, which are easily adjustable with a single twist and pull of a knob. This means you can comfortably adjust the height according to your needs. These handles are also encased in a special rubber foam for enhanced grip and comfort.
With a focus on usability, this chair comes with pedals that can be quickly locked or unlocked with a simple slider underneath, offering diverse exercise opportunities. The wheels attached at the bottom make moving the apparatus effortless, ensuring maximum convenience.
Staying true to the brand's commitment to quality, the combo chair is made from top-quality wood, coupled with all stainless steel metal parts. This ensures the durability and longevity of the product.
The seat board is covered with a newly developed, non-slip leather, specially designed for pilates products, available in a variety of colors. The seat is embedded with high-density, very comfortable EVA foam for additional comfort during workouts.
The adjustable length of the handles can range between 50, 46.8, and 43.7 inches. It comes with four springs, two medium-strength in green color, and two heavy-strength in red color.
As for the dimensions, the seat measures 24.01 x 13.77 inches, while the base measurement is 30.31 x 24.01 inches, ensuring it can comfortably fit in your workout space.
Advantages: 
Wide variety of resistances for customized workout routines.
Adjustable and comfortable handles for user-friendly experience.
Easy-to-move design with attached wheels for convenience.
Superior quality with top-grade wood and stainless steel parts.
Special non-slip leather seat for extra safety and comfort.
Eco-friendly materials promoting sustainable fitness practices.
You can see this pilates chair here
12. EXO Chair
The EXO Chair is an innovative Pilates Chair offering a wide variety of exercises, many of which were previously only achievable on a Reformer. With a footprint 40% smaller than competing models, it is tough, lightweight, and easy to move, stack, and store, making it a versatile option for your Pilates workout routine.
Key Features:
Innovative Functionality: The EXO Chair features the broadest range of resistance for a single-pedal chair, reaching up to 83lbs.

Expanded Seat Surface: This feature allows for a more diverse range of exercises, ensuring a comprehensive workout experience.

EXO Chair Split Pedal: This system allows a variety of exercise options and can easily convert to an EXO Chair Single Pedal.

Cactus Spring Attachment System: It ensures simple, fast, and safe adjustments, enhancing your workout experience.

Adjustable Resistance: With two black springs (heavy), adjustable to 8 resistances, the EXO Chair provides 28% more useable resistance than other chairs. It offers combinations of 20 resistance settings.

Lightweight and Stable: The EXO Chair is easy to transport and robust enough to maintain stability during workouts.

Optional Resistance Kits: These kits (sold separately) enable full-body workouts, amplifying the range of exercises you can perform.

Free Access to Videos: With every purchase, users gain access to a free videos section.

5-Year Warranty: The EXO Chair comes with a 5-year warranty, attesting to its durability and quality.

Dimensions: The chair measures 29.5"L x 23.5"W x 24.5"H (75cm x 60cm x 62cm), and the seat measures 23.5" (60cm) x 16" (41cm). The EXO Chair weighs 36lbs (16.3kg).

Heavy Duty Vinyl Upholstery: The upholstery is available in 9 standard and 21 premium colors.
Advantages: 
Compact design for easy storage and portability.
Wide resistance range for diverse exercise options.
Convertible split/single pedal for workout flexibility.
Cactus spring system enables quick, safe adjustments.
Comes with free access to instructional videos.
Long-lasting with a 5-year warranty.
You can see this pilates chair here