Article Reviews
25 Professional Male Athletes You Didn't Know Do Pilates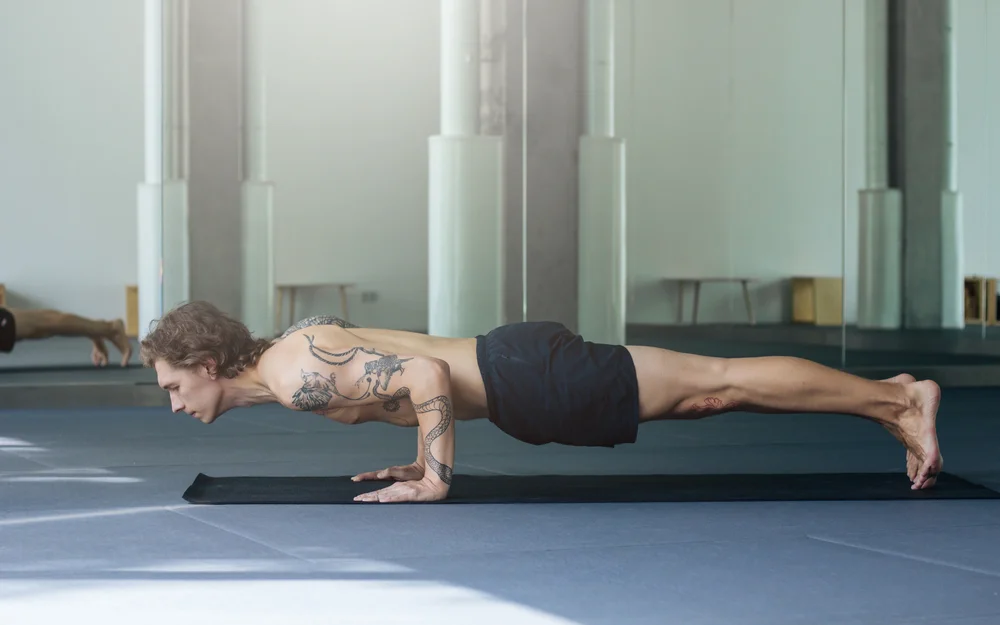 Have you found yourself wondering what professional male athletes do Pilates?
Maybe you previously thought Pilates was only done by women and want to know more about men that do Pilates?
Or are you curious and want to know more? No matter what the reason is that brought you here today, we have the answer for you!
For years, Pilates has been thought of as a female-only sport.
Performed in large classes, with a focus on stretching and low-impact movements, we often think Pilates is only done by old women or flexible women that flit between yoga and Pilates.
Well, if you think that, you couldn't be more wrong! Sure, Pilates is done by a lot of women, but this is because they know the benefit of the workout!
Pilates not only allows you to stretch and work your muscles, but it can help improve your flexibility, posture, and mobility.
And more men than ever are doing Pilates, including professional male athletes! But which athletes are doing Pilates? And how is it helping them?
The internet is filled with many conflicting and contradicting answers to these questions, leaving you feeling frustrated and unsure who to believe.
Well, no more! Today we are here with the answers you need! Keep reading to see a list of 25 professional male athletes you didn't know do Pilates and see how it benefits them!
List Of 25 Professional Male Athletes You Didn't Know Do Pilates
For those of you in a rush, let's get straight into our list of 25 professional male athletes you didn't know do Pilates!
Aaron Judge
Andy Murray
Antonio Brown
Auston Matthews
Ben Simmons
Blake Griffin
Brandin Cooks
Chris Sale
Christian Covington
Christiano Ronaldo
Eric Ebron
Jake Arrieta
James Harden
Jameis Winston
Jarvis Landry
JJ Redick
Jos Buttler
Kendrick Louis
Kolten Wong
Lebron James
Mark Canha
Noah Syndergaard
Philip Danault
Tiger Woods
Tyler Seguin
There you have it, 25 professional male athletes that do Pilates! How many of those names on the list shocked you?
If you have some more time today, be sure to keep on reading to learn more about these athletes and their relationship with Pilates!
1. Aaron Judge
First, we have Aaron Judge! The professional baseball player uses Pilates to improve his general flexibility and strengthen his core.
Judge believes a strong core is the key to being explosive on the field and preventing any serious injuries.
Sport
Baseball – Right Fielder (MLB)
Achievements
2 x All-Star
1 x Silver Slugger Award
1 x AL Rookie of the Year
2. Andy Murray
Throughout his career, Scottish tennis player Andy Murray has had several injuries to contend with. Following his back surgery in 2013, he took up Pilates as a low-impact workout.
It has helped to keep his body, especially his back and core, strong and ready for any upcoming tennis matches!
Sport
Achievements
3 x Grand Slam Champion (2 x US Open, 1 x Wimbledon)
2 x Olympic Games Gold Medalist (Men's Singles)
3. Antonio Brown
Antonio Brown is a football wide receiver playing in the NFL. Instead of lifting weights during his off-season training, he has taken up Pilates!
Pilates has helped Brown improve his core strength and balance, which will help him become a better player overall!
Sport
American Football – Wide Receiver (NFL)
Achievements
7 x Pro Bowl
4 x First Team
2 x NFL receiving yards leader
1 x SuperBowl Champion
4. Auston Matthews
Hockey player Auston Matthews began his Pilates journey back in the summer of 2017. Since then, he has noticed improvements in his overall flexibility and posture!
Sport
Achievements
1st Overall Draft Pick (2016)
5. Ben Simmons
Next, we have Ben Simmons, a basketball point guard playing in the NBA.
He is new to Pilates, first incorporating it into his workout routine in the 2020 offseason. Pilates has helped Simmons boost his muscles, making him more explosive on the court!
Sport
Basketball – Point Guard (NBA)
Achievements
3 x NBA All-Star
2 x NBA All-Defensive First Team
1 x NBA Steals Leader
6. Blake Griffin
Basketball player Blake Griffin has had several injuries throughout his career. After knee surgery in February 2020, he turned to Pilates.
He has since added it into his weekly workout routine to gently move and stretch his body without adding too much pressure to his knee joints.
Sport
Basketball – Power Forward (NBA)
Achievements
6 x NBA All-Star
1 x NBA Slam Dunk Contest Champion
7. Brandin Cooks
Wide receiver Brandin Cooks uses Pilates to improve his core and strengthen his body. As an NFL player, Cooks needs to be strong and have the endurance to play a full match.
Thankfully, Pilates has helped him achieve this!
Sport
American Football – Wide Receiver (NFL)
Achievements
1 x First team All-Pac-12
1 x Biletnikoff Award
1 x Consensus All-American
8. Chris Sale
Baseball pitcher Chris Sale uses Pilates to increase and maintain his flexibility.
On days when Sale feels rundown, he turns to Pilates for a light workout that will keep him fit without overdoing it or damaging his body.
Sport
Achievements
7 x All-Star
1 x World Series Champion
9. Christian Covington
NFL Defensive Tackle Christian Covington, incorporated Pilates into his workout routine to help with mobility and flexibility.
Doing so has transformed his workout routine, and he attributes his improved hip flexibility and mobility entirely to Pilates!
Sport
American Football – Defensive Tackle (NFL)
Achievements
39 Career High Tackles in 2020
10. Christiano Ronaldo
Christiano Ronaldo is a world-famous soccer player, known for his success at Manchester United and Juventus.
To help keep him fit and able to play for a full 90 minutes, he uses Pilates as part of his weekly workout routine.
Sport
Football/Soccer – Forward for Manchester United
Achievements
5 UEFA Champions Leagues
1 UEFA Nations League Title
1 UEFA European Championship
11. Eric Ebron
NFL player Eric Ebron introduced Pilates to his workout routine in 2017 following a series of injuries in his career.
Pilates has allowed him to strengthen his body during the offseason period without the risk of further injury!
Sport
American Football – Tight End (NFL)
Achievements
12. Jake Arrieta
Baseball Pitcher Jake Arrieta has done Pilates since 2014, and now practices almost every day!
Each session ranges from one and a half to two hours long, offering Arrieta a low-impact workout that doesn't put too much pressure on his joints!
Sport
Achievements
1 x World Series Champion
1 x All-Star
13. James Harden
James Harden is a shooting guard in the NBA who has added Pilates into his training regiment since 2017.
The addition of Pilates came to help him deal with the fatigue he suffered in the 2017 playoffs, and has helped to combat fatigue and improve his endurance levels.
Sport
Basketball – Shooting Guard (NBA)
Achievements
9 x NBA All-Star
3 x NBA Scoring Champion
NBA Regular Season MVP
14. Jameis Winston
NFL quarterback Jameis Winston has used Pilates exercises to help improve his shoulder stability.
He has also incorporated core workouts from Pilates to improve his overall fitness and core strength.
Sport
American Football – Quarterback (NFL)
Achievements
1 x NFL Passing Yards Leader
1 x Pro Bowl
15. Jarvis Landry
Wide receiver Jarvis Landry took up Pilates back in 2015. Since then, he has seen significant improvements not just with his explosiveness on the field, but his speed too!
It's surprising the impact a low-impact workout such as Pilates can have on your body!
Sport
American Football – Wide Receiver (NFL)
Achievements
6 x Pro Bowl
1 x NFL Receptions Leader
16. JJ Redick
Basketball player JJ Redick suffered with back injuries early in his career. To keep himself warm during games he uses Pilates exercises!
In particular, he is known to use the hundred and rolling like a ball to keep himself warm and nimble!
Sport
Basketball – Shooting Guard (NBA)
Achievements
17. Jos Buttler
Cricketer Jos Buttler started Pilates before the IPL tournament in 2020. He has shared videos online of him and his wife completing Pilates sessions too!
Sport
Cricketer – Batsman, and Wicket-Keeper
Achievements
Considered England's best white-ball batsman of all time
18. Kendrick Louis
Ironman Kendrick Louis saw other professional athletes like Ronaldo and James using Pilates and took inspiration from them!
He now throws at least three Pilates classes into his workout schedule every week!
Sport
Achievements
1st Place Iron Series (2019/2020)
19. Kolten Wong
Kolten Wong has been a huge advocate for Pilates!
He relies hugely on agility, making Pilates super beneficial for him! He has used the workout to help stretch out all small muscle groups, improving hip flexibility before upcoming baseball games.
Sport
Baseball – Second Baseman (MLB)
Achievements
3 x Fielding Bible Award
2 x Gold Glove Award
20. Lebron James
Lebron James is a world-famous Basketball player known for his unbelievable durability on the court! James works out five to seven days a week during the NBA season to keep him in peak physical condition!
He uses Pilates as part of this routine to stretch his body and help keep him toned and defined!
Sport
Basketball – Small Forward (NBA)
Achievements
4 x Regular Season MVP
4 x NBA Champion
4 x NBA Finals MVP
2 x Olympic Champion
21. Mark Canha
Baseball player Mark Canha started Pilates after his wife went to a few classes and raved about it. He has since fallen in love with the exercise and uses it as part of his workouts!
Canha found that Pilates offered fantastic variety from his usual workout, providing him with enjoyment as well as exercise!
Sport
Baseball – Outfielder/First Baseman (MLB)
Achievements
264 runs batted in
83 Home Runs
22. Noah Syndergaard
Baseball pitcher Noah Syndergaard has been using Pilates to work small muscle groups.
He mainly uses it for the small muscle groups in his core and hips, vital parts of his body he needs to do his job!
Sport
Achievements
23. Philip Danault
Hockey player Philip Danault first tried Pilates in 2018. He knew how important a strong core is to his career, and now attends Pilates classes three to four times a week.
These have helped to strengthen his body, and also improved his mental health!
Sport
Achievements
Scored career-high 53 points in 2018/19 season
24. Tiger Woods
Golfer Tiger Woods has been using Pilates as a way to reduce pain and injuries, along with improving his game.
The lower impact workout doesn't put too much pressure on his arm muscles, which he needs to swing his golf club on the green!
Sport
Achievements
5 x Masters Tournament Champion
4 x PGA Championship Winner
3 x US Open Champion
25. Tyler Seguin
Finally, we have Tyler Seguin. The Hockey center uses Pilates as part of his offseason summer workouts. These help him to improve not only his range of motion but flexibility too.
Sport
Achievements
Frequently Asked Questions
Before you leave us today, check out our short FAQ section to get the answers to your last-minute questions!
Is Pilates Good For Men Over 50?
Yes, Pilates is great for men over 50! It can help older men deal with injuries, and increase mobility, and flexibility! It is also a good way for them to improve their core strength.
If you have never tried Pilates before or have an injury, we recommend heading to a Pilates class.
Make the instructor aware of your injury or any limitations and they can help provide alternative moves or positions and hands-on assistance that ensures you are working out correctly without making your injury worse!
How Do Men Start Pilates?
You can start Pilates by either following some tutorials online, or you can attend a class. Classes can be taught one on one, in small, or large groups.
They do tend to be female-dominated, but don't let that put you off! They are there to work out just as you are!
You can always do some research to find some male-only Pilates classes in your local area.
Or you can check out videos online. You can use online videos and tutorials to learn some moves that you can incorporate into your current workout routine.
Can You Gain Muscle With Pilates?
Yes, you can gain muscle with Pilates! This muscle that you gain is different from the 'bulk' associated with lifting weights or other strength training. Instead, you will develop and increase your deep core muscles.
This helps keep your muscles looking tight and toned, without becoming bulky.
It is a good workout for anyone looking to subtly gain muscle or to use alongside their strength workouts to maintain the tone of their muscles.
Final Thoughts
And there you have it, 25 professional male athletes that use Pilates as part of their regular or off-season workout. The variety of sports shows just how diverse Pilates is!
It can be incorporated into anyone's workout routine to improve balance, posture, flexibility, and range of motion!
You can use the low-impact exercise to tone your body, and we bet you will be surprised by the results!
Why not try some Pilates workouts online or head along to your local class? We bet you won't be disappointed!