Is Pilates Hard? (Beginners Guide)
Pilates is a popular form of exercise that targets both the body and the mind. Considered to fundamentally be a stretching string of exercises, Pilates is actually much more than this.
Considering it was invented in a British internment camp during the First World War to give physical training to inmates, it is no surprise that its effect can be hugely beneficial for the body and the mind.
In the early days, Pilates was refined with different apparatus being introduced. Over time, these exercises helped soldiers and incapacitated patients in hospitals build strength.
Over one hundred years on, these precise movements are still practiced in Pilates today.
Some benefits of Pilates include an improved posture, a stronger core, and a loosening of the muscles. But, it can do so much more.
Pilates can help reduce stress and anxiety levels, improving well-being and mental health.
But, if you're brand new to Pilates, you may be wondering if it is hard, and if it will actually benefit you in any way.
Well, with consistency and commitment, Pilates can become a powerful tool in your life to improve your body and mental state.
Simply pull your shoulders back and pull in your stomach. Look in the mirror and you will immediately look taller with an improved posture.
Practice this regularly and this stance will become second nature to you.
The same applies to Pilates. By utilizing its exercises on a regular basis, you will experience its benefits.
To help you get started, we have created this guide on how to introduce Pilates into your life.
We will help you understand exactly what Pilates is, its health benefits, and whether it is difficult to practice or easy. Spoiler alert – Pilates are simple, with a bit of practice.
Pilates – Explained 
Pilates is a type of exercise concentrating on the strengthening and conditioning of the body. Its main emphasis, however, is concerned with core strength.
By utilizing Pilates frequently, both fitness and general well-being can be improved greatly.
Many people get mixed up with yoga and Pilates. And, yes, like yoga, Pilates focuses on balance, posture, and flexibility.
However, the risk of injury tends to be much lower when practicing Pilates, when compared with yoga or other strenuous types of exercise.
As well as concentrating on the body, Pilates helps to balance the mind. Therefore, it connects both the body and mind to benefit both.
As you perform the various exercises involved with Pilates, you will need to be aware of your breathing, as well as how your body is moving.
Invented by Joseph Pilates, a carpenter and gymnast, he created an exercise regime for injured soldiers and dancers in World War One.
He was a firm believer that the effects of physical health had a significant impact on mental health, too.
Although originally called "Contrology," Pilates has become a worldwide phenomenon ever since, with millions swearing by its body and mindfulness benefits.
Is Pilates Hard? Can Anybody Do Pilates? 
Pilates is suitable for everyone, whether you're a beginner or someone who has a regular exercise regime already in place.
Pilates can be modified to suit different individuals. Exercises can be performed for more subtle or gentle strength training, or they can be more strenuous for more challenging exercises.
The deeper and more experienced you become with Pilates, the harder some movements will also become.
For beginners, it is best to start with basic exercises. As you become more experienced with these, you can then move on to more advanced movements.
As you can imagine, the more advanced movements are harder to perform but you will find them easier with practice.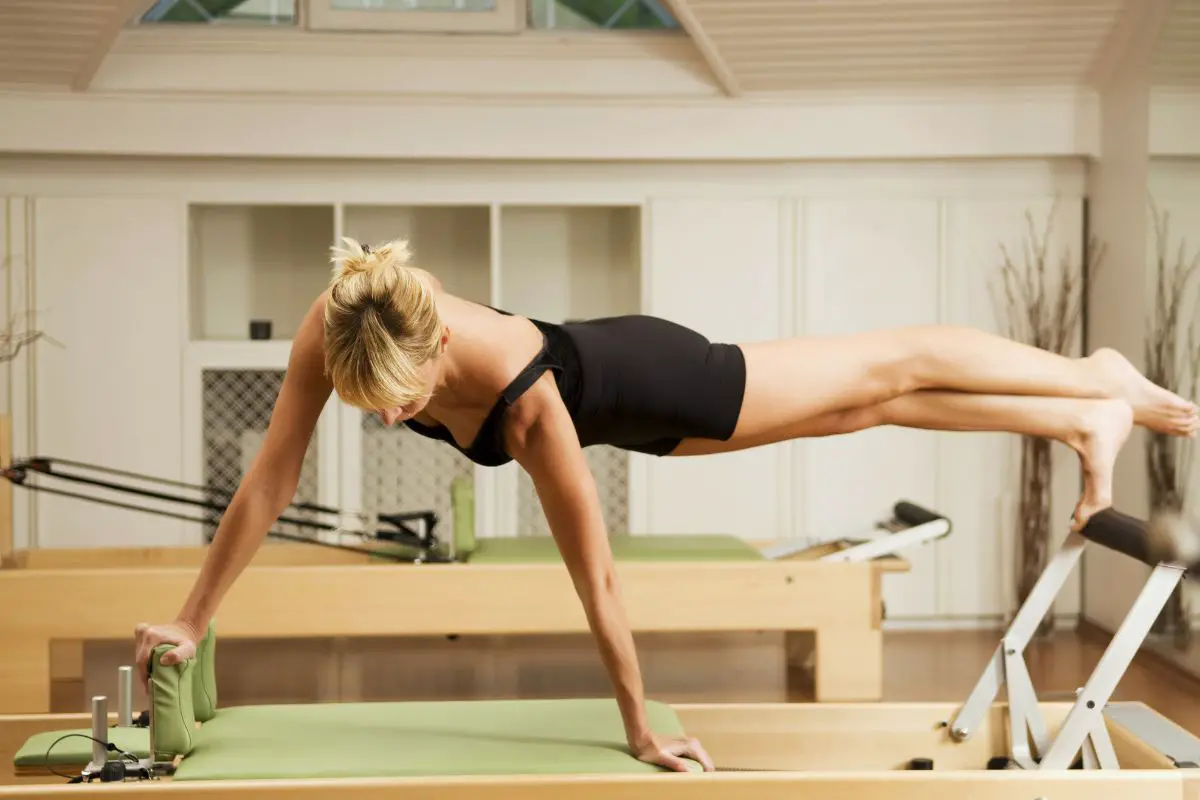 If you're starting out with Pilates, we recommend attending a Pilates class. This will give you a routine that you can stick to every week.
Alternatively, you can hire a private Pilates instructor, who can guide you through the basic exercises to ensure you are performing each one correctly.
Although injuries are rare in Pilates, they are possible if you perform the movement incorrectly.
In some circumstances, Pilates are not recommended.
If you have any of the following conditions, it is best to avoid Pilates to limit the risk of exacerbating the issues further:
Have a higher risk of blood clots
Have a herniated disc
Have unstable blood pressure
Have extreme osteoporosis
Different Types Of Pilates 
There are a few types of Pilates techniques out there, but the main differences come with equipment-based and mat-based Pilates.
Traditional Pilates, though, is when both apparatus and mats are implemented in the exercises.
If you're new to Pilates, you're probably unfamiliar with some apparatus used.
And, when you first set sights on these pieces of equipment, you may be quite alarmed by their appearance – many compare their looks to medieval torture devices!
Luckily, they are only used to benefit you, rather than torture you!
Some of the most common Pilates apparatus are:
The Pilates Reformer – This is a movable, spring-load carriage with a built-in pulley system. This helps you build stability and strength.
The Barrel – This helps to improve your posture and breathing by concentrating on correcting your spinal alignment.
The Cadillac – This is a horizontal table, raised off the ground with strings and straps. This apparatus helps tone most muscle groups in the body by working various muscle groups with light resistance and some challenging poses.
As you progress with Pilates, you should practice both apparatus and mat-based exercises.
However, for first timers, or novices in the world of Pilates, it is best to attend a reformer-based class.
This will be the best way to be introduced to Pilates movements and, by far, the easiest method. Such classes will teach you how to perform the correct body movements so you can practice these movement patterns on your mat.
When it comes to Pilates mat work, many consider this to be the most challenging aspect of Pilates.
This is because you need to manage your entire body weight against gravity. To learn quickly, you can implement spring work.
This will help you achieve the right connections and movements in the body. Then, you can try the same movements without spring work to see if you can achieve the same movements on your own.
Consistency is key, as with any exercise. Build and stick to a routine, and you will undoubtedly see benefits, in both body and mind, after some time.
The Main Benefits Of Pilates
We could go on all day about the benefits of doing Pilates. But, we'll make it short and concise so you can see how a committed Pilate routine can improve all aspects of your life.
Here are the primary benefits of practicing Pilates:
It boosts flexibility
It improves your posture
It promotes stability
It helps tackle muscle imbalances
It builds core strength (better abs!)
It can ease back pain
It can ease stress and boost overall mental health
It gives you a better sense of well-being
Sounds good, right? Try Pilates and see how it affects your body and mind in positive ways!
In Summary
Pilates can be extremely beneficial for the mind, body, and soul. And, best of all, it is not hard to get started with.
By joining a class or hiring a private Pilates instructor, you can learn the basics of Pilates and progress to reap the rewards from its physical and mental exercises.