Article Reviews
IMX Pilates Reformer

IM=X Pilates Reformer Review
The IM=X brand has become well known from coast to coast. With their focus on intensive, blended, full-body workouts, IM=X studios have become popular with Pilates aficionados who crave a more comprehensive exercise program that develops strength, flexibility and cardiovascular fitness simultaneously.

While it is known for its Pilates and fitness studios, IM=X also manufactures and markets superior-quality exercise equipment. The IMX Pilates Reformer (also known as the Xercizer) is built to produce great results time after time, and that is what it has been doing at IM=X studios, in fitness centers, in training rooms and in home gyms all across the country.
The IM=X Story
The original IM=X studio opened in 1994 in New York City. It was founded by entrepreneur Elyse McNergney, who holds dual Masters degrees in Movement Sciences and Exercise Physiology. McNergney launched the IM=X franchise system in 2003, and there are currently 36 IM=X Pilates and Fitness Studios open in 20 states. This is a testament to the popularity of the all-inclusive IM=X  approach to personal fitness and rehabilitation.
IM=X stands for 'integrated exercise movement.' It describes a comprehensive, diversified exercise routine that combines Pilates movements, strength training and cardio activities to maximize full-body fitness. Participants in IM=X fitness classes are challenged to push beyond their limits, and those who are willing to do so will emerge in the best shape of their lives.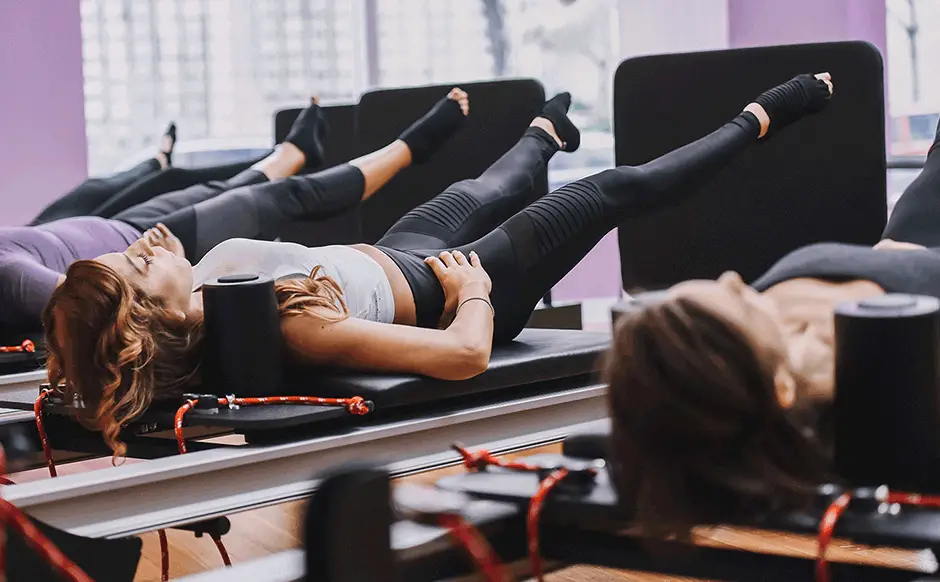 In addition to offering fitness classes, IM=X also trains and certifies fitness professionals, physical therapists and chiropractors in IM=X Pilates exercise methodology. Certification courses are sponsored at many of their training centers, but those interested in learning IM=X techniques can also study online under the direction of a Master Trainer.
Pursuing a strategy of vertical integration, IM=X also sells high-quality Pilates equipment. Their centerpiece is the IMX Pilates Reformer, which is available directly from the company on their website. The Xercize Reformer is a must-have item for anyone interested in following a vigorous IM=X workout schedule, whether as a trainer or home-based Pilates connoisseur.
IMX Reformer Technology
IM=X programs are designed to produce advanced fitness levels in those who practice exercise regularly. But they are also customized for those who need rehabilitative services or have limited mobility. Back strengthening and support is a special emphasis at IM=X, which is why they offer training programs for chiropractors and physiotherapists in addition to fitness trainers.
Unlike many brands, which create extensive product lines for various niche markets, IM=X has focused its efforts on creating one all-purpose reformer that suits the needs of a wide range of potential clients. There is a perfect synchronicity between this carefully designed and engineered reformer and the style of Pilates it teaches in its integrated exercise programs. This means that those who use this machine will be able to maximize the effectiveness of their IM=X routines.
Introducing the IMX Reformer: The Xercizer
The Xercizer is the one and only official IMX reformer. Those who designed this innovative and impressively flexible machine were focused on creating a reformer that was user-friendly to the extreme, and by all accounts they succeeded admirably in this mission.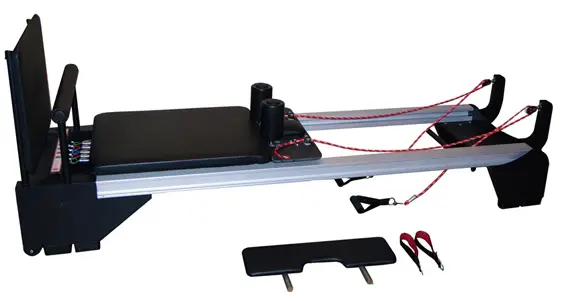 Tipping the scales at a sturdy, rock-solid 325 lbs. (147 kg), the Xercizer classifies as an industrial strength exercise machine. This IMX reformer measures 13.75 inches high, 27 inches wide, and 102 inches long, and these dimensions are generous enough to accommodate any body size without difficulty.
The Xercizer's standout features include:
A large and stable jumpboard, which enables users to perform a complete menu of plyometric (jump training) exercises
A lumbar support  bar that protects users against excessive stress and strain on the back
A large carriage with solid glide construction, guaranteeing smooth and safe movements
Adjustable springs and a sophisticated pulley system for precisely customized resistance
Easy-to-use handles and footloops that ensure maximum stability while working an infinite variety of core angles
A padded footbar that allows comfortable exercising in any footwear
Quick-removing shoulder rolls that are required for many horizontal Pilates exercises
The above features are all included with the IMX Pilates Reformer at no additional charge.
The Xercizer is built to last and produce amazing results for years, with no need for major repairs. In design and function, it is similar or superior to other high-end Pilates reformers, and most Pilates aficionados find it extremely easy to use (although the workout it delivers can be as strenuous as they want it to be).
In total, users of the Xercizer can perform more than 100 distinct exercises, with no significant additions or reconfigurations required. While it was constructed to meet the requirements of IM=X workouts, the Xercizer is compatible with virtually all types of Pilates routines.
One of the most surprising characteristics of the Xercizer is its affordability. Many reformers built to deliver such a diverse range of workouts will retail for $6,000 or more, but the Xercizer is modestly priced at just $4,395. Despite the surprising cost no reformer perk is excluded, which makes the Xercizer a good long-term investment for fitness clubs, professional trainers, or experienced Pilates enthusiasts who want a high-quality machine in their own homes.
Building a Bigger IM=X Pilates Package
Customers who purchase the IMX Pilates Reformer can also buy multiple DVDs that demonstrate and explain a variety of workout routines and techniques. These DVDs only cost between $15 and $19 each, but they offer masterful instruction in timeless Pilates exercises and would make an invaluable addition to any video fitness library.
For just a pittance of the cost of a reformer ($31.95), those who purchase the Xercizer can also buy an IM=X Ring, plus instructional DVD that explains the complete variety of exercises that can be performed with this simple but surprisingly versatile piece of exercise equipment.  A Ring-based Pilates routine makes a nice supplement to a traditional IMX Pilates Reformer workout, and the fact that the IM=X Ring is so inexpensive is just icing on the cake.
One of the most impactful additions anyone could make to a Pilates exercise room is the IM=X Tower. This large exercise base mounts safely and securely to any wall, and facilitates a range of powerful and transformative Pilates exercises that can be performed standing, lying or sitting down (a combination of all three produces the best body-toning results). For just $495, those who purchase an IM=X Tower package will receive the 24-inch by 40-inch mountable wall tower plus two sets of springs, one pair of footloops, one pair of handlesand one long attachable exercise bar.