Article Reviews
How To Become A Pilates Instructor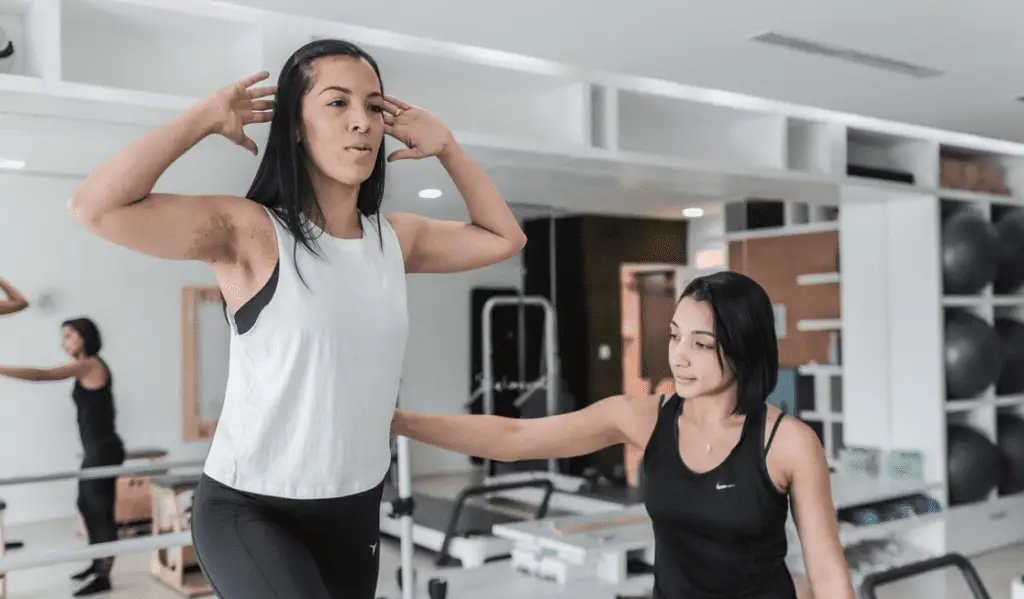 Pilates is a form of exercise that encourages individuals to alter their movement patterns and increase their strength. 
Usually, it emphasises the muscular or control aspect of movement. Various forms of Pilates that combine elements of the gym with Pilates have been developed as a result of the adaptation and evolution of Pilates over time.
Anyone can benefit from Pilates, whether they are in good health or not, pregnant, recovering from an operation, or have recently given birth. Pilates on equipment, in particular, can be altered to benefit all of these groups.
As a Pilates teacher, it will be your job to either assist your students' movement utilising the mats or Pilates apparatus.
 It is your responsibility to effect change in others so they can, among other things, increase their body awareness, mobility, posture, strength, and recovery from illness or injury.
Pilates instructors that are successful in their profession have a strict routine and are knowledgeable on how to coach their students safely and effectively.
We'll lead you through the process of becoming a Pilates instructor in this article. We'll discuss the skills you need to become a Pilates instructor and the steps you should take to secure a job.
If you're reading this article, chances are good that you have practised Pilates in the past and are considering changing careers to work as a Pilates instructor – so keep reading to find out how!
Personal Qualities Of A Good Pilates Instructor
If you're unsure of whether you possess the necessary skills, abilities, and personality traits to work as a Pilates teacher, there are several distinctive features that will make you stand out from the competition and position you for success.
A Pilates instructor typically possesses the following traits:
Have a Pilates interest!
Embrace your interest in the human body.
Be curious about how movement occurs.
Possess a willingness to learn new things.
Want to become well-versed in anatomy, biomechanics, and posture.
Able to develop critical thinking skills in between movements.
Be active yourself because the work is really physical.
Be prepared to converse with a variety of people.
Swiftly establish relationships with clients.
Be amiable and upbeat.
The capacity to inspire others
Good communication abilities in both group and one-on-one settings. 
Be willing to pick up new business skills, especially selling techniques!
Be tolerant and compassionate.
Steps To Becoming A Pilates Instructor
1. Take A Pilates Class
Go to a nearby Pilates facility and take a class before you set off on your journey. Even a free class can be taken to determine if you enjoy it. To determine which studio you prefer, We advise trying out a few.
You may ask questions and learn more about the experience of being a Pilates teacher during the trial classes.
2. Choose A Type Of Pilates
You can choose which Pilates method you prefer after taking a few different lessons. You should experiment with a variety of Pilates techniques, with Classical or Contemporary Pilates being the two most popular types.
Contemporary Pilates
This type of Pilates is a more rapid-fire form of the exercise. It focuses on strengthening core strength and adding lean muscle while including greater strength training.
Classical Pilates
Classical Pilates is frequently regarded as the most accurate, genuine form of the exercise. It is a lesson that moves continuously and fluidly at a slow tempo. This form of exercise was created by Joseph Pilates and is still used today.
3. Select A Form Of Pilates
Once you've selected your Pilates style, you should consider if you want to concentrate on a particular Pilates form.
The kind of Pilates machines you use in your lessons is typically determined by the form. Pilates comes in a variety of formats, with Mat or Reformer Pilates being the two most popular.
Matt Pilates
Pilates that is performed on a mat is known as mat Pilates. It emphasises building stamina, flexibility, and coordination while also enhancing balance and posture. The most accessible Pilates variation is this one.
Reformer Pilates
This is a type of pilates that emphasises posture and balance improvement along with flexibility, balance, and coordination enhancement. This variation of Pilates uses a machine with bars and springs.
Cadillac, Chair & Barrel Pilates
The Cadillac, chair, and barrel are just a few of the several Pilates variations available. These kinds are equally as effective but slightly less prevalent than the ones mentioned above.
Before making a decision on a specialism, you should try each one out because you might discover that one form fits your preferences better than another.
4. Obtain Pilates Certification
You must select a Pilates certification after determining your favourite form. You can pick from a variety of certificates, each of which is tailored to a particular type of Pilates.
What Is The Price Of A Pilates Certification?
A level 1 Pilates certificate might cost anywhere between $100 and $300, based on the certification you're aiming to obtain and at what level. A more thorough certification, however, can cost anywhere between $3,000 and $6,000 (or even more)!
How Long Are The Programmes For Certification?
You must complete 50 to 75 hours of instruction in Classical Pilates if you want to get certified in this particular form.
Before you may start teaching alone, you might also need to complete a certain amount of teaching hours, depending on the certification you've chosen.
Now, due to the more rigorous nature of Contemporary Pilates, your needed hours of training and observation may rise if you decide to pursue certification in this method. 
For instance, 310 hours of complete study (including supervised instruction, observation, and review) are needed to become a qualified STOTT Pilates instructor.
You can study for and earn your certification once you've done your homework and identified the one that's best for you. You can learn the foundations of coaching Pilates and discover how to work with clients in a safe and efficient manner by enrolling in a Pilates certification course.
It will take some time to finish. Take your time with it. This will guarantee that you are learning both current and classic material to ensure that your certification is of high quality.
5. Secure Liability Insurance
You must have a reliable liability insurance policy if you plan to teach Pilates. In the event of an accident, this will safeguard you and your clients.
How Much Does Liability Insurance For Pilates Instructors Cost?
Your studio space and, if applicable, your equipment should both be covered by your liability insurance. The typical liability insurance plan for a full-time teacher might cost from $500 to $1000 annually, based on the policy you select.
6. Enjoy Teaching Pilates
You can begin teaching as soon as your certification is complete and you have liability insurance. When you initially start, we strongly advise looking into nearby Pilates studios and hiring a trained instructor.
This gives you the chance to work with a mentor who can help you gain additional experience until you feel ready to teach on your own or perhaps start your own studio!
The journey doesn't finish when you earn your certification and find employment as a Pilates coach, though.
Make sure you keep going to classes and spend money on some extra study resources, such as textbooks, videos, apps, and online Pilates courses.
How Much Do Pilates Instructors Earn?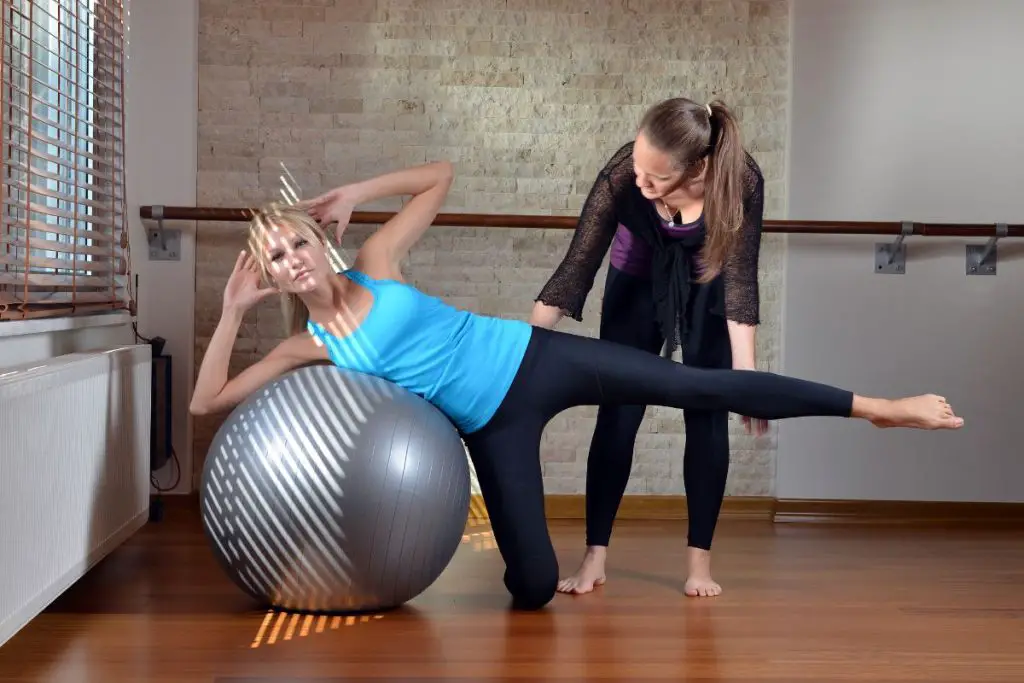 A difficult question is how much a Pilates instructor makes per class, however below are some average figures for the USA.
Earnings range from $27 to $35 on average, but they can also be much lower or much greater. 
The average annual wage for a Pilates instructor is $55,000, although in places outside of major cities, it may be as little as $37,000 for beginners. Instructors with experience can make more than $80,000 a year.
If they offer private lessons, instructors who work with celebrities can earn significantly more money.
Although the pay for part-time Pilates instructors is a little lower, it can be a terrific supplement to your primary budget. The majority of the time, you will receive an hourly average yet work fewer hours.
With years of expertise, certified Pilates instructors' salaries increase as well. Beginning at the bottom, a beginner should anticipate reaching the average after around five years. Following that, you might enjoy a higher wage!
Final Thoughts
You must be able to advance along with the Pilates art, which is constantly changing. That will not only help you keep on top of emerging trends, it will also enable you to provide superior client service as you advance in your professional development as a teacher.
No matter how experienced you are with Pilates, you should constantly make an effort to learn more.
You might consider enrolling in a Pilates teacher training course if you're serious about becoming a Pilates coach!
Being a Pilates instructor has several advantages, including allowing you to share an active lifestyle with clients and make a job out of doing what you love.