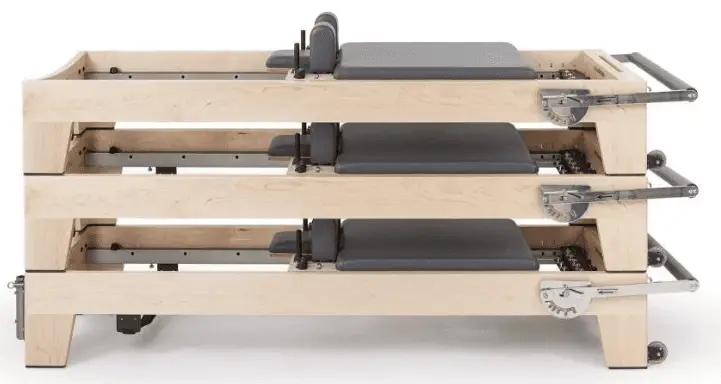 Elina Pilates Reformer Reviews – 2023
Elina Pilates is a European company devoted to the practice of Pilates. The company also has headquarters in the U.S. and ships its equipment worldwide to the best in the industry. Their reformers include towers and Cadillacs and many accessories and add-on components. They offer models appropriate for home or studio use, but all are reasonably priced and guaranteed to be of the best quality, to be durable, and to be safe and effective.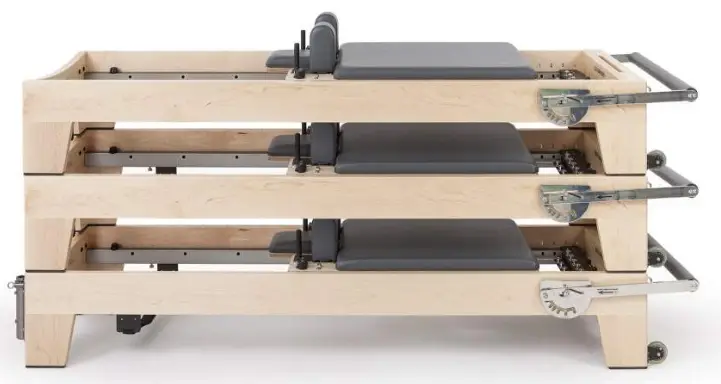 The Story Behind Elina Pilates
Elina Pilates is headquartered in Coral Gables, Florida, in the U.S., but this is an international company that was founded in Europe. They are dedicated to producing high-quality Pilates equipment, including reformers, at reasonable prices. Elina values customer satisfaction, fitness, wellness, safety and happiness above profits.
Beginning in and now run from Spain, Elina is a company that has more than a decade of experience designing and making reformers and other Pilates materials. They work with experts and professionals, not just in Pilates but also in athletics, physical therapy, medicine and education. (Get prices for the Elina Physical Therapy reformer on Amazon.) From research and consultation with these experts, they have been able to offer some of the best equipment in the industry.
Why Studios and Practitioners Love Elina Pilates Reformers
All of the reformers that Elina sells are sturdy, durable, safe and made from high-quality materials designed to last. The models range in price from $2,500 for a top-notch home reformer to $5,250 for reformer/Cadillac combinations for home or studio use.
Elina's reformers fall into three categories: reformers only, reformers with towers, and Cadillacs, the table and trapeze configuration that allows for even more exercise. There is an affordable home model, but even the studio models are reasonably priced for the quality offered. Most can be moved, stacked and stored, which makes the reformers ideal for smaller spaces, whether at home or in a gym.
Elina stands by its reformers and other equipment with comprehensive warranties that guarantee the lifetime of many parts. For instance, the home and commercial reformers come with limited lifetime warranties on the rails, the frame, and welding on foot bar mechanisms. These parts are guaranteed to be free from manufacturing defects, or you get a fix or replacement.
Elina Pilates Reformers
The Elina reformer lineup includes simple home models that are affordable as well as more advanced, durable studio models that are designed to hold up to repeated use for years. All are made from quality materials, including wood and aluminum and are designed to look elegant and attractive.
1. Home Aluminum Reformer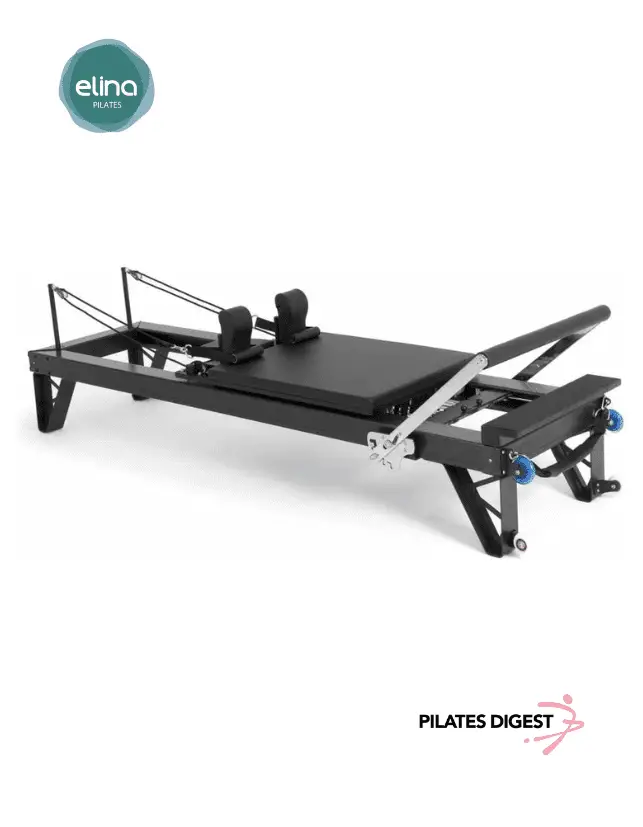 2. Pilates Aluminum Reformer, HL 1 – HL 4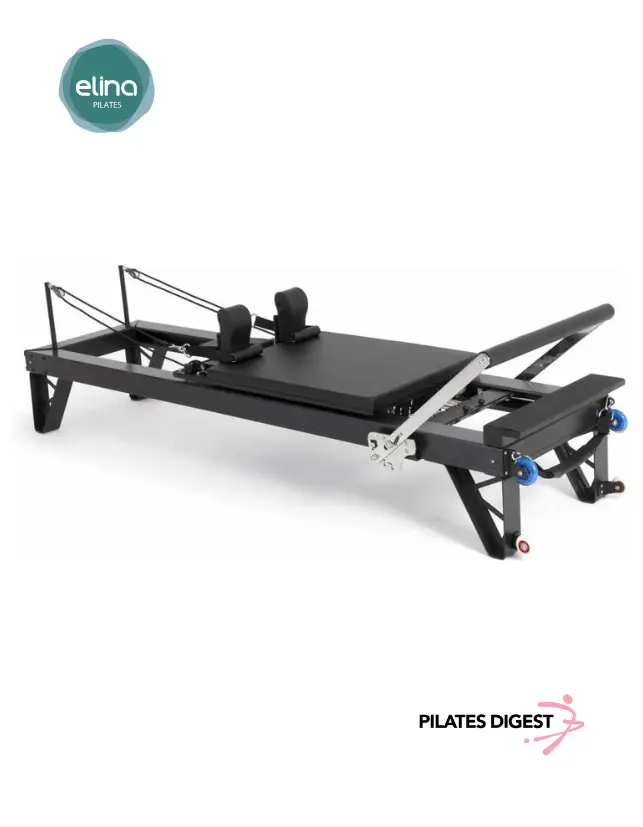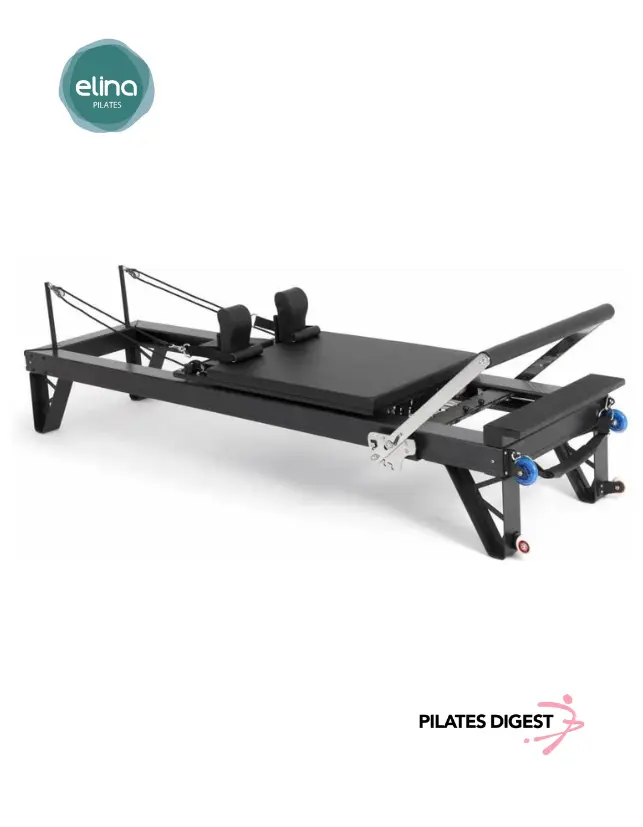 Studio-quality design for professional and home use.
Four adjustable heights cater to diverse needs.
Superior construction ensures safety and durability.
Smooth, quiet wheel suspension system.
Compact, foldable design for easy storage.
Includes jump board and reformer box.
You can check this Elina pilates reformer here.
3. Wood Reformers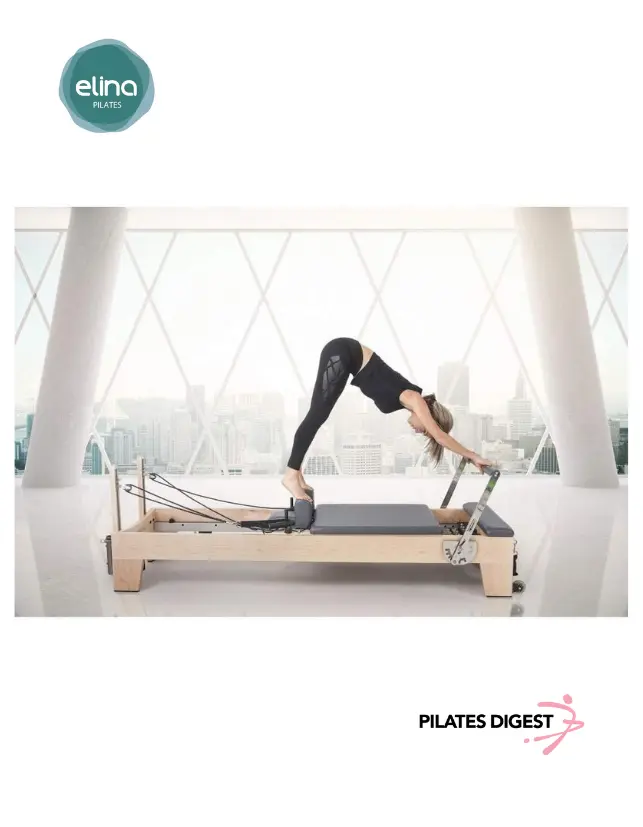 ELINA PILATES ELITE Wood Reformer: the epitome of modern design meeting functionality. Designed with the advanced home practitioner in mind, this reformer seamlessly brings the sophistication of studio equipment right into your personal space. Whether you're refining your moves solo or under the guidance of a personal Pilates instructor, the ELITE reformer ensures a premium experience. Its innovative features, such as the rapid position change of the foot bar, dual spring bar, and pulleys, set it apart from the rest.
Experience unparalleled stability with its front and rear straps, coupled with an extra smooth glide that enhances your workout. And for those studios or homes pressed for space, the ELITE reformer boasts a unique attribute: it's the market's first stackable wood reformer.
But that's not all. This reformer is a complete package, arriving with a padded jump board, reformer box, and a padded standing platform extender. Crafted with top-quality hardwood, its frame is not just sturdy but also future-ready, featuring a built-in tower anchoring system, primed for the addition of a half-trapeze tower when you're ready to elevate your Pilates journey. Dive into a world of precision, quality, and innovation with the ELINA PILATES ELITE Wood Reformer.
Advantages:
Modern design tailored for advanced home practitioners.
Rapid foot bar, spring bar, and pulley adjustments.
First stackable wood reformer on the market.
Front and rear stability straps ensure smooth glide.
Comes with padded jump board and reformer box.
Built-in tower anchoring system for future upgrades.
You can check this Elina pilates reformer here.
Reformers with Towers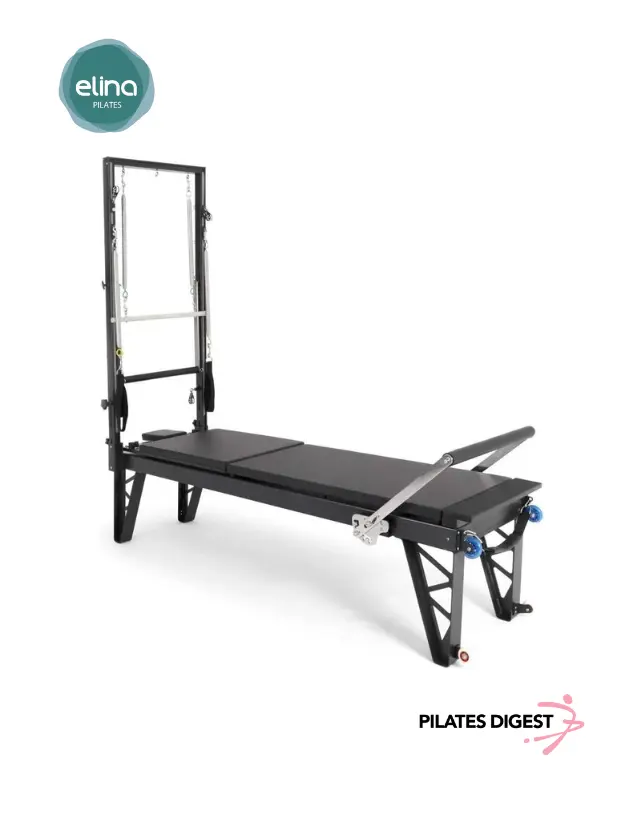 This state-of-the-art reformer boasts an inclusive half-trapeze tower, a convenient drop-in mat, a reformer box, and a jumpboard, ensuring you have everything you need for a comprehensive workout.
Crafted with precision, its lightweight aluminum construction promises durability and safety, ensuring it stands the test of time. The design is not just about aesthetics; it's about functionality. With its stackable and flat-folding features, it's a breeze to store, making it a perfect fit for both home studios and professional settings. The reformer's thoughtful design also includes specially designed slots in the frame to store removable risers and shoulder rests, ensuring a clutter-free space.
The reformer is available in four distinct heights, catering to a range of preferences: HL1T at 9″ (22 cm), HL2T at 11″ (27 cm), HL3T at 16″ (42 cm), and HL4T at 24″ (62 cm).
To enhance your Pilates experience, the reformer is equipped with a set of five carriage springs, a unique spring bar system that allows for positional adjustments without spring removal, and a fully-padded footbar that can be adjusted to five vertical positions. This ensures a tailored fit for users of different body sizes. Additional features like the aluminum pulley risers, Triple D-Ring cotton loops, double loops, footstrap, and adjustable shoulder blocks further elevate the user experience.
The accompanying Pilates Tower is nothing short of exceptional. Made of foldable stainless steel, it comes with eight double grip springs, a solid beech wood roll-down bar, and an anodized aluminum stretch bar with a comfortable padded rubber grip. The tower also boasts adaptable pulleys and adjustable height hitch, ensuring a versatile workout. The cotton-padded handles provide a comfortable grip, ensuring your focus remains on the exercise and not on any discomfort.
Advantages:
Versatile design for comprehensive Pilates workouts.
Lightweight, durable aluminum construction.
Stackable and easy-to-store design.
Adjustable features for personalized use.
Inclusive half-trapeze tower.
Suitable for both home and professional studios.
You can check this reformer with towers here.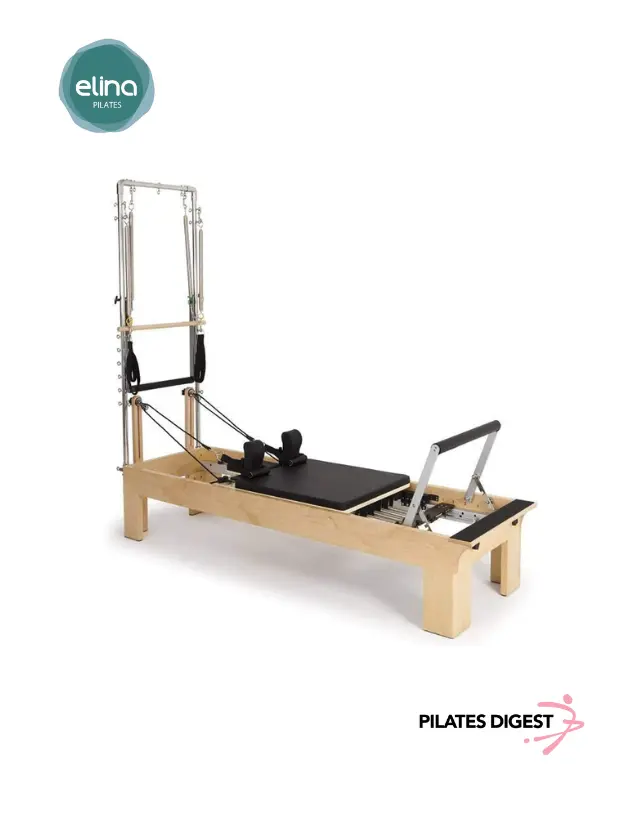 Designed to cater to diverse body types and capabilities, this reformer stands out with its raised carriage height, attached tower, and convertible drop-in mats, making it a top choice for health and fitness aficionados.
Crafted with an unwavering commitment to safety and durability, its construction boasts a patented rolling mechanism that operates with whisper-smooth finesse. Experience a seamless glide, thanks to the 8 PU wheels strategically positioned both vertically and horizontally, complemented by precision bearings. The reformer box, carved from the robust American rock maple hardwood, speaks volumes about its quality.
This all-inclusive package ensures you're ready to dive into your Pilates routine without delay. It comes equipped with a drop-in mat, jump board, and box. The reformer's design includes quick-release, adjustable and removable shoulder rests, a tri-position padded headrest, and adjustable ropes with a snap. The spring system offers varied resistance with 2 yellow (light), 2 green (medium), and 1 red (heavy) springs. For added comfort and versatility, foam handles, double feet and hand loops, and pulleys are also provided. The built-in standing platform ensures safety with its non-slip surface.
The accompanying tower, forged from stainless steel, is not only easily removable but also features 37 hooks, allowing for a multitude of positions over the reformer surface. A mat is also provided to cover the reformer surface, ensuring a comfortable workout experience.
With the ELINA PILATES Physical Therapy-Quality Reformer with Tower, you're not just investing in a piece of equipment; you're investing in a transformative Pilates experience.
Advantages:
Adaptable for diverse body types and abilities.
Whisper-smooth patented rolling mechanism.
Robust American rock maple hardwood construction.
Comprehensive package: mat, jump board, and box included.
Easily removable stainless steel tower.
Non-slip safety standing platform.
You can check this Elina pilates reformer here.
Reformers with Cadillacs
For the most comprehensive workout, Elina offers three different Cadillacs. This machine was an invention of Joseph Pilates. It is a table, or bed, with a frame that attaches to both ends. It includes a number of pulleys, straps and other attachments and is also called a trapeze table.
A reformer and a reformer with a tower are adequate for most Pilates exercises and for most practitioners. A Cadillac offers additional movements and challenges for advanced practitioners or those with special needs. Elina offers three Cadillac models:
1. Cadillac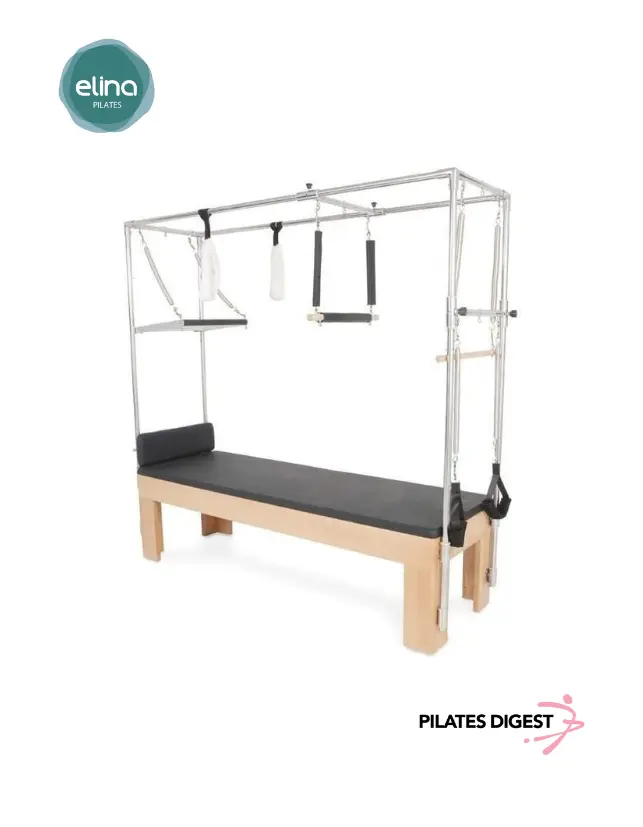 A harmonious blend of form and function, designed especially for spaces where every inch counts. Whether you're setting up a home studio or looking for the perfect equipment for private lessons, this compact Cadillac is the answer. Its handcrafted beauty is evident in the natural American rock maple wood construction, while the stainless steel and anodized aluminum metal parts ensure longevity and stability.
The leather-upholstered bed, tailored specifically for Pilates products, promises durability without compromising on elegance. And with the high-density EVA foam padding, every Pilates session becomes a comfortable experience. Dive into a world of rehabilitation or enhance your Pilates journey with this exquisite piece from ELINA PILATES.
Advantages:
Compact design perfect for limited-space studios.
Ideal for rehabilitation and private lessons.
Handcrafted from natural American rock maple wood.
Durable stainless steel and anodized aluminum parts.
Leather-upholstered bed tailored for Pilates.
Comfortable high-density EVA foam padding.
You can check this reformer with Cadillacs here.
2. Cadillac Reformer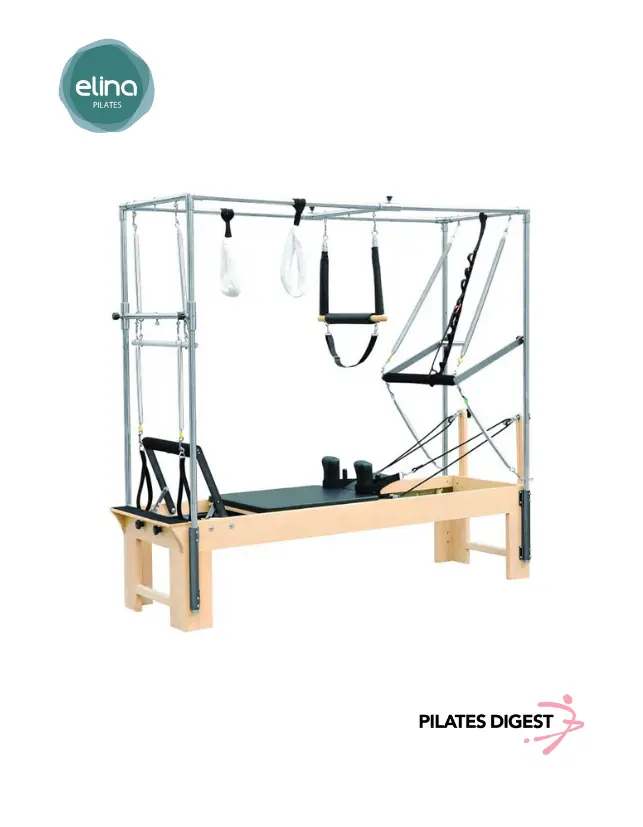 Experience the fusion of the Cadillac and Reformer in one exceptional apparatus! ELINA PILATES presents the Cadillac-Reformer, a blend of commercial-grade craftsmanship and innovative design. Crafted with precision from American rock maple and stainless steel, this apparatus promises durability and elegance. Seamlessly transition between a Cadillac and a studio reformer, making it a versatile addition to your Pilates routine.
Its compact design is a boon for home-studios or spaces with constraints, ensuring you don't compromise on your Pilates experience due to space limitations. Tailored for rehabilitation and studios seeking a comprehensive Pilates apparatus, it's perfect for private sessions.
The Cadillac-Reformer boasts twin drop-in mats for effortless conversion, an anodized aluminum push-through bar adjustable to three heights, and a variety of springs catering to different resistance levels. The trapeze comes with a safety strap, padded bar, spring collars, and a diverse range of springs. The reformer is equipped with adjustable ropes, a variety of loops, pulleys, and a non-slip standing platform for utmost safety. It also includes a reformer box and jump board to enhance your workout.
Advantages:
Combines Cadillac and Reformer in one apparatus.
Handcrafted with durable American rock maple.
Compact design for space-limited areas.
Ideal for rehabilitation and private lessons.
Easy conversion between Cadillac and Reformer.
Comprehensive accessories for varied workouts.
You can check this reformer with Cadillacs here.
3. Elite Cadillac Reformer
The elite model is a $5,250 machine with all the complete functioning of the Cadillac reformer but with more refined and upgraded details and materials. This model includes a removable foot platform, non-slip surfaces, removable arm rests, adjustable headrest with cervical support, a padded jump table, rotating pulleys for greatest articulation and accuracy, removable and adjustable pulley lifts, high-quality ropes that allow easy exchange with the handles, a 7-position foot bar and six springs.
The Cadillac frame comes with a padded trapeze with several springs, an adjustable push bar, a sliding bar, an adjustable horizontal bar to change spring heights, short and long springs with carabineers for the trapeze, and padded handles and fuzzies for comfort. The elite model also offers a choice of colors in the upholstery.
Elina is known for its reformers, towers and Cadillacs, but the company also offers additional Pilates equipment. You can find three different models of Pilates chairs, ranging in price from $1,290 and $1,450 and suitable for home and studio use. Elina also offers barrels, from a simple, $300 model to a more advanced ladder barrel that retails for $1,260. The spine correctors range from $175 to $475 and include a variety of shapes and sizes to accommodate any user.
There are many brands of Pilates reformers on the market, but few have the range of models in high-quality materials as those offered by Elina. With years of experience and expert consultations, the company has been able to design and manufacture reformers that are durable and safe but also attractive and useful for practitioners at all levels.