Does Peloton Have Pilates?
The classic Peloton Bike, an at-home workout bike with a large monitor on the front and back speakers that enables you to work out to one of the thousands of sessions accessible using the Peloton All-Access membership, is undoubtedly the product that Peloton is most known for.
However, the American company now offers more than simply one bike.
There are several alternatives for at-home gym equipment, as well as a unique app you may use on your smartphone or tablet. If you're interested in learning more about Peloton, look no further.
Here is all the information you require about Peloton and whether it has Pilates.
What Is Peloton?
Bike and Bike+ are the two available workout bikes. Peloton Tread as well as Peloton Tread+ are the two accessible treadmills (but neither is available in all regions).
The Peloton Guide is another option; it's a TV-connected monitor that concentrates on strength training.
In addition to bikes, Peloton also sells footwear, weights, earphones, a heart rate monitor, and a cycle mat. If you're really interested, there are resistance bands plus Peloton clothing.
Peloton provides a mobile application that you may join even if you don't really have the at-home fitness equipment or accessories.
What Is The Peloton Digital App?
For smart phones and some media streaming players, there is an app called Peloton Digital.
Before you even have to pay the monthly subscription, you can test it out for a month without using any Peloton products.
The Peloton Digital program costs $12.99 a month in the US or £12.99 in the UK after the initial 30-day trial.
The Peloton Digital program is a part of the Peloton All-Access Subscription, which is necessary to use the Peloton products, if you own a Peloton Bike, Bike+, or Tread.
Over ten different workout styles are available on the Peloton Digital app, comprising strengthening, stretching, crossfit, cycling, outdoor jogging, yoga, and meditation.
You can exercise with others, monitor your development using analytics, and set goals for yourself to reach.
What Is Pilates?
Pilates is a type of exercise that focuses on strengthening the body, particularly the core. This contributes to general fitness improvement and overall wellbeing.
Pilates emphasises posture, balance, and flexibility, much like yoga does. In comparison to other, more demanding types of exercise, the risk of injury is significantly lower with Pilates.
Pilates emphasises the link between the mind and body. Your mind must be continually aware of the present moment and how your body is moving while you perform the various exercises.
Joseph Pilates, a carpenter and gymnast, created this kind of exercise in Germany. While residing in the UK, he created Pilates as a workout routine for wounded dancers and soldiers.
Who Can Practice Pilates?
Most people would have no issues with Pilates because it can be altered to offer either a mild strength training programme or a difficult workout.
Both new exercisers and those who frequently exercise can benefit from it.
If you're a beginner, start with the simpler exercises, then once you've gotten the hang of those, move on to the more difficult ones.
Going to Pilates fitness classes or hiring a private instructor when you're first getting started in the discipline is a wonderful choice.
In this manner, the trainer can ensure that you are performing the exercises properly to prevent any injuries.
If you haven't worked out in a long time or have any medical conditions, it is advised that you consult a health practitioner.
What Are The Benefits Of Pilates?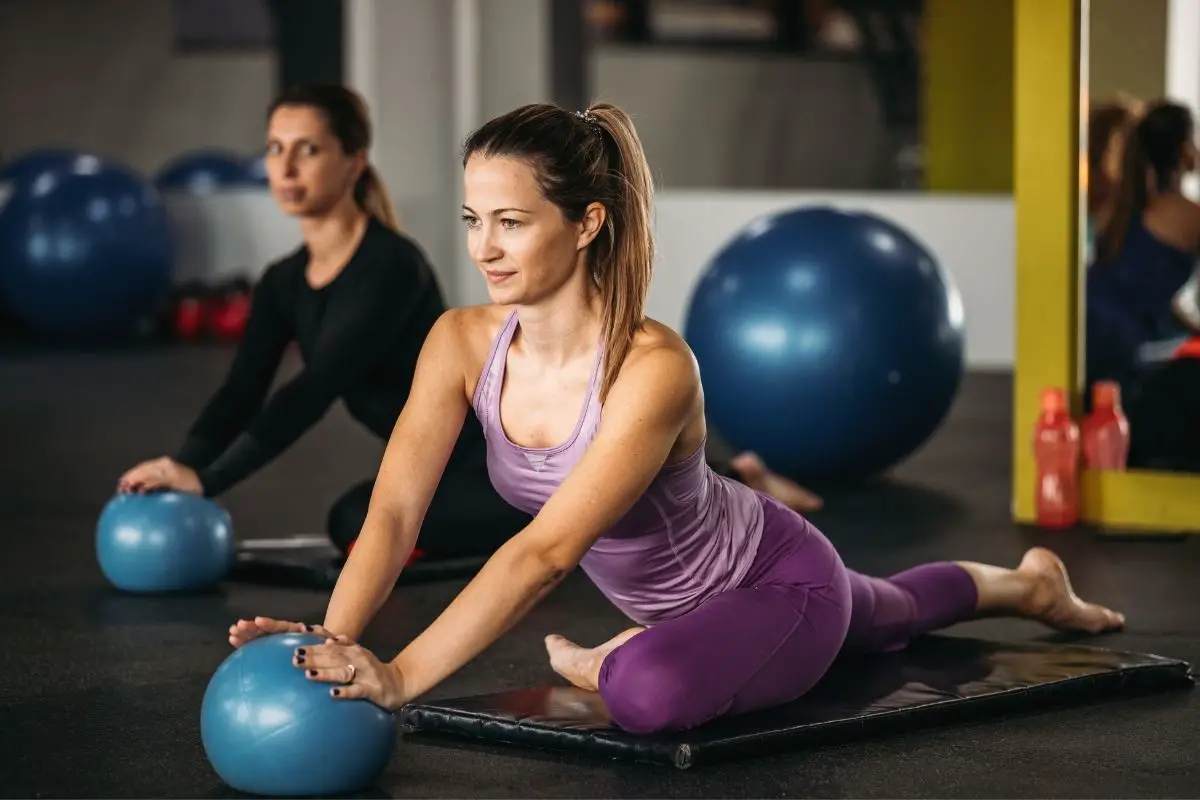 When thinking about what Pilates is, the most common question individuals have is concerning its health advantages.
Pilates' emphasis on posture, flexibility, and core strength has several positive effects on health.
Improved Posture
Pilates will train you how to build and maintain strong posture. Your body must constantly be in alignment for the workouts.
If you experience lower back pain, you will particularly benefit from this.
Muscle Tone
During the exercises, you may use muscles that you don't necessarily use every day. You'll notice that your muscles are substantially more toned when the first stiffness has subsided.
As muscle tone typically declines with age, this is especially beneficial for older individuals and those who are typically relatively sedentary in their daily activities.
Flat Abdominal Muscles
One of the advantages of Pilates is that it will give you a flat stomach because it concentrates on strengthening your core, which involves your abdominal muscles.
Flexibility
As we get older, we usually lose flexibility. Pilates will help you regain flexibility, however gradually at initially.
You'll be astounded at how flexible you have gotten after some time, though. This is crucial for preventing fall-related injuries.
Increases your awareness of how your body works and performs: Through the mind-body relationship that Pilates teaches, you will improve your balance and mindfulness.
Reduces Stress
While engaging in the workouts, you'll be completely absorbed and unable to consider about the obligations that regularly drain your energy.
Your attention will be drawn more to your breathing and to the movements of your body. This is a fantastic stress-reduction technique.
Provides you with a general feeling of well-being: Since Pilates focuses on achieving mental and physical equilibrium, it offers you a broad sense of well-being.
Does Peloton Have Pilates?
Yes! Peloton does offer professional Pilates classes.
Peloton Pilates trains your mind and body to be robust and tackle any athletic effort with top form, with only you and a mat as the necessary equipment.
43 Pilates classes are currently accessible via the Peloton app, the bicycle, or the Treadmill.
On the app, you may search for the courses under "Strength"; there is a specific class filter there for "Pilates."
Final Thoughts
Now you know that Peloton offers Pilates classes to its customers – what are you waiting for?
Pilates is an excellent workout for both your mind and body, and with Peloton you have the added benefit of being able to take your Pilates sessions from the comfort of your own home.