Article Reviews
DMA Clinical Reformers

dma Clinical Pilates Reformer Reviews
Australians seeking physiotherapy routinely fill the appointment books at the dma Clinical Pilates Physiotherapy Clinic in Melbourne. dma's trademarked Clinical Pilates workouts are highly popular with men and women who face physical and mobility-related challenges caused by injury, illness and aging.

But dma's clinical facility is not its only enterprise. They've put their expertise to use in other ways that are furthering the development of the broader Pilates movement. They've gained a reputation for excellence in Pilates that transcends borders. The dma brand is now widely recognized in every market where Pilates is practiced or Pilates products, such as Pilates reformers, are sold.
The DMA Clinical Pilates Story
dma Clinical Pilates and Physiotherapy is a vertically integrated Pilates company that serves the hospital, clinical and home therapy sectors in Australia. Formed in 1988 by professional physiotherapist Craig Phillips, dma offers the finest quality training services to aspiring students interested in learning the techniques of therapeutic Pilates. Their training program, which provides in-depth instruction in their specialized Clinical Pilates methodology, has helped many patients in rehabilitation recover most or all of their mobility.
In addition to their certified training programs, dma Clinical Pilates also designs and manufactures their own Pilates equipment, at their modern factory in the Melbourne suburb of Tullamarine. Their superbly crafted reformers have set new standards for precision performance, and can be smoothly and safely integrated into comprehensive rehabilitation programs under the guidance of skilled physiotherapists.
In their three-plus decades of existence, dma Clinical Pilates has made its mark as an innovator in the Pilates field. The popularity of their customized rehab Pilates methodology partially explains the company's ascent, but their status as a superior Pilates equipment manufacturer has been equally critical to their success. While their original customer base was confined to the Australian market, their equipment has now been purchased and installed by clients in dozens of countries on multiple continents.
dma Clinical Pilates Reformers for Clients in Need
A dma Clinical Pilates reformer is synonymous with sturdiness, versatility and high efficiency in targeted restorative movement. dma reformers can be found in hospitals, clinics, sports team training rooms, hotels, spas, wellness centers, government facilities and other locations where rehabilitative services are provided.
DMA offers six options for organizations or individuals interested in purchasing reformers for rehabilitative services:
Clinical Pilates Reformer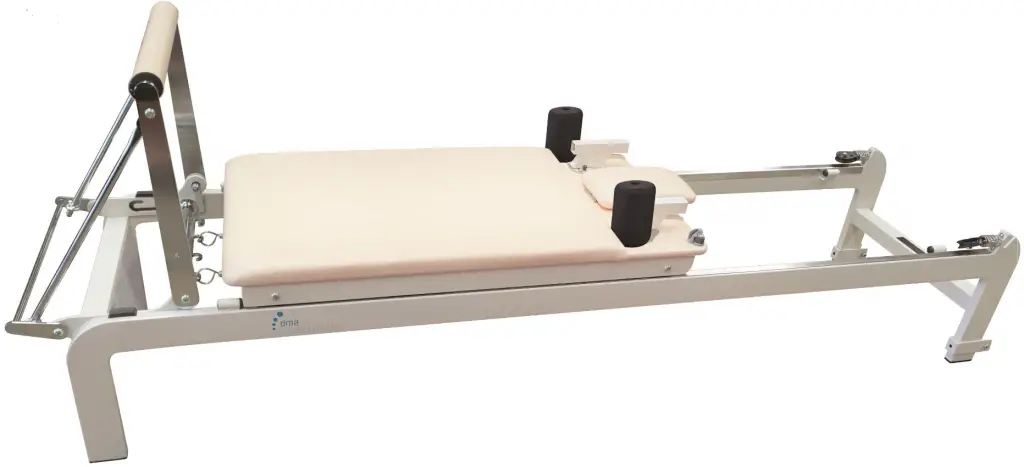 As the standard bearer of the acclaimed dma reformer line, the dma Clinical Pilates Reformer has been used with great effectiveness by physiotherapists for more than 30 years. Customized recovery programs that fit the requirements of a wide variety of patients can be planned and implemented on this superior exercise machine, which features an elevated platform for convenient dismounting and multi-adjustable spring settings for precise resistance control.
Other attractive features of this time-tested clinical reformer include ergonomically correct shoulder rests, a fully adjustable, foamed footbar, a three-position gear bar for safer spring loading, and efficient tracking with eight carriage wheels for smooth and safe movement. Priced at $4,313, the dma Clinical Reformer is a proven performer that delivers a consistently superb performance.
Fitness Reformer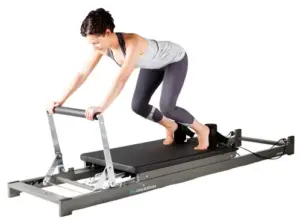 The dma Fitness Reformer is a compact alternative to traditional reformers for facilities that lack significant space for exercise/rehabilitation equipment. It's also an ideal choice for those with ongoing rehabilitative needs they prefer to address at home.
Modestly priced at $3,799, this sleekly constructed, low-riding reformer features ergonomic adjustable shoulder straps, quick-adjusting shoulder pads that can be customized for a user's height, dma's super-comfortable foamed footbar, multi-adjustable spring settings, and 360-degree steel swivel pulleys for stress-free usage. While the Fitness Reformer is built lower to the ground than the traditional dma Clinical Reformer, steel extension legs can be added to extend its height to 45 cm (17 inches).
Monorail Reformer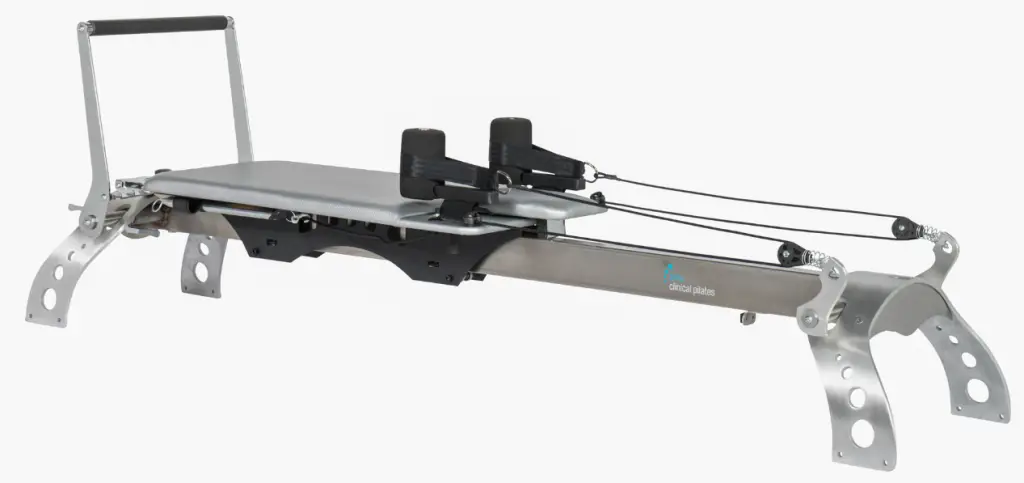 The dma Monorail is the newest entry in the dma reformer line. dma refers to it as "the future of reformers," which reflects the extraordinary engineering and design efforts the company has invested in this high-efficiency machine. The Monorail has a futuristic appearance, which conveys a sense of strength and streamlining that accurately reflects its precise and consistent performance.
Monorail perks include an infinitely adjustable footbar, padded shoulder rests that adjust back and forth and side to side, a three-level spring adjustment system with captive gearbar, and dma's eight-wheel carriage tracking system that guarantees smooth and reliable functioning. Checking in at $5,695 retail, the Monorail reformer is raising the bar for high-end, rehab-focused Pilates equipment.
Portable Pilates Reformer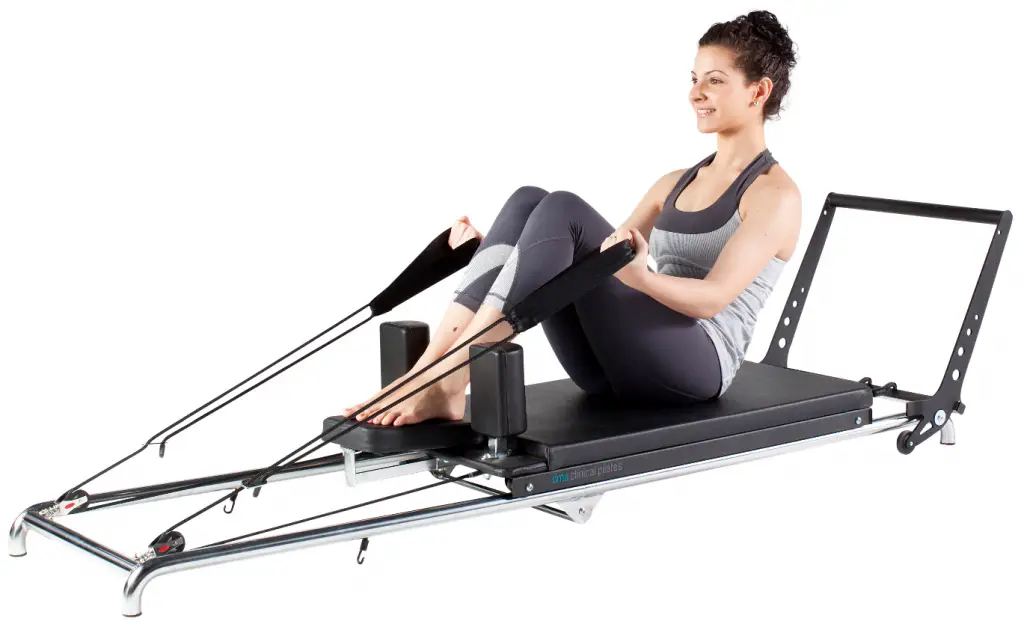 Patients who want to continue their rehab at home should seriously consider the dma Clinical Pilates Portable Reformer. Weighing in at just 17 kg (37 lbs),  this Portable Reformer can be easily moved from room to room, stored anywhere and even taken on the road when users travel. Constructed from strong tubular steel sleeve and unbreakable alloys, the Portable Reformer is as sturdy and durable as any heavier reformer. Superior quality resistance bands are substituted for the typical reformer springs, and other new features include a foamed footbar for comfort, and compatibility with the dma foot plate (for added stability while standing) and reformer jump board.
The Portable Pilates Reformer from dma is priced at $1,817.27, which is remarkably low for a machine that delivers a safe yet strenuous workout time after time.
Supalite Fitness Reformer 2.0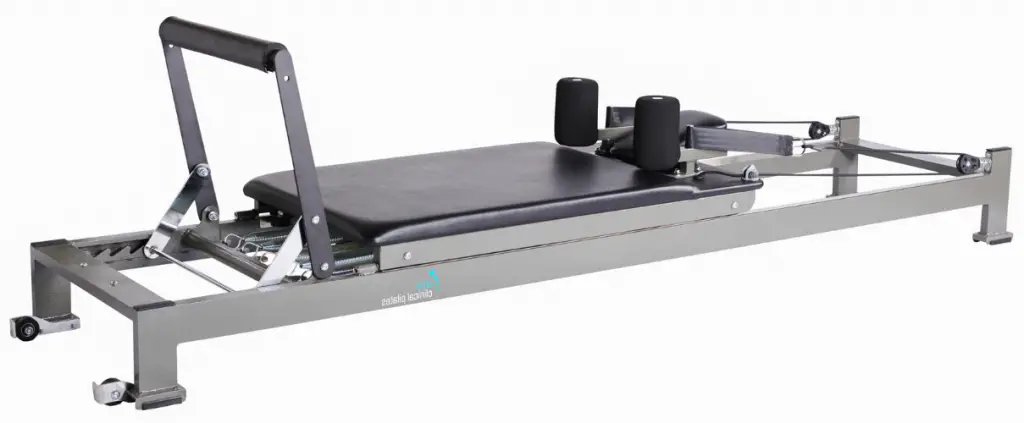 dma prides itself on innovation. But they've outdone themselves with the Supalite Fitness Reformer 2.0, which breaks every record by weighing in at just 22 kg (48 lbs). This makes it the lightest reformer available for the commercial market, a status it attains despite preserving the best characteristics of traditional dma reformers.
The first reformer from dma to be constructed entirely from aluminum, this model features an eight-wheel suspension system for a fast, smooth, silent workout. The padded footbar can be adjusted to various angles to fit the requirements of any user regardless of body size. Four-level, quick adjusting shoulder pads, ergonomic shoulder straps, 360-degree steel swivel pulleys, and built-in transport wheels for easy machine mobility are a few of the perks included with this efficient and versatile reformer, which retails for $4,199. If clients request it, the Supalite Fitness Reformer can be customized to achieve a maximum height of 45 cm (18 inches), which is ideal for those who struggle to mount low-riding reformers.
Trapformer Standard
With the introduction of the dma Clinical Pilates Trapformer, the clever engineers employed by dma have accomplished something notable: They've found a way to combine the traditional reformer with a Pilates trapeze table, creating a hybrid machine that truly offers the best of both Pilates-based worlds. What purchasers will acquire is a Pilates reformer-plus that can be used in areas where space is somewhat limited. That's difficult to accomplish with a separate reformer and trapeze table, but despite its hybrid design the Trapformer sacrifices nothing in exercise range and versatility.
All the features included in an original dma Clinical Pilates Reformer are provided. Making the transition to a trapeze table setup is a breeze, and when purchasing this item for $7,499 customers will receive an assortment of high-quality accessories for both trapeze and reformer use.
Trapformer Premium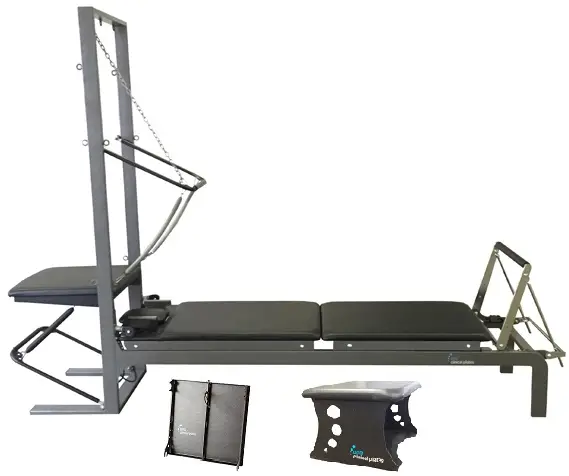 For maximum Pilates workout efficiency and effectiveness, dma's masterpiece is its Trapformer Premium. This combination Clinical Pilates Reformer and trapeze table offers the ultimate in versatility and flexibility, in a compact package suitable for home users and others who lack extensive space for exercise equipment.
Every feature of the original Clinical Pilates Reformer is incorporated into this impressively designed Pilates machine, and the conversion to Trapeze table is fast and uncomplicated. Multiple types of springs, upper and lower swing bars, and foot and hand loops are included in the generous accessory package, guaranteeing the user's ability to complete a full-body Pilates workout regardless of rehabilitation stage or ongoing mobility issues. Priced to move at $8,499, the Trapformer Premium is truly a premium buy for those seeking the ultimate in a rehabilitative Pilates experience.
DMA Bundles, Packages and a Whole Lot More
Reformers can be purchased in packages to include a cornucopia of performance-enhancing accessories. Some of these available and affordable options include extension legs, foot blocks, jump boards, reformer boxes, foot straps, treatment plinths for mat conversion, retrofit tower kits, balance poles and other items that can add spice and variety to intense workout routines.
Commercial customers looking to stock larger facilities can buy dma Clinical Pilates Reformers and associated Pilates products in equipment bundles at discounted prices. Packages generally include multiple reformers, supplemented by trapeze tables, wobble boards, thoracic barrels, wunda chairs and other accessories clients expect to find in a top-of-the-line clinical physiotherapy facility.
For clients who live outside Australia, telemedicine services with physiotherapists trained in Clinical Pilates are available through dma. Customer service is paramount at dma Clinical Pilates, and those who purchase their products will always have the support they need to maximize the effectiveness of their state-of-the-art Pilates reformers.