Can You Do Pilates On Carpet? Is It Safe? (The Answer Is YES!)
When it comes to yoga and Pilates, it is important that you create a safe and calm environment, so you get the best possible (and most relaxing) results.
Many of us also enjoy doing Pilates at home but is every type of floor suitable for Pilates? Is it safe to do Pilates on your carpet?
We find out where you can do Pilates and what you can do to ensure you do not injure yourself.
Can You Do Pilates On Carpet?
Yes, you can do pilates on carpet but it is always a good idea to use a Pilates mat to give you the right grip and support for your joints.
This can help to prevent any injuries or accidental falls.
Putting a mat over your carpet during your Pilates training exercises will also keep any unsecured rugs in place, and it means your carpet won't wear so quickly.
Pilates mats aren't very expensive, and if you want to do Pilates more often, then it is a great idea to get your own mat.
If you are a beginner and you just want to try out some Pilates, then you can do this also without a mat but it is best to stand on a bare floor without any rugs.
Is It Possible To Do Pilates Without A Mat?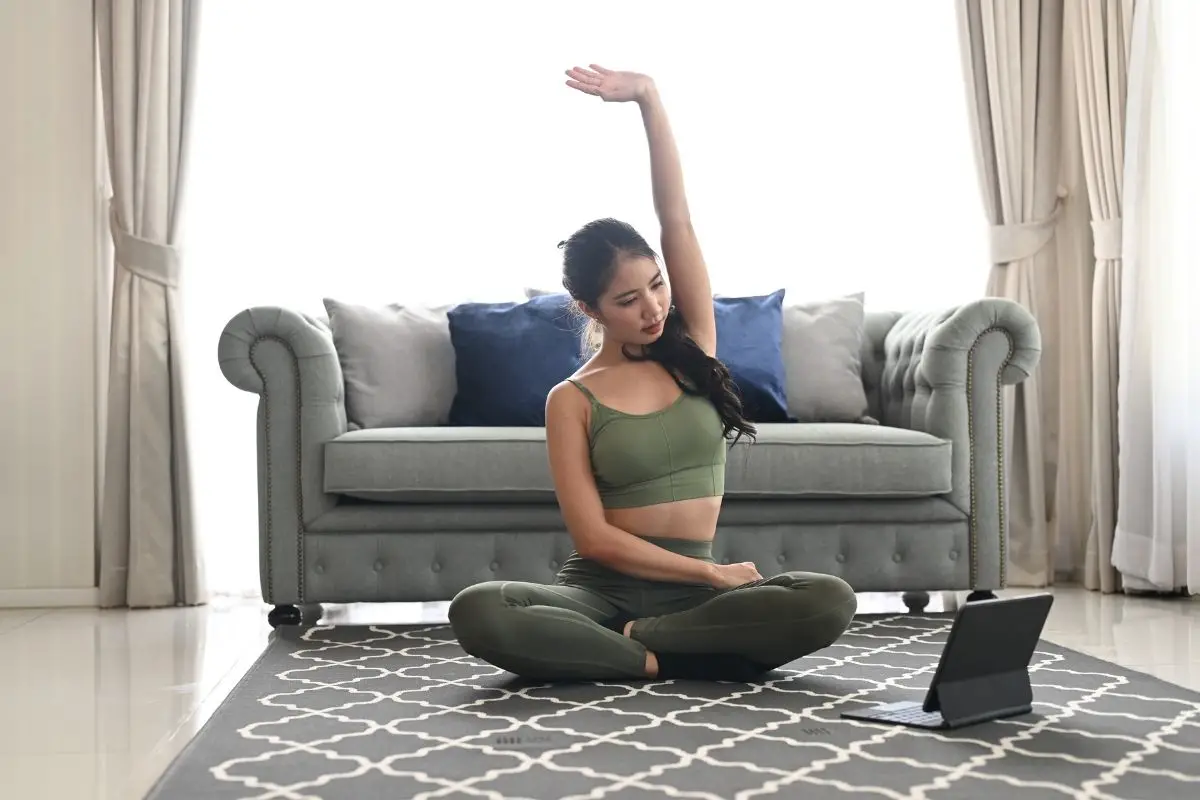 Yes, you can do Pilates without a specific mat but keep in mind that you need to stand on a secure surface making sure that you do not slip.
With a flat surface, you can do your Pilates workout wherever you like. You do not usually need other equipment, such as weights.
In addition to a bare floor, you will also need some space to move, so as long as your bedroom, living room, garden or wherever you enjoy Pilates is big enough, you are good to go!
Pilates On Carpet: Pros And Cons
There is a surprisingly high number of household accidents to falls and trips associated with rugs and carpets.
Especially when you are doing Pilates, you do not usually concentrate on your environment, so it is essential that you prepare your Pilates space to avoid any sliding or slipping.
Let's take a look at some advantages and disadvantages of doing Pilates on a carpeted surface.
Carpet Pros
One of the biggest advantages that come with doing Pilates on a carpet or secure rug is that it provides more cushioning for your joints when you move and stand.
As a carpet isn't a fully flat surface, it can be a bit more challenging than doing your workout on a mat. This results in improvements of your overall balance.
Carpet Cons
Despite its benefits for your joints, carpet does have quite a few drawbacks. One of the biggest issues when doing Pilates on a carpeted floor is that you could slip, slide or, even worse, fall.
The rough surface of the carpet can also lead to friction between the carpet and the body which may result in rashes or burns.
Due to the uneven surface, you will need to balance a lot more, so this can be particularly difficult for beginners.
In addition, if you are doing your Pilates workout sessions on a certain spot of your carpet, then you will wear your carpet out over time.
We must also not forget that Pilates is a low-level workout which means you will sweat a little bit.
Sweat can then drip onto your carpet. This is not just unhygienic but it will make your carpet smell after a while.
Use A Pilates Mat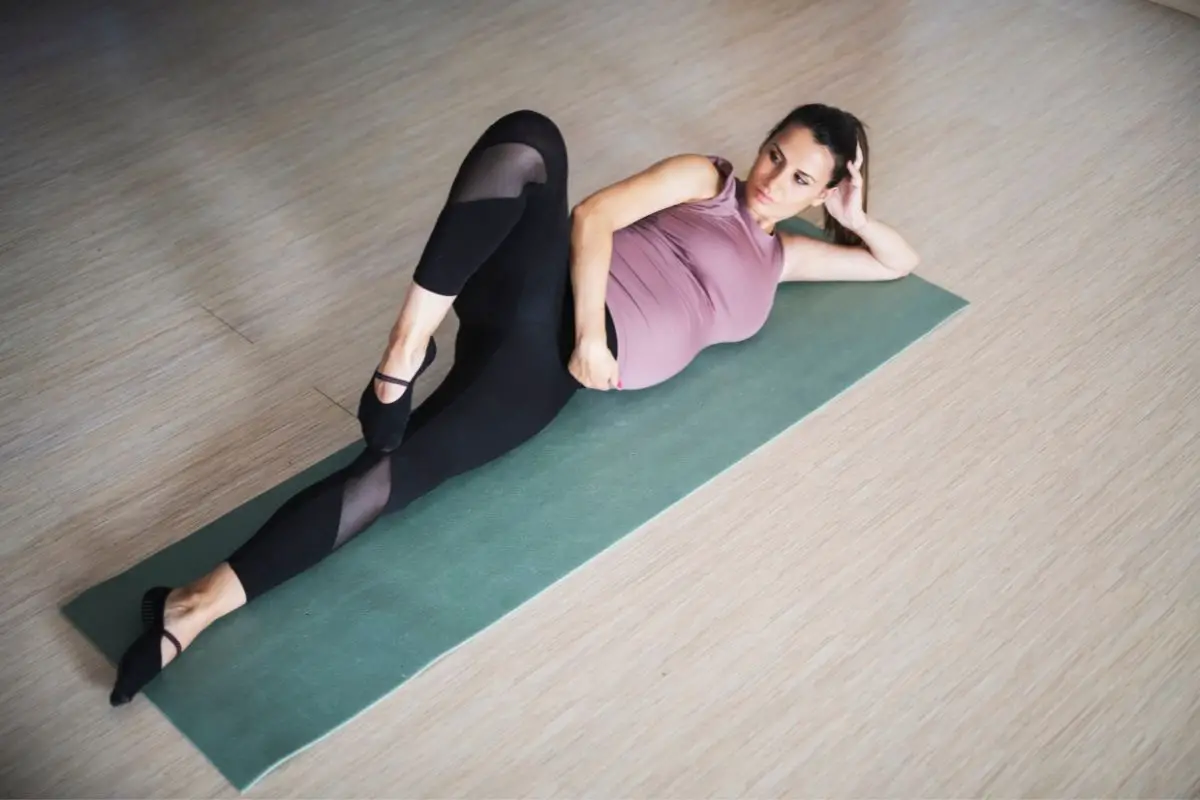 With all the issues that can arise when using carpet as your Pilates surface, it becomes obvious that a Pilates mat is almost a must-have for anyone who is planning on more irregular workout sessions.
One of the biggest benefits of using a Pilates mat is that it creates a specific work out area which means you do not have to worry about the floor type you are on.
This can also be psychologically important, as the moment you roll out your Pilates mat, you start to get into a workout mindset.
These types of mats will give you plenty of support, and they'll ensure that you do not slip or slide during your practice.
Here are a few things you will need to consider when buying a Pilates mat.
Storage
Although Pilates mats do not need a lot of space, it's a good idea to make sure that you have a space to store it when not in use.
Transport
Most of us also take our Pilates mats to classes, so it is important that you can easily move your mat around.
Also make sure that your chosen comes with either a carry case or handles.
Size
Pilates mats come in a variety of sizes. Make sure that you choose a mat where you can comfortably lie on without your feet or head hanging over the end.
Texture
The majority of Pilates mats aren't textured, but if you want to make absolutely sure that you do not slide, whatever position you are in, then it is best to get a textured mat with a specific grip surface.
Thickness
In addition to the different sizes, you can also find Pilates mats in varying thicknesses. Most mats are over 6mm thick which provides you with plenty of comfort and support.
You will also be able to find mats that are as thick as 15mm. They are also fine, as long as you do not go any thinner than 6mm.
Final Thoughts
The greatest benefit of Pilates is that you can practice it wherever you like, without any special equipment or tools.
However, this low-impact workout still affects your joints and muscles, so it is a good idea to cover your hard floor, carpet or any surface you practice on with a Pilates mat.
Saying this, for Pilates beginners, it is okay to give it a go without a mat, just make sure that you are on a solid surface.