Article Reviews
Best Yoga Pants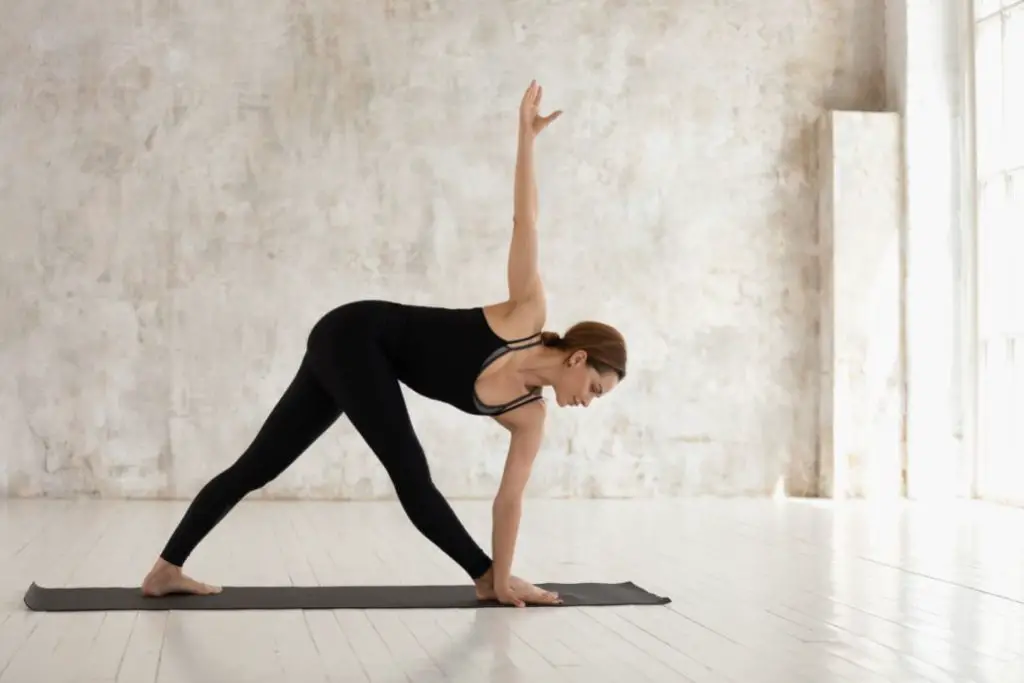 Best Yoga Pants
You don't have to be a die hard yoga fan to want a pair of pants that makes life that little bit more comfortable. You just have to be willing to find the right pair for you.
Make sure you choose a pair that fits your lifestyle well, whether it's for your next relaxation retreat or a vacation that includes a long-haul flight.
This could mean choosing a high-waisted pair over a low-waisted pair, or a bell-bottom pair over a slim-fit pair.
Whatever you're doing in life, your yoga pants should work for you. From pilates to running errands, your yoga pants should have you feeling comfortable, smooth and trendy. 
Not sure where to start? Tired of rummaging the racks at the store or scrolling for pages online looking for the perfect pair. We've got you covered.
This guide has the best yoga pants on the market, all in one place. Keep reading to find the perfect pair of yoga pants for you! 
1. LuluLemon Align Hi-Rise Pant 25"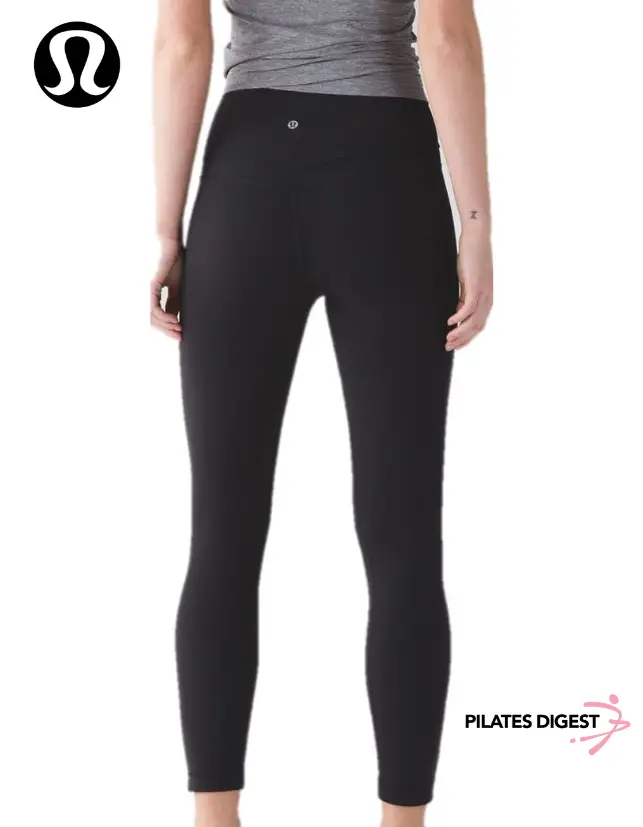 Experience unparalleled comfort with Lululemon's Align High-Rise Pant 25″. Engineered for optimal comfort and movement, these pants are the perfect companion for yoga, gym sessions, or a casual day out.
The Align collection is loved for its buttery-soft Nulu™ fabric that makes you feel as if you're wearing nothing at all, providing a unique second-skin feel. Crafted from 81% Nylon and 19% Lycra elastane, these pants offer four-way stretch and sweat-wicking technology, ensuring you stay comfortable and dry throughout your workout.
These high-rise pants come with a 25" inseam, giving you the perfect balance of coverage and comfort. The waistband is specifically designed to lie flat against your skin, reducing dig-in and providing secure coverage.
The added feature of Lululemon's signature Waistband Pocket lets you store your essentials securely. Be it a small key, credit card, or even your smartphone, you'll have a discreet and convenient place to keep them close at hand.
Available in a range of sizes and colors, these Lululemon Align High-Rise Pants 25″ deliver the perfect blend of style, comfort, and performance. They are sure to be your new favorite, whether you're perfecting your pose or running errands around town.
Advantages:
Buttery-soft Nulu™ fabric for unmatched comfort.
Four-way stretch and sweat-wicking for optimal performance.
High-rise waistband with convenient pocket for essentials.
Versatile styling, suitable for both workouts and daily wear.
Range of sizes and colors for personal customization.
Durable material blend (81% Nylon, 19% Lycra) for longevity.
You can see these yoga pants here
2. 90 Degree by Reflex Power Flex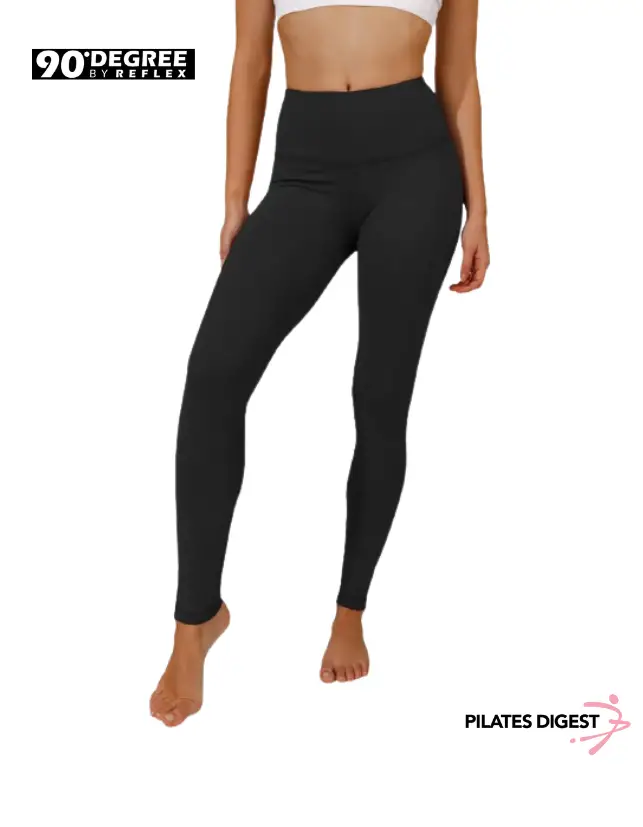 Experience ultimate comfort and flexibility with our 90 Degree by Reflex Power Flex Yoga Pants. Designed with the active woman in mind, these yoga pants offer superior performance and style, all at an affordable price.
Our high-quality fabric blend is breathable and moisture-wicking, ensuring you stay cool and dry during even the most intense workouts. The 4-way stretch technology allows for a wide range of movement, while the interlock seams minimize rubbing and chafing, enhancing overall comfort.
The Power Flex Yoga Pants feature a high waistband, providing excellent tummy control. They are equipped with a hidden pocket in the waistband, perfect for storing your essentials while you work out. The versatile design of these yoga pants makes them not only perfect for yoga, but also for running, cycling, pilates, and more.
Our signature 90 Degree by Reflex logo is subtly placed on the hip, adding a stylish touch to these functional yoga pants. Available in a variety of colors and sizes, there is a perfect pair for every woman and every workout.
Invest in a pair of 90 Degree by Reflex Power Flex Yoga Pants today, and experience the difference in comfort, quality, and style.
Advantages:
High-quality fabric for breathability and moisture-wicking.
4-way stretch technology for enhanced mobility.
High waistband for excellent tummy control.
Convenient hidden pocket for storing essentials.
Stylish design for versatility and fashion-forward appeal.
Available in various colors and sizes for all body types.
You can see these yoga pants here
3. Alo Yoga High-Waist Airbrush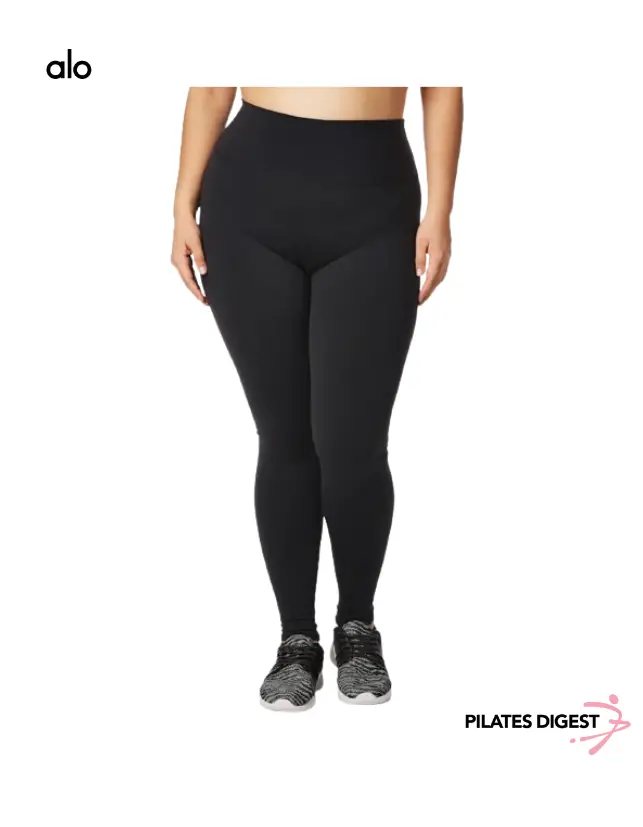 Elevate your yoga sessions with Alo Yoga Women's High-Waist Airbrush Leggings. These leggings will make you feel as good as you look with their exceptional quality, fit, and style.
Engineered with Alo Yoga's signature Airbrush fabric, these high-waisted leggings are designed to fit like a second skin. The four-way stretch material ensures ultimate flexibility and movement, while the moisture-wicking capabilities keep you cool and dry throughout even the most intense workouts.
The high-waist design not only flatters your natural shape but also provides secure coverage and support. The smoothing and contouring effect of the fabric creates a slimming silhouette that empowers you to move with confidence. Additionally, the leggings are entirely squat-proof, meaning they maintain their opacity and fit, regardless of how much you bend or stretch.
Designed with functionality in mind, the leggings also come with a hidden inner pocket that allows you to store your essentials, like keys or cards, securely and conveniently.
Available in a range of colors and sizes, the Alo Yoga High-Waist Airbrush Leggings are as versatile as they are comfortable. Whether you're powering through a vigorous vinyasa flow, embarking on a relaxing meditation session, or just enjoying a casual day out, these leggings are the perfect blend of fashion and functionality.
Feel the difference of Alo Yoga's High-Waist Airbrush Leggings – your new go-to for all things fitness and beyond!
Advantages:
The four-way stretch fabric ensures maximum flexibility and movement.
High-waisted fit for secure coverage and flattering silhouette.
Moisture-wicking technology keeps you cool and dry.
Hidden inner pocket for convenient storage of essentials.
The squat-proof design maintains opacity and fit.
Versatile for yoga, workouts, or casual wear.
You can see these yoga pants here
4. Ododos Out Pocket High Waist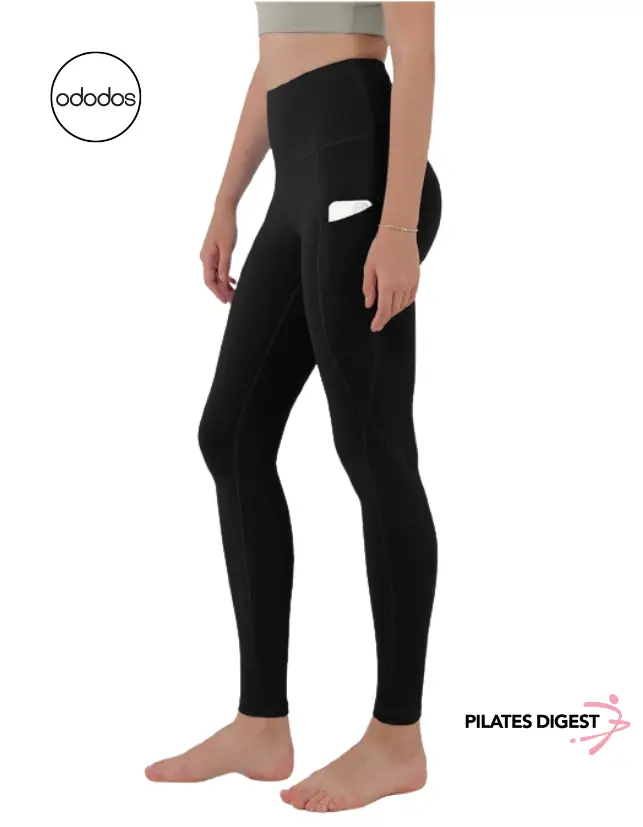 The Ododos Out Pocket High Waist leggings are designed to provide maximum comfort and coverage while allowing you to move freely during various activities. These leggings are made from a blend of 72% Polyamide and 28% Elastane, with the inner fabric being 76% Polyester and 24% Spandex. The combination of these materials ensures a stretchy and moisture-wicking fabric that keeps you comfortable and dry throughout your workout or daily activities.
Key features of the Ododos Out Pocket High Waist leggings include:
High-Rise Design: The wide waistband is designed to eliminate the "muffin top" effect and provide maximum coverage, allowing you to bend and stretch with confidence.

4-Way Stretch & Moisture Wicking: The leggings offer complete coverage and are designed to wick away moisture from your body, providing lightweight comfort and quick-drying capabilities.

Smartphone Pockets: These leggings come with two side pockets, perfect for carrying your phone or other small essentials while you're on the go.

Flat-Lock & Buttery Soft Seams: The leggings feature chafe-free and ergonomic seams, ensuring a natural range of motion and optimal comfort. Whether you're lounging, running errands, or practicing hot yoga, these leggings will keep you feeling comfortable.

Money-Back Guarantee: Ododos offers a 100% full money-back guarantee. If you don't love their products, you can return them within 30 days with no questions asked.
Advantages:
High-rise waistband for no muffin top.
4-way stretch for unrestricted movement.
Moisture-wicking fabric keeps you dry.
Two side pockets for smartphone storage.
Chafe-free seams for added comfort.
100% money-back guarantee for peace of mind.
You can see these yoga pants here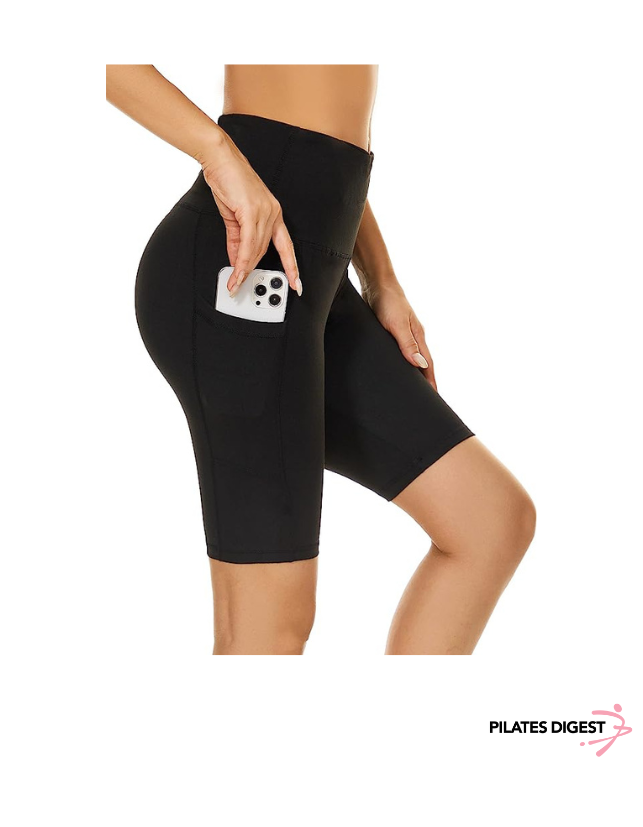 Composed of 83% Polyester and 17% Spandex, these high waist yoga shorts imported from quality sources boast both durability and comfort. The convenient pull-on closure allows for easy dressing, while the recommendation of hand wash only ensures the longevity of the fabric's top-notch quality.
Our Custer's Night Out High Waist Yoga Shorts offer two types of materials, randomly provided for each product: a high-performing mix of 83% Polyester and 17% Spandex. These shorts have been expertly designed with high-end fabrics that effectively wick moisture away from your body, maximizing your comfort during any physical activity.
Employing a 4-way stretch and non-see-through fabric, our shorts are perfect for yoga, exercise, fitness, workouts, and even everyday use. They provide the flexibility you need without sacrificing your privacy.
The tummy control mid-length design is paired with a high-waist active elastic waistband, which ensures exceptional hold. It's fabulous, stylish, and perfect for keeping the shorts in place during your workout routines.
Lastly, a secure hidden pocket has been incorporated into the design for simple storage. Easily store small items such as keys or credit cards, allowing you to keep your essentials close during your exercise sessions. Embrace style, functionality, and comfort with the Custer's Night Out High Waist Yoga Shorts.
Advantages:
High-quality fabrics for optimal moisture wicking and comfort.
4-way stretch and non-see-through design for flexible workouts.
High-waist active elastic waistband ensures a secure fit.
Tummy control feature promotes a flattering silhouette.
Convenient hidden pocket for storing small essentials.
Versatile for yoga, fitness, and everyday wear.
You can see these yoga pants here
Buyers Guide
Before you go and purchase those yoga pants you've kept in your basket. It's better to have all the information you need.
This buyer's guide has all the details you need to know about yoga pants before you purchase your own. 
Length And Style
The first thing to think about when choosing a pair is what length and style are suitable for you and the type of yoga you do.
Nobody wants their poses to be hampered by their attire, and no one wants to wear something that is unflattering or uncomfortable.
Whether you prefer a full length yoga pants, flared leg or straight the length is completely personal preference.
Opting for a capri or short length will provide less coverage but more breathability if you live in a hotter climate.
In terms of style, many find practicing yoga in a flared leg to be rather irritating.
With extra fabric interfering with their movements, however, some find the more fitted legging style too restricting. 
Yoga Style
The type of yoga that you practice can have a large effect on the style of pants you choose to wear. 
If you are new to yoga or prefer a more simple style of stretching, basic yoga might be where you begin.
Most tight leggings have enough elasticity so they won't feel constricting, and if you choose a looser pair, the additional fabric around your calves and ankles won't get in the way.
However, if you prefer something like Hot Yoga you need to have the right yoga pants. Short capri or styles of pants will work best in giving you more breathability.
They're so light that you won't even realize you're wearing them.
You should also pay particular attention to the fabric's texture and fit, since you don't want to be continually pulling them up during class. 
Looser, full length cuts of pants are more desired by those practicing gentle forms of yoga. When holding poses for upwards of 3 minutes you don't want to be constricted and uncomfortable. 
Materials
There are three material options for yoga pants: cotton, synthetics and cotton-synthetics blend. Each coming with their own advantages and disadvantages. 
Cotton will provide a softer feel to the product. With a faster rate of absorbing moisture you'll have less worry about sweat coming through as you're working out.
However, cotton isn't as breathable as other materials. This means you may find yourself sweating more easily and feeling hotter than usual. 
You'll be aware of synthetics in your yoga pants. More commonly known as Polyester, Nylon and Spandex.
These are found in yoga pants in order to give them the flexibility and stretch you need throughout your yoga class.
Synthetic material provides strong shape retention to their products keeping you secure and sculpted for longer.
Although, it has been documented that once they dry after a hard, sweaty session, pants made of synthetic materials can hold a stronger smell. 
Cotton-synthetics combine the softness of cotton and the shape-holding abilities of synthetic materials. Best of both worlds.
Finding this blend in your yoga pants can feel like hitting the jackpot, however, you'll often find a higher price tag along with it.
They are more of an investment with a higher return rate than those with isolated materials. 
Features
As the market of yoga pants increases, brands are having to find new ways to make their products more exciting and desirable. 
A gusset insert solves the problem of a single pressure point where four seams meet, as well as distributing stress throughout the crotch seams, making your yoga pants more durable.
You want a pair with a gusset for comfort and mobility of motion, regardless of the material or form.
Before you buy your next pair of yoga pants, make sure to verify that region, or double-check the specifications if you're purchasing online.
Another feature added to yoga pants are some handy pockets. Small enough to not ruin the look of the pants but big enough to store your keys, cards and sometimes your phone.
Perfect for when out running errands or had to take the car to your class. 
Frequently Asked Questions
When looking for a new pair of yoga pants, whether you're a newbie or advanced yogi there are always some questions that need to be answered.
Below you'll find commonly asked questions and their answers!
What To Wear With Yoga Pants?
Yoga pants aren't only good workout clothes; they're also great for activities outside of the gym.
They're the ideal travel companion and an unexpected but lovely complement to your date-night ensemble.
There's nothing wrong with layering a shirt and sweater over a pair of yoga trousers for a laid-back vibe.
If you're looking for a method to dress up your leggings, try matching them with a warm sweater and an oversized denim jacket. Add white shoes to keep it cool and casual.
Lunch with the girls has never been easier to style. Have your yoga pants at the ready, pair with over-the-knee boots and a long cardigan for a cute, easy look. 
What Is The Difference Between Yoga Pants And Leggings?
Leggings and yoga pants are frequently interchanged. Yoga pants are made of a thicker material that is both flexible and moisture-wicking.
Yoga, Pilates, running, and gym workouts are all fantastic activities to do in a pair of yoga pants.
Leggings are more a fashion choice. Perfect for layering as the weather becomes colder. They are considerably more delicate in material and used for lounging. 
However, no one said you can't use yoga pants for both. 
What Kind Of Underwear Do You Wear With Yoga Pants?
Nobody wants their underwear lines to be visible to the entire gym or grocery store, but it might be difficult to know what underwear won't show through your leggings.
Cotton underwear, which is overly thick and holds moisture,are not recommended to be worn with yoga pants because they are too tight on the body.
Seamless, sweat-wicking underwear is your best bet for staying hidden and feeling comfortable throughout your workout.
Final Thoughts 
It's easy to get caught up in the fashion side of yoga as the popularity of the discipline and the yoga gear industry rises.
Yoga is about discovering one's actual self, no matter what you're wearing, and breaking free from the cycle of birth and death.
The greatest yoga pants, in the end, is the one that allows you to move freely during your flow; yet, it doesn't hurt to look good while doing so.
Look for a pair of yoga pants that fit your every need. From breathable to moisture absorbent, there is a pair that does it all. Keeping the price low doesnt mean missing out on high quality. 
Make sure to read our five best yoga pants on the market to find the right pants for you!