Article Reviews
Best Pilates Socks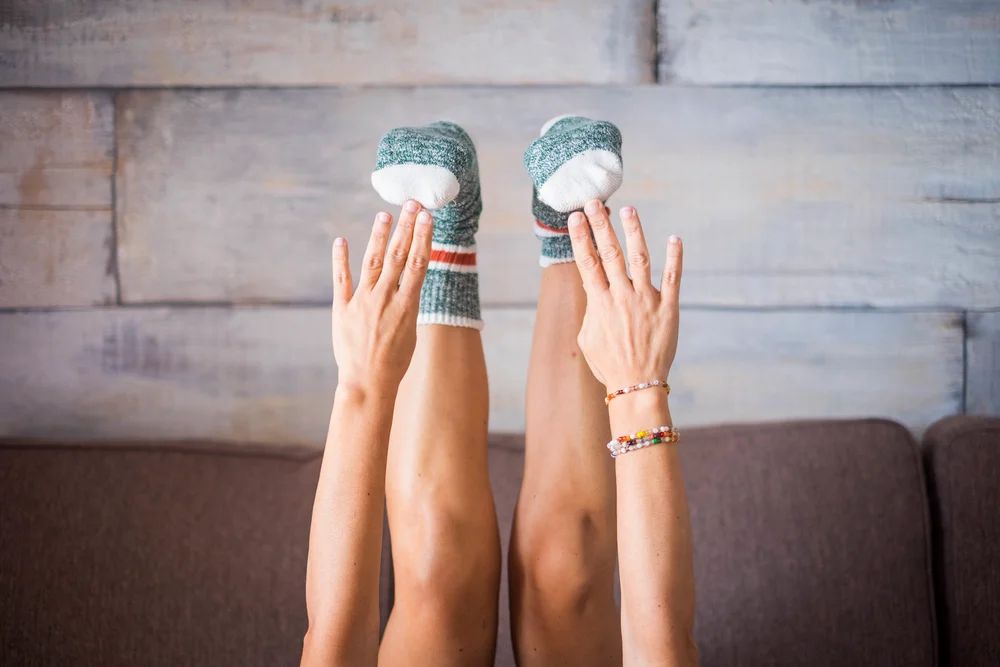 When you picture someone doing pilates, you usually think of someone standing barefoot in a variety of different poses. Many people think that this is the best option, but this is certainly not the case.
Sure, barefoot pilates can be good for more experienced practitioners, but if you're just getting started then it's a good idea to invest in a decent pair of pilates socks.
After all, if they have the right grips on them then they can help you to maintain your balance and prevent you from slipping on the floor.
Of course, if you've never purchased a pair of pilates socks before then you may not know exactly what you are looking for. Thankfully, you don't need to worry!
Read on to find out more about our picks of the best pilates socks on the market, along with a handy buyer's guide and FAQ to help you to make your decision. 
1. LA Active Grip Yoga, Barre And Pilates Socks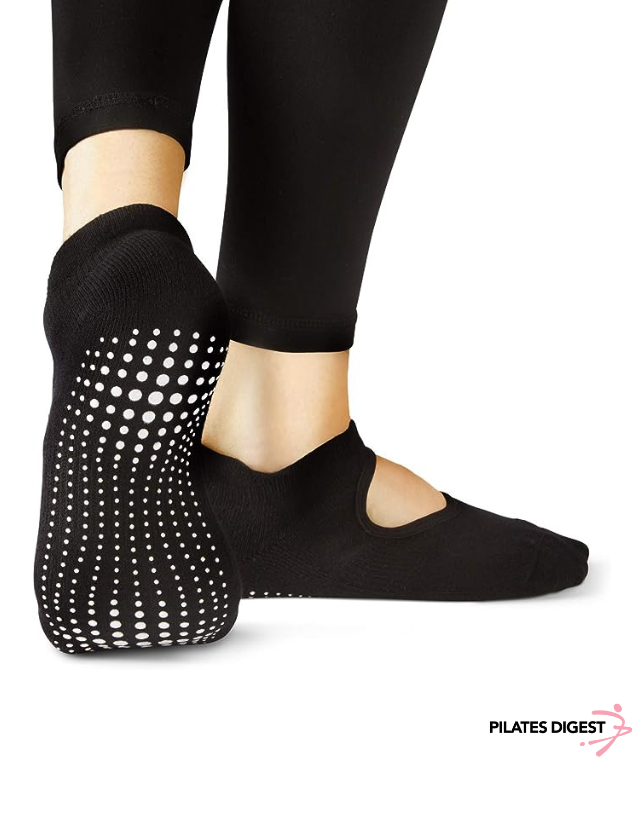 Breathable Comfort: Our unique blend of cotton and PVC is engineered to absorb sweat and keep your feet dry. The soft combed cotton provides a luxurious touch, keeping your feet fresh during rigorous exercises.

Enhanced Grip: Experience stability like never before! The non-skid PVC particles on the sole increase friction, preventing falls and slips. Whether you're in a yoga pose or dancing ballet, these socks will keep you grounded.

Clean & Hygienic: With the closed-toe design, your feet remain clean and insulated from cold or hard surfaces. Our specialized fabric also ensures dry and odor-free comfort throughout your workout session.

Ergonomic Design: The mid-calf design, padded heel tabs, and cushioned Terry Soles have been thoughtfully integrated for prolonged comfort. Easy sorting is facilitated with sizes printed inside the opening. Durable and stylish, they're perfect for daily activities and sports alike.

Soft & Stretchy: Move freely and spread your toes naturally. The thick, flexible fibers provide the perfect balance of support and mobility. These grip socks are your ideal home companion and perfect for workouts, hospital stays, and even labor and delivery.
Available in multiple sizes for both men and women, the LA Active Grip Socks are designed to boost your confidence and joy during sports time.
Advantages: 
Breathable Comfort: Absorbs sweat, keeps feet dry.
Enhanced Grip: Prevents slips during workouts.
Clean & Hygienic: Closed-toe design for hygiene.
Ergonomic Design: Prolonged comfort with cushioned soles.
Soft & Stretchy: Offers natural toe movement.
Versatile Use: Perfect for home, workouts, hospitals.
You can see these pilates socks here
2. Ozaiic Yoga Socks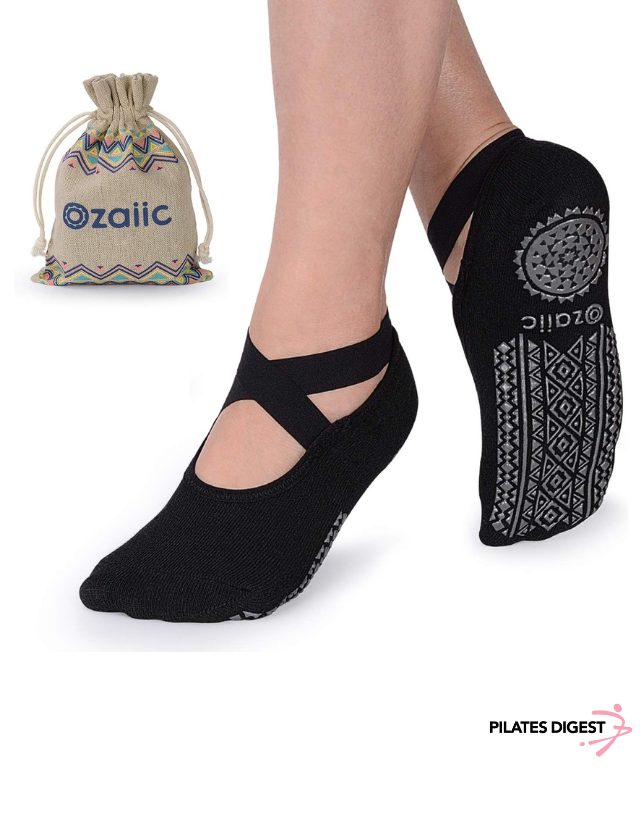 100% Cotton, imported Ozaiic Yoga Socks offer a secure and stylish solution for yoga, pilates, barre, and dance. With anti-skid, non-slip grips and a ballet-inspired design, these socks enhance balance and stability on slippery surfaces.
The beautiful ethnic pattern and elastic straps add flair, while the cutout design allows breathability. Available in one size (fits Women's shoe size 5.5-11), these comfortable socks come in a four-pack or single pair, backed by a money-back guarantee. Enjoy your workout with confidence and comfort!
Advantages: 
Anti-skid design for improved stability.
Breathable cutout for added comfort.
Stylish ballet-inspired appearance.
Fits Women's shoe size 5.5-11.
Money-back guarantee ensures satisfaction.
Available in single or four-pack.
You can see these pilates socks here
3. Grippy Toeless Yoga Socks
Grippy Toeless Yoga Socks – your perfect partner for stability, hygiene, and comfort during any practice. Experience the freedom of barefoot movement with the open-toe design, coupled with superior grip thanks to silicone enhancements. Whether on or off a mat, in the studio, or on the go, these socks will keep you grounded.
Worried about hygiene or slipping? The Grippy Toeless Yoga Socks shield your feet from exposure and sweat buildup, delivering unshakeable balance even in Hot Yoga or while dancing. They are also an elegant alternative to hospital socks and are perfect for household chores.
Designed for both men and women, these one-size-fits-most socks (Women's Shoe 5-10 / Men's Shoe 4-9) are easy to care for – simply machine wash cold with gentle detergent. Whether you're an avid yogi, dancer, or simply someone seeking comfortable stability, the Grippy Toeless Yoga Socks are a versatile addition to your wardrobe
Advantages: 
Open-toe design for enhanced tactile feel.
Superior grip for all conditions.
Versatile use: yoga, dance, household.
One size fits most; unisex.
Protects feet from exposure.
Machine washable for easy care.
You can see these pilates socks here
4. Toesox Low Rise Full Toe Grip Socks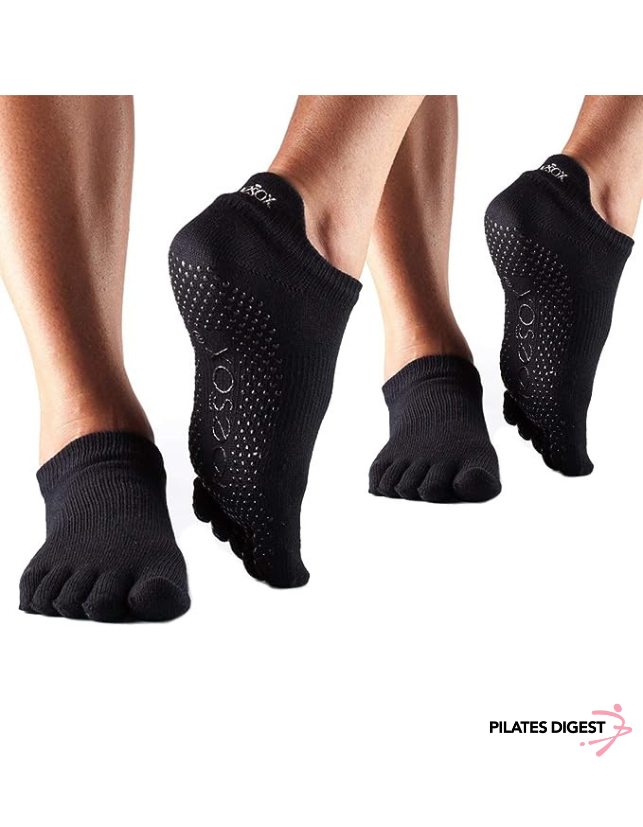 The Toesox Low Rise Full Toe Grip Socks are the ideal companions for various barefoot activities such as yoga, Pilates, barre, and dance. Designed with full toe grips, they allow natural toe movement and provide stability with a non-slip grip sole. The unique 5-toe design helps prevent bunching and twisting, while heel tabs protect the Achilles tendon and arch bands offer support.
Made with 77% Organic Cotton, 19% Polyester, 2% Elastane, and 2% Elastodiene, these socks ensure your feet remain comfortable, clean, and hygienic throughout any workout. Available in attractive color combinations and sizes, they come in 2 and 3 packs. These machine-washable socks are easy to care for and are designed to be line-dried or dried on low heat. With a blend of style, comfort, and function, the Toesox Low Rise Full Toe Grip Socks offer secure footing, making your practice more enjoyable and efficient.
Advantages: 
Supports natural toe movement for various barefoot activities.
Non-slip grip sole ensures stable footing.
Organic cotton blend provides comfort.
Available in attractive color combinations.
Machine-washable for easy care.
Protective heel tabs guard Achilles tendon.
You can see these pilates socks here
5. Muezna Non Slip Yoga Socks
Muezna Non Slip Yoga Socks, designed with precision and purpose for the modern yogi. Crafted from the finest blend of combed cotton and 100% silica grips, these socks redefine comfort and stability in your practice.
Embrace the Newest Design: Adorned with a stylish pattern on the instep and equipped with anti-skid frictions at the bottom, these socks ensure an absolutely effective non-slip experience. Whether you're engaged in Yoga, Pilates, Barre, Bikram, Ballet, or Fitness, your feet will feel secure and stylish.
Experience Superior Comfort: With the combination of Combed Cotton, these socks excel in sweat absorption, keeping your feet fresh and dry. The 100% Silica Grips add to the anti-skid features, providing a sure-footed surface that you can trust.
Protection for All: Not only suitable for fitness enthusiasts, but these Anti-skid socks also offer safety and support for pregnant women, hospital patients, and the elderly, protecting them from potential nasty falls.
The Perfect Gift: Packaged in an elegant gift bag, these socks are an ideal present for your loved ones or a treat for yourself. The complimentary bag also ensures easy and clean storage.
One Size Fits Most: Crafted to fit Small/Medium sizes (women's shoe US 5-10), the 2 Pair pack comes in versatile Black and Gray shades.
Your Satisfaction, Our Guarantee: We believe in our product, and we want you to as well. If you're not satisfied with our socks within 60 days of your purchase, we'll promptly refund your order, no questions asked.
Indulge in a pair of Muezna Non Slip Yoga Socks and elevate your practice with comfort, style, and security.
Advantages: 
Anti-skid design ensures stability during exercise.
Combed Cotton enhances sweat absorption.
Suitable for various activities like Yoga, Ballet.
Free elegant gift bag included.
Fits most Small/Medium sizes.
60-day 100% satisfaction guarantee.
You can see these pilates socks here
Buyer's Guide
You can't just buy any old pair of socks on the market if you want ones that will be good for your pilates workouts. You need to put careful consideration into the socks that you choose in order to ensure that they are the best possible choice for you.
If you get the right pilates socks then you may find that your workouts are much better in general because you have the right grip. Here's everything that you need to know.
What Are Pilates Socks?
Pilates socks aren't the same as regular socks. As the name suggests, pilates socks are designed specifically for pilates practitioners to use.
They are typically designed to be ultra durable and they also have a good grip to ensure that the wearer doesn't slide across the floor or slip when they are working out.
You can get a variety of different kinds of pilates socks – some of them even separate the toes which is ideal if you need more flexibility when you are doing exercises that heavily involve the feet. 
There are actually some kinds of pilates classes that require you to wear a decent pair of pilates socks, so they're a real necessity if you are looking to get into pilates in any capacity. 
You may also see pilates socks referred to as yoga socks or grip socks. 
Why Do I Need Pilates Socks? 
Pilates socks are beneficial for a number of different reasons. Perhaps the number one reason to buy pilates socks is that they provide you with good grip when you are doing pilates.
This is important for getting the most out of your pilates sessions since it means that you are less likely to slip and fall. 
In addition to this, pilates socks can also be very beneficial in helping you to maintain proper posture. This is because they help to ensure that the feet and the toes will stay in the proper place when you are exercising.
If you are worried about your bare feet touching the dirty floor, you also don't need to worry too much if you have a decent pair of pilates socks on hand. Your feet simply won't touch the floor or a second hand mat because they will be well protected by the socks. 
Things To Consider
So what factors do you need to think about when you are buying pilates socks? Here are some suggestions. 
Material
One of the most important factors to think about when you are buying pilates socks is the material that they are made out of. After all, you want your feet to be comfortable! It's generally best to opt for cotton pilates socks.
Not only are they incredibly comfortable to have on your feet, but they typically don't tend to retain moisture too much. The good ventilation properties of cotton socks helps to ensure that sweat from the workout doesn't stay inside of the socks, creating smells and discomfort.
If you want socks that are extra comfortable then you should definitely look for ones that have seamless toes.
Cost
Whenever you're buying pilates socks, or any product for that matter, it's a good idea to think about the cost of the item in question. Pilates socks can come in a variety of different price ranges. Some of them are much more affordable than others.
The price can sometimes be an indication of quality, however. Don't just buy the cheapest pair of pilates socks in the market. Check out the reviews for the socks – are they worth buying?
The short term cost may seem attractive but if the socks are terrible then you're going to find yourself replacing them in just a few weeks and wishing you'd bought the more expensive pair of socks in the end.
Don't just consider cost when buying your pilates socks – think about the entire picture.
Grip
The main thing that distinguishes pilates socks from regular socks is the grip. If you use regular socks for pilates then there is a good chance that you will slip and slide across the floor when you are exercising, which can result in injury.
If you get a good pair of pilates socks that have a strong grip then you don't need to worry about this. It's also important that you look specifically for products that have a long lasting grip since the grip can sometimes fade away on some socks that don't have this feature.
Style
Pilates socks can come in a variety of different styles and colors, so you are almost certainly going to be able to find the perfect pair for you. There are some that are just plain colors like black which is ideal if you want something more neutral.
Alternatively there are also pilates socks that are available in funky colors and patterns. You should also think about what kind of socks you would like – do you prefer longer socks or ankle socks?
Would you prefer socks that go over the toes or would you prefer for the toes to be free for your exercises? These are all things that are worth taking into consideration.
Brand
Brand isn't necessarily the most important thing – after all, you can find pilates socks from brands that are pretty much unknown and they're still good.
With that being said, the brand is still something that you should try to take into consideration since certain brands are typically well known for a reason.
If a brand is well known and loved by most customers, it's worth taking heed of that since it can be a good indicator that the socks will be of a high quality. 
Durability
It's always a good idea to check out online reviews of pilates socks. After all, the last thing that you want is to buy poorly made socks that last less than one wash. Make sure that you are choosing a pair of socks that will stand the test of time. 
Frequently Asked Questions
Can I Put My Pilates Socks In The Washing Machine?
You don't need to worry – you aren't going to have to constantly wash your pilates socks in the sink. You should always check with the manufacturer of your specific socks of course, but most pilates socks are suitable for machine washing.
With that being said though it's best to avoid extra hot temperatures when washing or drying the socks. If you want them to dry then you should put them out to air dry instead of using the dryer. This will help them so last for much longer.
How Long Will My Pilates Socks Last?
The answer to this question depends on the socks in question and how well you take care of them. If you look after them and you buy a high quality pair of socks, then you could expect them to last anywhere from 6 to 12 months, sometimes longer.
Are Barre Socks And Pilates Socks The Same?
Barre socks and pilates socks are pretty much the same thing. They are both typically cotton socks that have little dots on the bottom made out of rubber that are there for the grip. Therefore, if you do barre and pilates you can use pilates socks for both if you wish.