Article Reviews
Best Pilates App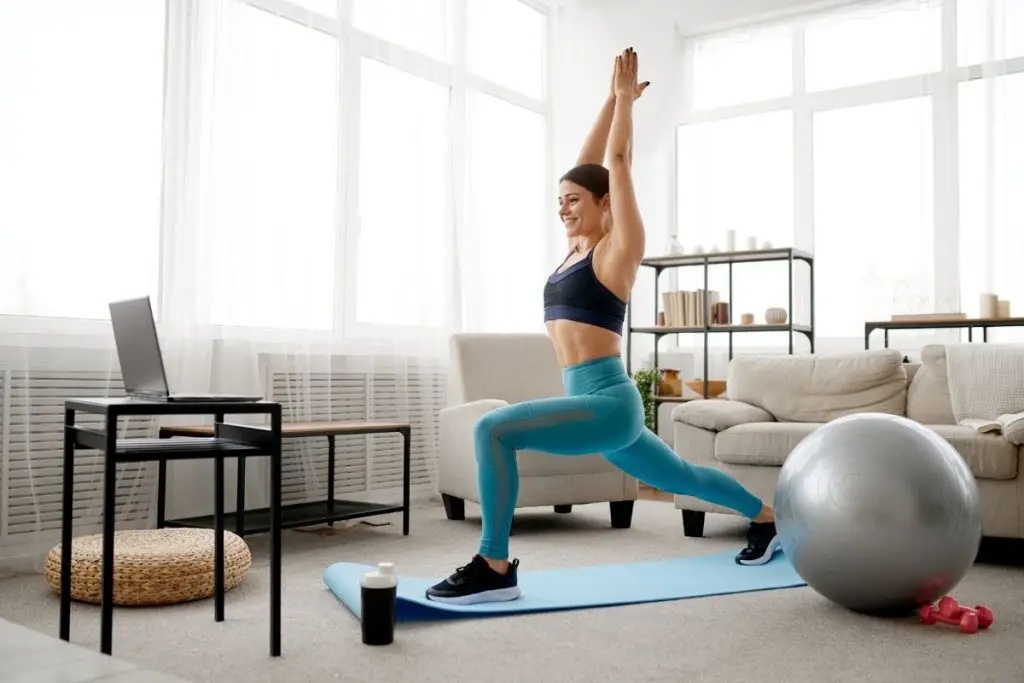 Best Pilates App
Pilates focuses on our body's core strength and it can help us improve movement of our joints and fitness levels. 
But traditional Pilates can also tone our muscles, which makes it the idea all-round workout for many.
Specific exercises boost flexibility and even correct your posture over time.
With all these health benefits for body and mind, Pilates has seen a huge increase in popularity in the past years.
Not just traditional studios found their classes fully booked but also virtual Pilates classes have boomed.
Online Pilates workout is ideal if you cannot travel to a studio or you just want to do Pilates in the comfort of your home but with a qualified instructor.
We take a closer look at the best Pilates apps, and what you can expect from them. We'll also find out which one is best, and what you need to know before committing to any of these apps.
The Best Pilates Apps
The good news is that there are hundreds of great apps for Pilates workout out there.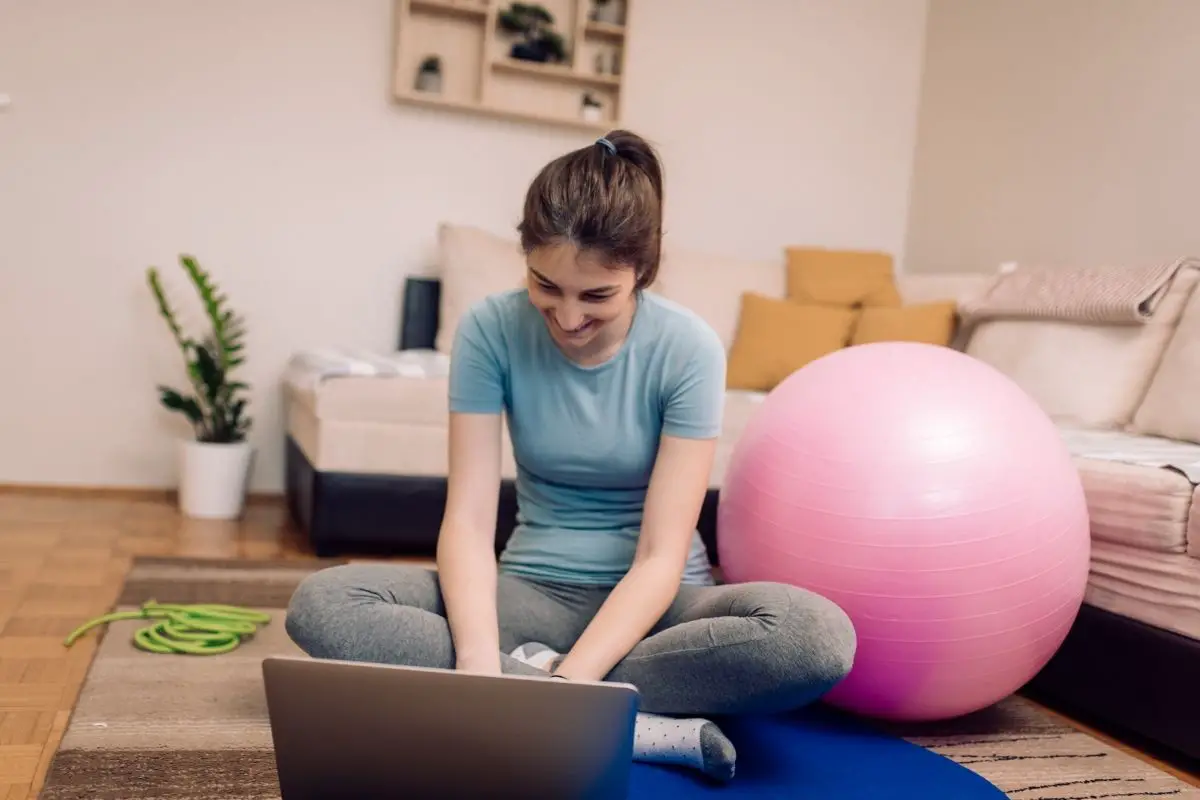 However, not all of them offer the same flexibility and quality that a Pilates session should give you.
We tested some of the best Pilates apps on the market, and here is the overview with some pros and cons for each.
We'll also tell you which one came out at the top.
Pilatesology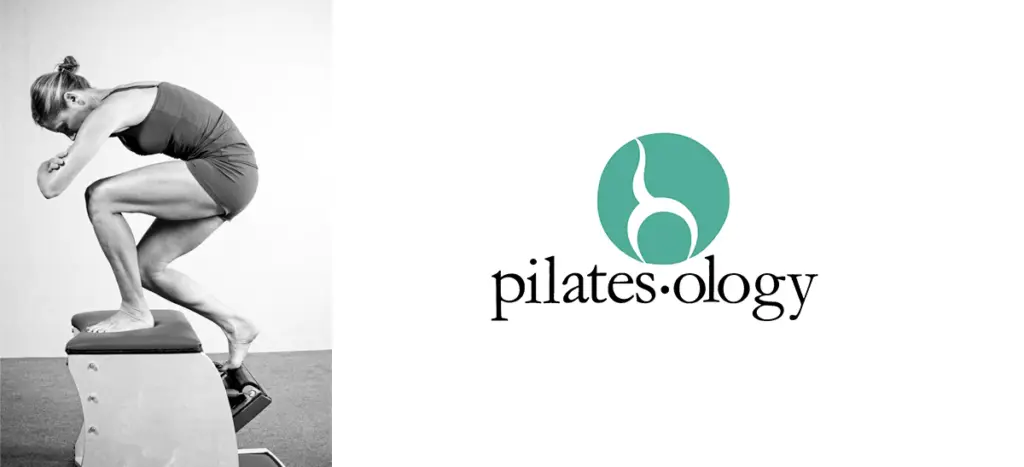 Pilatesology have received some excellent reviews for the online Pilates classes. They offer a range of beginner courses as well as advanced workouts.
Their qualified instructors are trained in classical Pilates. We particularly liked the Intermediate Mat Blast with instructor Alisa Wyatt.
The video is just a little over half an hour long and it's ideal for everyone who already has a little bit of experience with Pilates.
But even if you are not too familiar with all the exercises, the instructor gives some great verbal cues, and there are also text captions. This makes the workout easy to follow all the way through. 
Pilatesology often run free trials where you can try out different classes that suit you before you sign up for a monthly subscription.
The app is available on Android and iOS, so you can access it quick and easy with your phone.
Pros
Great instructions with each video which makes it very easy to follow
Free trials so you can try before you buy
Choose from over 1,600 classes 
Cons
Full focus on Pilates, so if you are looking for a general fitness app, then this may not be the one
Some great technical instructions which can be difficult to understand for beginners
You will need some equipment for a few of the classes
You can download the Pilatesology app here
Alo Moves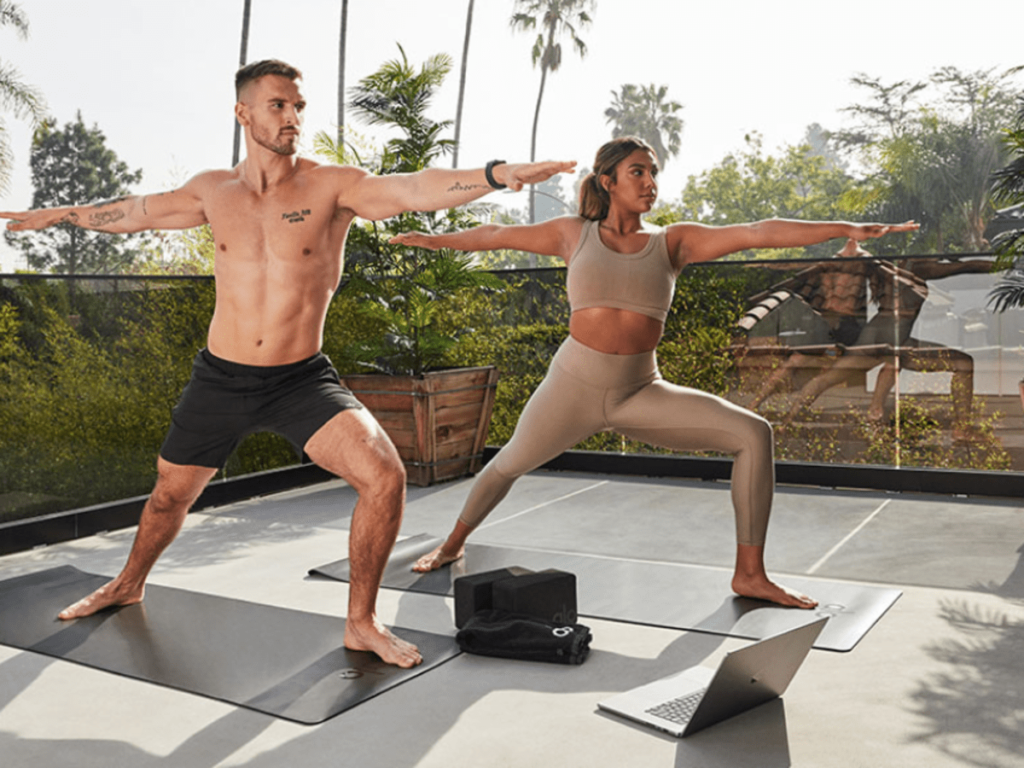 Compaared to Pilatesology, Alo Moves is much for of an all-round app. It offers classes for yoga, Pilates, mindfulness and even overall fitness.
We really liked the "Pilates Form" class with instructor Tela Anderson.
It uses some great beginner exercises and breaks them down into exercises that can easily be done by everyone just starting out with Pilates.
This class is broken down into six classes, and they focus on movement and the core muscles of your body.
Each class is half an hour long and gives you a good full-body workout that improves your technique and shapes your body.
You will also find some of the classical Pilates exercises, such as Hundred, Roll-Down, Spine Stretch and Single Leg stretch.
We found this class most beneficial when you worked through one class each day of the week, with one day resting.
Do this for four weeks and you really start to feel the benefits.
Once you completed this, you can then move on to the intermediate class.
Alo Moves gives you full flexibility with the app. You can run the videos on your iOS or Android phone, or you can just use the web-based version.
Pros
Very detailed instruction class for beginners
Annual plan or monthly subscription with access to classes for meditation, Pilates, yoga and overall fitness
Cons
Compared to other fitness apps, Alo Moves is more expensive
Some classes are not quite suitable for beginners
Users reported some app glitches
You can download the Alo Moves app here
Pilates Anytime
This may not be one for beginners, but if you are looking for a higher cardio workout with your Pilates classes, then give some of these advanced classes a go.
Pilates Anytime also offer beginner classes and sessions for intermediate and advanced, so there is plenty to choose from their selection of over 3,700 classes.
We found the transcript that come with the videos very useful.
While the qualified instructors guide you through each exercise, we think you do need a basic understanding of some of Pilates exercises.
With their huge choice of exercises, Pilates Anytime is one of the biggest platforms, with the greatest varieties of videos of Pilates classes for all interests and levels.
They also regularly add new videos, so you can always try something new. In addition, Pilates Anytime also offer specific exercises for teachers and instructors.
Pros
One of the biggest platform for Pilates classes with thousands of videos to choose from
Trial the exercises for 15 days, so you know what you can expect
Each video has a full transcript that help you through each exercise
You can run the videos on iOS, Android, Roku, Chromecast or Apple TV 
Cons
You will need props or equipment for some classes
Although there is a large choice of Pilates videos, there are no other fitness classes
You can download the Pilates Anytime app here
Daily Burn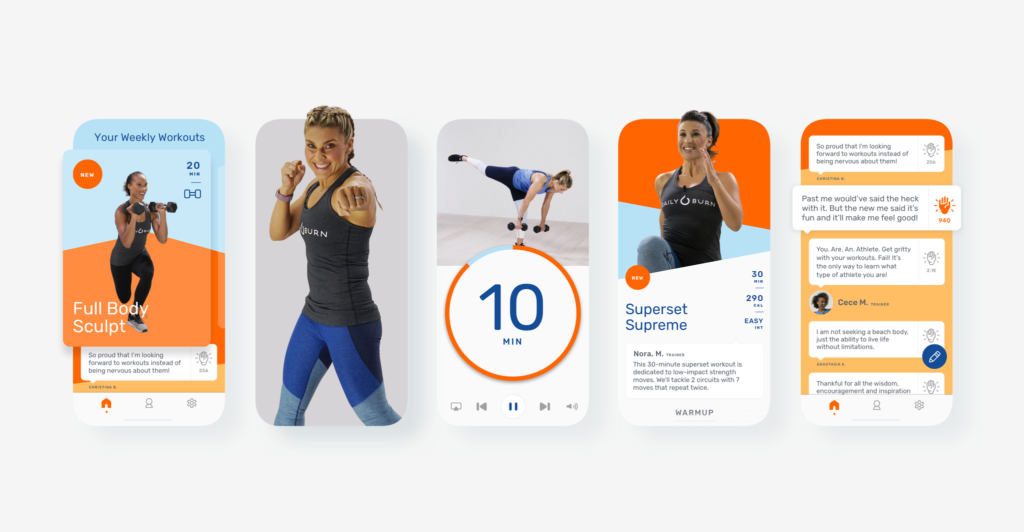 One of the most important things when you are looking for a good workout is a well-structured program that takes you through different exercises step-by-step.
Daily Burn has a variety of classes but we found their "Pilates Phase One" program is very good. 
It takes you through all the classic Pilates basics. Each class varies in length, from a full class that's half an hour to a quick stretch workout.
Once you have successfully completed their Phase One, you are ready to move up to "Phase Two" which has some more advanced classes, including some more technical verbal instructions.
You will need a Pilates Magic Circle for all of these Pilates exercises to get the most out of them.
In comparison to some other platforms, Daily Burn offers the longest free trial with 30 days.
This should give you plenty of time to take a closer look at their Pilates classes, and also the other fitness classes on their site.
If you want to sign up, their rates are fairly standard, but you can choose between a basic plan or a premium plan.
Pros
You can run all Daily Burn videos on iOS, Android, Roku, Chromecast or Apple TV
Great beginner program with plenty of options to learn the basics of traditional Pilates
An extensive free 30-day trial
Classes with varying length, so you can get the most out of your workout time
Cons
You will need some props or equipment for the beginner classes
Unfortunately, there are no individual training options with this app
Some of the programs also need additional subscriptions which can make the app more expensive than others.
You can download the Daily Burn app here
Gaia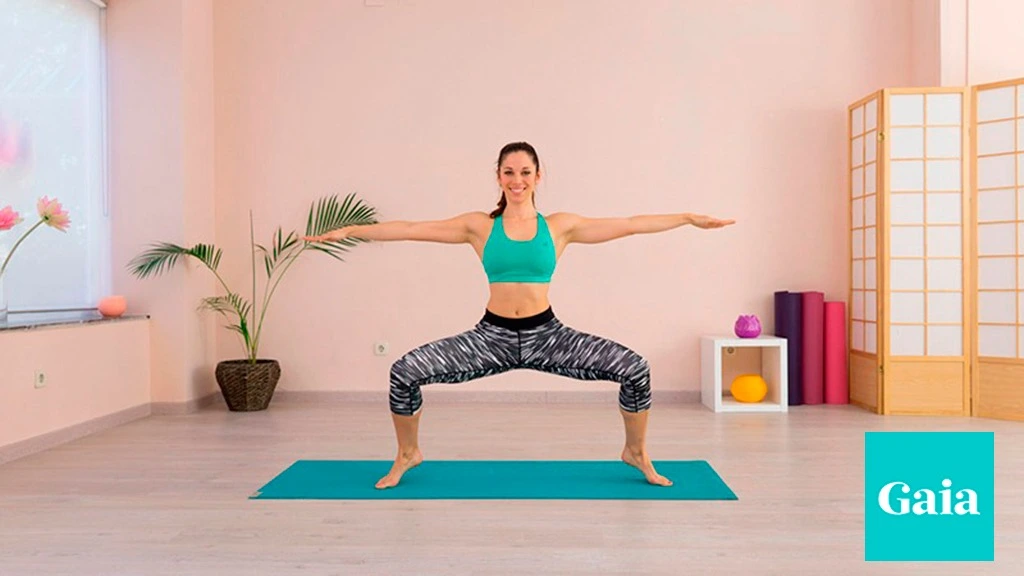 Those who know some of Gaia's documentary film services, they may have spotted yoga and meditation videos on the site as well. But Gaia offers much more.
They also have a vast collection of Pilates videos of varying length. We tried their Supercharged Abs class which is a powerful 13 minutes long.
Although this seems an incredibly short time to get through a proper workout, this class was very effective. It targets almost every muscle in your body with a great sequence of exercises.
You will be using a set of light dumbbells, but you can also use water bottles or other weights, if you don't have all the equipment.
The instructor takes you through each step and provides clear cues on the right alignment and posture. This way, you can really focus on your arms, shoulders, back, chest and glutes.
You can also try the Supercharged Abs class fully free on Youtube. This will give you a taster for some of the other videos on the platform.
Gaia offer a monthly subscription but you can also opt for either their annual package or the monthly Live Access subscription.
Pros
If you opt for the monthly subscription, Gaia is cheaper than other Pilates class apps
The website is relatively easy to navigate
Videos with different lengths, so you can really focus on core body areas
The videos run on Android, iOS, Chromecast, Amazon Fire TV and Roku
Cons
You will need some kind of weights for the exercises
There aren't as many Pilates classes on Gaia as with some other Pilates-specific apps
You can download the Gaia app here
Youtube
Okay, we take your point. This isn't really a specific Pilates app but the amount of Pilates videos you can find on Youtube is huge.
And many other Pilates platforms also offer free taster sessions on their Youtube channels, so you can try them before committing to a subscription.
If you are on a budget, or you just want to try a few Pilates exercises, then this is the best way to get started with Pilates.
Pros
Absolutely free, so you do not need to commit to any monthly subscription
Ideal for beginners to get a taste for some of the Pilates basics
Check out the channels of individual Pilates studios that put on taster videos. You can then be sure that there are qualified instructors guiding you through the exercises.
Cons
No individual Pilates advice from an instructor
With the thousands of Pilates videos on Youtube, it can be difficult to find the right one for your level
You can check out Youtube Pilates videos here
How To Choose The Best Pilates App For Your Workout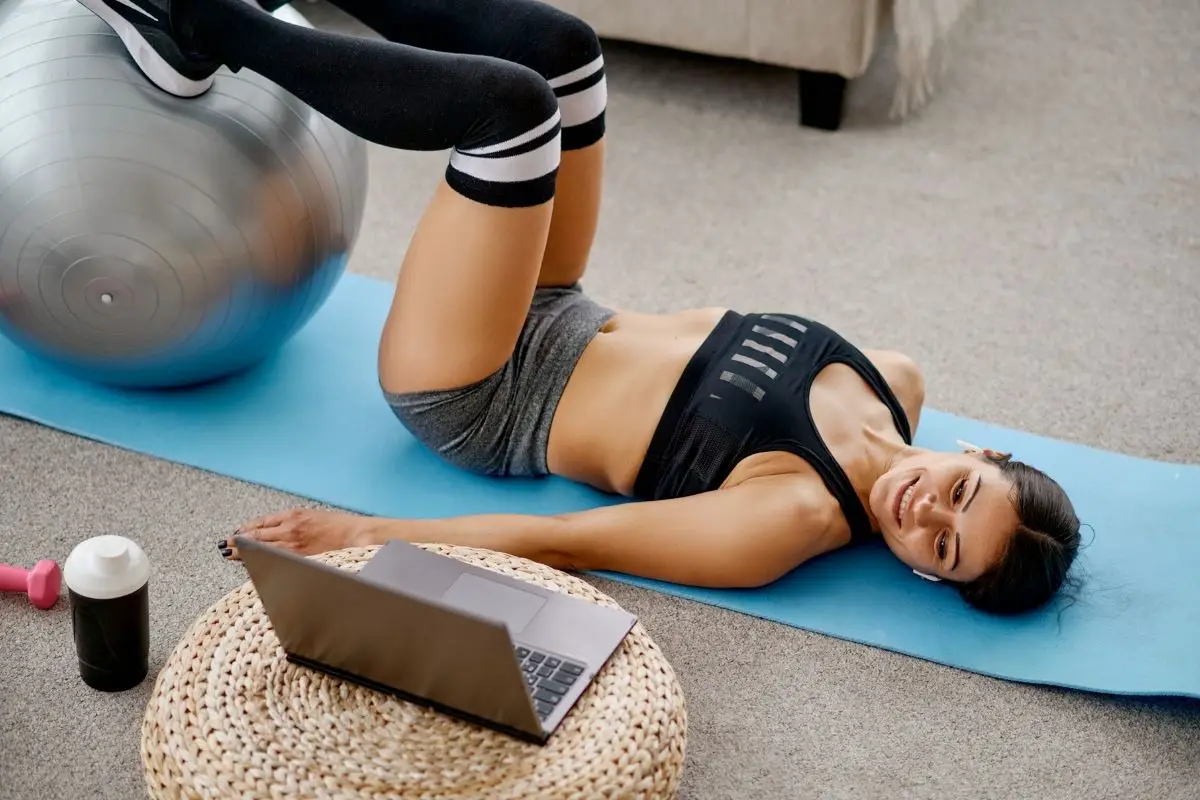 Pilates has become so popular that many Pilates studios also offer classes online and via videos.
As a low-impact activity, Pilates can be done from almost anywhere in your home, and this may feel much more comfortable when you want to try out Pilates.
Before committing to a Pilates class, spend some time looking at a few videos and check out the apps we mentioned above.
But how do you know which Pilates app is right for you? Here is a list of some things to consider when looking for a Pilates app.
Pilates Level
Finding an app that offers the right type of level for you is important, especially when you are new to Pilates.
If you are a Pilates novice and you are not sure about any of the movement, technical terms and the exercises, then you will need an instructor who explains all this patiently in great detail.
This is not just essential to make sure that you can follow the exercises but the wrong movements can also lead to injuries, so make sure that you choose an app that offers classes for your level.
Qualified Instructors
In the thousands of videos and apps with Pilates exercises on the internet, it can be immensely difficult to find a good, qualified instructor.
Many people do Pilates, and then just put a video up, but you should look out for a qualified Pilates practitioner who knows how to explain the exercises and guide you through each step.
Variety Of Videos
Many apps offer a large number of videos but if these videos are all for beginners or advanced Pilates practitioners, then you may not get the best out of the app.
Check that the platform offers enough of a variety of videos on different levels. This way, you can also try more advanced exercises once you picked up on the basics.
Individual Pilates Workout
If you have ever done yoga or other fitness classes, then you may know how important it is to get individual advice from a teacher.
He or she will be able to correct your position to make sure that you are perfectly aligned and do not injure yourself.
Not all Pilates apps offer a more personal service, and if you are just trying Pilates for the first time, then you may not need it yet, but it's an added bonus to have.
Platform
Not all the apps we mentioned above run on every platform. Although the majority support iOS and Android phones, you may prefer to play the videos on your TV.
For this, it's much more practical to have an app that you can access via Chromecast or on your Amazon Fire TV.
Props And Equipment
Many Pilates beginner classes do not use any kind of tools or props. However, the more advanced your classes, the more props, such as weights, you may need.
This also depends on how intense the workout is going to be. For Pilates exercises with a strong cardio element, you will find that the use of props is standard.
Also, different types of Pilates will require more or less equipment.
For example, reformer Pilates does require a reformer, and usually as a beginner, this is something you probably do not want to invest in yet.
Saying this, the basic minimum of equipment you will need to take Pilates classes online is a Pilates mat. You can get them online or in a sports retail shop. 
While in emergencies, you can practice Pilates on a solid carpet or hardwood floor, it is important to keep in mind that a thick Pilates mat will provide cushioning for your joints when going through your exercises.
Costs
Pilates classes online vary widely in price, also depending on the type of subscription you choose.
Monthly subscriptions for digital Pilates classes are more expensive than an annual subscription.
Although you may think that digital Pilates sessions are cheaper compared to any studio classes, this is not always the case.
Make sure that you set yourself a budget and try to stick to it.
What's The Best Pilates App?
We found that the best Pilates app depends on your personal preferences, your experience level, your budget and what types of props you have available at home.
From the different Pilates apps we tested, we found the Pilatesology an excellent choice with a vast variety to choose from.
Although the videos will challenge beginners, instructions give some excellent verbal instructions for all levels of Pilates students.
If you are looking for the biggest range of Pilates videos, then Pilates Anytime is a good option.
If you just want to give Pilates a go and see what it feels like, then check out Youtube. You can find thousands of Pilates videos for free on there.
Final Thoughts
Pilates classes online have quickly become the new norm, and different apps provide students of all levels with a fantastic alternative to the normal studio workout.
Just try a few of our Pilates apps and see what works for you.