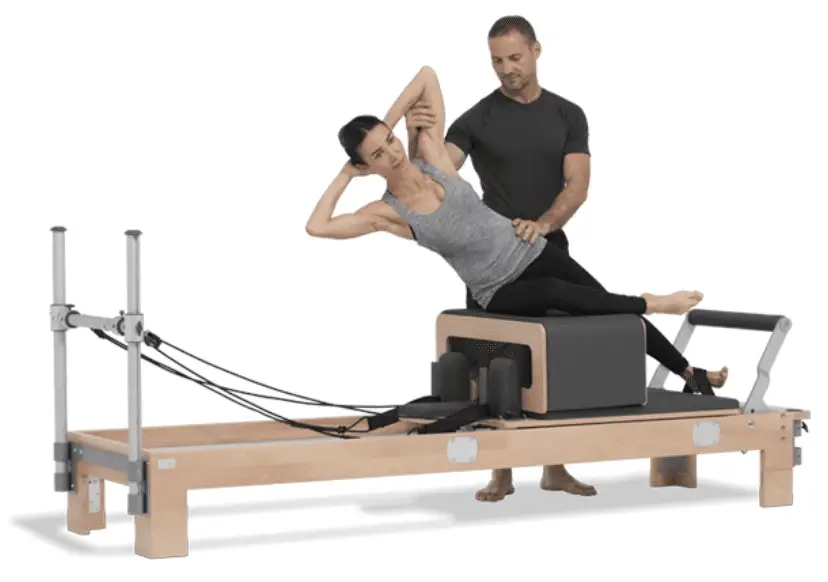 BASI Pilates Reformers – 2023 Model Reviews
BASI Pilates Reformers and other equipment lead the industry in quality and versatility. Based in education, the company has used its many years of experience in instruction and training to design some of the best pieces available for studio owners, instructors and practitioners.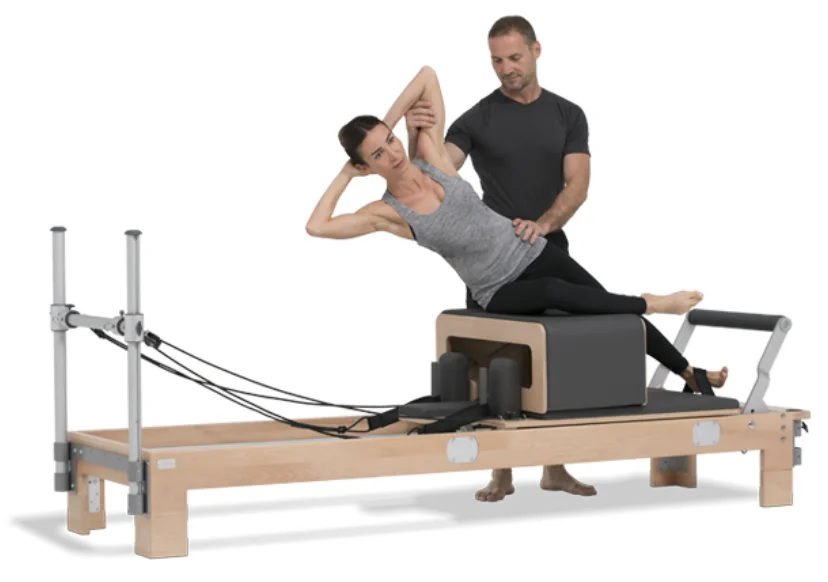 BASI's History in Education
Rael Isacowitz founded BASI, which stands for Body Arts and Science International, in 1989. His intention for the company was to focus on education, to train the next generations of dedicated Pilates instructors. His philosophy that Pilates is a movement system that improves every area of one's life sets the foundation for the company.
The name that Isacowitz chose, BASI, reflects the belief that Pilates requires a balance between science and art, that this is a practice rooted in both disciplines. There is an art to the movements of Pilates and a science to the workouts and the equipment, including reformers.
Today, BASI is a leader in Pilates education, offering some of the most comprehensive training programs in the world. Programs are available in 30 countries, and there are thousands of graduates working in Pilates studios. The BASI instructional method preserves the essence of Joseph Pilates' ideas while also supplementing those with modern research.
About BASI Pilates Equipment – F2 System
The reformer is the foundation of Pilates equipment and for BASI, but the company offers a variety of machines, accessories and attachments to tailor the Pilates practice to each individual and studio. Originally an education-only company, BASI took its decades of experience and applied it to the design and creation of top-of-the-line reformers and other equipment.
The philosophy of art and design that is the overarching principle of BASI extends to reformers and other equipment. BASI designs each piece using scientific principles and modern materials and technology. They also include aesthetics, crafting contemporary, attractive reformers.
The basis of everything BASI makes is the F2 System, a balance between form and function. This is an idea but also a functional system. The F2 System is an upgrade you can add to older reformers. It includes a set of springs, carabiners, handles and connectors for an easy conversion.
The F2 System is innovative and new. Compared to older styles of springs and other components it allows for more versatility in movements, more precise spring angles and more resistance settings. You can even use more than one F2 Systems together to create entirely new types of Pilates movements and exercises.
BASI Pilates Reformers and Equipment
BASI has focused its expertise and design on just one reformer. This popular model is well-respected in the industry and is suitable for studio use. It may be more than a home practitioner needs, but it does offer advanced design, high-quality construction and materials, and a stable, sturdy and durable option for any practitioner or instructor. In addition to the reformer, BASI offers a number of accessories, conversions and other types of equipment to enhance the Pilates experience.
BASI Reformer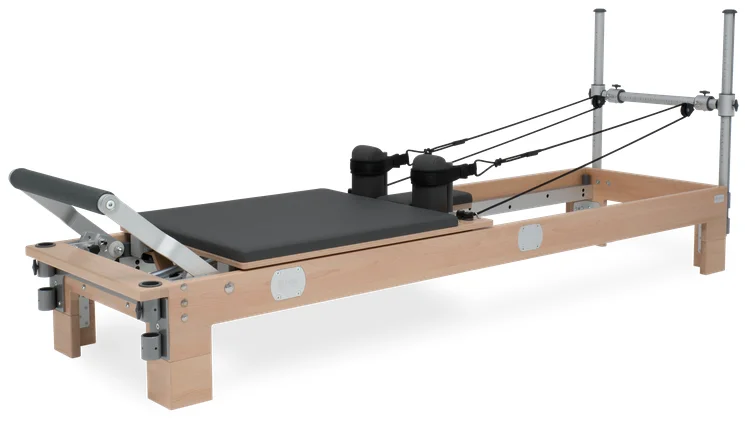 This is the foundational piece of equipment for any Pilates practitioner and the machine that BASI has put all its efforts into perfecting. The BASI reformer is constructed with a wooden frame and aluminum rails. It is sturdy, durable and designed for heavy, long-term use.
The unique pulley system on the BASI reformer is known as the Enhanced Pulley System, or EPS. The EPS is unlike what other brands of reformer offer in that it allows for more fine-tuning of the angles, springs and resistances. The track and cushions in the reformer are longer and larger than any other model in the industry, so it can truly work for anyone. The reformer is also set up for an easy upgrade to the innovative F2 System of springs.
Other important features of the BASI Pilates Reformer include:
A smooth, quiet ride
Adjustable headrest, foot bar, and shoulder rests
Three different gear options for each spring
The ability to easily convert to a tower or combination machine
Wheels for easy moving and storing
Two ropes, two pulleys, six handles, one foot strap and four stoppers
Tower Conversion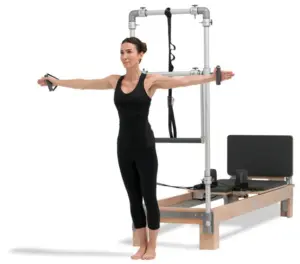 You can convert a BASI Reformer to a tower with an easy add-on package. The tower can be set to full or half height for more flexibility. It includes push-through and roll-down bars, and it is easy to install and set up with just a few tools. A tower system that converts with existing equipment means that you can get more exercises without buying and additional machine.
Reformer Combo Conversion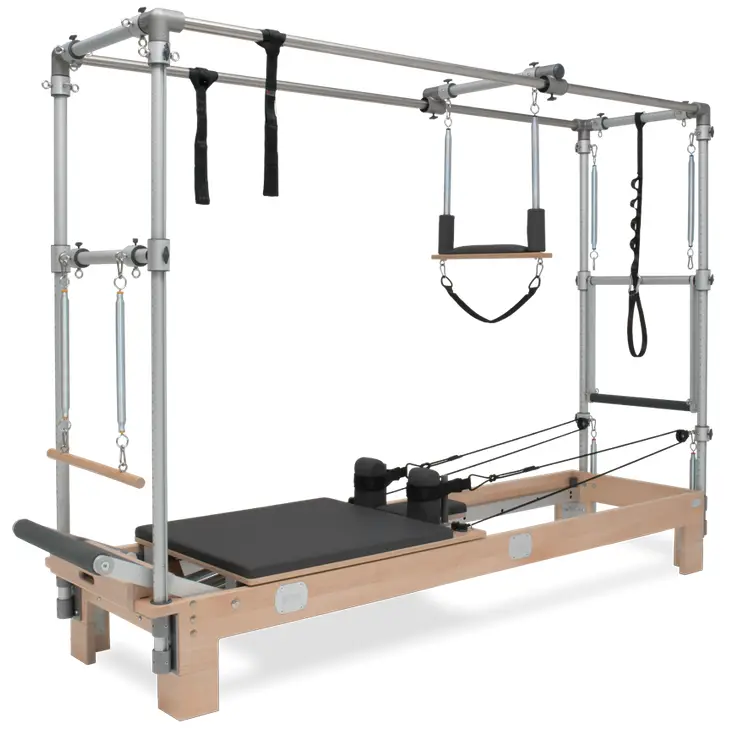 Another easy conversion to the BASI Reformer is the Combo Conversion. This kit includes a full Cadillac and trapeze set up. It allows you to turn your existing reformer into a stable platform with a complete Cadillac setup for additional exercises. A separate Cadillac is costly, but with the conversion kit you can easily and affordably use existing equipment for expanded functionality.
Arm Chair Barrel Set
Two other important pieces of Pilates equipment come together in this innovative BASI set. It offers the functions of both a Pilates chair and a barrel for a range of exercises. The top can be adjusted to change positions and increase comfort for different movements. You can also add the F2 System springs for a superior workout experience.
This set includes a chair, barrel, ladder and box as well as all the components needed to complete a full set of workouts on this equipment. The wood and vinyl components are high-quality and also look attractive. All the parts can be separated for easy movement and storage.
Ladder Barrel
For a simpler piece of equipment that can still provide a range of functions and exercises, choose the ladder barrel. It comes with easy adjustability, a standing platform, a sturdy and attractive beech wood frame, a ladder and the F2 System upgrade capability.
Wunda Chair
For just a chair, the Wunda model offers the same attractive wooden frame and high-quality materials and construction. The unique pedal design of the Wunda provides greater mobility than most Pilates chairs. The transitions are smooth, and you have the ability to fine-tune the springs for precise settings. This chair also comes with F2 System capability.
Additional Accessories
In addition to the main equipment pieces that BASI offers, you'll also find a range of accessories to enhance your workout. The wall tower unit, for instance, allows you to create a tower system in a small amount of space and with the stability of being locked into a wall. Some of the other accessories include:
The Ped A Pull is a stool spring system that allows for both standing and sitting workouts in a compact space. It can be adjusted for height and width to accommodate all users.
The BASI Sitting Box is a great addition to many of the company's other pieces, expanding functionality and increasing comfort.
A jump board can be added to the BASI Reformer for cardio workouts.
The mat conversion allows you to convert easily between reformer and mat work.
With leg extension pieces, change the height of the reformer to meet all needs.
Additional handles, straps, loops, fuzzies, safety straps, mats, poles, cushions, and springs are also available.
For quality, versatility, precision and durability, it's tough to beat the BASI Pilates reformer. Suitable for studios and also practitioners at home, this equipment provides an unbeatable workout experience.