Article Reviews
At Home Pilates Reformer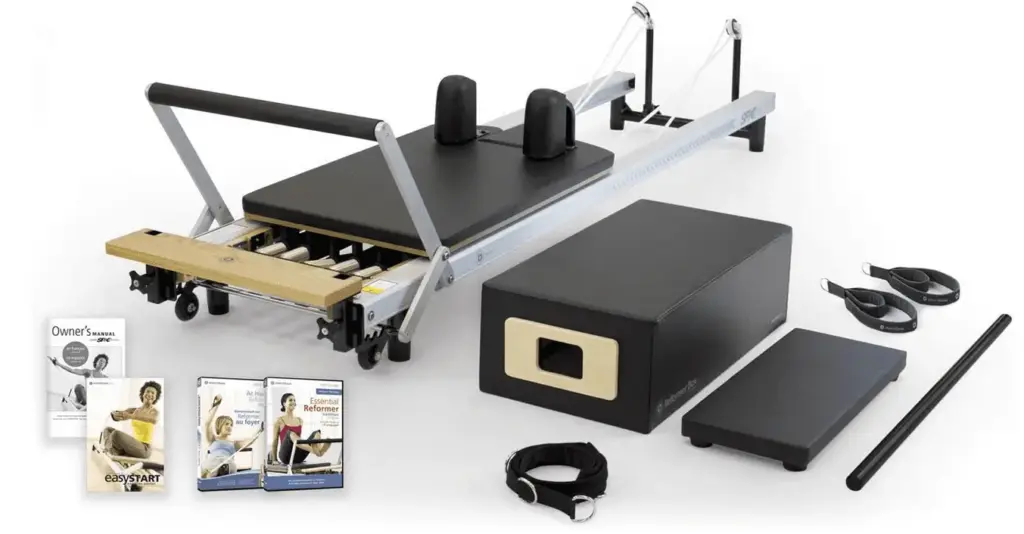 Reviewing the At Home Pilates Reformer
Are you ready to add a Pilates reformer to your home studio? That's a good question. Working out on a Pilates reformer can improve the quality of your home Pilates workouts, making them more intense, dynamic and variable, and help you achieve a perfectly balanced body and spine. However, these machines aren't recommended for beginners. You will need several months of Pilates workouts before considering an at-home Pilates reformer.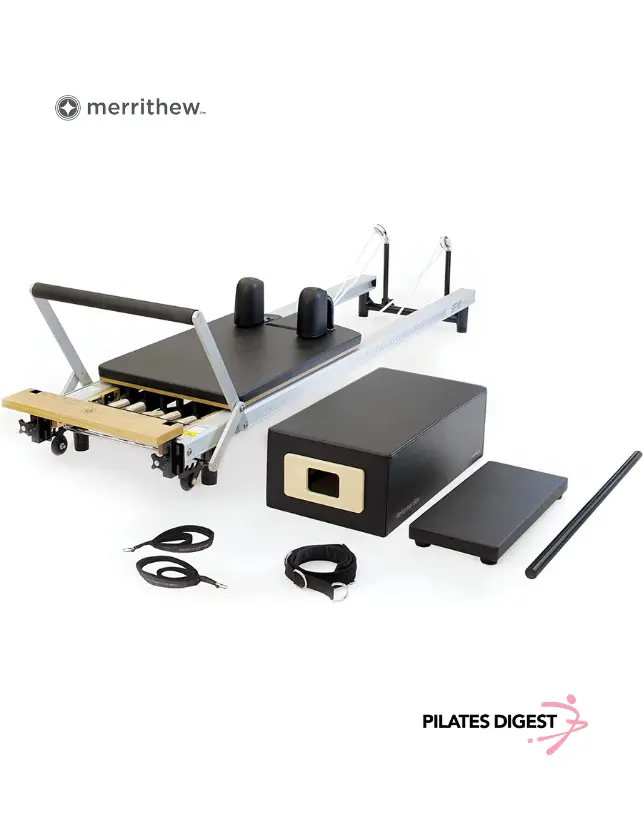 Pilates reformer machines have always been widely available in Pilates studios. However, these days the pandemic has negatively affected our ability to access a Pilates or fitness studio. As such, more and more people are thinking of purchasing a reformer for use in the home. If you are considering buying one, it is worth noting that the convenience and availability of having a Pilates reformer in your home studio will continue to be beneficial, even when you regain access to a public studio.
If you think you are ready to buy, you will want to read more about specific reformers and choose a Pilates reformer machine that best fits your needs. This article is specifically intended to review the Merrithew Stott Pilates At Home SPX Reformer Bundle. However, before getting into the specifics of this machine, let's do a quick overview of Pilates practice. Specifically, let's discuss the differences between Pilates workouts on a mat and reformer workouts. 
What is Pilates and How Does a Pilates Reformer Machine Fit into the Practice?
Joseph Pilates, the founder of this exercise form, believed that spinal alignment was the key to physical fitness. His goal was to create a workout system that developed the back and torso muscles in a way that was uniform, low-impact and promoted natural spinal alignment and a balanced body through a regimen of breathing and specific exercises. Born in Germany in 1883, he was introduced to physical exercise by his father in a successful bid to remedy a childhood filled with physical ailments. Pilates continued to participate in a wide variety of exercises through his teenage years and even during his internment in Britain during World War I. Over the course of several years, he trained in various systems including gymnastics, jiu-jitsu, boxing, wrestling and yoga.
During the time he was in the internment camp, Pilates developed a full-body workout system he called "Contrology." In the modern world, the method of exercise he created is known by his last name: Pilates. Joseph Pilates developed the first Pilates reformers during his days in internment by attaching bed springs and ropes to the hospital beds at the hospital where he worked as an orderly. By using these crudely constructed reformers, he was able to help his patients use resistance to strengthen their muscles and regain fitness, even while they were still bound to the bed with serious injuries. 
In spite of the known history and effectiveness of the reformer, mat workouts are the most widely available form of Pilates today. Mat classes are available in almost any fitness center, thanks to an explosion of the form's popularity through the 1990s and early 2000s. It is recommended that anyone who is beginning a practice start with mat workouts for the first few months before using a reformer. 
Mat workouts use the weight of your body in a series of poses such as leg circles, scissor kicks and planks to build strength. Doing mat work as a beginning student helps you establish the foundation you need before beginning training on a Pilates reformer. As you progress through training on the mat, you can expect to build strength and flexibility, as well as make significant improvements to your posture. Mat work is also great for advanced students who want to challenge themselves to advanced postures without the help of a reformer. 
Pilates machines are designed to support the body in the proper form while adding resistance to a Pilates workout with springs of varying tensions. Compared to mat practice, Pilates reformer workouts allow for a much wider variety of exercises from basic to advanced and in an increased number of body positions. Working out on a reformer gives you higher returns by allowing you to increase your strength and endurance much more quickly. 
Considering the potential for results, investing in a home reformer has the potential to benefit your practice and health in a positive way. So, what features do you need to look for when purchasing one of these machines? The answer may depend on what you are looking for, but in the long run you will need a machine that supports the workouts you plan to do. 
The best Pilates reformers to support your practice will come with several specific attachments. These include a jump board, pull-up bar and a reformer box. In addition, you will want to look for equipment with adjustable ropes and straps, a well-padded, high-quality platform, a sturdy frame and carriage, a comfortable foot bar and easily adjustable resistance springs with varying tensions. Another factor to consider is whether it conforms to your available studio space or storage space. Considering these factors will ensure that you invest in equipment that allows for a wide range of exercises and a full-body workout. 
The Merrithew Stott Pilates At Home SPX Reformer Bundle
So, how do you find the best Pilates reformer with the above-listed features for your home fitness studio? Obviously, the price will be a factor, but you will also want to procure the highest quality Pilates machine that meets your needs and stays within your budget. The Merrithew At Home SPX Pilates reformer meets many of the above criteria and comes with some high-quality accessories to boot.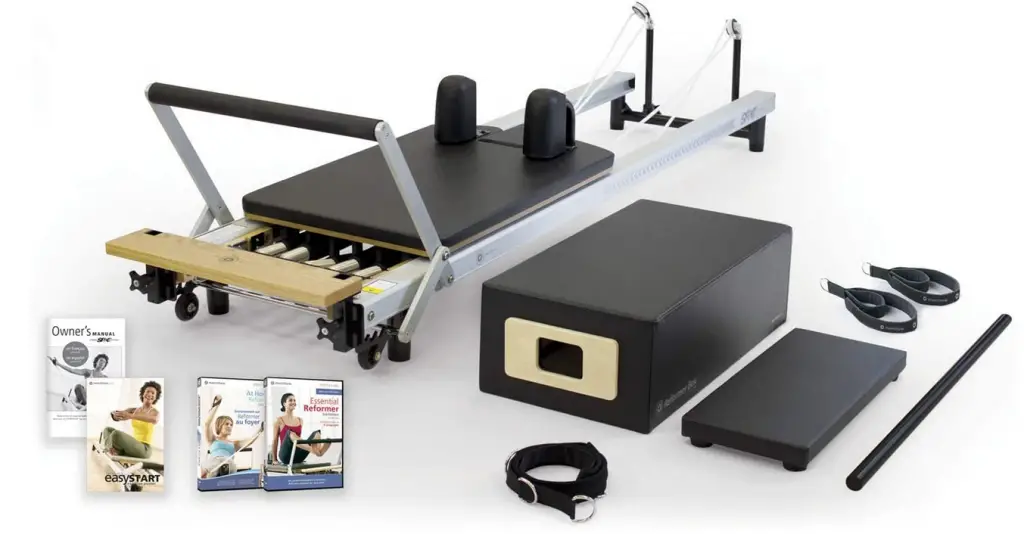 Based in Ontario, Canada, Merrithew has been on the scene for more than three decades and is knowledgeable about what practitioners need. In fact, co-founder Moira Stott is the inventor of the Stott Pilates methodology, a modernized form of the exercise that follows updated theories regarding postural alignment. In short, the company is not just a manufacturer of Pilates equipment; they also train and certify many of today's Pilates instructors. It would be difficult to find a Pilates equipment manufacturer with more experience and expertise in the industry, and Merrithew reformers are among the best Pilates reformers on the market. 
These reformers are popular for good reason. Stott Pilates reformers have several desirable features that provide a smooth ride, durability and ease of use. Some of the most appreciated features include the following:     
Stott Pilates reformers are easy to assemble. Stott ships their reformers with much of the assembly already completed. Upon delivery, the consumer can quickly attach the few remaining parts in the space of a few minutes by following the simple instructions included in the package. 
This reformer machine comes with two instructional videos and a Pilates reformer workout DVD. The DVDs are a great addition to the product and are helpful to both new and veteran reformer users as they adapt to the machine. 
Stott Pilates reformers feature a precision spring resistance system, allowing users to precisely calibrate spring resistance. This system includes a total of five springs: four 100 percent tension reformer springs and one 50 percent resistance reformer spring. There is also an option to purchase a high-performance spring package consisting of three 100 percent tension springs, a 50 percent spring, and a 25 percent tension spring. For the user, the spring system is reasonably easy to adjust. Each spring fits into a concave slot (the gearbox has to be precisely placed) and clicks into and out of the gearbox without much effort. 
The Stott Pilates reformer features easy-to-roll wheels on both ends of the reformer, allowing the user to roll the machine easily from one space to another and even transport the machine to a storage space after each use. For people who live in small spaces, the advantages of this maneuverability cannot be overstated. 
The foot bar on this Pilates reformer is padded. This padding on the foot bar is greatly appreciated during a workout as it guarantees comfort and reduces foot and hand compression. 
The foot bar on this particular machine has four different settings and is adjustable to users of various heights.
The Stott Pilates reformer is one of the most adaptable and easily adjustable reformers on the market, with six carriage stops for adjustment. Standard reformers only come with four. These increased slots for carriage stops make the machine adjust easily to your body's specific dimensions. In addition, the gearbox, on which the springs attach, can also be adjusted and needs to be moved in sync with the carriage stop to avoid overextension of the legs when the machine is in use.
For those who are over six feet, four inches tall, Stott reformers can be ordered with an extra six inches in height. As such, this reformer is known to be one of the best Pilates reformers for taller consumers. 
Stott's patented retractable rope system makes the ropes easily adjustable, allowing users to make fast rope adjustments during workouts. This machine also features longer ropes for increased range of motion.
Each of the hand and foot straps on the Merrithew Stott Pilates At Home SPX reformer features a double loop. Why? This well-thought-out detail involves a smaller loop snuggled inside a larger loop. Because these two straps are differently sized, it is possible to use the smaller loop for exercises that involve holding the straps with your hands and the larger loop for exercises where you thread your foot through the straps without needing to make adjustments to the rope between exercises.
The Stott Pilates home SPX reformer carriage is set on sleek aluminum rails and a sturdy frame, making for a smooth and secure ride. 
The shoulder rests on this reformer can be quickly and easily detached.
The carriage features a high-quality, EVA padded standing platform that keeps you comfortable during workouts. In addition, the carriage can be ordered in 10 standard upholstery colors or 75 custom upholstery colors.
An optional mat converter that can be added to the reformer allows the user to do mat work from a comfortable raised setting. 
This reformer comes with a roll-up bar, which attaches to the straps quickly and easily.
The Merrithew At Home SPX reformer package comes with a plethora of accessories, including a padded platform extender, a reformer box with foot straps, a jump board, Neoprene spring covers for noise reduction, an optional mat cover.
This reformer weighs approximately one hundred pounds.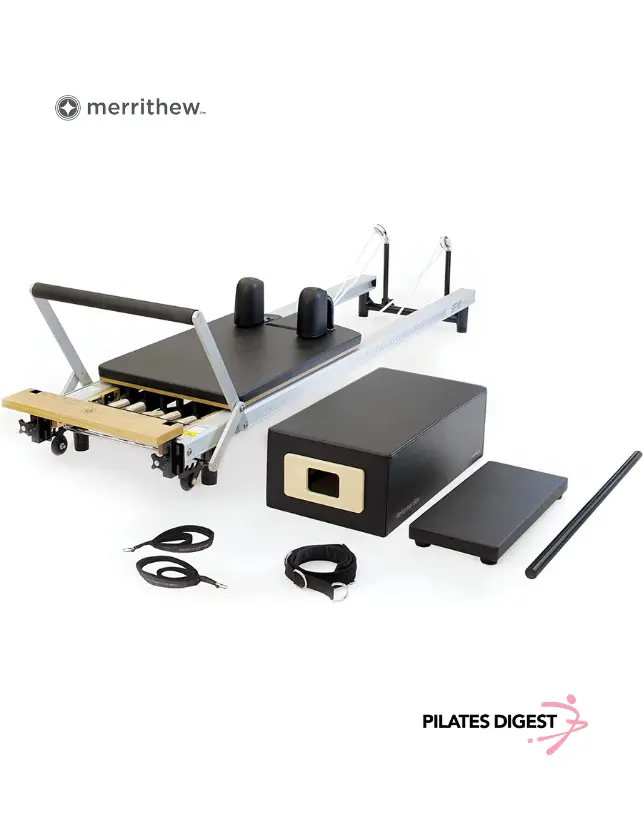 Is the Stott At Home Reformer the Best Pilates Reformer for Home Use?
The Merrithew At-home reformer is undoubtedly an impressive piece of equipment. It has a sturdy frame, is padded on both the platform and foot bar for comfort, has readily adjustable springs and ropes and comes with all of the accessories you will need for a stellar workout, including a reformer box and jump board. All in all, this thoughtfully designed reformer is an excellent value at its price point and is one of the higher quality machines on the market.
If you are unsure whether this reformer is a good fit for you, and you do have access to a public fitness studio, you may be able to try out a professional-grade Merrithew reformer along with reformers from other manufacturers, before making a decision about purchasing the At Home model. However, you will want to keep in mind that professional-grade reformers are sold at a higher price point and built for more extensive use than a home reformer. As such, a professional reformer will likely have a sturdier frame, a different array of springs and more attachments than a home reformer. Even so, you may be able to get a feel for the various mechanisms and overall quality levels of the different brands.
You will probably also want to compare the price of several machines before making the final decision to purchase one. For pricing on the At Home SPX Reformer Package, you can visit Merrithew's website here. Whatever choice you make, what matters most is whether the reformer you invest in is the best reformer to help you meet your workout and fitness goals.